---
Italy/France/Germany. 1972.
Crew
Directors – Edward Dmytryk (& Luciano Sacripanti), Screenplay – Ennio De Concini, Edward Dmytryk & Maria Pia Fusco, Producer – Alexander Salkind, Photography – Gabor Pogany, Music – Ennio Morricone, Special Photographic Effects – Ben Helprin, Special Effects – Carlo Rambaldi, Makeup – Ron Berkeley, Art Direction – Tomas Vayer. Production Company – Gloria Film/Barnabe Productions/Geiselasteig W.V. Schiber.
Cast
Richard Burton (Baron Kurt Von Sepper), Joey Heatherton (Anne), Raquel Welch (The Nun), Nathalie Delon (Erika), Karin Schubert (Greta), Virna Lisi (The Singer), Agostina Belli (Caroline), Marilu' Tolo (Brigitt), Sybil Danning (The Prostitute), Edward Meeks (Sergio), Doka Bukova (Rosa)
---
Plot
Baron Kurt Von Sepper is a German flying hero of World War I. He has suffered a chemical accident that has scarred his chin and caused his beard to turn blue. With the end of the war, Von Sepper goes on to take a role with the Nazi party. He is attracted to a beautiful American singer Anne and woos and then marries her. However, she becomes unhappy because he seems to avoid all opportunities to sexually consummate the marriage. While he goes away, he leaves her with the keys to his castle with the stipulation that she not unlock the door that the gold key opens. She disregards this and is shocked to find that the key opens the door to a room that contains the preserved bodies of Von Sepper's six previous wives. Upon returning, he develops a photo from a hidden camera in the room to find that she has disobeyed him and tells her that she must now die like all the other wives. As they wait until dawn, when he has decided he will kill her, he tells her the stories of his other wives and how he killed each of them after they displeased him in various ways.
---
Although you might not know it from its cinematic history, Bluebeard is a fairytale. Indeed, it comes from Charles Perrault who also brought the world classic fairytales such as Cinderella, Little Red Riding Hood and Sleeping Beauty, all of which were published together along with Bluebeard in the book Mother Goose Tales (1697). The original version of the story concerns an aristocrat in a mythical mediaeval setting who has killed all his wives for opening the locked door in his castle that contains their bodies. Bluebeard (Barbe Bleu in the French) is unlike most fairytales in that it does not feature fantastical elements – on screen, it has played out more as a mundane psycho story about a multiple wife murderer. These have included a version from Georges Melies in 1901; Edgar G. Ulmer's Bluebeard (1944) with John Carradine; and Catherine Breillat's Blue Beard (2009), which gave the story a very adult interpretation, as well as several other foreign language versions.
This version of the story was mounted by the father and son producing team of Alexander and Ilya Salkind. The Salkinds gained a name throughout the 1970s and are probably most famous for their massive two-part production of Superman (1978) and its problem-ridden sequel Superman II (1980). They also made a number of other productions, usually costume dramas/spectacles, such as The Light at the Edge of the World (1971), the two-part The Three Musketeers (1973) and The Four Musketeers (1974), The Prince and the Pauper/Crossed Swords (1977) and Santa Claus – The Movie (1985). Bluebeard is typical of the way that the Salkinds made their films – they wrote them on the largest conceivable canvas in terms of production and promotion, they gave the films massive budgets and made sure all of it showed up on the screen in terms of effects, costumes and sets, while bringing in as many big name international stars as possible. With Bluebeard, the Salkinds even manages to arrange a Playboy layout featuring the various wives.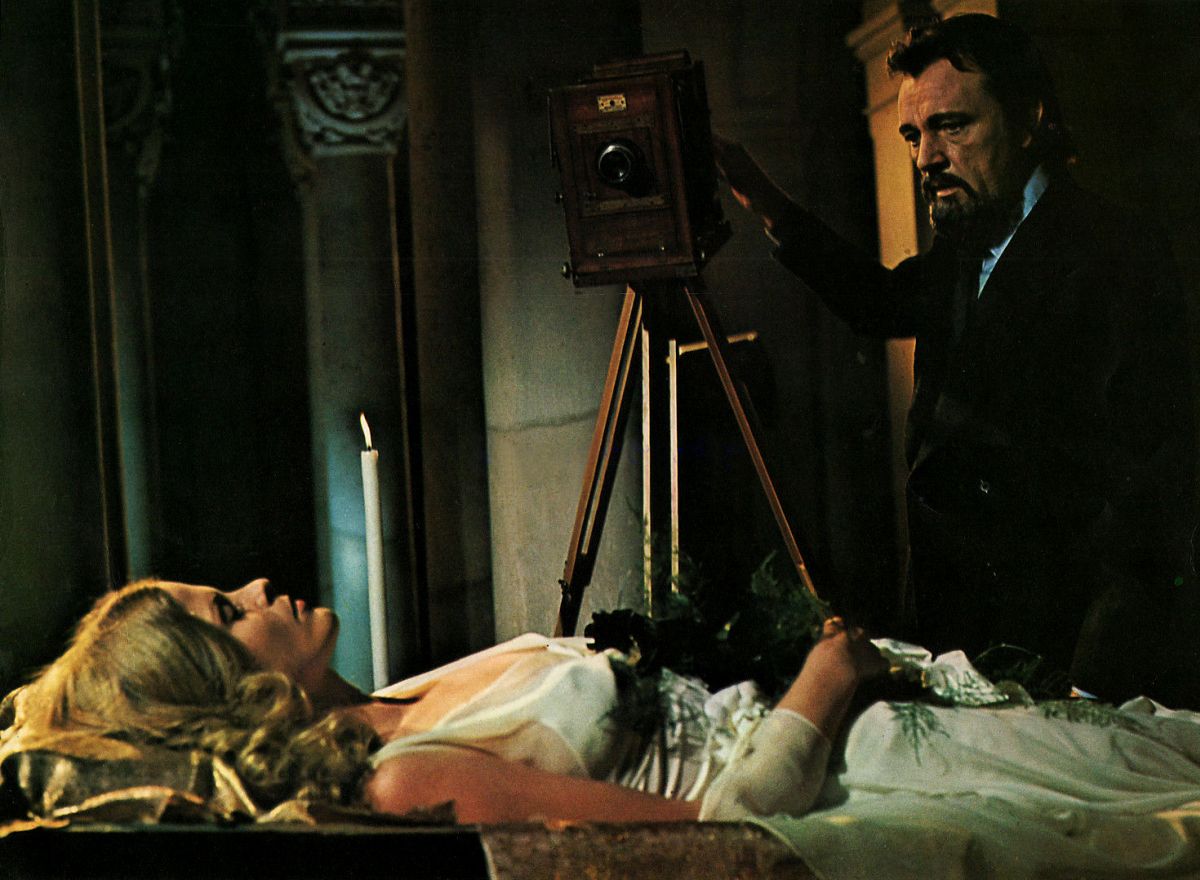 The star the Salkinds managed to find in this case was Richard Burton. Burton had peaked as an actor with sterling and awards winning performances in films such as Look Back in Anger (1960), Becket (1964), Who's Afraid of Virginia Woolf (1966), The Spy Who Came in From the Cold (1965) and The Taming of the Shrew (1967). Unfortunately, by the end of the 1960s and throughout the 1970s, Burton, who was beset by health issues and alcohol problems, had sunken into bad actor mode giving notoriously overwrought performances in films such as Boom! (1968), Candy (1968), The Assassination of Trotsky (1972), Equus (1977), Exorcist II: The Heretic (1977) and The Medusa Touch (1978). When it comes to Bluebeard, Burton gives a broad performance in which he seems to regard the softcore comedic proceedings the Salkinds have arranged around him with disdain.
Bluebeard takes a tone that is at almost opposite remove from anything that sits in psycho territory – where the focus is placed on colourful set dressings, softcore nudity and comic romps with the various wives. To be fair, Richard Burton and director Edward Dmytryk do make an effort to plumb something in the way of disturbed psychology. The film seems to mimic many of the pathological sexual undercurrents that ran through Psycho (1960) – both Bluebeard and Norman Bates are unable to function sexually and enjoy peeping in on women from hidey-holes and then killing them for arousing them. Notedly here, Bluebeard even has the portrait of a sternly disapproving mother hanging over his mantle and looking down in judgement.
Unfortunately, much of the film gives the impression it is not taking itself seriously and is being played in a broadly campy tone. As we go through the stories of the various wives, these become increasingly sillier. About the point of Virna Lisi running about in a pink negligee and matching feather boa singing all of her dialogue, the film becomes a spectacle of the absurd. Or of Raquel Welch cast as a nun (!) reciting her history of sexual dalliances and coming out with lines (in admiration of Burton): "Sometimes you remind me a little of Our Saviour," before he shoves her into a coffin in a church and locks the lid. Marilu' Tolo is as an aloofly disinterested wife until Burton discovers that she enjoys BDSM and then, after thoroughly whipping her, drowns her in a vat of wine. Nathalie Delon plays a wife who communicates in babytalk and makes Burton give both of her breasts names.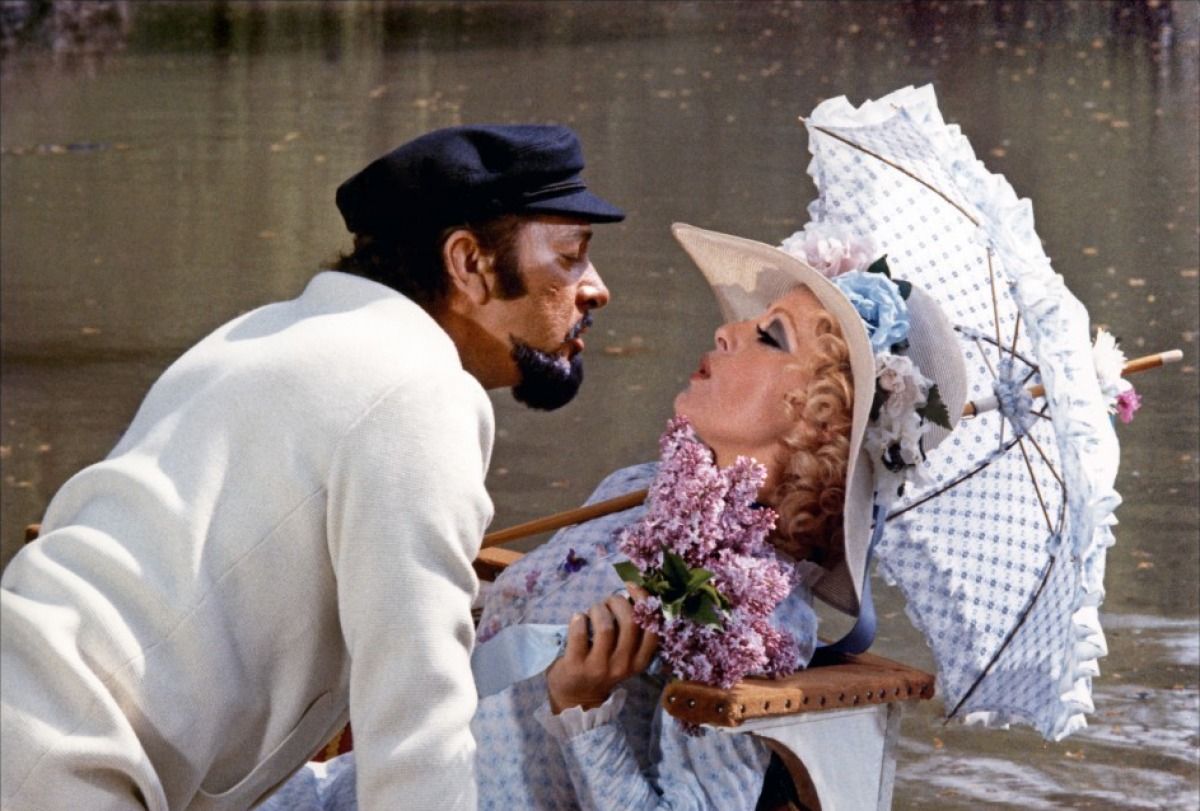 Often the film feels like it has been assembled for the sole reason of offering us a parade of undeniably beautiful international actresses in a state of undress (including all of the wives excepting Raquel Welch) – even an entirely gratuitous lesbian love scene between Nathalie Delon and prostitute Sybil Danning.
One of the big turnoffs about the film is when it gives us about five minutes of what looks like authentic and non-faked hunting footage in which we see a montage of rabbits, boars and foxes being shot by a hunting party.
The credited director Edward Dmytryk had been working since the 1930s and had made a number of classic films such as The Caine Mutiny (1954), Warlock (1959), Walk on the Wild Side (1962) and The Carpetbaggers (1964). He delivered other genre entries such as the mad scientist films The Devil Commands (1941) and Captive Wild Woman (1943), as well as the previous psycho film The Sniper (1952). The Salkinds also had a habit of firing their directors. It is not known what the case was here but the very end credits also state 'Regista (Italian for 'directed by') Luciano Sacripanti', a second-unit director on a number of films of the era but who never solo directed another film.
---
---