---
USA. 2011.
Crew
Director – Doug Aarniokoski, Screenplay – Luke Passmore, Producer – Guy A. Danella, Photography – Boris Mojsovski, Music – Rock Mafia, Visual Effects Supervisor – Evan Jacobs, Visual Effects – Switch VFX, Special Effects Supervisor – Marcus Rait, Production Design – Lisa Soper. Production Company – Guy A. Danella/Follow Through Productions LLC/Rock Mafia/Preferred Content/Faction M.
Cast
Shawn Ashmore (Adam), Ashley Bell (Mary), Shannyn Sossamon (Shannon), Dominic Monaghan (Rick), Cory Hardrict (Henson), Michael Eklund (Father), Shimon Moore (Boss), Kassidy Verreault (Ava)
---
Plot
It is ten years after civilisation has collapsed. A group of friends pass through the Ottawa countryside, searching for food and supplies. They come to an abandoned farmhouse and make the decision to abandon protocol and stay because Henson is ill. In the cellar, they come across a treasure trove of canned food and eagerly alight upon it, only for this to prove a trap that locks them in and triggers an alarm bell. Managing to escape, they realise that the trap has been set by survivalists that prey on human flesh. In the process discover that Mary, one of their group, is a former survivalist, although she insists that she escaped from them. Tenuously deciding to trust her, they barricade themselves in as the survivalists surround the farmhouse.
---
The Day is the third film from Doug Aarniokoski. Few people have probably heard of Doug (or Douglas) Aarniokoski. He appeared over a decade earlier as director of the fourth Highlander film Highlander: Endgame (2000). Most of the directors associated with the Highlander sequels never end up being heard of subsequently. Aarniokoski made one subsequent effort, the horror film Animals (2008) but ended up taking a pseudonym there. Aside from that, Aarniokoski has a career as a second-unit director on various Full Moon productions, to Robert Rodriguez on From Dusk Till Dawn (1996) through to Once Upon a Time in Mexico (2003) and other reasonably high profile films such as The Crow: City of Angels (1996), Austin Powers, International Man of Mystery (1997), Fear and Loathing in Las Vegas (1998) and Resident Evil: Extinction (2007).
Quite whether Aarniokoski's sporadic directorial career represents the difficulty of raising independent funding in Hollywood or that Highlander: Endgame sent up such a stench that Aarniokoski was unable to obtain another job is an unknown. Whatever the case, Aarniokoski made an eventual return here with The Day, which even premiered at the prestigious Toronto International Film Festival. Not long after, Aarniokoski made the hilariously tongue-in-cheek trash horror film Nurse 3-D (2013). More recently, Aarniokoski has worked as a tv director and as a producer on genre shows such as Sleepy Hollow (2013-7), Limitless (2015-6) and Star Trek: Picard (2020– ).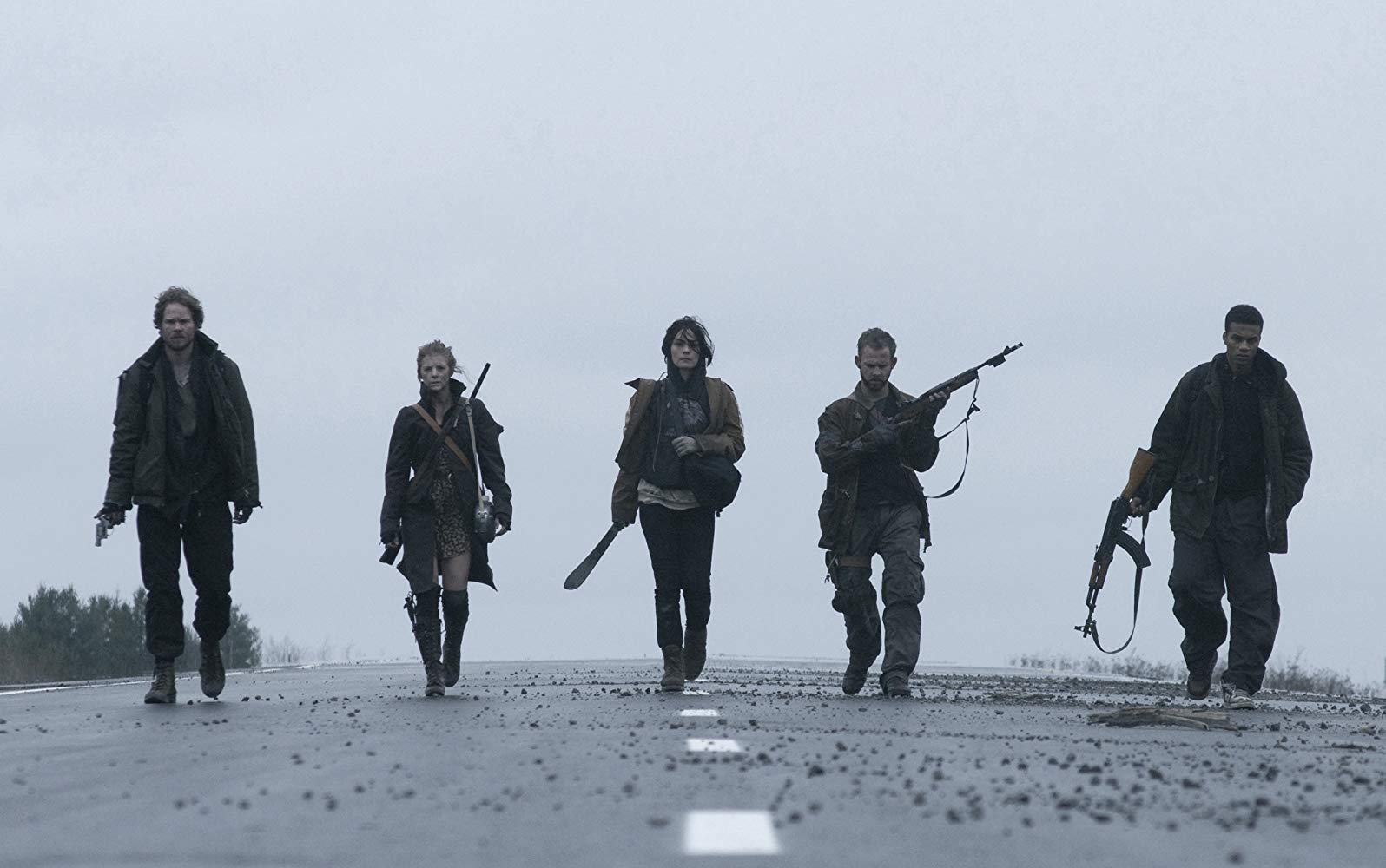 The Day is a post-holocaust drama. This is a genre that has a long legacy but has disappeared from screens fairly much during the 2000s with occasional exceptions. One work that did go some way to revive the genre was John Hillcoat's adaptation of Cormac McCarthy's The Road (2009). This dispensed with the cliches that had crept into the genre since Mad Max 2 (1981) – of people outfitted in mohawks and junkyard chic engaged in chases in jury-rigged dune buggies – and instead painted a picture where survival in the aftermath of a holocaust was grim and desperate, of people clinging to hope amidst the search for the last remaining handful of supplies.
The Day takes its lead from The Road and is a post-holocaust drama eked out in terms of the grim struggle for survival. Much of the early sections of the film take place in terms of Aarniokoski's camera focused on the dirty, bedraggled faces of the characters and montages of scenes where they scrabble for food supplies, count the remaining ammunition supplies they have and so on. The portrait painted is that life in such a world is grim and harsh with no room for sentiment. Alas, it never seems anything where Aarniokoski travels far beyond cliches that he has drawn from The Road. The one mildly evocative scene he does conduct is where Shannyn Sossamon strips to take an impromptu shower in the rainfall that comes through the hole in the farmhouse roof and is joined by Dominic Monaghan in an embrace.
The latter half of The Day follows the plot basics of Mad Max 2 – a siege by decent people against the wild crazies of the wasteland – and is essentially built out around the assault by the cannibal survivalists where Doug Aarniokoski creates a brutal siege to the death between the two groups. There are various action scenes and shootouts (although about half of these take place at night where it is often impossible to tell what is happening). Aarniokoski conducts a passable effort, although nothing exceptional. The principal drama during these scenes is whether the group is capable of trusting former survivalist Ashley Bell, of which the only real surprise the film offers is an abrupt and nasty twist ending that plays against the expectation of a sentimental fadeout.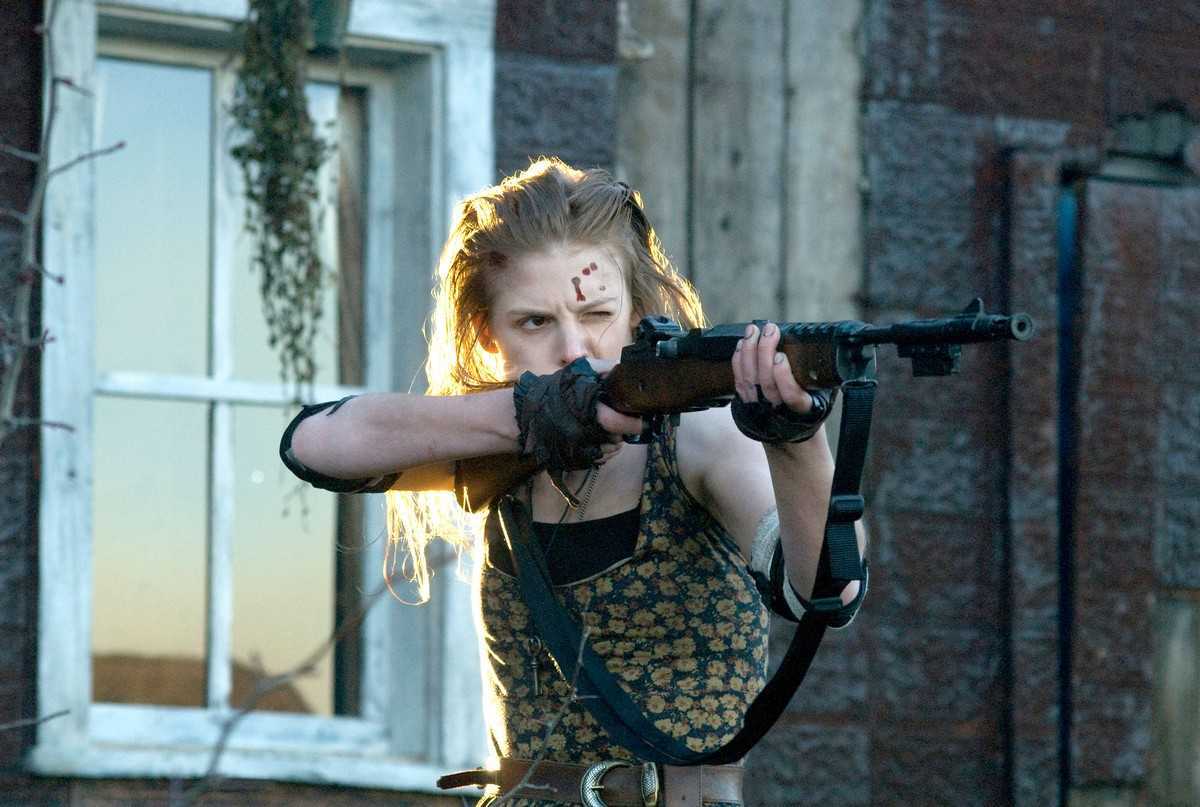 The other gripe I would have of these scenes is that they seem to fall more into action movie cliches than they would people living a life of grim survivalism – for example, people who claim to have a mere handful of bullets and shotgun shells left will either fire randomly in the general direction of targets or pump three shotgun shells into targets who are trapped right in front of them when surely one shot at point blank range would have the effect of despatching the target and conserving ammunition.
These latter scenes do feature a fine performance of tightly controlled and understated menace from Michael Eklund as the leader of the survivalists – who also gave an excellent performance in the other much superior post-holocaust drama of the same year The Divide (2011) – although he is not given nearly enough screen time. Elsewhere, Doug Aarniokoski has assembled a capable cast of young people – Shawn Ashmore, Ashley Bell, the young find from The Last Exorcism (2010) who is asked to carry much of the real acting in the film, a likeable Dominic Monaghan who is dispatched too early in the show, while even the perpetually non-acting Shannyn Sossamon is persuaded to act capably tough and grim.
---
---