---
Crew
Director – Dick Ashe, Screenplay – William Finger & Charles Sinclair, Producer – Ralph T. Desiderio, Photography – E. Scott Wood, Music – Bob Orpin, Makeup Effects – Joe Blasco. Production Company – Lizard Productions Inc.
Cast
Charles Cordell (Paul Carlson), Donna Leigh Drake (Kathy Nolan), Gregorio Sala (Professor John 'Johnny Longbow' Salinas), Patrick Wright (Captain McCabe), Crawford MacCallum (Dr Lawrence), Francine Kessler (Janet Price), Jeanne Swain (Caroline Harris), Alain Swain (Sid Harris)
---
Plot
Archaeologist Paul Carlson is searching for remains on an Indian reservation in Albuquerque. There are reports of an extra-solar meteor striking The Moon. Paul is out in the desert with Kathy Nolan when debris from the meteorite strike comes down. Paul picks up a piece of rock that falls nearby. Over the next few nights, there are reports of a wild lizard-like animal that is killing people around the area. This is eventually traced to Paul who as a result of touching the piece of meteorite mutates under the moonlight.
---
Track of the Moon Beast is a largely forgotten film from the 1970s. It apparently sat on shelves for four years before being screened in theatres and was sold to television shortly after. The film was shot around the Albuquerque area on a minimal budget. Today the film is in public domain and is available on YouTube, while it was made fun of on Mystery Science Theater 3000 (1988-1999, 2017- ).
There is little that one can find to say of interest about Track of the Moon Beast. It is dully directed, the plot plods and nothing much ever happens. There is a moderately effective creature – an effect created by Joe Blasco who also did the effects for Shivers (1975) and Rabid (1977) around the same time – that turns up at certain intervals and kills a few people. However, as most of the scenes are shot in the dark, it is not always easy to see what is going on.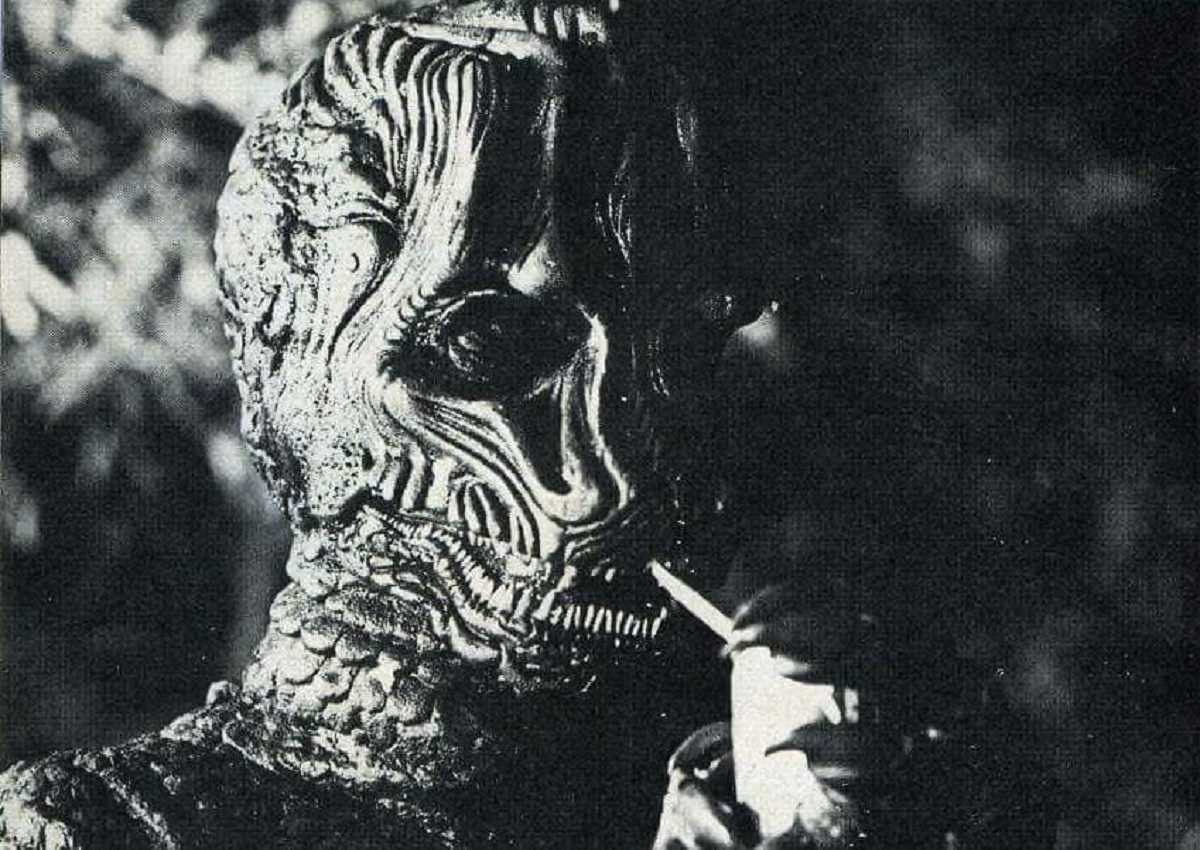 The film is essentially little more than a werewolf film with a science-fictional rationale. Or perhaps more so a were-lizard. The SF werewolf has previously been conducted in The Werewolf (1956). Here we have the explanation of scientist Charles Cordell being affected after touching a moon rock that may have come from an extra-solar meteorite but in essence this still remains a movie about a man transforming into a monster under the moonlight. The script tries to hide the fact that Cordell is the monster from us for much of the show but it proves a none terribly interesting or even surprising revelation.
Director Dick Ashe has never made another film and none of the cast ever went on to make any name for themselves. The one interesting name on the credits however is that of William Finger, better known as Bill Finger, the unacknowledged co-creator of Batman. While Bob Kane took all of the glory for what Finger created, Finger died penniless and received little recognition during his lifetime. The full and fascinating story of Bill Finger is told in the documentary Batman & Bill (2017). Finger and writing partner Charles Sinclair did do some film and tv work, including writing episodes of 77 Sunset Strip (1958-64), tv's Batman (1966-8) and the films Snow Devils (1967), The Green Slime (1968) and this, which was actually delayed so long it was not released until after Finger had died in 1974.
---