---
Crew
Director/Screenplay – Kasi Lemmons, Producers – Caldecott Chubb & Samuel L. Jackson, Photography – Amy Vincent, Music – Terence Blanchard, Visual Effects – Boyington Film Studios (Supervisor – Paul Boyington), Special Effects Supervisor – Christopher R. Brady, Production Design – Jeff Howard. Production Company – Chubbco/Addis-Wechsler.
Cast
Jurnee Smollett (Eve Batiste), Lynn Whitfield (Rosalyn Batiste), Debbi Morgan (Mozelle Batiste Delacroix), Samuel L. Jackson (Louis Batiste), Meagan Good (Cicely Batiste), Diahann Carroll (Eltora), Ethel Ayler (Gran Mere), Vondie Curtis Hall (Julian Grayraven), Lisa Nicole Carson (Maddie Merieux), Roger Gueneveur Smith (Lenny Merieux), Jake Smollett (Poe Batiste), Bradford Marsalis (Harry Delacroix)
---
Plot
Ten-year-old Eve Batiste grows up in the small Louisiana swamp town of Eve's Bayou. At a party, she is shocked to discover her father, the town doctor, in the carriage house with another woman and realizes that her father has been conducting affairs with numerous of his women patients. Eve's aunt Mozelle's husband dies. Mozelle practices voodoo and palm reading. After having a vision, Mozelle warns Eve's mother Rosalyn that she must keep a careful eye on the three children. Their mother decides to keep them all inside over the summer, which results in high tensions. Eve's older sister Cicely begins to withdraw. Their parents decide to send Cicely away for her own good. Before she goes, Cicely tells Eve how her father started kissing her. Angered, Eve goes to Eltora, a palm reader rival of Mozelle's, and asks her for a voodoo spell to kill her father.
---
Eve's Bayou comes from Kasi Lemmons. The African-American Lemmons is best known as an actress – she can be seen in genre films like Vampire's Kiss (1988), as Jodie Foster's roommate in The Silence of the Lambs (1991) and Virginia Madsen's colleague in Candyman (1992) and various other roles. Lemmons made her directorial debut with Eve's Bayou from her own screenplay. The film is made with the backing of impressive names like producer Caldecott Chubb and actor Samuel L. Jackson who was clearly enamoured enough of Lemmons' screenplay to take a producer's role as well as to co-star as the philandering father. Lemmons has also managed to bring together an impressive all-Black cast.
Eve's Bayou is a venture into Voodoo themes, although one is cautious about lumping it alongside previous films with voodoo as a subject such as The Believers (1987) and The Serpent and the Rainbow (1988), least of all their B-budget ancestors. It needs to be made clear that Eve's Bayou is not a horror film. It is more akin to a Coming of Age/childhood reminiscence drama (although it is hard to tell if the setting is intended to be present-day or 1960s period) where the voodoo elements just happen to slot in as part of the cultural backdrop that the characters live in. More correctly, Eve's Bayou should be considered a dark Magical Realist fable.
Eve's Bayou is an extraordinary debut for a first-time director. What stands out is Kasi Lemmons' assuredness with handling the actors and the rich sense of detail that comes in sketching the world of backwater Louisiana, a place that seems so much a part of the Old South and African-American specific culture that it could almost be another world inside the US.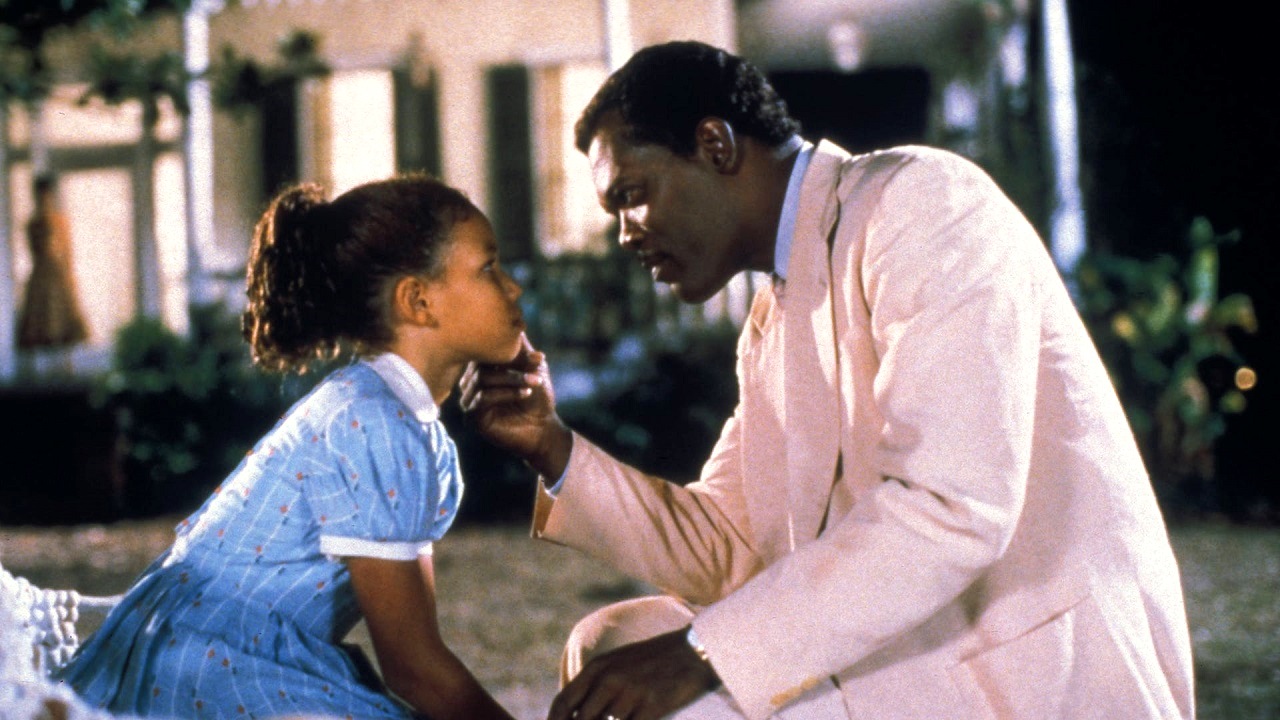 Kasi Lemmons also takes the opportunity to visually dazzle too. In one scene, she starts with Debbi Morgan telling the story of her husband and the man she had an affair with and how the husband shot the lover, where the characters in question start playing the scene out reflected in a mirror, their voices come in to take over from her telling and with Morgan stepping inside the mirror to play her own role. Lemmons gets wonderful finely shaded performances from the whole of her cast, especially good being the largely unknown Debbi Morgan as Aunt Mozelle.
Kasi Lemmons does equally breathtaking work with the screenplay where she demonstrates a haunting turn of phrase and ability to pinpoint the heart of her characters. The film ends, almost Rashomon (1950)-like, on a note of ambiguous uncertainty where we hear two entirely different versions of what it was that caused Cicely to withdraw with Lemmons neither confirming nor denying either. This provides a strong and effective twist, although the element of uncertainty leaves the film going out with a sense of the story not being complete. Lemmons does however wrap it up with a beautifully haunting final voiceover.
Kasi Lemmons subsequently went onto direct/write The Caveman's Valentine (2001) with Samuel L. Jackson as a homeless man trying to solve a murder, Talk to Me (2007) with Don Cheadle as a true-life radio talkshow host, Black Nativity (2013), and the Harriet Tubman biopic Harriet (2019).
(Winner in this site's Top 10 Films of 1997 list. Winner for Best Supporting Actress (Debbi Morgan), Nominee for Best Director (Kasi Lemmons) and Best Original Screenplay at this site's Best of 1997 Awards).
---
---