aka Dance With the Devil
---
Crew
Director – Alex de la Iglesia, Screenplay – Alex de la Iglesia, Barry Gifford, Jorge Guerricaechevarria & David Trueba, Based on the Novel 590 and Raining: The Story of Perdita Durango by Barry Gifford, Producer – Andres Vicente Gomez, Photography – Flavio Mntz. Labiano, Music – Simon Boswell, Visual Effects – L2 Entertainment (Supervisor – Jim Wheelock), Special Effects Supervisor – Dan Lester, Makeup – Mercedes Guillot & Jose Quetglas, Production Design – Jose Luis Arrizabalaga & Biafra. Production Company – Sogetel S.A./Lolafilms S.A./Mirador S.A./Occidental Media Corp/Canal +/Sogepaq S.A./Imcine.
Cast
Rosie Perez (Perdita Durango), Javier Bardem (Romeo Delarosa), Harley Cross (Duane), Aimee Graham (Estelle), James Gandolfini (Agent Woody Dumas), Don Stroud (Marcelo Santos), Demian Bichir (Catalina), Harry Porter (Sheriff Tyrone 'Rip' Ford), Carlos Bardem (Reggie), Roger Cudney (Herbert)
---
Plot
Perdita Durango joins Romeo Delarosa, a Santeria black sorcerer and bank robber, and becomes his lover as they cross the Mexican border into Texas. Pursued by a dogged FBI agent, Romeo becomes involved in the shipment of a truckload of baby embryos to Las Vegas to be used for experimentation by a cosmetics firm, unaware that he has been betrayed by his cousin and all that awaits him at the other end is a trap. Along the way, Romeo and Perdita take a whitebread teenage boy and girlfriend prisoner, intending to use them as human sacrifices in a Santeria ceremony.
---
Perdita Durango is not so much a sequel or a prequel as it is a spinoff of David Lynch's Wild at Heart (1990). In Wild at Heart, Perdita Durango was a minor character who appeared toward the end of the film, played by Lynch's wife Isabella Rossellini. The character then became the subject of a novel 590 and Raining: The Story of Perdita Durango (1992) by Wild at Heart's original novelist Barry Gifford, the third of seven books that Gifford has spun out based on the original characters. This novel was then made into a film by Spanish director Alex de la Iglesia, a former Pedro Almodovar protege, who has made a string of genre films and since become a major Spanish director (See below for Alex de la Iglesia's other films).
Wild at Heart was a psychotically fractured road movie where Lynch kept pushing into disturbed mental spaces in ways that were genuinely startling. Perdita Durango is similarly construed as a road movie featuring two outlaw lovers on the run from various killers (including the character of Marcelo Santos from Wild at Heart). Perdita Durango is in many ways a far more dangerous film than Wild at Heart was.
In Wild at Heart, Sailor and Lulu were essentially good kids who had traveled onto the wrong side of the tracks trying to find love in a deranged world that was stacked against them. Here Perdita Durango and Romeo Delarosa are two similar lovers but they are steeped in evil – one is a bank robber, both are cold-blooded murderers. Romeo at one point conducts a human sacrifice and eats the victim's heart in a Santeria ceremony. Both also kidnap and forcibly rape a young white teenage couple with the intention of using them as human sacrifices – and Romeo later tries to sell the girl into prostitution to a pimp to pay off a debt.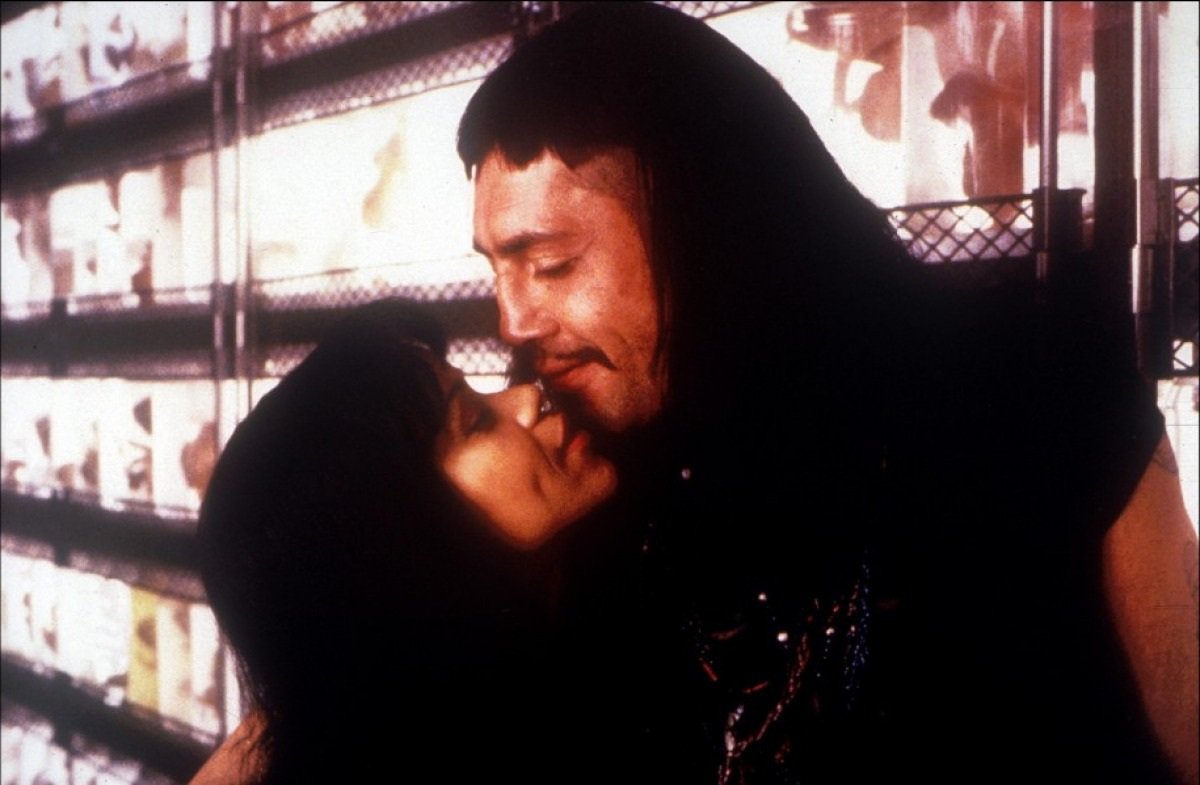 Perdita Durango is a splendidly irresponsible film. There is a genuine blast of anarchic splendour and malice to Alex de la Iglesia's direction. The film is like a sarcastic stab up against all that is wholesomely middle-class – Harley Cross and Aimee Graham (Heather's sister) give hilarious performances as the whitebread kids with some hysterical scenes like where Cross tries to offer white guilt apologies for the mistreatment of Mexicans or where the two of them start nominating the other to be chosen for sacrifice.
There is a sense of danger and outrage that can explode at any moment – like the scene that comes out of nowhere where on impulse the couple kidnap the teenagers at gunpoint in a crowded El Paso street. It is a film that embraces the darkest, most sardonic worldview one has seen in some time – it sees that the whole world, law enforcement and criminals alike, as corrupt, inept or self-interested and that the only honesty is a primal strength and ferocity of doing whatever you like and at least being honest to one's self.
The point that should be made is that where in any other film they would have them painted in the blackest terms possible, Perdita and Romeo are an appealing couple. Perdita is played by Rosie Perez, a Latin American actress, best remembered for playing hot-tempered Latino hellcats in films like Do the Right Thing (1989) and White Men Can't Jump (1992). Here, despite affecting a cynical sneer, she seems subdued. It could well be that she is dominated by the sheer alpha male magnetism of Spanish actor Javier Bardem's performance, which carries the whole film with its effortless likeability. Indeed, Javier Bardem dominates the film so much it should have been called Romeo Delarosa rather than Perdita Durango.
Director Alex de la Iglesia has made a number of other genre films with the gonzo science-fiction comedy Accion Mutante (1993), the End Times comedy The Day of the Beast (1995), the genre black comedies Common Wealth (2000) and Ferpect Crime (2004), the ghost story Films to Keep You Awake: The Baby's Room (2006), the mathematical murder mystery The Oxford Murders (2008), the sf tv series Pluton B.R.B. Nero (2008-9), the circus psycho-thriller A Sad Trumpet Ballad (2010), As Luck Would Have It (2011), a satire on the modern media, the comedy Witching and Bitching (2013), The Bar (2017) with a group of strangers trapped inside a bar during the outbreak of a deadly infection, the occult and deviltry tv series 30 Coins (2020- ) and Veneciafrenia (2021) about tourists being stalked in Venice, as well as produced Venus (2022) for Jaume Balaguero.
(Winner in this site's Top 10 Films of 1997 list. Winner for Best Actor (Javier Bardem) at this site's Best of 1997 Awards).
---
---