---
Crew
Director – Carlo Carlei, Screenplay – Carlo Carlei & James Carrington, Based on the Novel by James Herbert, Producers – Paul Maslansky & Lata Ryan, Photography – Raffaele Mertes, Music – Carlo Siliotto, Visual Effects Supervisor – Paolo Zeccara, Visual Effects – Digital Magic (Supervisor – Scott Rader), Special Effects Supervisor – Gene Grigg, Animal Effects – Animated Engineering (Supervisor – Dave Nelson), Production Design – Hilda Stark. Production Company – Rocket Pictures.
Cast
Matthew Modine (Thomas Johnson), Nancy Travis (Carol Johnson), Eric Stoltz (Jeff Newman), Samuel L. Jackson (Voice of Rumbo), Max Pomeranc (Brian Johnson), Ron Perlman (Sylvester), Jon Polito (Boss), Collin Wilcox Paxton (Bella), Bill Cobbs (Bert)
---
Plot
A puppy is born in a back alley. After the dog pound captures its siblings, it is befriended by a bag lady. She finds it to be surprisingly intelligent and is able to make money by teaching it tricks. She names the dog Fluke. After she dies, Fluke is befriended by the worldwise dog Rumbo who shows him how to survive on the streets. Fluke begins to have flashbacks and thinks that this means that he was a human in a previous life, although the idea is dismissed by Rumbo. Fluke is drawn via the flashbacks to revisit his previous life as Thomas Johnson who was killed in a car crash. He is adopted by Thomas's widow Carol and this allows him to spend the time with his son that he never did in human life. He then finds that the business partner who caused Thomas to crash is now scheming to marry Carol.
---
Fluke (1977) is the most atypical of James Herbert's novels. It is a fantasy about a dog that thinks he is a man and is very different to James Herbert's usual run of horror novels, which revel in extreme gore-letting. A story where the central characters are canines, not humans, is certainly an unusual choice for a film property. There is the sense that the film has been packaged as a high concept film – sort of Ghost (1990) meets Benji (1974), or a straight version of Oh Heavenly Dog (1980). Such an eccentric choice may well have been born out by Fluke's commercial reception – it did no business in theatres and was released straight to video in most countries.
Which is a shame as Fluke is a beautiful film and undeservous of such a poor reception. It evokes that same sense of fairy-tale caught between warmth and heartfelt tragedy that E.T.– The Extra-Terrestrial (1982) and all the great Disney films do. Every shot is beautifully photographed. (Considering the difficulty of shooting with animals, the amount of effort required to obtain such exquisite shots must have been incredibly effort intensive).
Director Carlo Carlei invests considerable warmth in the scenes between Fluke and Rumbo or with Fluke frolicking with the young Max Pomeranc. The opening scenes with Fluke being born, the capture of he and his family by the dog pound, the escape from the pound, all shot down at floor level, are conducted wordlessly and do a wonderful job in showing everything from a dog's point-of-view. The ending is genuinely touching.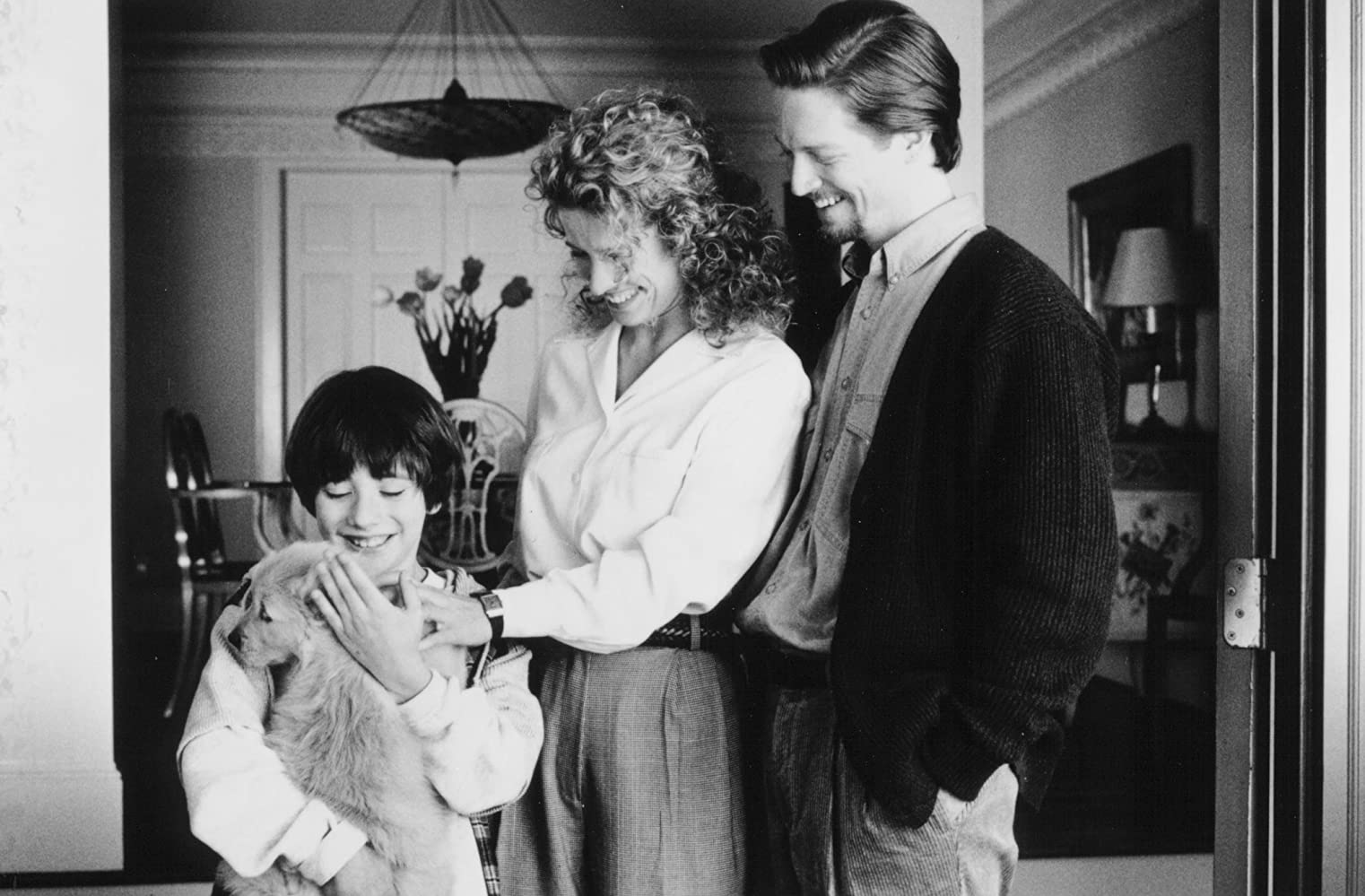 The only scene that does not work is the breakout from the laboratory that involves animals conducting very un-animal-like behaviour – Rumbo wilfully smashing through a window, having the intelligence to hit a release button, and the rest of the laboratory animals conducting such collective behaviour as fleeing toward the window and carrying other animals out with them.
James Herbert's book has been changed somewhat – the location moved from the UK to the US, and the names of the characters changed, while the hero's daughter in the book becoming his son in the film. Nevertheless, the film works beautifully.
Other films adapted from the books of James Herbert are:- The Survivor (1981), Deadly Eyes (1982), Haunted (1995), the tv mini-series The Secret of Crickley Hall (2012) and The Unholy (2021).
(Nominee for Best Cinematography at this site's Best of 1995 Awards).
---
---