---
Crew
Director – Scott Speer, Screenplay – Jason Fuchs, Based on the Novel Break My Heart 1000 Times by Daniel Waters, Producers – Paul Brooks, Leon Clarance & Scott Niemeyer, Photography – Simon Dennis, Music – Bear McCreary, Visual Effects – Artifex Studios Ltd. (Supervisor – Dan Dixon) & The VFX Cloud (Supervisor – Brett Keyes), Special Effects Supervisor – Tony Kenny, Production Design – Kevin Bird. Production Company – Reliance Entertainment Productions 7/Gold Circle Entertainment.
Cast
Bella Thorne (Veronica Calder), Richard Harmon (Kirk Lane), Dermot Mulroney (August Bittner), Amy Price-Frances (Anna Calder), Shaun Benson (Robert Calder), Louis Herthum (Dr Martin Steiner), Thomas Elms (Brian), Sara Thompson (Janine), Dave Brown (Principal William Pescatelli), Micah Kennedy (Chandler Deckert)
---
Plot
Jewel City, near Chicago. It is ten years after what has been referred to as The Event, a laboratory explosion that has left the area inhabited by Spectral Remnants – ghosts that seem like real people but are intangible and only pass through the same limited actions without cognisance of anything beyond that. Teenager Veronica Calder is startled by the appearance of a male remnant in her bathroom and becomes certain that he intends her harm. She befriends Kirk Lane, a weird kid at school who is obsessed with the remnants. Together they track down that the remnant in her bathroom is named Brian and that he may be responsible for the deaths of other girls that all have the same birthday as Veronica. As they delve deeper into the mystery surrounding the ghosts, forces appear to be killing people around Veronica.
---
I Still See You is a film adapted from the Young Adult novel Break My Heart 1000 Times (2012) by Daniel Waters. Waters is a Young Adult author who outside of this has written the 'Generation Dead series of novels about teenagers becoming zombies. The film version comes from Scott Speer, a former music video director who made Step Up Revolution (2012), the light fantasy Status Update (2018) and the previous Bella Thorne film Midnight Sun (2018). The script is adapted by Jason Fuchs who also wrote Ice Age: Continental Drift (2016), Pan (2015) and Wonder Woman (2017).
I sat down to I Still See You with admittedly not high expectations but was quickly surprised by it. This is one of the most original premises that I have come across in some time – a scientific experiment gone wrong has created The Event, which has brought about the appearance of ghosts, although these are not ghosts in the traditional sense but rather people that seem caught in limited timeloops of a few seconds or minutes repeating the same actions over and again.
The film is less any kind of standard ghost story than it is a science-fiction film about a mysterious anomaly and the way that people react to it. The opening scenes fascinatingly depict a world where people have adjusted to The Event – Bella Thorne and her mother having breakfast as her father (Shaun Benson) reads the paper before it is revealed that he is a ghost; she biking off to school passing ghosts that are moving the lawns and riding right through others that are crossing the street; a classroom where there are spectral pupils sitting among everyone else.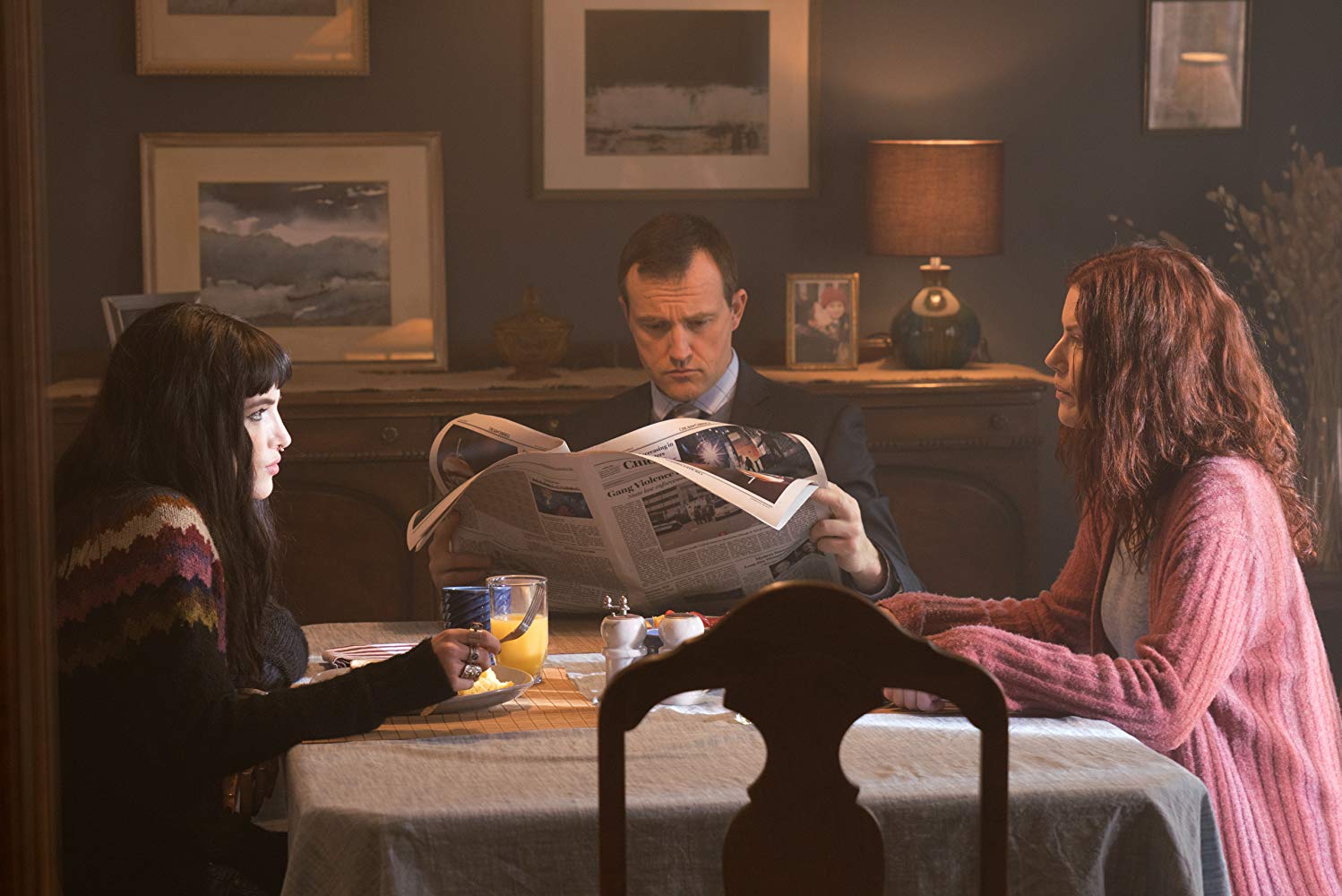 And then the film places fascinating spins on the idea – Bella Thorne becoming certain that the ghost of Thomas Elms who suddenly appears in her bathroom has malevolent intent despite the ghosts being unreactive towards the outside world and unchanging in their patterns. This is followed by her and Richard Harmon's efforts to solve the mystery of the linked deaths that all seem to occur on Bella's birthday. (Although I do have some issue with some of the plot contrivations at the end – especially a miraculous rescue from burial and the final fadeout – which seem to contravene the rules the film gives us at the outset that state the remnants do not physically interact with the world or display cognisance and intent towards the living).
The disappointment of I Still See You comes in its second half where it segues from a conceptually engaging and interesting SF film into a standard Young Adult drama. Here it becomes less a story that confronts what has happened (the essence of science-fiction) than stock dramatic tropes – the guy-girl attraction; whether Bella Thorne can trust Richard Harmon who has a troubled past; his arrest for a possibly planted gun in his locker. And especially the plotting contortions involved in the revelations about what is going on, which slip into disappointingly standard motives and elaborate schemes to fool someone.
---
---