---
USA. 1997.
Crew
Director – Louis Morneau, Screenplay – Phillip Badger, Robert Strauss & Michael Hamilton-Wright, Producers – David Bixler & Michael Nadeau, Photography – George Mooradian, Music – Tim Truman, Special Effects Supervisor – John Hartigan, Production Design – Philip Duffin. Production Company – Orion Pictures/Cohiba Pictures.
Cast
Kylie Travis (Karen Warren), James Belushi (Frank Lloyd), Frank Whaley (Brian), Shannon Whirry (Rayanne), Sherman Howard (State Trooper), Jesse Borrigo (Jesse), Robbie Thibault Jr (Paul), Guy Boyd (Bud), Kristina Coggins (Martha)
---
Plot
Hostage negotiator Karen Warren's car breaks down on the Arizona back highways. She accepts a ride with Frank Lloyd and his girlfriend Rayanne, unaware that Frank is driving to a meeting to conduct a sale for an illegal shipment of computer chips. She becomes caught up in the bickering between the two, which ends with Frank shooting Rayanne. Fleeing as Frank tries to kill her, Karen comes to laboratory of the scientist Brian and is caught up just as Brian begins an experiment in attempting to send a lab animal twenty minutes into the past. Reliving the events over again, Karen tries to stop Frank killing Rayanne but her attempts result in a bloodbath. She returns to Brian and gets him to send her back again and again, each time to try and stop events from going disastrously wrong and people being killed.
---
Sometimes cruising cable channels and videostore shelves and taking a chance on an unheard of product can reap unexpected rewards. Mostly the films found are justly unrecognised, but sometimes you come across something that makes wading through everything else worth the while. Retroactive is one of those occasions.
The film was more than likely inspired by the success of Harold Ramis's comedy hit Groundhog Day (1993). Retroactive plays the idea seriously and adds an underlying science-fiction rationale. And it is rather well done. The film catches attention from the opening moments – we have Kylie Travis, who we learn is a hostage negotiator it is implied fleeing from a situation back in Chicago (a plot point left unexplored); her car breaking down and she by chance being picked up by James Belushi who is driving to make an illegal deal, accompanied by his wife (Shannon Whirry) whom he beats and taunts; their being stopped by a sinister State Trooper; the revelation that the beaten wife is having an affair (with someone we later find is involved in the illegal deal), culminating in the shooting of the wife. It is a scenario where you are never sure what is going to happen next.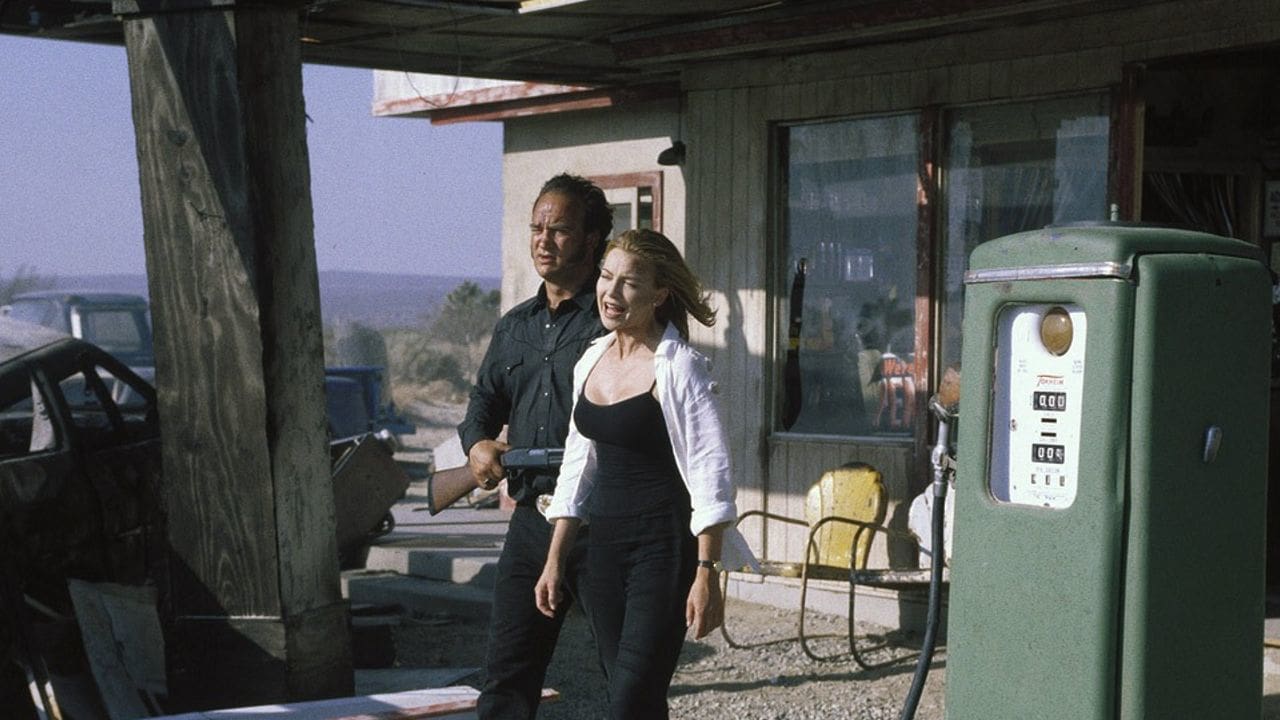 The uncertainty is capped by James Belushi playing a hick redneck whose initially overbearing obnoxiousness and crassness suddenly explodes into psychosis. It is all the more unexpected because Belushi usually plays red-blooded, beer-drinking, slightly lugubrious Everyman types and his being the most recognizable name in the cast automatically carries the assumption that he will be the hero of the show. Belushi has the time of his life playing the part and the performance is such that one wishes he would visit this sort of territory again rather than the blandly nondescript comedy parts he is usually stuck in.
Of course, Retroactive becomes even more fascinating when it starts putting the scenario through the Groundhog Day and Run Lola Run (1998) variations on the familiar. (In fact, it does a far better job of expanding the causal differences out than the overrated Run Lola Run). The second time around, where the previous scenario is put through a series of sharp, fast-paced shock twists and most of the characters are killed off in an intensely exciting shoot up, is electrifying. Although by the third time around the guns, car crashes and bloodbath tend to take over from the novelty of the idea. Nevertheless, the fourth time offers some unique wrinkles on the foregoing scenarios.
The result is a surprisingly good film. It is the one standout on the resume of director Louis Morneau, who also made Carnosaur 2 (1995), Bats (1999), the dire The Hitcher II: I've Been Waiting (2003), Joy Ride 2: Dead Ahead (2008) and Werewolf: The Beast Among Us (2012), as well as several routine action films. The script is co-written by Phillip Badger, who also directed the interesting ghost story The Forgotten One (1989) and another time travel film Slipstream (2005), which was written by Louis Morneau.
---
---