(Omoide no Mani)
---
Crew
Director – Hiromasa Yonebayashi, Screenplay – Masashi Ando, Keiko Niwa & Hiromasa Yonebayashi, Based on the Novel by Joan G. Robinson, Producer – Yoshiaki Nishimura, Music – Takatsugu Murumatsu, Animation Director – Masashi Ando, Production Design – Yohei Taneda. Production Company – Studio Ghibli.
---
Plot
Young Anna Sasaski is an orphan. To help with her asthma, she is sent away from where she lives with her aunt in Sapporo to stay with the Oiwas by the seaside. There she becomes fascinated with Marsh House just off the shore, which she can walk out to when the tides are out. While she is there, Anna is befriended by Marnie, another girl her own age who lives in the house. The two become best friends and Marnie invites Anna in to play and meet her family. As Anna comes to realise that Marnie is a ghost who lived at Marsh House in the past, her friendship opens up the tragedy that exists in both their lives.
---
When Marnie Was There was announced as the final film for Studio Ghibli. This is something that should be regarded with a certain pinch of salt – after all, Hayao Miyazaki has kept announcing his retirement for the last decade now and has continually rescinded it and gone on to make a further three films. When Marnie Was There was the second directorial outing for Hiromasa Yonebayashi, an animator at the studio who had previously directed the successful Arrietty/The Secret World of Arrietty (2010) and subsequently went on to make Mary and the Witch's Flower (2017) for different companies plus one of the episodes of the anime anthology Modest Heroes (2018). The film is based on an award-winning 1967 Young Adult novel by British author Joan G. Robinson.
A ghost story or any type of traditional Japanese kaidan eiga is not something you associate with Studio Ghibli. Though their films feature creatures and monstrous figures, almost invariably these are revealed to have a vulnerable side to them when greeted with pure-hearted innocence. Indeed, what When Marnie Was There resembles more is the type of bildungsroman that Hayao Miyazaki essentially invented with My Neighbor Totoro (1988) wherein a young girl or child goes away to the country and finds a magical secret world that opens up for them there. We have seen variations on this in other anime such as The Cat Returns (2002), Oblivion Island: Haruka and the Magic Mirror (2009), Summer Wars (2009), Children Who Chase Lost Voices from the Deep (2011), A Letter to Momo (2011) and Wolf Children (2012), even Arrietty. There is little here that approaches anything we would associate with a traditional Western (or even Japanese ghost story). There is nothing that ever sets out to scare us – instead, what we have is more a story about the life of a lonely girl and the growth of friendship.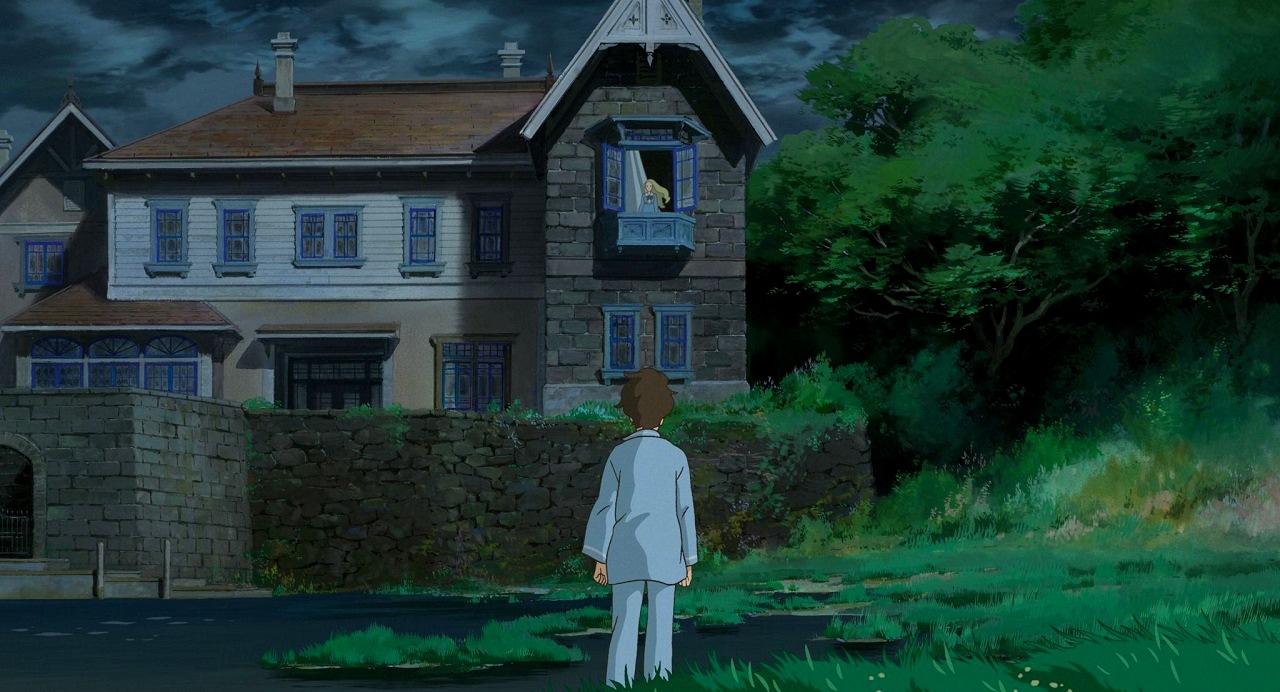 Arrietty showed Hiromasa Yonebayashi as a perfectly capable inheritor of Hayao Miyazaki's style. Similarly, When Marnie Was There is a very Miyazaki-esque film. Yonebayashi draws in the same ligne claire styled characteristic of Miyazaki – clear outlined figures, bold use of colours and landscape – and features the same focus on the tenderness of youth, the same genteel reverence for nature and elders. Screen When Marnie Was There without credits alongside any other of Miyazaki's films for someone not familiar with them and I think they would be hard-pressed not to mistake it as one of his films. The major difference for those who know the difference is that When Marnie Was There is a much quieter film than most of Miyazaki's work and never quite hits its emotional peaks as joyously.
The scenes of the friendship between Anna and Marnie comes with a lovely tenderness. I must confess that I never fully followed some of the plot strands that come in towards the end – I was never sure why Marnie was confined to the upper room and how she managed to get free. There also seems much built up about how the silo is a scary place and may house ghosts but when we get there this dissipates into not being the case. The film at some points also confusingly vies between whether Marnie is a ghost or is simply a figure in Anna's imagination. That said, the film does eventually bring all of these strands together in an ending that is sweet and tearfully sad.
---