---
Crew
Director – Geoff Klein, Screenplay/Producers – Geoff Klein & Jeff Ross, Photography – Natalino Lattanzio, Music – Benjamin Beladi & Michael Vickerage, Special Effects/Makeup Effects – Marie Ashley Nelson. Production Company – BGOI Films.
Cast
Cindel Chartrand (Jenna Taylor), Danielle Doetsch (Sam), William Jarand (Moe), Christina Sciortino (Lena), Jarek Gader (Blake), Ivan Peric (Tommy), Sandy Greig (Hank), Caroline Faille (Brooke), Suzi Lorraine (Kelly), Kerri Taylor (Nikki), Pierre Lefebvre (Pierre), Gigi Herbert (Ginette), Michael Aaron (JD), Christina Gentile (End Girl), Matt Turner (Guy in Convertible)
---
Plot
A group of girls from the campus agree to take part in a bikini car wash as a fundraiser. The bus transporting them to where the car wash is to be held breaks down at an abandoned gas station on a country road. Learning that they have to wait several hours for the bus to be repaired, they decide the only option is to hold the car wash there. However, a crazed maniac is also lurking in the area and begins slaughtering the girls and placing their bodies on ice in coolers.
---
Bikini Girls on Ice is a slasher film made by newcomer filmmakers from Montreal. If nothing else, you have to commend the film for having a title that says it all – it immediately catches the attention. I mean, how could any red-blooded fan of low-budget horror not want to watch a film with such a title? It almost sounds like a title that Fred Olen Ray – the king of low-budget films who has made numerous softcore bikini titled films including the likes of Bikini Drive-In (1995), Bikini Hoe-Down (1997), Bikini Airways (2003), Bikini Chain Gang (2005), Bikini Girls of the Lost Planet (2006), Bikini Pirates (2006), Genie in a String Bikini (2006), Ghost in a Teeny Bikini (2006), Super Ninja Bikini Babes (2007), Bikini Frankenstein (2010) – should have thought of before.
Unfortunately, everything interesting about Bikini Girls on Ice ends with the title. The film offers up a generous line-up of girls who spend the entire film wandering around in bikinis – most of these are amateurs (there are no known names in the film) and not particularly good actors. Despite the film's sensationalistic title, very little of this translates into anything beyond the equivalent of window-shopping. There is almost nothing in the way of said girls getting their bikinis off, which is almost something that you expect with the territory when you watch a film like this. You ultimately get the feeling that Bikini Girls on Ice would have been a whole lot happier having been made in the late 1980s when the Scream Queen fad took off and films were shameless about gratuitous toplessness – indeed, seemed to require it of the bikini girls they cast – as opposed to the far more chaste and modest 00s.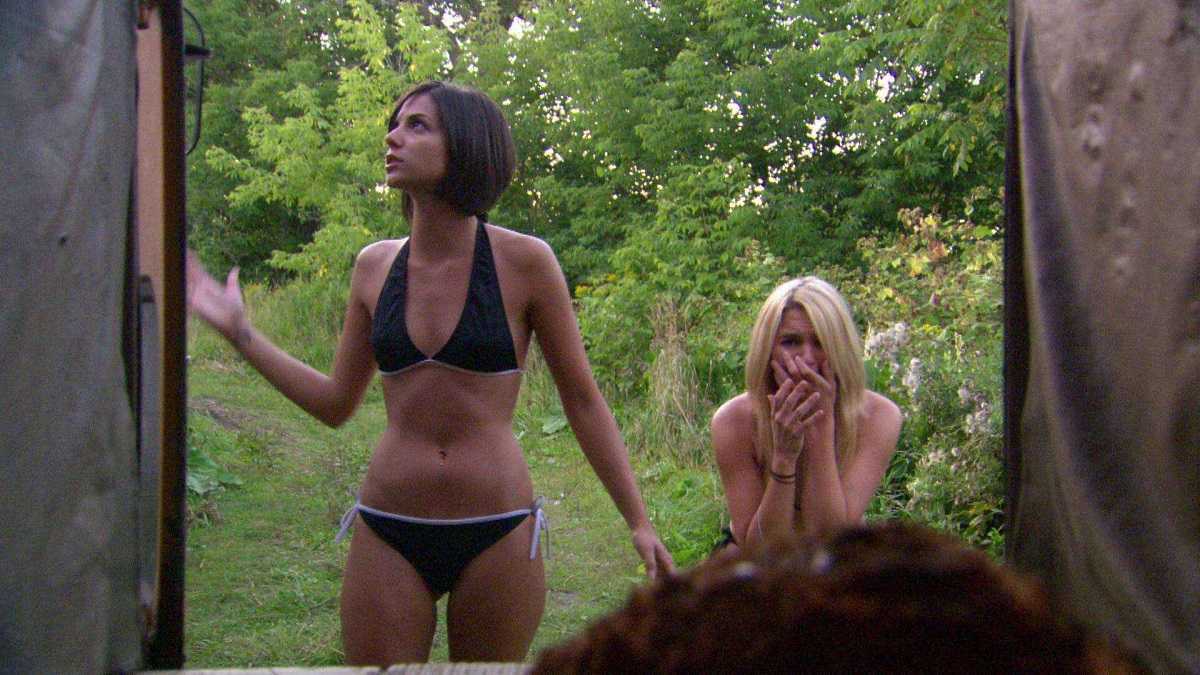 The rest of Bikini Girls on Ice takes place as by the numbers slasher mechanics. There is a peculiar lack of any raison d'etre offered up as to why the film's slasher is killing the bikini girls and placing their bodies in ice coolers – one of the more amusing images is that of the killer pinning their bikini tops to an indoor clothes line as though they were trophies. You would think a title like this would naturally lend itself to a tongue-in-cheek approach but the film takes itself seriously throughout. A less than serious approach could well have been the film's saving grace.
Ultimately, Bikini Girls on Ice is a film that exists as no more than the sum of its title collusions – the gratuitous titillation offered by the provision of plentiful girls running about in their bikinis for the duration of the film and to horror audiences of then seeing them slashed up. I suppose I had the vain hope somewhere in this that the film might have had something that transcended this.
As with a host of Canadian-shot films, Bikini Girls on Ice maintains the bizarre pretence that it is taking place in the US – Canada seems to have a strange difficulty in reflecting its own cultural identity when it comes to making genre movies. Being a Montreal (Quebecois) shot film, it also throws in two French-speaking tourists that seem weirdly out of place in the film's attempt to locate itself in backwoods Georgia.
Geoff Klein made a sequel Pinup Dolls on Ice (2013).
---
---