---
Crew
Director/Story/Producer – Nico Mastorakis, Screenplay – Nico Mastorakis & Fred C. Perry, Photography – Andrew Bellis, Music – Stanley Myers, Songs – John Kongos, Special Digital Effects – Phil Stone, Special Effects – Y. Samiotis, Production Design – Anne-Marie Papadelis. Production Company – Omega Pictures/Wescom Productions.
Cast
Joseph Bottoms (Jonathon Ratcliff), Kirstie Alley (Claire Simpson), James Daughton (Dave), Lana Clarkson (Rachel), Keir Dullea (Dr Steiger), Charles Nicklin (Robert), Michael Howe, Gerald Kelly & Jerry Sundquist (Subway Gang), Marina Sirtis (Hooker)
---
Plot
American Jonathon Ratcliff accepts an advertising job in Athens. There he becomes fixated on the model Rachel, who reminds him of his ex Marian, and follows her. He is chased away by her boyfriend and falls down a hill only to end up losing his sight. Dr Steiger can find no physical cause for this but suggests Jonathon try an experimental device built to resemble a Walkman that allows him to create a sonic picture in his head. As Jonathon adjusts to the new device, he is witness as a serial killer who is plaguing the city emerges from the apartment of a woman he has just killed. Certain that the device has recorded sounds that will identify the killer, Jonathon sets out to stop him.
---
Greek director Nico Mastorakis is an undeniably interesting character. He had a career as a journalist during which he managed to sneak aboard the yacht of Aristotle Onassis and scoop the fact that Onassis and Jackie Kennedy had married. He became a popular television host but was disgraced following an interview with the participants in an anti-government uprising. Mastorakis left the country for the US and turned to making films. The first of these was the interestingly ultra-violent Island of Death/Island of Perversion (1975). Subsequently, Mastorakis went on to make the psychic film Death Has Blue Eyes (1976); The Next One (1984) with Keir Dullea as a mysterious visitor from the future, the acclaimed horror film The Zero Boys (1986), the supernatural thriller The Wind (1987), the psycho-thriller In the Cold of Night (1989), Nightmare at Noon (1990) about a town driven insane by bio-spill, and the cyber-thriller .com for Murder (2002). Mastorakis has also produced the monster movie Blood Tide (1982), Sky High (1985) and the psycho film Grandmother's House (1988).
Blind Date is often confused with the Bruce Willis-Kim Basinger-starring romantic comedy Blind Date (1987). The major footnotes it has is in starring Kirstie Alley, not long after she had gained attention with her first film role in Star Trek II: The Wrath of Khan (1982) and still several years before her becoming a regular on tv's Cheers (1982-93). The other name that holds attention is that of Marina Sirtis, who a few years later became Counselor Deanna Troi on Star Trek: The Next Generation (1987-94). Also present as one of the victims is Lana Clarkson who had a career as a B-movie actress in films like Deathstalker (1983) and Barbarian Queen (1985) before being shot to death by Phil Spector in 2003. All three take their clothes off during the course of the film.
The film comes with an unusual gimmick where Joseph Bottoms is blinded. It is not entirely clear what happens – Bottoms stalks Lana Clarkson then flees as he is spotted and falls down a slight wooded slope and afterwards cannot see. However, nothing appears to have happened to his eyes, rather the blindness is psychosomatic. Doctor Keir Dullea then gives Bottoms an experimental device that appears able to interpret sounds and allow him to see crude line-animated shapes.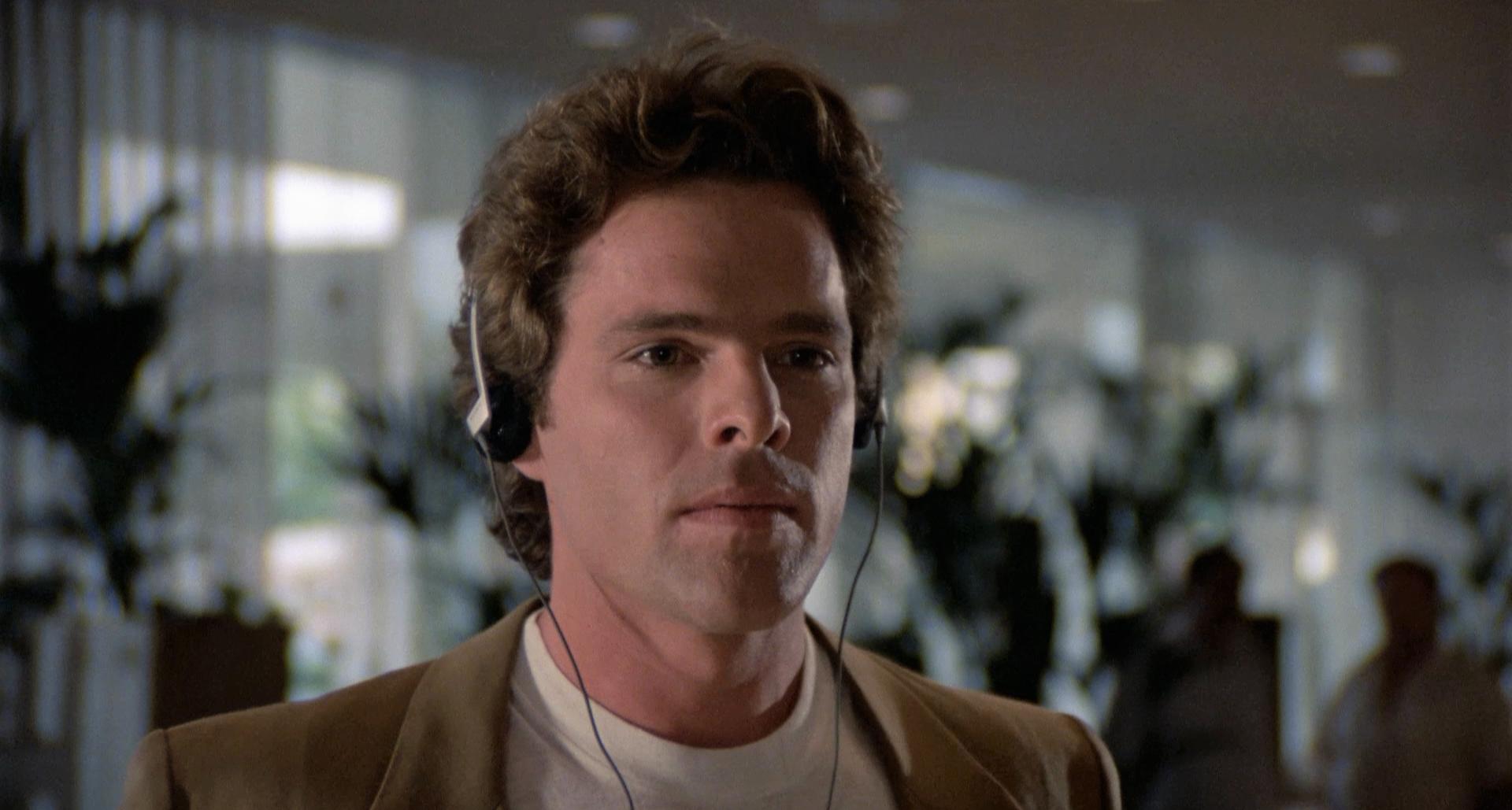 Now with a set-up like this you expect a couple of things. One of these is that with a psychosomatic sensory loss, the plotting expectation is that Bottoms will regain his sight at a crucial moment a la The Spiral Staircase (1946), the classic psycho-thriller that started this trope. The other expectation is that after the introduction of the device is that it tie into the drama in some crucial way. However, neither of these happen. The most we get is a scene where Bottoms tracks the type of vehicle the killer uses by going over the tapes – a scene that reminds of the far superior one in Brian De Palma's Blow Out (1981).
Essentially, this makes Blind Date into no more than a variant on films like BrainWaves (1982) and Unforgettable (1996) where people receive memory transplants from the dead and then engage in mundane detectives stories trying to find the killer. There is the same sense here of the possibilities of a science-fictional device raised and the film then doing nothing more than engage in a mundane thriller plot. Or perhaps you could make an even closer analogy to a film like Blink (1994) where blind Madeline Stowe receives surgery allowing her to see again at the same time as she is targeted by a killer.
There is one effective scene in the middle of the film where Joseph Bottoms is spotted by the killer, flees up a flight of stairs but trips and pulls his headphones out, leaving him effectively blind again whereupon he stumbles out onto a rooftop unaware of where he is going and wanders precariously close to the edge. There is one intriguing scene where Bottoms plugs his videogame into the device, leaving him with an overwhelmed sensory overload. Outside of that, the slasher element in the film is routine and seems to only centre around women undressing and then being killed.
---
Trailer here
---