---
Canada. 1973.
Crew
Director – Ivan Reitman, Screenplay – Robert Sandler, Story – Daniel Goldberg, Ivan Reitman & Robert Sandler, Dialogue Developed by the Cast, Producer – Daniel Goldberg, Photography – Robert Saad, Music – Doug Riley, Special Effects – Michael Lotosky & Richard Whyte. Production Company – Scary Pictures.
Cast
Eugene Levy (Clifford Sturges), Andrea Martin (Gloria Wellaby), Ronald Ulrich (Reverend Alex St John), Randall Carpenter (Anthea), Bonnie Nielson (Clarissa), Mira Pawluk (Leona), Bob McHeady (Sheriff), Allan Price (Felix Fanson), Alan Gordon (Rick), Earl Pomerantz (Third Victim), Bunker (Himself), May Jarvis (Mrs Wainwright), Gino Marrocco (Mouse)
---
Plot
Clifford Sturges and Gloria Wellaby have been dating for two weeks. Driving from Toronto, they stop in the small town of Farnhamville with car trouble. They are referred to a motel where the proprietor tells them the legend of a local house where three girls used to lure men and then kill and eat them. They learn that the same house has now become a gourmet restaurant. They decide to visit the restaurant where they are welcomed in by the creepy Reverend Alex St John and served by his three girls. The Reverend persuades them it would be best to stay the night. They then find themselves terrorised by the Reverend and the three girls.
---
Cannibal Girls is one of the legendary entries from the so-called Canucksploitation period of the 1970s and 80s in Canadian cinema. A large part of the legend surrounding Cannibal Girls grew out of the fact that the film is directed by Ivan Reitman who later went onto fame as a director of mainstream comedies with the likes of Meatballs (1979), Stripes (1981), Ghostbusters (1984) and Six Days, Seven Nights (1998). (A full list of Ivan Reitman's other genre efforts is at the bottom of the page). It also featured a then unknown Eugene Levy and Andrea Martin who both went onto star on the celebrated Canadian comedy series Second City TV (1976-81) a few years later.
Cannibal Girls came out at a point in the early 1970s where cannibalism was suddenly appearing as a theme in exploitation cinema and featured in various films such as Terror at Red Wolf Inn (1972), Death Line/Raw Meat (1972), Tales That Witness Madness (1972), A Severed Arm (1973), Welcome to Arrow Beach (1975) and most famously The Texas Chain Saw Massacre (1974), even in science-fiction efforts such as Soylent Green (1973) and A Boy and His Dog (1975). This was a few years before Italian exploitation cinema would launch into the theme with hardcore efforts such as Slave of the Cannibal God/Prisoner of the Cannibal God (1978), Cannibal Holocaust (1979) and Cannibal Ferox (1981).
Cannibal Girls has developed a reputation over the years. This is largely due to its unavailability either on dvd or video up until this 2010 restoration. As with many other films that have suffered from lack of availability, this has resulted in a cult growing around them, one that is usually amplified by second-hand reporting of their content. This is certainly the case with Cannibal Girls where unavailability and the subsequent fame of some of its participants has tended to increase the film's reputation beyond the unremarkable work on display.
Cannibal Girls was billed as a comedy, although this would seem to be a misnomer – it is a straight horror/exploitation film, no more, no less, and there are few points that it seems to be intentionally played as a comedy. (Unintentionally is another whole story). When American International Pictures (AIP) picked up the film for US release, they added a gimmick borrowed from the arsenal of the great William Castle of a warning bell that sounded at appropriate intervals to advise viewers of scenes of a particularly violent nature. The complaint might be that, despite an occasional degree of bloodletting, the addition of the warning bell seems unwarranted – there is little that can be regarded as scary and certainly nothing that pushes the envelope. There aren't even any scenes of people engaged in the titular cannibalistic activities.
Despite a little blood, some demented acting (notably from Ronald Ulrich who overplays the part of the reverend with thoroughly overwrought theatrical affect) and a few naked boobs, Cannibal Girls emerges as a little too clean to be the trash exploitation classic it has been sized up as. Some of the other films that Ivan Reitman produced a couple of years later such as David Cronenberg's Shivers/They Came from Within (1975) and Rabid (1977) or Death Weekend/The House By the Lake (1976) and Ilsa, The Tigress of Siberia (1977) are much more successful at getting this mix right.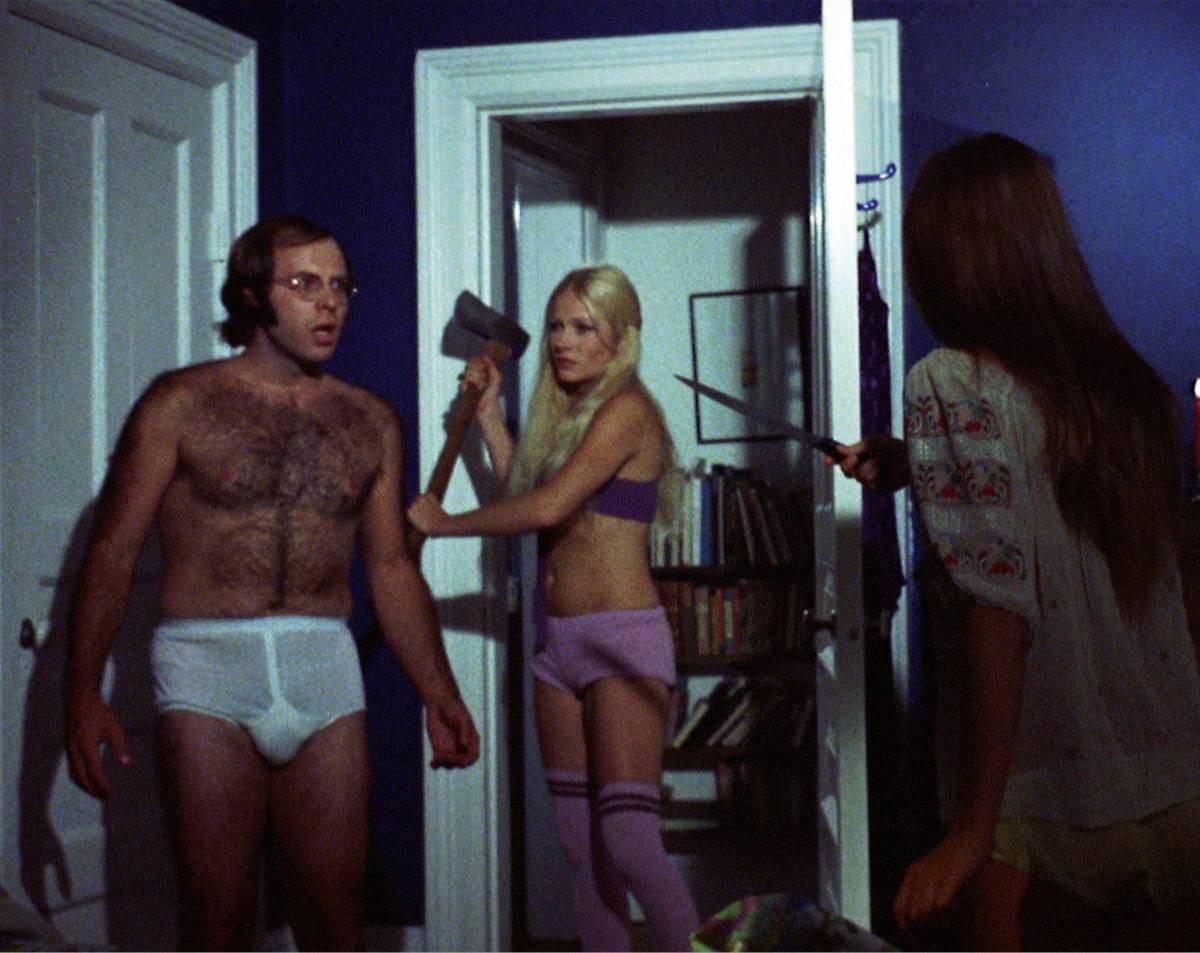 One of the more interesting credits notes that the cast came up with the dialogue in the film. For the most part, this works passably well apart from odd scenes such as where the girls stand around trying to cook and their clearly improvised dialogue falls flat. The main problem with Cannibal Girls is that it has the feel of the story being improvised without Ivan Reitman and the crew having a clear grasp on what they were trying to make a film about. Everything is slow moving and the plot never seems to have a clear direction. Little is done to make the cannibal girls/restaurant idea work – there is no explanation of who the girls and the reverend are, why they have adopted cannibalism as a lifestyle choice and why they are murdering only guys. The film also tries to conduct a paranoid smalltown conspiracy with the locals plotting to keep them there – although why a small town should engage in a conspiracy to feed people to a houseful of cannibals is equally unclear.
Ivan Reitman's other genre films are:- Ghostbusters (1984); Twins (1988) with Arnold Schwarzenegger and Danny DeVito as mismatched clone twins; Ghostbusters II (1989); Junior (1994) with Schwarzenegger as a pregnant man; Evolution (2001), which essentially replays Ghostbusters as an alien invasion comedy; and My Super Ex-Girlfriend (2006). Reitman also produced David Cronenberg's first two commercial successes, Shivers/They Came from Within/The Parasite Murders (1975) and Rabid (1977), the revenge and brutality film Death Weekend/The House By the Lake (1976), the animated Heavy Metal (1981), the space opera Spacehunter: Adventures in the Forbidden Zone (1983), Space Jam (1996) featuring Michael Jordan taking on Warner Brothers cartoon characters, the animated tv series Mummies Alive! The Legend Begins (1998), the psycho-thriller Disturbia (2007), the ghost story The Uninvited (2009), Hitchcock (2012), Ghostbusters (2016), A Babysitter's Guide to Monster Hunting (2020), Ghostbusters: Afterlife (2021) and Space Jam: A New Legacy (2021).
---
---