---
Crew
Director – Malcolm D. Lee, Screenplay – Celeste Ballard, Keenan Coogler, Jesse Gordon, Terence Nance, Tony Rettenmaier & Juel Taylor, Story – Keenan Coogler, Terence Nance, Tony Rettenmaier & Juel Taylor, Producers – Maverick Carter, Ryan Coogler, Duncan Henderson & LeBron James, Photography – Salvatore Totino, Music – Kris Bowers, Visual Effects Supervisor – Grady Cofer, Visual Effects – Cinesite, Industrial Light and Magic (Supervisor – Alex Prichard), Luma (Supervisors – Alex Cancado & Andrew Zink), Animation Supervisor – Spike Brandt, Digital Animation Supervisor – Kevin Martel, Animation – Company 3 Animation, Tonic DNA (Supervisor – Tod Shaffer), Special Effects Supervisor – Mark Hawker, Production Design – Akin McKenzie & Clint Wallace. Production Company – Warner Bros./Proximity/The Springhill Company.
Cast
LeBron James (Himself), Don Cheadle (Al G. Rhythm), Cedric Joe (Dominic James), Khris Davis (Malik), Sonequa Martin-Green (Kamiyah James), Ceyair J. Wright (Darius James), Stephen Kankole (Young LeBron 13 Years), Jalyn Hall (Young Malik 13 Years), Wood Harris (Coach C)
Voices
Jeff Bergman (Bugs Bunny/Sylvester/Yosemite Sam/Fred Flintstone/Yogi Bear), Zendaya (Lola Bunny), Eric Bauza (Daffy Duck/Marvin the Martian/Porky Pig/Foghorn Leghorn/Elmer Fudd), Gabriel Iglesias (Speedy Gonzalez), Candi Milo (Granny), Bob Bergen (Tweety Bird), Fred Tatasciore (Taz), Rosario Dawson (Wonder Woman)
---
Plot
NBA star LeBron James tries to raise his son Dominic to be a basketball player but Dom is more interested in designing videogames. LeBron is invited to Warner Brothers to discuss a deal on licensing his likeness as an avatar in the company's expansion into the digital realm but he declines. Al G. Rhythm, the company's artificially intelligent algorithm, is angered at the rejection of his idea and contrives to have LeBron and Dom taken down to the basement where they are digitised into the Warnervese. Al takes Dom away and transplants LeBron into Tune World with orders to assemble a basketball team. LeBron meets Bugs Bunny who hijacks Marvin the Martian's ship and sets out to reunite all his toon friends to become LeBron's team, the Tune Squad. Meanwhile, Al has tricked Dom into using the videogame he has created that places various modifications on a standard baseball game. As the game begins, this allows the team of monstrous and superpowered players Al has assembled to cheat. Al brings LeBron's family and a host of other Warner's characters in as spectators with the stakes of the game being that if the Tune Squad loses, everyone is forced to remain there forever.
---
For reasons inexplicable to me, Space Jam (1996) has become regarded as a culture classic. The film had its genesis in two Nike ads in 1992 and 1993 that paired NBA star Michael Jordan with Bugs Bunny. This oddity concept was then spun out as a feature film – one has to remember that this was only a few years after the hit success of Who Framed Roger Rabbit? (1988) and its popularisation of the Toon film where cartoon characters interacted with live-action actors. It became the opportunity for Warner Brothers to bring various of their Looney Tunes characters from the 1930s-50s back out of mothballs and pit them together in a basketball match.
I was never much of a fan of Space Jam – it seemed more of a novelty concept than a great or even memorable film. Not to mention that many of the characters such as traditional enemies like Wile E. Coyote and the Road Runner were twisted out of shape to be included as characters. The film has a very mixed reception, nevertheless it has stuck with audiences sufficiently to make this revival into a No 1 hit at the box-office. And certainly a sequel has been planned fairly much ever since the original came out – at one point to have starred Jackie Chan. These sequel plans did metamorphose into Joe Dante's Looney Tunes: Back in Action (2003), which was not as popular but is far more worthy of the accolades being poured on Space Jam with the release of this sequel – it does capture the style of the Looney Tunes cartoons, get the characters right and play the whole in-referentiality game far better than both Space Jam films combined.
Space Jam: A New Legacy was originally to go ahead under Justin Lin, director of assorted The Fast and the Furious sequels and Star Trek: Beyond (2016), who opted to sign on for F9 (2021) instead, although remains as an Executive Producer. The director's chair now goes to Malcolm D. Lee, the less talented cousin of Spike Lee. Where Spike has been out there tackling African-American race issues, Malcolm has since 1999 maintained a middle-of-the-road career with assorted lightweight African-American-centred comedies. His best film is probably Undercover Brother (2002), a sometimes witty spoof of Blaxploitation films but mostly Malcolm Lee has earned his keep making sequels to other people's films with the likes of Scary MoVie (2013) and Barbershop: The Next Cut (2016).
Space Jam: A New Legacy is not so much a continuation of Space Jam as a reconceptualization of it – different NBA star is recruited to assemble a team made up of Looney Tunes characters and play a game of basketball against assorted monstrous creations. The main difference is that the Monstars and invading aliens of the first film have been replaced by Don Cheadle as a rogue Artificial Intelligence and the film set inside a Virtual Reality realm inhabited by characters under the Warner Brothers copyright. The Big Bad of the show is now explicitly made into an algorithm in what is maybe the first studio film of the modern era to tackle the massive sea change wrought by Netflix and their online streaming content, predicated on algorithmic searches and recommendations.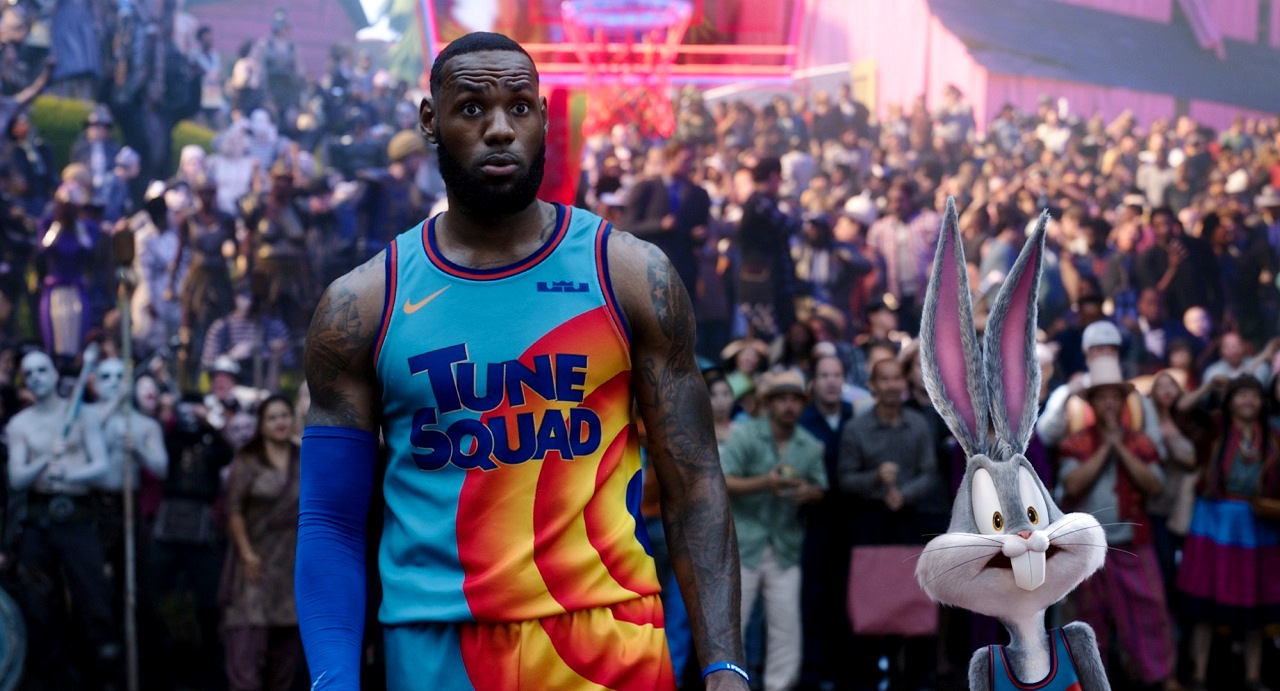 The conception behind Space Jam: A New Legacy has been to play a massive game of Crossover with Warner Brothers intellectual property that makes it into something akin to Space Jam by way of Ready Player One (2018). LeBron and Bugs take a tour where they pass through everything from the DC Animated Universe, the Harry Potter universe, Casablanca (1942), Game of Thrones (2011-9), invade scenes from Austin Powers: The Spy Who Shagged Me (1999), The Matrix (1999) and Mad Max Fury Road (2015), and meet Lola Bunny on Paradise Island in an animated simulation of Wonder Woman (2017). The ringside attendees are packed with a massive number of characters from Warner Brothers' properties including King Kong, Bette Davis's Baby Jane from What Ever Happened to Baby Jane? (1962), The Flintstones and The Jetsons, characters from tv's Batman (1966-8), the Droogs from A Clockwork Orange (1971), the Gremlins (1984), The Penguin from Batman Returns (1992), The Mask (1994), The Iron Giant (1999), Agent Smith from The Matrix, assorted characters from The Lord of the Rings films and Pennywise from It (2017). We even get a poster promotion for Scoob! (2020), Warner Brothers' previous attempt to market a crossover universe from Hanna-Barbera properties.
This is fun for a time as you keep watching the background to play Spot the Reference. On the other hand, there feels like a madcap desperation of throwing everything at the audience to see what will stick attitude. For the family film that A New Legacy purports to be, some of these references – Game of Thrones and in particular A Clockwork Orange – are definitely not PG-rated works.
The sequel opened to some fairly negative reviews. Unlike most of these, I am not so concerned as to how it stands up to the original as I don't consider Space Jam a fairly good film. For the record, I think A New Legacy actually comes out as the better film. It has far more of a feel for the Looney Tunes as characters and proves far more entertaining when it gets all the various characters in action on the basketball court.
On the other hand, the reconception of the Looney Tunes characters as digital creations often seems ugly and jarring. Not to mention the addition of a grating scene where we see the Looney Tunes rapping. LeBron James is about as limited an actor as Michael Jordan was in the original – the film does get off one cute joke playing on the confusion between basketballer Michael Jordan and actor Michael B. Jordan. That said, Looney Tunes: Back in Action still wins the day hands down.
---
Trailer here
---