---
Crew
Director – Jason Reitman, Screenplay – Gil Kenan & Jason Reitman, Producer – Ivan Reitman, Photography – Eric Steelberg, Music – Rob Simonsen, Visual Effects Supervisors – Sheena Duggal & Alessandro Ongaro, Visual Effects – Crafty Apes (Supervisor – Chris Van Dyck), DNeg (Supervisor – Aharon Bourland) & MPC (Supervisor – Pier LeFebvre), Special Effects Supervisor – Elia Popov, Makeup/Creature Effects – Arjen Tuiten, Production Design – Francois Audouy. Production Company – Columbia Pictures/Bron Creative.
Cast
McKenna Grace (Phoebe Spengler), Finn Wolfhard (Trevor Spengler), Carrie Coon (Callie Spengler), Paul Rudd (Gary Grooberson), Logan Kim (Podcast), Celesta O'Connor (Lucky Domingo), Dan Aykroyd (Ray Stantz), Bill Murray (Peter Venkman), Ernie Hudson (Winston Zeddmore), Annie Potts (Janine Melnitz), Sigourney Weaver (Dana Barrett), Bob Gunton (The Ghost Farmer), Bokeem Woodbine (Sheriff Domingo), J.K. Simmons (Ivo Shandor), Emma Portner (Spirit of Gozer), Shoreh Aghdashloo (Voice of Gozer)
---
Plot
Callie Spengler is badly behind in her rent. Learning that the father she barely knew has recently died, she moves into his dilapidated farmhouse in the small town of Summerville, Ohio along with her two teenage children Trevor and Phoebe. They learn her father was a crazy recluse, not liked by the locals. Phoebe searches and finds that her grandfather was in fact Egon Spengler, one of the original Ghostbusters. She finds his laboratory and ghostbusting equipment. She, Trevor and a classmate accidentally release a ghost from one of the traps and then cause much destruction through the town as they seek to recapture it. Their activities also serve to awaken Gozer that is imprisoned in a local mine. Callie and schoolmaster Gary Grooberson now become possessed as the Gatekeeper and the Keymaster, preparing the way for a full manifestation of Gozer.
---
Ghostbusters (1984) is regarded as one of the great classics of 1980s pop culture. I was never a huge fan. It was a show driven by Bill Murray in crude, sarcastic and obnoxious phase, which certainly proved highly entertaining. Outside of the one-liners and big effects sequences, it seemed an oddly misshapen show. My full thoughts on the original are at the above link – clearly, I am in a minority opinion about this and many fondly regard it.
The original creative team appeared in a sequel Ghostbusters II (1989) but none of the fans of the original seemed to like this. The characters were also spun out as an animated series The Real Ghostbusters (1986-91). There was then the all-female remake Ghostbusters (2016), which is much hated by the general public. Most of the hate for this at the time seemed to centre around the idea of replacing the all-male team with an all-female line-up. I have no particular attachment to the original so regarded the reboot better than most people seemed to do – about on a par with the original. Ghostbusters: Afterlife was announced as being a work that returned far more to the spirit of the original film and ignored the 2016 film (at the same time as everyone voiced their respect for all involved with the reboot!). The general public seemed to respond far better to this.
Ghostbusters: Afterlife is made by Jason Reitman, the son of Ivan Reitman, director of the first two Ghostbusters films (who is present as the producer here). Jason Reitman has maintained a more than reasonable career of his own as a director with films like Thank You for Smoking (2005), Juno (2007), Up in the Air (2007), Young Adult (2011), Men, Women & Children (2014), Tully (2018) and The Front Runner (2018). In fact, based on these first three films at least, I would argue that Jason is actually a stronger director than his father who spent much of his career directing easy middle-of-the-road comedies. Jason was even nominated for an Academy Award as Best Director for Juno. Jason co-writes the script with Gil Kenan, director of films like Monster House (2006), City of Ember (2008), Poltergeist (2015) and A Boy Called Christmas (2021).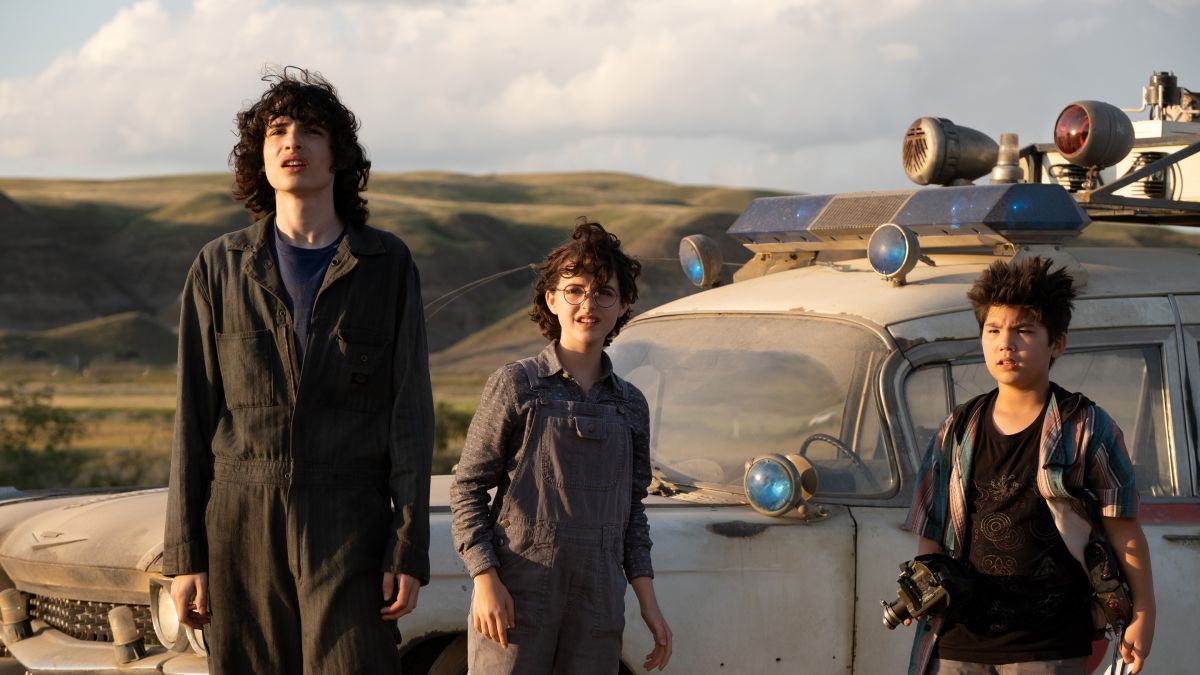 The immediate thing you notice is that Ghostbusters: Afterlife is playing the nostalgia card. It wades in it all the way up to the top of its proton pack. All of the surviving principals – Bill Murray, Dan Aykroyd, Ernie Hudson, Annie Potts and Sigourney Weaver – are back (the only exception being Rick Moranis). All the gadgets – the proton packs, Ecto-1, the ghost traps, the boiler suits (which were originally made for adults but remarkably enough can be slipped on by a bunch of kids) and an end credits return to the firehouse. The plot overly slavishly winds back in elements from the original like Gozer, the Gatekeeper and Keymaster, the manifestation of the pyramid and Gozer's female form, even appearances from a miniature version of the Stay Puft Man (in the original they were manifested by Gozer from Stantz's imagination, here they seem to appear simply because they were in the original and need to be included).
Aside from being directed by the son of the original director, Ivan Reitman's first directorial film Cannibal Girls (1973) is listed on the billboard of the abandoned cinema in town. The background of Egon's laboratory apparently comes packed with a whole bunch of Easter Eggs and in-jokes that dedicated fans of the original are likely to pick up on. Not to mention that the entire plot of the film seems to have been set up around the absence of Egon Spengler following Harold Ramis's death in 2014.
The other thing you notice as the film starts is that it has a very different tone. The original Ghostbusters was built on the successes that Bill Murray, Harold Ramis and Ivan Reitman had had with Meatballs (1979) and Stripes (1981), crude and raucous farces mainly based around Bill Murray being obnoxious. That kind of humour does not go down so well these days – indeed, Ghostbusters: Afterlife even has an end credits scene where Sigourney Weaver has Bill Murray hooked back up to his electro-shock machine zapping him as she gets him to read Zener Cards while shaking her head in disbelief that he ever did that, which seems almost inserted with the intent of symbolically making him feel ashamed for being a jerk.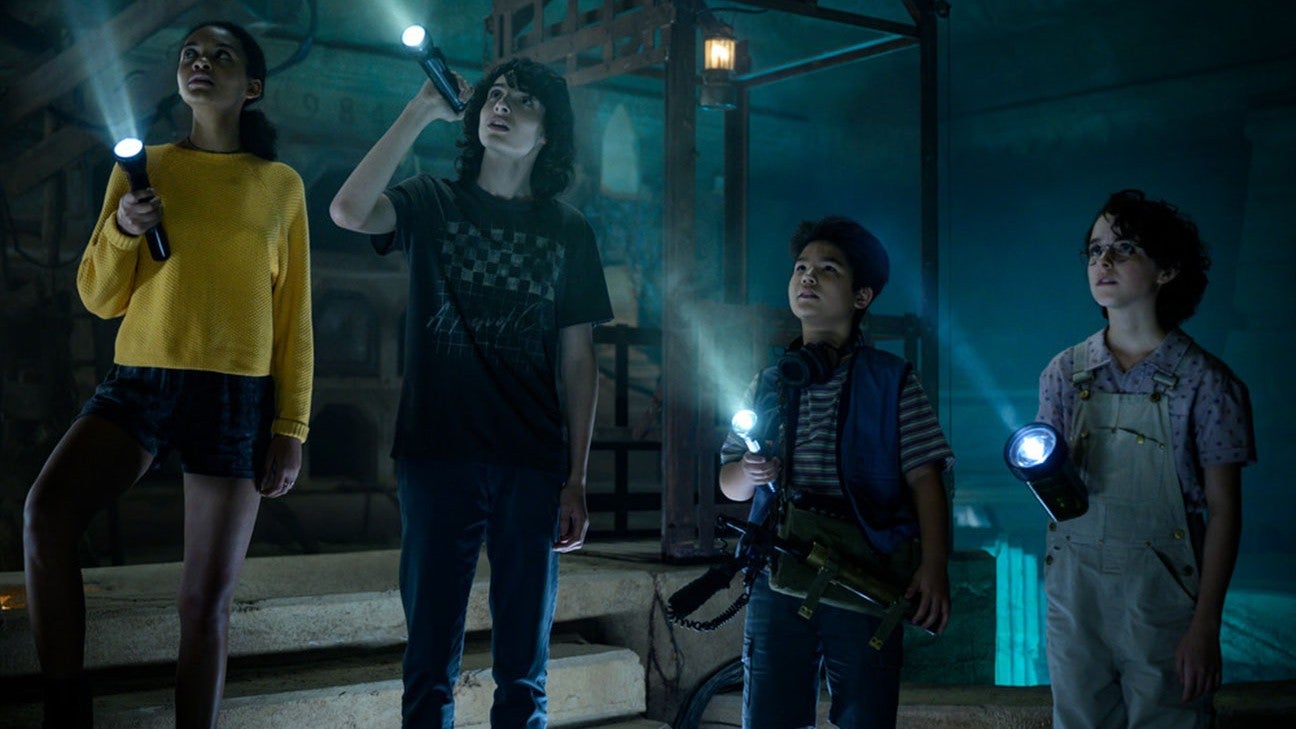 Instead the focus in Ghostbusters: Afterlife is on the kids. Although she is only fourth-billed, fifteen year-old McKenna Grace becomes the principal character of the show. She's almost the complete opposite of Bill Murray – serious and nerdy with a line in goofily stupid deadpan jokes – where she slots into being the granddaughter of Harold Ramis with effortless ease. Her appealing nerdiness ends up running the show and outshining everyone else including Finn Wolfhard, the breakout star from tv's Stranger Things (2016- ), and Paul Rudd, of whom you expected far more of a comedy playing (although he and Carrie Coon do strike up a snappy rapport).
On the wider angle, Ghostbusters: Afterlife is not without some problems. It lacks the comedy focus of the original and is more of a juvenile adventure with some comedy caper set-pieces than an outright comedy. While McKenna Grace does a standout take on Egon Spenger, there is no equivalent of Bill Murray among the new ghostbusters. That means the film lacks a lot of natural comedic energy carrying it. If there is anything you can say about the 2016 film, you cannot deny that it cast the quartet of roles with comedy actresses and gave them ample opportunity to do their thing.
The other thing is that this film is relatively light on big effects sequences. Jason Reitman gets off some entertaining effects set-pieces – most notedly the sequence with the group pursuing Muncher through the town in the Ecto-1 with McKenna Grace firing at it from the gunner seat and demolishing all and sundry; and an appealingly cute scene with Paul Rudd in a supermarket as it is overrun by miniature versions of the Stay Puft Man, which promptly go on a rampage toasting each over a barbecue or between chocolate and a cracker to create smores.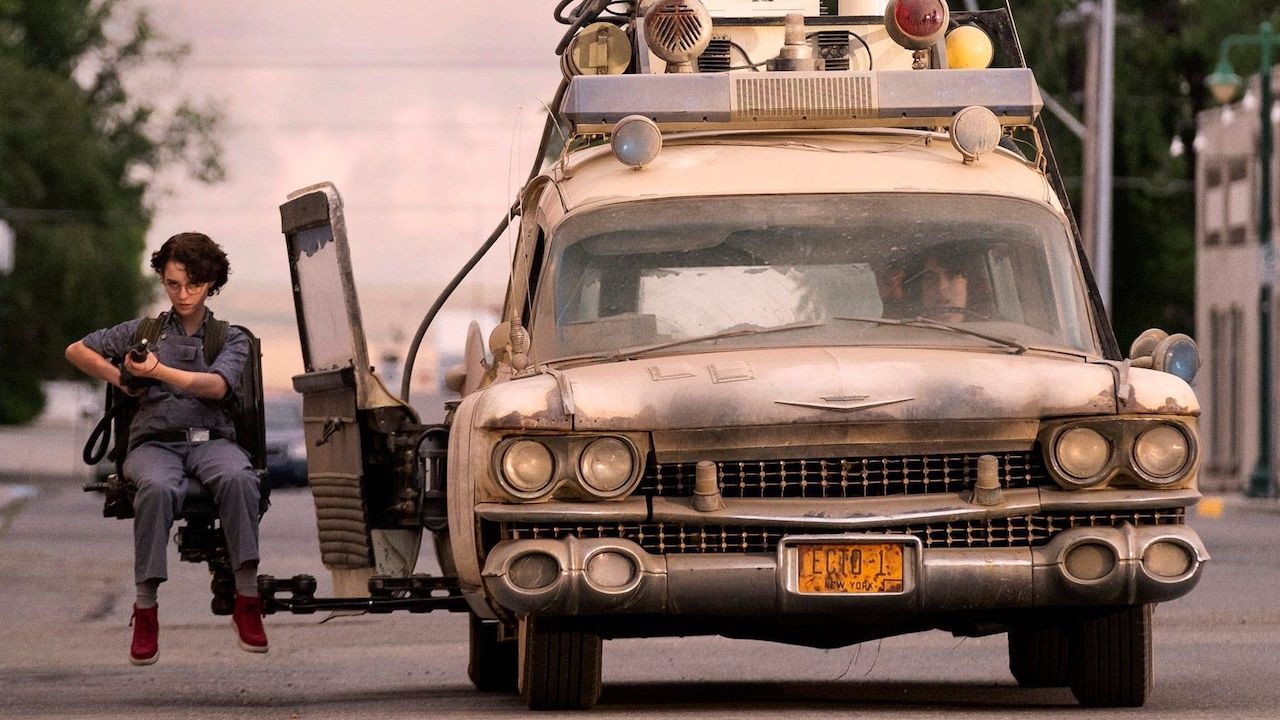 On the other hand, the film is still, like the original was, dependant on a big climax where the ghostbusters go into action amid flashing energy beams. However, the sequence here is one that lacks any equivalent of the giant attacking Stay Puft Man. That means that all that is left is an exacting replica of the Gozer pyramid and Gozer appearing in female form (Emma Portner) and the original Ghostbusters team turning up to save the day. That is to say, what we have is a climax dependent on playing the nostalgia card. And when it comes to the scenes with Egon's ghost (played by Bob Gunton) turning up like a disembodied Obi-wan Kenobi to aid the troupe and standing around afterwards giving hugs, it feels like the film playing the sentimental violin strings for all it can.
Which makes you contemplate why Ghostbusters 2016 failed and Ghostbusters: Afterlife is regarded as a success. You can't really compare the box-office of the two films as Afterlife came out during the midst of the Covid pandemic when a good many theatres were closed. Both of the films replaced the original Ghostbusters with a different line-up – an all-female cast in the 2016 film and kids here – but both also included cameos and guest appearances from the original actors, along with much in the way of fanservice. Ghostbusters 2016 has much more of a comic emphasis, while this has far less. The only noticeable difference is that this takes far more of a deep dive into Ghostbusters nostalgia and plays it for all it can and gets all sentimental about a reunion. Can that be all there really is to finding success for a modern Ghostbusters film?
---
Trailer here
---