(Der Mönch Mit der Peitsche)
---
Crew
Director – Alfred Vohrer, Screenplay – Alex Berg, Based on the Novel by Edgar Wallace, Producer – Horst Wendlandt, Photography – Karl Löb, Music – Martin Bötcher, Art Direction – Walter Kutz & Wilhelm Vorwerg. Production Company – Rialto Film Preben Philipsen G.m.b.H. & Co K.G.
Cast
Joachim Fuchsberger (Inspector Higgins), Siegfried Schurenberg (Sir John), Siegfried Rauch (Frank Keeney), Uschi Glas (Ann Portland), Tilly Lauenstein (Harriet Foster), Grit Böttcher (Betty), Gunter Meisner (Grieves), Konrad Georg (Keyston), Harry Riebauer (Mark Denver), Hans Epskamp (Bannister), Kurt Waitzmann (Carrington), Rudolf Schündler (Sergeant Hanfield), Suzanne Roquette (Mary), Susanne Hsiao (June), Ewa Sromberg (Pam Walsbury)
---
Plot
Frank Keeney is serving a jail sentence for theft but his cellmate introduces him to an elaborate scheme whereby Frank is smuggled out from the jail. Frank is taken to meet his mystery benefactor who then arranges for Frank to kill schoolgirl Pam Walsbury by going to church and substituting Pam's Bible for a hollowed out one that sprays poison in her face when she opens it. Police inspector Higgins and his criminologist companion Sir John go to Pam's boarding school to investigate. Frank is smuggled out to kill further girls at the school using a poison spray. Though witnesses identify Frank, Inspector Higgins puzzles over how he could be free while still incarcerated in jail. At the same time, someone in a bright red monk's robes and hood is killing members of the school's teaching faculty using a bullwhip.
---
English thriller writer Edgar Wallace (1874-1932) was once considered the fastest and most prolific writer in the world. It was at one point estimated that a quarter of all fiction read in the English language was one of Edgar Wallace's works. Edgar Wallace was a former newspaper war and foreign correspondent and began publishing fiction in 1905. Before his death, Wallace had churned out some 175 novels, 24 plays and 957 short stories. The greater portion of Wallace's novels were detective thrillers, works that he was sometimes known to complete in the space of 72 hours. Wallace has fallen out of popularity these days where his work has been criticised as cheap and populist, and more seriously that it contains strands of racism and homophobia – his most famous work Sanders of the River (1911), for instance, is a blatant justification of British Colonialism.
Wallace has been very popular on film. The Internet Movie Database lists some 189 Edgar Wallace film adaptations. Some 80 odd of these were produced between the silent era through to the 1940s. Wallace himself even directed two adaptations – Red Aces (1929) and The Squeaker (1930), both for British Lion. The most famous Wallace adaptations were the Alexander Korda produced adaptation of Sanders of the River (1935) and the Bela Lugosi vehicle The Dark Eyes of London (1940). Wallace also receives credit as co-writer on the original King Kong (1933), although died before the film went into production and did no actual work on the script. Wallace's works were adapted into a series of 43 British B programmers made between 1960 and 1965, which were later packaged for television as The Edgar Wallace Mysteries and are generally held to be the most faithful of all Wallace screen adaptations.
For some reason, Edgar Wallace has an extraordinary popularity in Germany – Germany is one country where Wallace's books still remain in print today. In the 1960s, there was a host of Wallace film adaptations made in West Germany, beginning with Harald Reinl's The Face of the Frog (1959) and continuing on through some 32 films, and these were followed by seven adaptations of novels by Wallace's son Bryan Edgar Wallace. Most of these German Wallace films have little to do with the Wallace texts they claim to be based on and instead spin out a series of luridly Grand Guignol murder mysteries. These became a genre unto themselves known as krimi films. Many of these krimi featured the characters of Scotland Yard's Inspector Higgins and Sir John. These krimi were so popular during their day that some English-made Wallace adaptations such as The Trygon Factor (1966) even did special inserts to tie in these characters for German audiences.
The College-Girl Murders is one of these West German Edgar Wallace adaptations and is nominally based on Wallace's play The Terror (1927), which has been filmed twice before as The Terror (1928) and The Terror (1938). The Terror is an Old Dark House thriller about ostensibly spooky happenings and hooded figures lurking around a mansion where a stolen shipment of gold has been hidden. The College-Girl Murders throws most of Wallace's plot out (as most of the krimi did), keeping only the hooded figures and the suggestion of a former monastery, and for the greater part makes up its own elaborate and convoluted story. (The German title for the film far more entertainingly translates as The Monk and the Whip)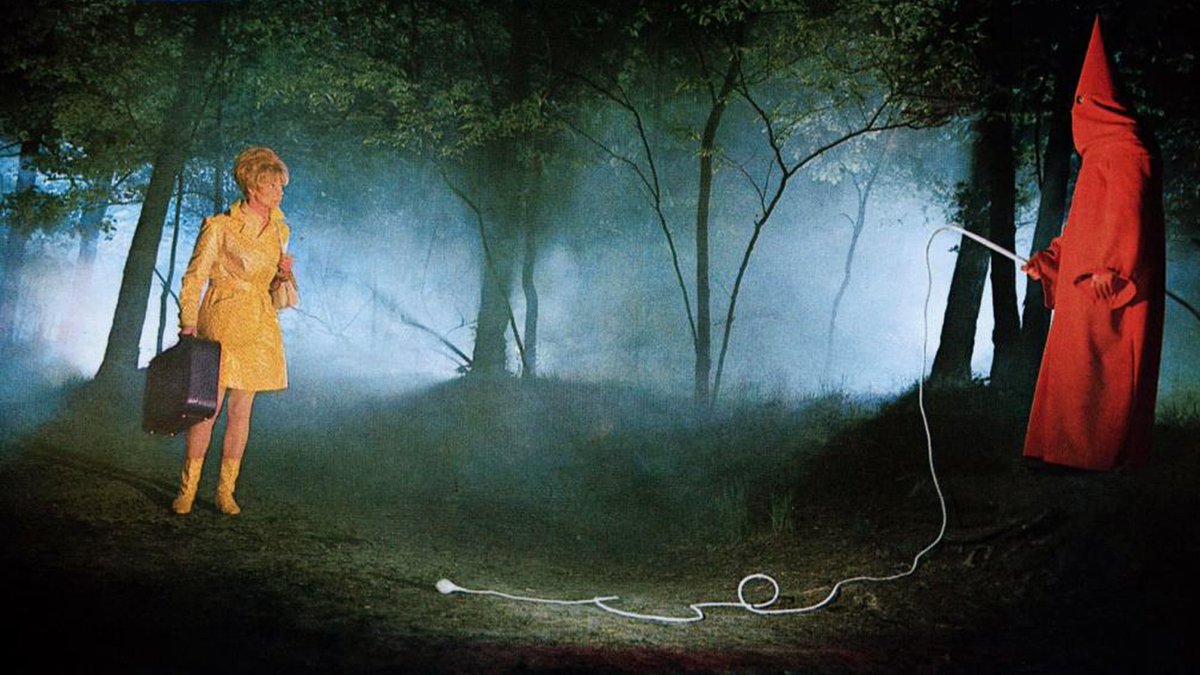 The West German Wallace krimi were never the most sophisticated films. In terms of story, The College-Girl Murders is stodgy. The character of Sir John (Siegfried Schurenberg) is played as a target of buffoonish comedy. The end revelation of what was going on fails to make much sense – the mastermind's scheme, where it is revealed that the other schoolgirls were all killed as part of a decoy for a kidnap and ransom scheme of one particular girl, is far-fetched.
There are a number of questions left unanswered – why does the scheme need to entail something as elaborate as having to break convicts out of jail to conduct the murders? One also fails to work out what purpose the scarlet-robed monk going around killing others had in the scheme – if the killer monk was under the mastermind's control, why are they conducting murders that are unrelated to the mastermind's scheme? Though nominally a thriller, the suspense throughout the film is routinely developed. This is never, for instance, a film that hangs on plot twists and turns like a good thriller should.
What does drive The College-Girl Murders however is the richness of colour and the wildly imaginative happenings throughout. In the DVD print of The College-Girl Murders released by Dark Sky Films in 2005, one ends up being blown away by the vividness of the colour contrasts – the killer monk in their robes and a tall peaked KKK hood all in scarlet emerging out of purple mist and wielding a purple bullwhip to kill victims; the credits in emerald green against a red background. (This would have been especially striking to audiences of the 1960s who were used to watching krimi in black-and-white).
Director Alfred Vohrer throws in some wonderfully lurid set-pieces and touches – an entire fireplace sliding up to reveal the secret door that is the monk's hiding place; the criminal mastermind's base with its crocodile pits and an inner sanctum with walls that are all giant tropical fishtanks and where the mastermind sits in a chair with his back always turned to the people he is talking to so no-one can see his face; the schoolgirl eliminated while in church with poison gas sprayed out of a hollowed-out Bible; a scientist served up a dead rat on a platter along with a note that says "You too will end this way". There are all sorts of amazing 1960s fashions – women in leopard-skin vinyl mini-skirts and matching boots. The film ends with a closeup on the villain's fishtank and as 'The End' comes up, whereupon Sir John comments "Already? We better go then."
Other Edgar Wallace adaptations that fall into genre material include The Terror (1928), Before Dawn (1933), Mystery Liner (1934), The Terror (1938), Chamber of Horrors (1940), The Dark Eyes of London/The Human Monster (1939), The Avenger (1960), The Gang of Terror/Hand of the Gallows (1960), The Dark Eyes of London/Dead Eyes of London (1961), The Door with the Seven Locks (1962), The Inn on the River Thames (1962), The Black Abbott (1963), The Curse of the Yellow Snake (1963), The Indian Scarf (1963), The Squeaker (1963), Room 13 (1964), The Sinister Monk (1965), The Phantom of Soho (1966), Creature with the Blue Hand (1967), The Gorilla of Soho/The Gorilla Gang (1968), The Hand of Power (1968), The Horror of Blackwood Castle (1968), The Devil Came from Akasava (1971), Seven Blood-Stained Orchids (1972) and What Have They Done to Solange? (1972). Wallace also worked as a screenwriter, turning out an adaptation of The Hound of the Baskervilles (1932), with his most famous being the original story for King Kong (1933).
---
---