(Abgeschnitten)
---
Crew
Director/Screenplay – Christian Alvart, Based on the Novel by Sebastian Fitzek & Michael Tsokos, Producers – Christian Alvart, Siegfried Kammi, Harmut Kohler, Barbara Thielen & Regina Ziegler, Photography – Jakub Bejnarowicz, Music – Maurus Ronner & Christoph Schauer, Visual Effects – Syrreal Works, Special Effects – Real Special Effects, Makeup Effects – Christiane Rudenbusch, Production Design – Thomas Stammer. Production Company – Ziegler Film/Syrreal Entertainment/Warner Bros. Entertainment GmnH.
Cast
Moritz Bleibtreu (Professor Paul Herzfeld), Jasna Fritzi Bauer (Linda), Enno Hesse (Ingolf von Appen), Lars Eidinger (Jan Sadler), Fahri Yardim (Ender Muller), Barbara Prakopenka (Hannah Herzfeld), Urs Jucker (Dr Jens Marinek), Christian Kuchenbuch (Philipp Schwintowski), Stephanie Amarell (Rebecca Schwintowski)
---
Plot
Paul Herzfeld, the head of the police pathology laboratory in Berlin, is brought in to examine a woman's body. He is startled to find an object inside the woman's head – a capsule that when opened contains the name of his daughter Hannah and her cellphone number. He immediately calls the number and gets a garbled voicemail message from Hannah who has been abducted. Meanwhile, Linda is a comic-book artist who is on Heligoland hiding from an abusive boyfriend who is stalking her. Linda comes across a dead body on the beach and picks up Hannah's phone ringing in the pocket of the body to answer the call from Paul. Paul directs Linda to conduct an autopsy on the body, discovering another capsule that holds further clues. With the aid of Linda, Paul follows the clues in a successive line of bodies (at the same time as she tries to deal with her stalking assailant). Paul realises that the clues lead back to a case from several years earlier. There he refused to falsify evidence that would send the rapist-abductor Jan Sadler away for life despite pleas from the murdered girl's father, a colleague of his, meaning that Jan was freed after three years. Paul now realises that someone is determined to teach him a lesson.
---
German director Christian Alvart first appeared with Curiosity & The Cat (1999) and then gained international acclaim with the serial killer thriller Antibodies (2005). On the basis of this, Alvart was brought to the US to make the generation ship film Pandorum (2009) and the evil child film Case 39 (2009), both of which are worthwhile films but received poor reception, particularly Case 39. Alvart returned to work in Germany over the next decade, including making the pandemic tv series Sløborn (2020- ) and producing Alien Invasion: S.U.M.1 (2017). During this time, he made a return to the Serial Killer Thrillers genre with Cut Off.
The film is adapted from a 2012 novel by Sebastian Fitzek and Michael Tsokos who are respectively a former lawyer and one of Germany's top forensic pathologists. Their mutual expertise gives the film an undeniable fascination. The opening where Moritz Bleibtreu does an autopsy on a dead body only to remove a capsule embedded in the head and find it contains his daughter's name and cellphone number is one of the most captivating hooks for a story I have seen in some time.
The film gains a whole lot of fascination during the scenes where Moritz Bleibtreu has to direct Jasna Fritzi Bauer by phone to take a body to the morgue where he talks her through conducting an autopsy despite her lack of experience, a scene that comes with no grisly detailed spared. Alvart has so much fun with it, he replays the same with a second autopsy later and twists things in having Jsna's stalker trying to break into the morgue at the same time.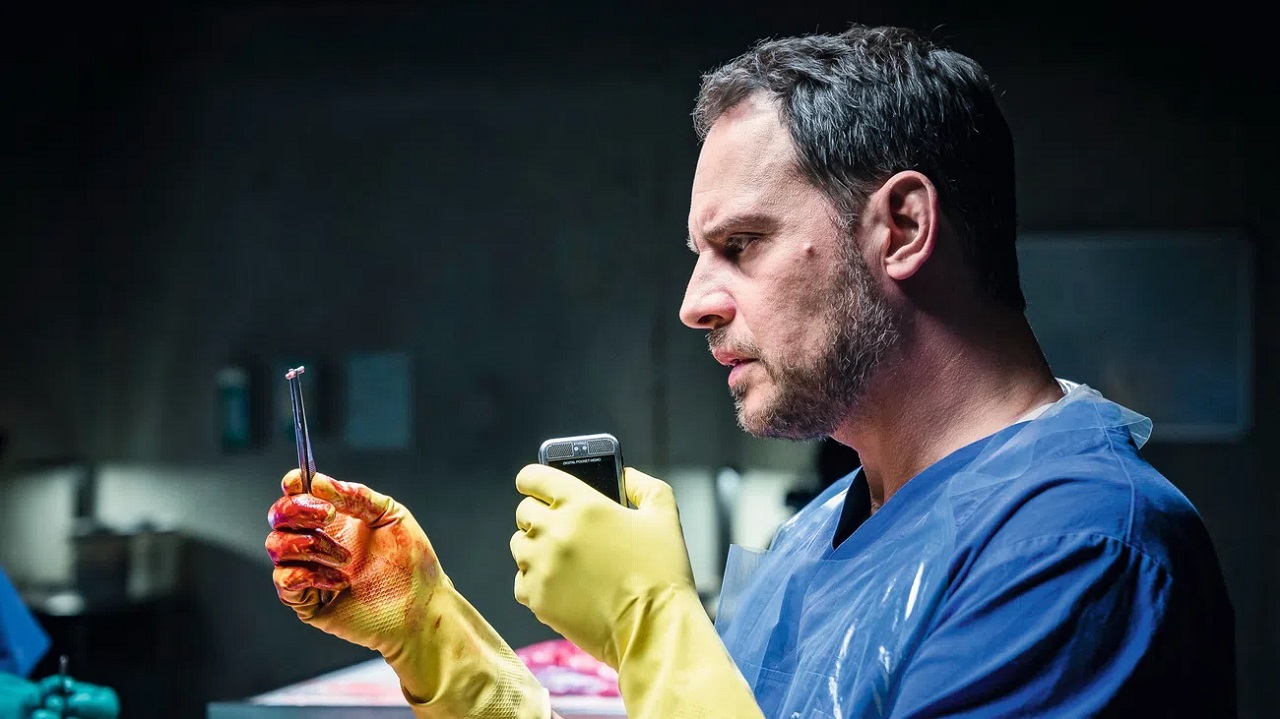 The film has a tight script that holds interest through its assorted twists and turns right until the end. That said, I had some difficulty following the labyrinth of twists and exactly who did what in terms of the murders. (It could well be that some of this was lost through the dubbing but it did feel excessively complicated). The entire chain of what happens seems predicated on Moritz Bleibtreu being the one who is assigned to autopsy the dead body at the start as opposed to any other coroner on duty. Also the film felt did not really need the importation of the slasher movie cliche when the killer makes a last minute return from the dead.
The major issue with the film is that the only version available to view was one that had been dubbed into English. I am kind of a purist in this sense and regard redubbing an actor's lines so that people don't have to read what they are saying to be an act of cultural butchery – I want to view a film in a way that corresponds as much as possible to the way in which it was originally made. It is not that the dubbing here is bad, it just doesn't suit the actors and characters. The real Moritz Bleibtreu doesn't talk with a standard American accent. Lars Eidinger is a great actor on tv shows like Babylon Berlin (2017- ) and SS-GB (2017) but when playing a psycho character here you are more than aware that he doesn't talk like a backwoods redneck in real life. These mismatched voices serve to drag you out of your suspension of disbelief in the proceedings.
---
Trailer here
---