---
Crew
Director – Tom Shadyac, Screenplay – Brandon Camp, David Seltzer & David Thompson, Story – Brandon Camp & Davi Thompson, Producers – Tom Shadyac, Gary Barber, Roger Birnbaum & Mark Johnson, Photography – Dean Semler, Music – John Debney, Music Supervisor – Jeff Carson, Visual Effects Supervisor – Jon Farhat, Digital Visual Effects – Double Negative, Visual Effects – Illusion Arts (Supervisors – Syd Dutton & Bill Taylor), Makeup Effects – AFX (Supervisors – David Leroy Anderson & Lance Anderson), Production Design – Linda DeScenna. Production Company – Grana Via/Shady Acres Entertainment.
Cast
Kevin Costner (Dr Joe Darrow), Kathy Bates (Miriam Belmont), Joe Morton (Hugh Campbell), Jacob Vargas (Victor), Ron Rifkin (Dr Charlie Dickinson), Susannah Thompson (Dr Emily Darrow), Robert Bailey Jr (Jeffrey Reardon), Linda Hunt (Sister Madeline), Jacob Smith (Ben)
---
Plot
Joe Darrow is shattered after his wife Emily is killed when a rockfall collapses on a bus she is in while working with the Red Cross in Venezuela. Her body is never recovered. Joe quickly returns to work in his position as a doctor at a Chicago hospital but is cautioned for overwork and failure to properly come to terms with his grief. Joe then begins to think that Emily is trying to communicate with him from beyond the grave. He starts to believe that children in the paediatric ward have returned from near death experiences with messages from Emily but his colleagues and friends believe that his sanity is starting to fray.
---
Dragonfly is one of a host of films that came out following the runaway success of The Sixth Sense (1999). Dragonfly is a ghost story, although ia ghost story that seems afraid of being a horror film. Anything remotely scary has been bled out of it and it is pitched to the middle-aged crowd that dutifully go to every big positive upbeat message film that wins the Academy Award Best Picture.
There are a couple of okay jumps where the dead boy turns around on the hospital table and where the ghost appears at the kitchen window but when the film's big scare scene is something as tepid as a wrapped paperweight having moved out of a box and unwrapped itself while Kevin Costner's back is turned, you know you are watching a ghost story made for people whose idea of fun in life is mowing the lawns on a Sunday morning.
Dragonfly was made by Tom Shadyac who had previously made comedies like Ace Ventura, Pet Detective (1994), The Nutty Professor (1996), Liar Liar (1997), Patch Adams (1998) and subsequently Bruce Almighty (2003) and its sequel Evan Almighty (2007). Dragonfly was Tom Shadyac's first 'serious' film. Certainly, Shadyac handles the move well and Dragonfly is respectably earnest and serious in all the right places with nary a misstep.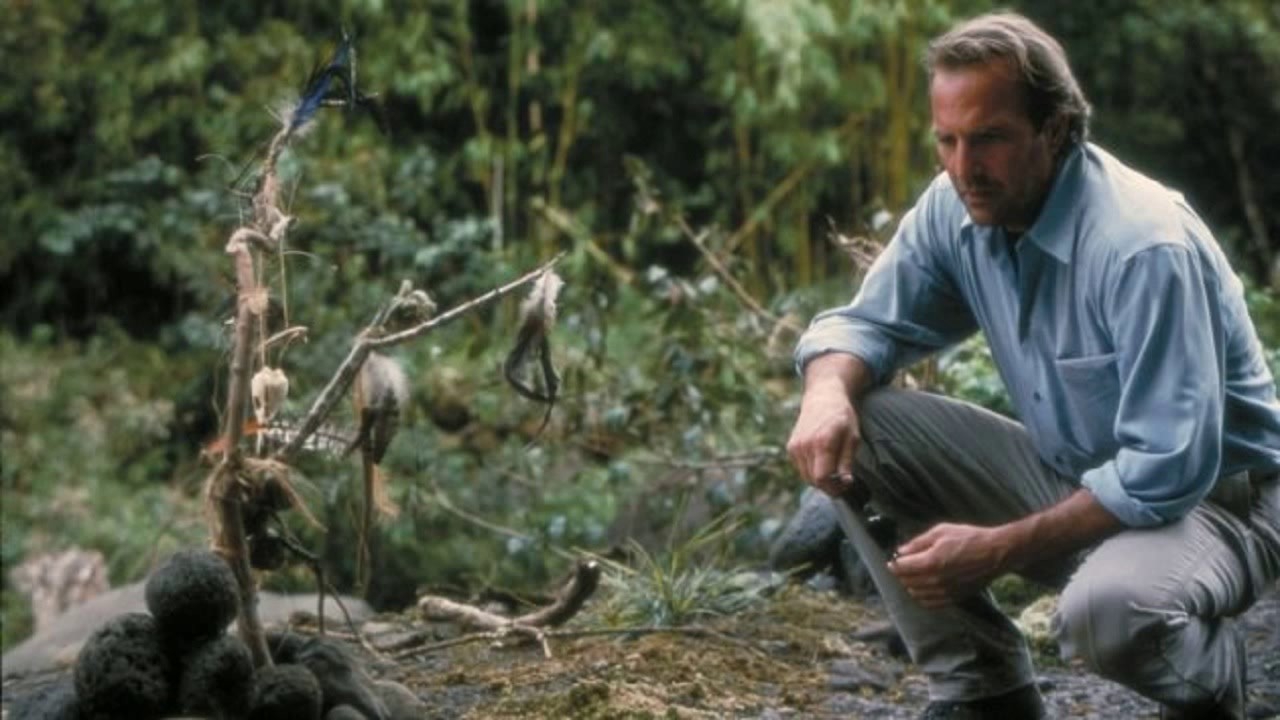 Equally though, Shadyac has created a film that is so seriously respectable that it is boring. Ace Ventura and The Nutty Professor were silly screwball films but by the time of Patch Adams Shadyac's comedy has developed the internal consistency of marshmallow – Patch Adams was an outward comedy that at heart earnestly wanted us to find it cute, adorable and heart-warming. Dragonfly is a ghost story where Tom Shadyac just wants to give us a big warm fuzzy and to cathartically journey with him beyond some tepid scares and Kevin Costner's wounded emotions to celebrate life. The end of the film with Costner lifting a baby up and a montage of he and the growing child throwing leaves at one another has an infuriating insipidity.
The original script has been worked over by David Seltzer, a top drawer Hollywood screenwriter best known as the author of The Omen (1976). Certainly, David Seltzer gives the script a number of strengths, especially in keeping it carefully balanced between the supernatural and plausibly mundane explanations. Seltzer has clearly done some reading on Near Death Experiences and pays reasonable lip service to the sceptical explanations for phenomena and offers up some good arguments that try and reduce the supernatural to a demand for incontrovertible evidence.
Of course, this is a film where you know on which side of the coin the explanation is ultimately going to come down. And when the film does make up its mind, it does disappointingly depend on a shaky trail of symbolic connections (which one might argue is exactly the sort of tenuous subjective logic that gets most afterlife claims dismissed). It would certainly have made for a much more interestingly downbeat film if it had gone the other way and shown Kevin Costner as an overwrought widower clutching at uncertain hopes rather than confronting the truth.
---
---