---
Spain/USA. 2002.
Crew
Director – Jaume Balaguero, Screenplay – Jaume Balaguero & Fernando de Felipe, Producers – Julio Fernandez & Brian Yuzna, Photography – Xavi Gimenez, Music – Carles Cases, Digital Effects – Filmtel S.A. (Supervisor – Louis Manyate), Special Effects Supervisors – David Marti & Amador Rehak, Makeup Effects – DDT Efectos Especiales (Supervisor – Montse Rise), Production Design – Llorenc Miquel. Production Company – Fantastic Factory/Via Digital/Estudios Picasso/ICIF/ICAA/Generalitat de Catalunya Department de Cultura/Castelao Productions
Cast
Anna Paquin (Regina), Iain Glen (Mark), Lena Olin (Maria), Giancarlo Giannini (Albert Rua), Stephan Enquist (Paul), Fele Martinez (Carlos), Fermi Reixach (Villalobos)
---
Plot
American teenager Regina moves to a new house in Spain along with her family. Soon after they arrive, troubling things begin to happen – her younger brother Paul talks of mysterious others who are in the house and manifests bruises on his skin. Regina's mother Maria seems unconcerned about this, while her father Mark has a relapse of a condition that made him go into a violent frenzy several years before. Regina becomes increasingly certain that there is something sinister in the house. As she digs into the past, she discovers that forty years earlier six children were brutally murdered during a Satanic ritual and that the same people are intending to return and sacrifice a seventh child during the coming eclipse.
---
Spanish director Jaume Balaguero, a former horror fanzine editor, made his debut with The Nameless (1999), a film that gained some reasonable acclaim. Darkness was his second film. (There are a number of similarities between Darkness and The Nameless – both centre around Satanic cults intent on sacrificing children who draw the parents into a contorted game). Jaume Balaguero has subsequently gone onto make other horror films such as the ghost story Fragile (2005), Sleep Tight (2011) about a malevolent apartment manager and Muse (2017), and co-directing the hit zombie mockumentary [Rec] (2007) and its sequel [Rec] ² (2009) and solo directing a further sequel [Rec]4: Apocalypse (2014), as well as creating the story for The Nun (2005), writing the script for Inside (2016) and producing Summer Camp (2015).
Darkness comes backed by Brian Yuzna, a genre director of films such as Society (1989), Bride of Re-Animator (1990), Return of the Living Dead III (1993), The Dentist (1996) and Faust: Love of the Damned (2000), who has also produced a number of films for Stuart Gordon, most famously Re-Animator (1985). More recently, Brian Yuzna has set up a production house in Spain, Fantastic Factory, and produced a number of films for English-language release (as is the case with Darkness).
Jaume Balaguero and Brian Yuzna manage to corral an impressive cast, including Anna Paquin; the greatly underrated Scottish actor Iain Glen, probably best known to international audiences as the villain in Lara Croft, Tomb Raider (2001); and the Swedish actress Lena Olin from acclaimed arthouse releases like The Unbearable Lightness of Being (1987) and Enemies: A Love Story (1989).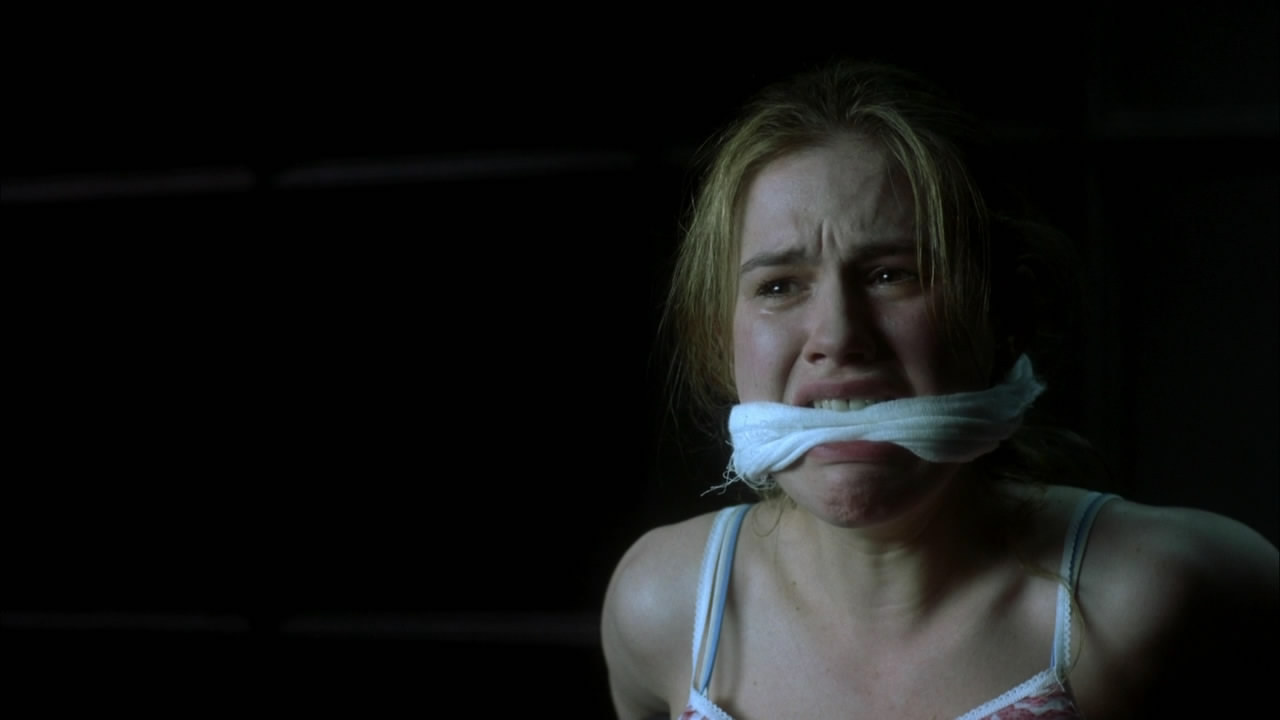 Darkness was originally released back in 2002. Though the film was shot for English-language audiences, it was not until 2004/5 that it received an international release. The problem was that US distributor Dimension Films dithered around and then decided to recut the film for a PG-13 rating. It has now been excised of some bad language, a scene where Iain Glen severs his finger and several scenes where the brother is attacked by the ghosts. One can only have contempt for a horror film that tries to recut itself to sell itself to a pre-teenage audience – see also Soul Survivors (2001). There is the staggering sense of wondering what the point of doing so is – if one wanted to watch R-rated films that had been cut so they could be viewed by general audiences they would have stayed home and watched public access tv. Indeed, what one can see on tv on contemporary shows such as The X Files (1993-2002, 2016-8) and CSI: Crime Scene Investigation (2000-15) is far more extreme than anything there is here. While cutting the film for conservative American audiences is one thing, it is insulting when this version, rather than the original, also gets foisted off into release in other countries, which have a far more liberal set of censorship standards than the USA.
On the other hand, the derision being poured in the direction of Darkness's PG-13 horrors can not be seen as the sole reason for its failure to work – the truth is simply that it is not a very good film anyway. Jaume Balaguero's The Nameless was a film primed with a good deal sinister mood that Balaguero failed to let pay off. There is a similar problem here. Balaguero creates some creepy images – shadowy figures gathering around the boy and waiting in darkened rooms, something briefly seen scuttling across the ceiling – but never builds them to anything that pays off with a big jolt. Elsewhere, the attempts to make us jump by falsely hyping the soundtrack with loud noises as figures pass in the foreground seem annoyingly contrived. Despite assembling a fine cast – Anna Paquin, Iain Glen, Lena Olin – the film throws all of them into roles of paper-thin substance that require nothing from any of them other than turning up and delivering lines.
Ultimately, what is most annoying about Darkness is its lack of substance as a screenplay. There is the sense that it has been thrown together as a collusion of horror clichés without much raison d'être – there are ghosts in the shadows, the House With a Sinister Past, the conspiring occult cabal, the father descending into madness possibly as a result of the malign influence of the house a la The Amityville Horror (1979). However, there is not much sense to any of it. The ghosts in the house are never explained – indeed, the entire first half of the film is misleading in its efforts to convince us that we are watching is a haunted house film. For that matter, the father's madness also proves to be misleading red herring that has nothing to do with what happens later. When what is going on is finally revealed, the behaviour that the occult set-up requires of the individuals in question is contrived to the point of incredulity. The blur of reality and illusion that comes at the climax is confusing. The film goes out on a downer of a twist ending that leaves audiences departing feeling annoyed – the audience I saw the film with were vocal in their dissatisfaction.
---
Trailer here
---