---
Crew
Director – Jim Sonzero, Screenplay – Wes Craven & Ray Wright, Based on the Film Written by Kiyoshi Kurosawa, Producers – Brian Cox, Michael Leahy, Anant Singh & Joel Soisson, Photography – Mark Plummer, Music – Elia Cmiral, Visual Effects Supervisor – Kevin O'Neill, Visual Effects – C-Trl Labs, Engine Room (Supervisor – Dan Schmit), I.C.O. Entertainment, Inc. (Supervisor – Chris Holmes), Livewire Productions (Supervisor – Scott Simmons), Neo Digital & The Orphanage, Inc. (Supervisor – Kevin Baillie), Special Effects Supervisor – Josh Hakian, Creature & Makeup Effects – Two Hours in the Dark, Inc. (Supervisor – Gary J. Tunnicliffe), Production Design – Gary Matteson & Cristian Niculescu. Production Company – Dimension Films/Distant Horizon/Neo Art & Logic
Cast
Kristen Bell (Mattie Webber), Ian Somerhalder (Dexter McCarthy), Christina Milian (Isabella Fuentes), Rick Gonzalez (Stone), Samm Levine (Tim), Ron Rifkin (Dr Waterson), Jonathan Tucker (Josh Ockman), Kel O'Neill (Douglas Zeiglar), Octavia L. Spencer (Landlady), Zach Grenier (Professor Cardiff), Brad Dourif (Thin Bookish Guy)
---
Plot
Ohio psych student Mattie Webber goes to the apartment of her hacker boyfriend Josh Ockman, only to find that he has hung himself. Shortly after this, she and her friends start receiving instant messages from Josh on their computers. Thinking that someone is playing a practical joke, Mattie tracks down Dexter McCarthy who brought Josh's computer – only to find that he has not even turned it on. Everywhere people are committing suicide. Mattie and her friends start seeing sinister ghostly figures in the shadows and then discover an internet site that seems to show people after they have died. The shadow figures rob everyone they touch of the will to live. As the shadow menace spreads across the world, Mattie and Dexter try to find the source of the problem. They discover that Josh hacked into an experimental ultra-broadband project and in doing so has unleashed creatures from another dimension.
---
Ever since the enormous success of The Ring (2002), the English-language remake of the Japanese horror film Ring (1998), Hollywood has been scouring Asian horror for properties to remake. So far we have see Asian horror remakes such as The Grudge (2004), Dark Water (2005), The Echo (2008), The Eye (2008), Mirrors (2008), One Missed Call (2008), Shutter (2008), Don't Look Up (2009), Possession (2009), The Uninvited (2009), Apartment 1303 3D (2012), 13 Sins (2014) and Death Note (2017). In this case, Pulse is a remake of Kiyoshi Kurosawa's Pulse (2001).
Kiyoshi Kurosawa's Pulse is a baffling choice for a Hollywood remake. The problem with this is Kiyoshi Kurosawa as a filmmaker. Kurosawa has made films such as Cure (1997), Seance (2000), Loft (2005) and Retribution (2006), among others. All of these are cryptic and wilfully obscure. Kurosawa perpetually defies any sense that a film should have a clearcut explanation for what is happening and his films invariably disintegrate into a series of loose and unresolved plot strands. Pulse, for instance, threw up a host of elements – ghosts, the dead turning up on the internet, people being driven to commit suicide en masse, the red tape, the social apocalypse at the end – but seemed to hold the idea of any explanation for what was happening in total disdain. To its credit, Kiyoshi Kurosawa's films always come with an intensely haunted atmosphere that makes them highly watchable. The fact that Hollywood has chosen to remake such a baffling film surely says something about how far producers are willing to scour for merchandisable properties in order exploit a fad.
There is both a surprise and a sinking disappointment that comes as one sits down to watch Pulse 2006. The heavy disappointment is that the original has been reworked for the modern teen horror market and recast with pretty young leads in their five minutes in the spotlight. The surprise comes in seeing the name of Wes Craven, who was apparently assigned to direct Pulse at one point, on the script.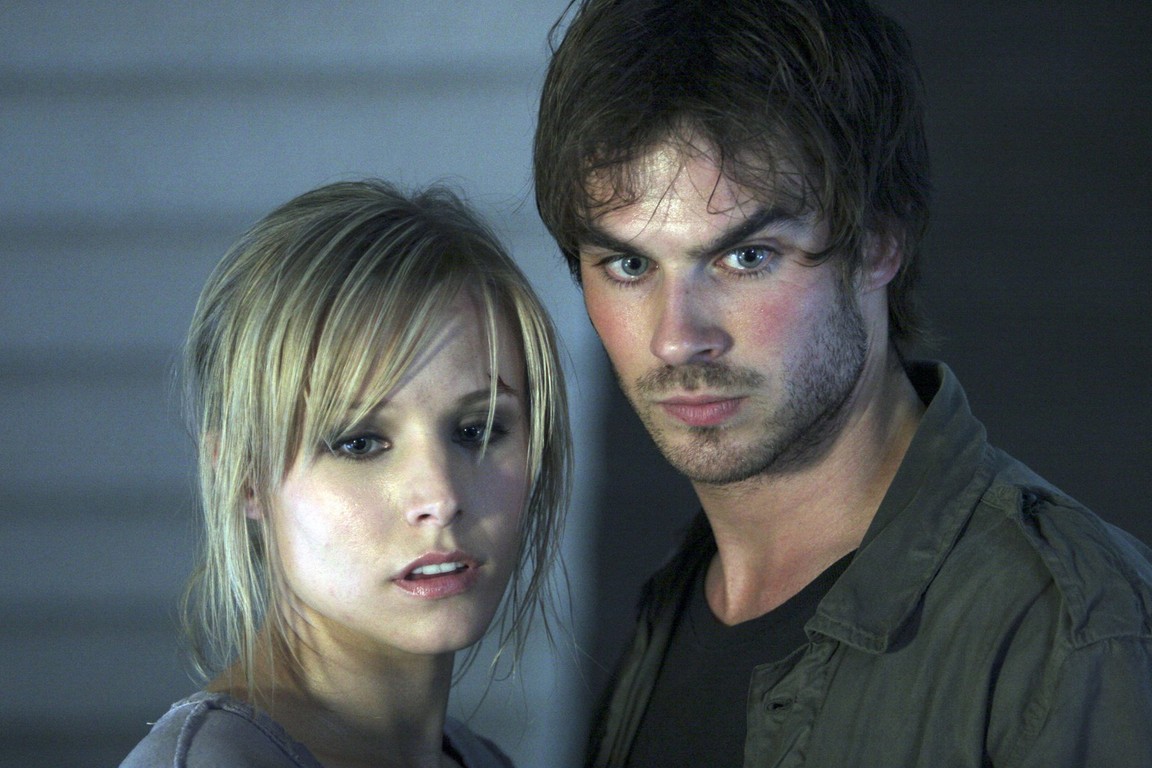 The other surprise is that Wes Craven remains very faithful to the elements of the Japanese original at the same time as he knits Kiyoshi Kurosawa's plot dead ends together into something that makes surprising sense. There is an explanation for everything – that a hacker broke into a super-broadband project and accidentally unleashed creatures that exist on another dimensional plane, which have become akin to a virus spreading across communications networks and sucking out people's will to live. The red masking tape is explained as something that blocks out the spectrum of light that the creatures need to exist on. (Although, we do seem to miss the explanation in Pulse 2001 that all of this had something to do with people returning from the afterlife because there was no room there anymore). The apocalyptic scenes of the original have been extruded further in order to create drama out of the hero and heroine fighting to turn back the internet menace.
The new script tries to move beyond the internet horrors that the Japanese Pulse was concerned with and makes the remake into a film that covers the cellular phone, instant messenger, SMS text and wi-fi phenomena that have all taken off since Pulse 2001 came out. This does result in far too many montages of people using their cellphones and computers that seem there solely to remind us of the threat this poses to unwitting users. Ultimately, Pulse 2006 seems to have nothing much to say about this other than that we have become too reliant on our telecommunications interconnectivity.
The director assigned to Pulse 2006 is Jim Sonzero, a newcomer who comes from a commercials background. Sonzero's direction sits exactly halfway between something interesting and the hackneyed repetition of everything that has become formula in the modern 00s teen horror film. Sonzero adopts much of the pseudo-atmosphere of the teen horror film – flashy editing, colour washes, dark downbeat mood, plentiful jumps created by amplified noises on the soundtrack, flickering video screens, people with sped-up rotating heads and a good many unnecessary CGI effects where the creatures suck out people's souls.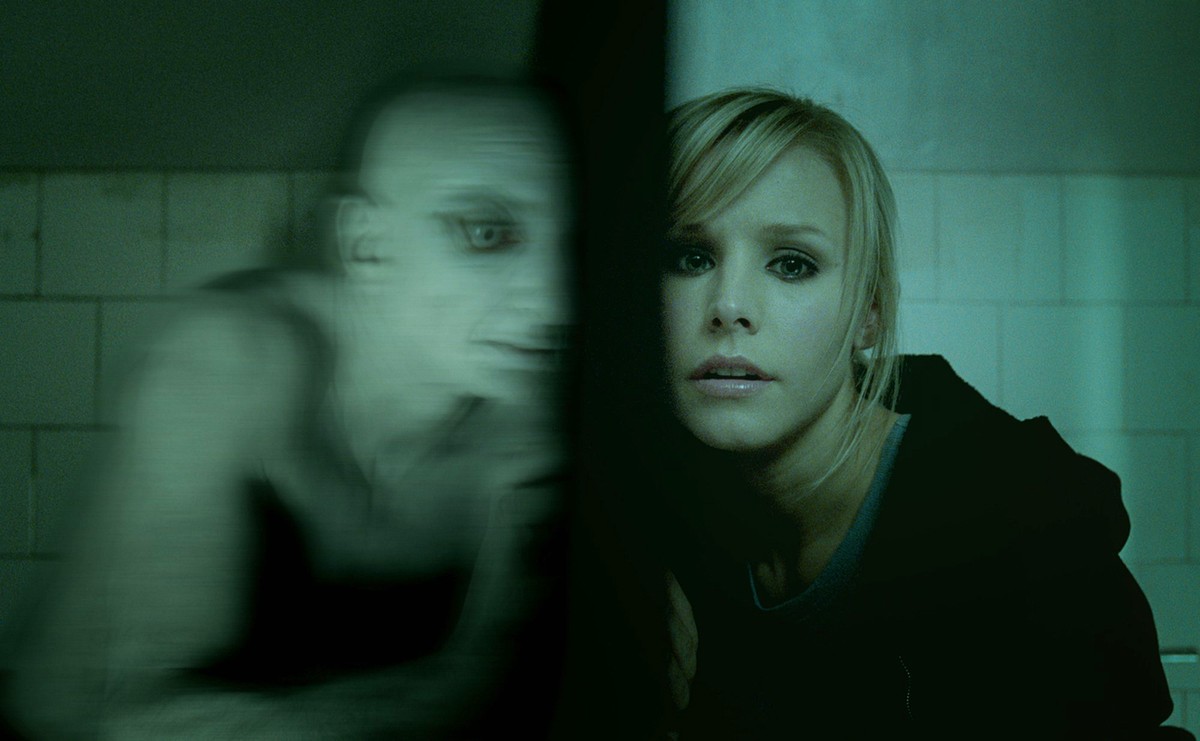 Many of the memorable scenes from Pulse 2001 are replicated but lacking in effectiveness – the intensely eerie scene where the heroine enters the apartment to find her boyfriend acting oddly and then discovers his hanging body comes without much effect here. The scene that works slightly better is where Sonzero replicates the appearance of the ghost woman with ungainly gait walking across the apartment and then appearing over the bed as Rick Gonzalez hides underneath.
Sonzero comes up with a couple of decent shocks of his own – one where Christina Milian is on her own in a laundromat and a bizarre creature with multiple arms appears from out of a washing machine, and the visually intriguing if gimmicky scene where Kristen Bell is drawn down by a mass of arms and the camera pulls back to show that the arms form a mosaic in the shape of a skull.
While Jim Sonzero creates an at times interesting mood, Pulse 2006 seems to pass by on autopilot without much overall affect. The problem with the film is that the Japanese original has been reduced to a series of flashy pop-up jumps. There are no genuine suspense, just a series of cookie cutter CGI pop-up shocks. The pretty youth cast have been chosen for their looks and deliver performances that lack anything beyond that – as characters, they seem devoid of personality. On a wider sense, due to Ji, Sonzero having become so obsessed with his pop-up effects, there is nothing that ever seems to drives the film, no urgency or suspense to what is happening. Though the film features an apocalyptic battle, it seems hard to engage with anyone in the film and care about their struggle to save the world.
There were two dvd-released sequels with Pulse 2: Afterlife (2008) and Pulse 3 (2008).
---
---