---
Crew
Director/Screenplay – Chris Fisher, Based on the Novel by Thomas Berger, Producers – Justin Bursch, Mike Callaghan & Brad Krevoy, Photography – Marvin V. Rush, Music – Ryan Beveridge, Visual Effects – Active Entertainment (Supervisor – Blane Granstaff), Production Design – Tom Lisowski. Production Company – Stage 6 Films/Motion Picture Corporation of America
Cast
Luke Wilson (John Felton), Samuel L. Jackson (Richie), Leslie Bibb (Joanie Felton), Peyton List (Tammy Strate), Muse Watson (Frank), Tracie Thomas (Latisha Rogers), Tina Parker (Rhonda)
---
Plot
John Felton returns home to his wife Joanie and two children, not telling them he has been laid off from his job as a real estate salesman. After a planned surprise party they have put on for John falls flat, Joanie takes the children out for a walk. John answers a knock at the door to meet Richie who says his car has stalled outside. Richie asks for a push only for the tailpipe to backfire and wound John's leg. Richie then insists on driving John to the hospital. They stop off at a bar where John runs into Tammy, a co-worker with whom he has been having an affair. Richie returns to find his car has been towed and persuades Tammy to give him a lift to the impound, only for them to be driven off the road by a tailgating trucker. Ritchie then jumps behind the wheel of the car and deliberately runs the trucker down. They take refuge at a farmhouse where Richie kills the family. Meanwhile, a police manhunt has gone out for John due to the trail of bodies that Richie has left behind. John pleads with Richie to be let go, only for Richie to comply but then taunt him that he is going to take up the dinner invitation John gave him earlier. With the police hunting him, John tries to make it back home before Richie gets to his wife and children.
---
Meeting Evil was the fourth film for director Chris Fisher who had previously made two true-life serial killer films with Nightstalker (2002) and Rampage: The Hillside Strangler Murders (2006), as well as S. Darko (2009), the much-reviled sequel to Donnie Darko (2001).
Meeting Evil was Fisher's first reasonable budgeted film with name stars. The film is based on Meeting Evil (1992), a novel by Thomas Berger who is probably best known for writing the book that became the basis of Little Big Man (1971). Despite this, it fared dismally – being released to video-on-demand prior to its theatrical release and then only for a week in a single theatre in the US where it reportedly only earned $181. Subsequent to Meeting Evil, all of Chris Fisher's work has been in tv as a producer and occasional director on shows such as Warehouse 13 (2009-14), Person of Interest (2011-6), The Magicians (2015-20), The Stand (2020-1) and Star Trek: Strange New Worlds (2022- ).
The clear inspiration for Meeting Evil is surely the classic The Hitcher (1986). Both films concern a whitebread average joe leading an uneventful life until a complete stranger enters and they go on a car ride whereupon the stranger proceeds to overturn his life, leaving a trail of dead bodies and the blame placed on the hero who becomes the focus of a massive manhunt by law enforcement agencies. The only real difference is that The Hitcher took place across the desert highways whereas Meeting Evil takes place in a mostly urban setting.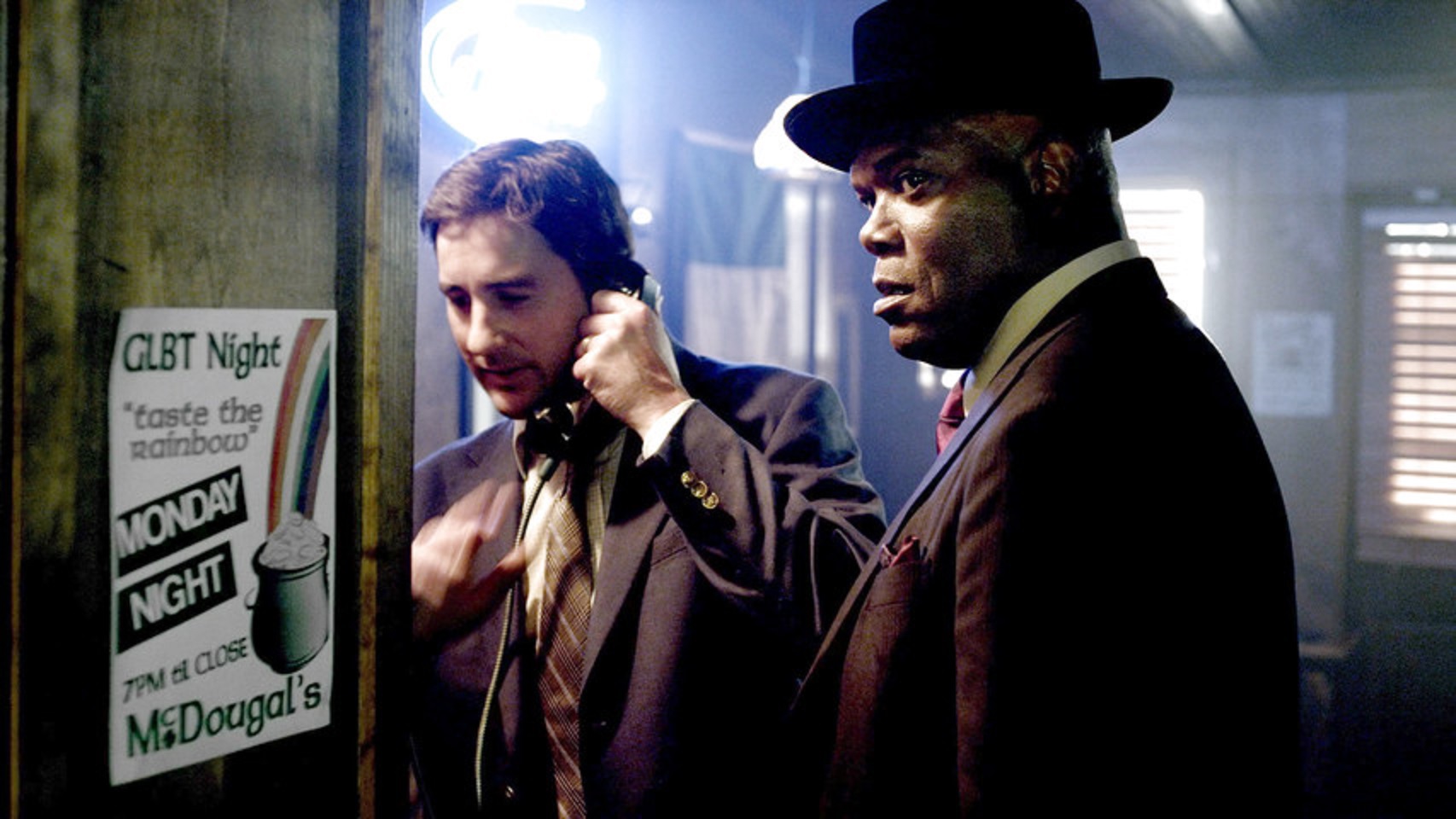 As the stranger, Samuel L. Jackson is on top of his game doing the Samuel L. Jackson thing – slow burning rage that erupts into a fury of uniquely sarcastic badassery. He succeeds in anchoring the film and giving it much of the demoniac drive that it has.
I wasn't a huge fan of Chris Fisher's previous works but he succeeds in aces here, possibly because he is adapting someone else's novel. The script comes with a wonderful series of twists and turns, dangling details that have a bad habit of turning back up later in the most inconvenient ways and being twisted back on hapless Luke Wilson. The characterisation is taut, even down to the supporting roles. The film arrives at a wonderfully tense climax, followed by a nicely disquiet and ambiguous final scene. Beneath the film would seem to be an allegory about the post-2008 subprime mortgage crisis and the sudden downward shift in the lives of many middle-class families. The resulting is a surprisingly solid and well-made effort on all counts.
---
---