---
Crew
Director – Nimrod Antal, Screenplay – Mark L. Smith, Producer – Hal Lieberman, Photography – Andrzej Sekula, Music – Paul Haslinger, Visual Effects – Zoic Studios (Supervisor – Rocco Passionino), Special Effects Supervisors – John Hartigan & Christopher Walkowiak, Makeup Effects – Almost Human (Designer – Robert Hall), Production Design – Jon Gary Steele. Production Company – Hal Lieberman Company.
Cast
Luke Wilson (David Fox), Kate Beckinsale (Amy Fox), Frank Whaley (Mason), Ethan Embry (Mechanic), David Doty (Highway Patrol), Scott G. Anderson (Killer)
---
Plot
Husband and wife David and Amy Fox are driving back home from an anniversary party. There are tensions in the relationship and they have been planning to divorce. Because the highway is blocked by a crash, David has taken a back road detour but the car then breaks down. In trying to get help, they are forced to stay the night at a rundown motel. Once inside their room, they are beset by banging sounds all around and see sinister masked figures outside. When David views the videos in the room's vcr, he discovers they are snuff movies of people being killed. Moreover, he realises that the films have been shot in the room they are in now. With the discovery of hidden cameras, they realise that the same fate awaits them.
---
Vacancy is another in the spate of horror films that came out following the success of Hostel (2005), all premised in one way or another around the idea of people being lured to remote places and being tortured and killed. Unlike many of these, Vacancy comes with a reasonable budget, received a widespread release (if not exactly doing runaway business) and features a couple of high-profile names in the lead roles.
One supposes they should be dubious about a film that claims to be directed by someone named Nimrod – indeed, you wonder as you watch the opening credits if this is not a Director's Guild pseudonym substituted by the real director wishing to signal that he was unhappy with what producers did with his vision. However, this apparently is the real name of Hungarian emigre Nimrod Antal, so one could hardly hold that against him. Antal had previously directed the acclaimed Hungarian film Kontroll (Control) (2004) about the lives of train inspectors in the Budapest underground.
Nimrod Antal does not do too badly – one's attentions is held from the credits sequence, which plays out in bold colours and moving patterns that have been designed to recall Saul Bass's distinctive credit sequences for Alfred Hitchcock. The initial scenes with Luke Wilson and Kate Beckinsale driving down a remote country road while arguing come with a nicely foreboding effect visually – the highway beyond the windscreen drifting towards them with eerie illumination or closeups of faces partly reflected in mirrors contrasted against the road outside.
The arrival at the motel introduces Frank Whaley's creepy performance – in these scenes, Antal again appears to be sourcing Alfred Hitchcock, in particular the introduction of Anthony Perkins in Psycho (1960). It looks promising – there is surely nothing that gives the sense of things about to go wrong than when Luke Wilson and Kate Beckinsale enter reception and hear screams coming from the back room and nervously debate about whether they should go or pretend not to hear and ring the bell.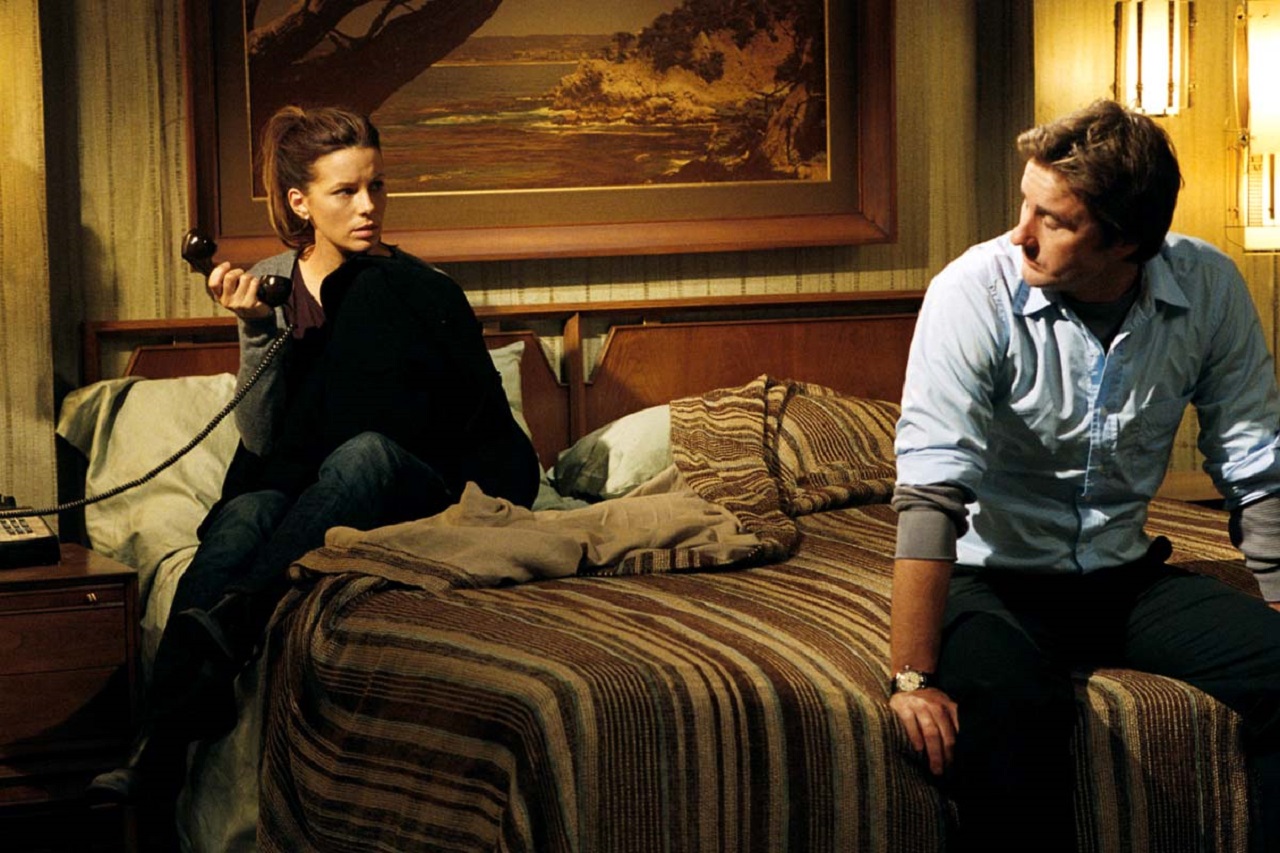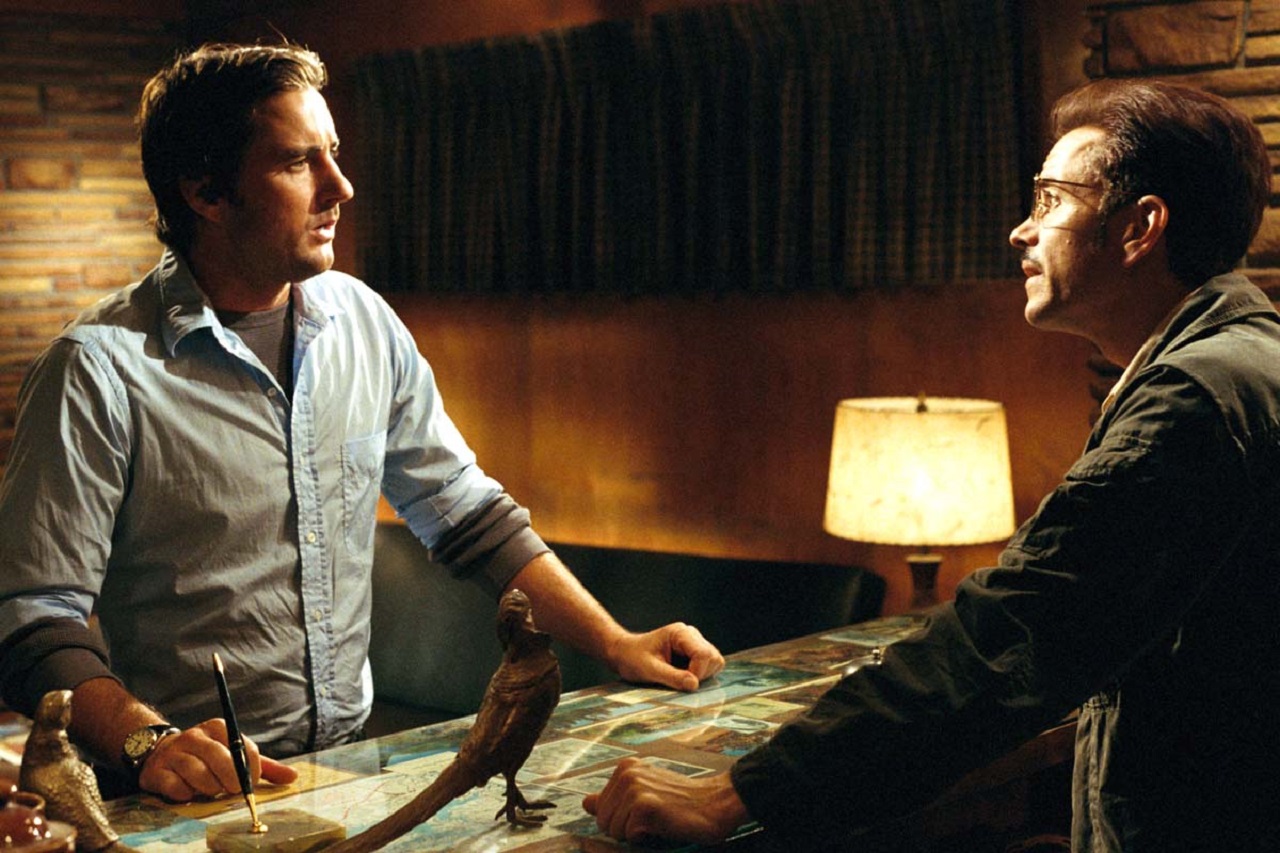 There is nothing particularly new or original to Vacancy as it starts to unfold. It never consists of much more than Luke Wilson and Kate Beckinsale running around various parts of the motel and being attacked. Nevertheless, Nimrod Antal maintains the tension effectively – with Wilson and Beckinsale huddled in their room as noises batter all around them, the slow realisation that the room where the torture tapes were made is the one they are in – and one or two effective shocks – the abrupt decimation of the phone box by a truck as Luke Wilson attempts to make a call for help, people being stalked as they innocently make their way across the lot. The film rides the rollercoaster of grasped straws, doubt and crashed hopes with reasonable effectiveness.
That said, Vacancy never pushes things terribly far. Nimrod Antal is making a film that is pitched to the mainstream and never takes any of it to the sadistic extremes of Eli Roth or Darren Lynn Bousman – nor even for that matter kills off any of his protagonists. It is Torture Porn Lite, if you like. However, there are worse ways to pass the time and Antal acquits himself with a promising showing. One would certainly be interested to see what Antal does next.
Vacancy 2: The First Cut (2009) was a prequel made without any of the principals involve here excepting screenwriter Mark L. Smith.
Nimrod Antal subsequently went onto direct the heist film Armored (2009), the Predator sequel Predators (2010) and Metallica Through the Never (2013).
---
---