---
Crew
Director – Bud Townsend, Screenplay – Rex Carlton, Producers – Martin B. Cohen & Herbert Sussan, Photography – Glenn Smith, Makeup Supervisor – Martin Varnaud. Production Company – Paragon International Pictures Inc./Production Enterprises Inc.
Cast
Cameron Mitchell (Vincent Rinard), Anne Helm (Marie Morgan), Berry Kroeger (Max Black), Scott Brady (Detective Haskell), Victoria Carroll (Theresa), Holis Morrison (Nick), Johnny Cardos [John 'Bud' Cardos] (Sergeant Bud Carver), Phillip Baird (Tony Deen), James Forrest (Alfred Herman)
---
Plot
Hollywood police investigate the disappearance of actor Tony Deen just after he announced his engagement to star Marie Morgan. This is the fourth of such disappearances in the last few months, all of actors who have been working at Paragon Pictures. The police go to talk to Vincent Rinard, curator of the Movieland Wax Museum, who has placed up wax models of all the missing actors and is now planning one of Tony. Vincent used to work for Paragon Pictures as a makeup artist. He and Marie were in love. However, when they announced they were leaving together, Paragon head Max Black threw a glass of alcohol in Vincent's face just as he was lighting a cigar. This left him burn scarred down one side of his face and blinded in one eye, having to wear an eye patch. He is behind the disappearances, having turned the missing into wax figures with the use of a paralysing drug. He now plots his culminating revenge against Max Black.
---
Nightmare in Wax is a film that takes more than obvious inspiration from the classic horror Mystery of the Wax Museum (1933), which featured Lionel Atwill as a mad waxworks curator murdering people and encasing their bodies in wax. Mystery of the Wax Museum was very successfully remade as House of Wax (1953), which essentially launched the horror career of Vincent Price who portrayed the mad waxworks curator. The basic idea of the mad waxworks curator, or that of a mad artist encasing people in wax or using their bodies as art, was borrowed by a number of other films including A Bucket of Blood (1959), Santo in the Wax Museum (1963), Color Me Blood Red (1965), Blood Bath (1966), Cauldron of Blood (1971) and Crucible of Terror (1971).
The influence of Mystery of the Wax Museum is clearly evident here. In an era where screen psychopathology was dominated by the everyday psychos of Anthony Perkins in Psycho (1960) and their Freudian gender confusion traumas, Cameron Mitchell's Rinard is a throwback to the screen madmen of another whole era as embodied by Atwill and Price – he wears a cape and an eye patch, while his workshop even comes with a massive bubbling cauldron right in the centre.
In one trick that none of his predecessors had, Mitchell has conversations with the body on his table, which comes to life to answer him. The wax figures are also bodies that are still alive but kept frozen with a paralysing agent and the climax predictably has all of them return to life to come after Mitchell. Cameron Mitchell, an actor who appeared in an awful lot of B and genre movies, seems to be having a great deal of fun and going mad. In one memorable scene, he pursues Victoria Carroll through his warehouse leering "I want you to scream. It excites me."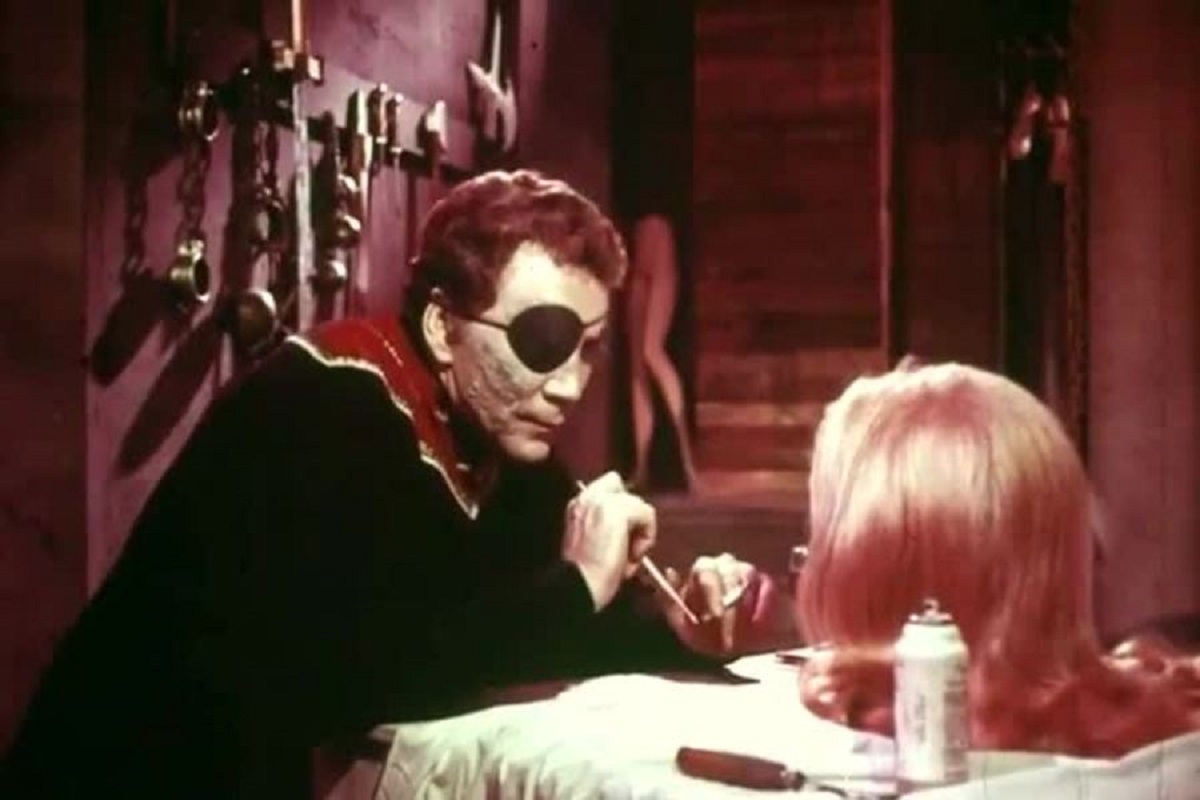 Bud Townsend makes a crudely entertaining stew out of everything. The script whips up a series of melodramatic conflicts with a certain vigour. There is a particularly gruesome scene where Cameron Mitchell gets one side of his face melted. There is a typical score of the era that tries to make everything, even a scene as mundane as Cameron Mitchell answering the phone, into something sinister. There is a long extended scene with go-go dancers doing their thing as Mitchell visits a club because it was the 1960s and it's that type of film.
Bud Townsend was a minor director who made a handful of films – Nightmare in Wax was his first feature. His only other genre entries were the horror film Terror at Red Wolf Inn/Terror House (1972) and the X-rated version of Alice in Wonderland (1976). One of the more interesting names in the cast is Johnny Cardos, better known as John 'Bud' Cardos, who plays the junior investigating detective. Cardos later directed the fine Kingdom of the Spiders (1977), as well as the likes of The Dark (1979), The Day Time Ended (1980), Mutant/Night Shadows (1984) and Outlaw of Gor (1989).
---
---