(Patrick Vive Ancora)
---
Crew
Director – Mario Landi, Screenplay – Piero Regnoli, Producer – Gabriele Cristanti, Photography – Franco Villa, Music – Berto Pisano, Production Design – Giovanni Fratalocchi. Production Company – Stefano Film srl.
Cast
Sacha Pitoeff (Dr Herschel), Gianni Dei (Patrick Herschel), Maria Angela Giordan [Maria Angela Giordano] (Stella Randolph), Paolo Giusti (Davis), Carmen Russo (Sheryl Kraft), Andrea Belfiore (Lydia Grant), John Benedy (Peter Suniak), Franco Silva (Lyndon Kraft), Anna Veneziano (Meg)
---
Plot
Patrick Herschel is hit by a bottle thrown from a passing vehicle. His father, a top surgeon, faces the fact that Patrick is now left in a coma. Some years later, two couples and a journalist are invited to the Herschel Relaxation Resort, an exclusive health retreat run by Patrick's father. Dr Herschel has the comatose Patrick in his laboratory and is conducting experiments to amplify Patrick's psychic potential. Dr Herschel now gets Patrick to unleash psychic vengeance against the guests who were the people in the passing vehicle and the ones responsible for throwing the bottle that put Patrick in a coma.
---
Patrick (1978), an Australian-made horror film from director Richard Franklin, was a modest international success, one that was built on the big hit of Carrie (1976) and its psychic powers themes. In the film, nurse Susan Penhaligon tends Patrick, a patient in a coma who then starts to exhibit jealousy and uses his psychic powers to kill those around her. The film was later remade as Patrick (2013).
Patrick Still Lives was a mockbuster way back before The Asylum turned it into a business model and anybody even coined the term – that is to say a film with a soundalike title (or in this case appearing as a fake sequel) made with the intention of getting people who saw the other film in the door. The first film featured Patrick as a comatose patient wielding psychic influence from his hospital bed. This features another comatose patient, also named Patrick (but no indication that the two are connected) who wields psychic influence from his hospital bed. Both kill people off, the Australian Patrick because he is obsessed with his nurse, the Italian Patrick because his father is conducting a series of experiments of unclear nature (one that seems to involve three other people kept in a comatose state in an adjoining room) and has lured to his hospital the people responsible for putting Patrick into a coma so that Patrick can wreak revenge.
Italian exploitation cinema of the 1970s/80s era is something that has to be seen to be believed. It produced a great many action films, Mad Max copies and gore-drenched zombie films, all copies of US models. By far the most extreme niche was the Italian cannibal film, which produced the notorious, gut-churning likes of Cannibal Holocaust (1979) and Cannibal Ferox (1981).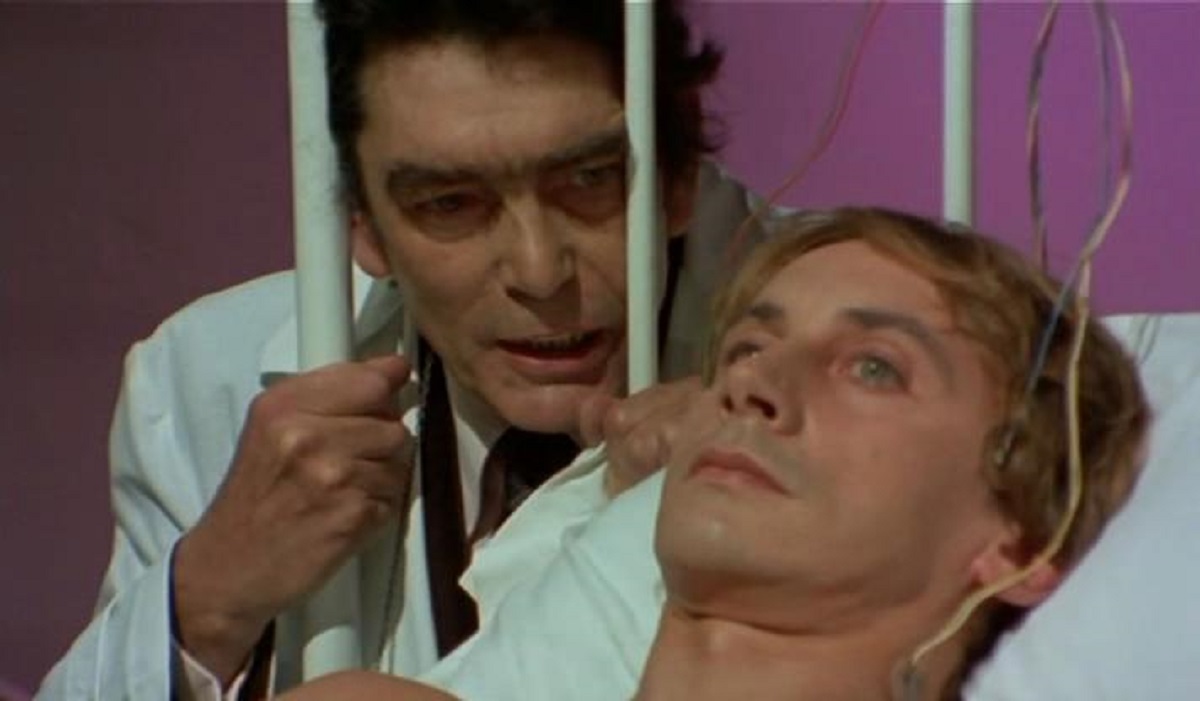 Patrick Still Lives is a mind-boggling example of the late 1970s Italian exploitation genre. For the first thirty or so minutes, the film seems as though it is imitating Patrick, assembling a group of deservous victims at a pretty locale – the same villa that appeared in the zombie film Burial Ground (1981), which also starred Maria Angela Giordano – and the doctor (Sacha Pitoeff) setting up a revenge scheme. There are a couple of fairly mundane initial deaths – Franco Silva drowned in a swimming pool, Carmen Russo attacked by a mystery wind.
Then the film takes a turn for the completely trashy – and all the more entertainingly for it. All four of the women in the cast get to take their clothes off at regular intervals – and are all seen fully frontal nude at various points. There is a highly entertaining scene where Maria Angela Giordano gets drunk at the dinnertable and strips off before getting into a catfight with Carmen Russo. Maria Angela Giordano gives the most entertaining performance in the film – there is a scene where she tries to seduce Paolo Giusti in his room, he rebuffs her advances, which ends up with the both of them slapping each other around the room and onto the floor. A few scenes later, Paolo Giusti is by the well when Patrick attacks – represented throughout by double-exposed green glowing eyes – and Paolo spends about two minutes staring at a hook as it caresses his face before it pierces his jaw and hangs him over the well.
The film has no compunctions about going for broke – particularly in terms of sexual explicitness. In her final scene, Maria Angela Giordano is stripped nude, pinned to the kitchen table as a levitated metal rod penetrates her vagina (we even get closeup shots) and then pierces its way out of her mouth. Later secretary Andrea Belfiore is drawn into Patrick's room, strips off and begins licking and rubbing her breasts and vagina over the bedhead, before lying down on a conveniently placed couch and masturbating (with detailed closeups, naturally). Incredible!
---
---