USA. 2016.
Crew
Director – Jeffrey Hunt, Screenplay – Anthony Jaswinski, Producers – Lawrence Mattis & Michael Moran, Photography – Michael Karasick, Music – Jim Dooley & Todd Haberman, Visual Effects – Patti Cannon, Production Design – Mike Conte. Production Company – Marvista Entertainment/Circle of Confusion Productions.
Cast
Sarah Hyland (Chloe), Steven Krueger (David), Justin Chon (Seth), Clara Mamet (Elise Stevens), Sophie Dalah (Alice), Anthony Carrigan (Anthony)
---
Plot
Chloe and David are on a road trip to Coachella, along with them their friends Seth and Elise. Seth and Elise have an interest in the occult and Satanism and insist at stopping off to visit famous occult-related sites. In Los Angeles, Elise signs them into a hotel in the same room where a Lainie Gore killed herself in a ritual several years earlier. After visiting a Satanist shop, they follow the salesperson to a remote house. Seth secretly films on his phone as they watch a group of Satanists appear to be conducting a ceremony to sacrifice a girl. They are spotted and flee but Seth drops his phone. The next morning they receive a call from Alice who has the phone. She explains how she was the girl in the ceremony but was actually undergoing a ritual to leave the group. Realising that she has nowhere to go, they offer her to let her stay with them in the hotel room. There Alice starts to act weird before drawing a pentacle on the wall and slitting her own throat. In the aftermath of the police investigation, they go to stay at a friend's house only to become the subject of an increasingly disturbing series of occult happenings.
---
Satanic was the first feature film from Jeffrey Hunt, sometimes credited as Jeffrey G. Hunt. Hunt had been working since the 1990s in a variety of roles as a set technician and camera/Steadicam operator and has accrued some impressively high-profile credits. He began directing in the mid-2000s and has racked up quite a number of credits directing episodes of various tv shows.
Satanic sounds for all the world like one of a host of films that came out in the aftermath of Insidious (2010), all offering similar kinds of supernatural happenings and marketed with a similar-sinister sounding adjective as their title – see also Sinister (2012), Pernicious (2014), Demonic (2015), The Diabolical (2015), Luciferous (2015), Ominous (2015) and Malicious (2018). While most of these others are eminently forgettable, the surprise is that Satanic is not too bad at all.
Rather than following the footsteps of all the Insidious copies, Satanic opts for an original plot that comes out sounding somewhat akin to a crosshatch between Kalifornia (1993) and Race with the Devil (1975) – the first a film about a couple on a tour of serial killer sites across the country who then find they have the real thing in their midst; the latter about two couples on a road trip who accidentally witness a devil worship ceremony and are pursued by a cabal of sinister figures.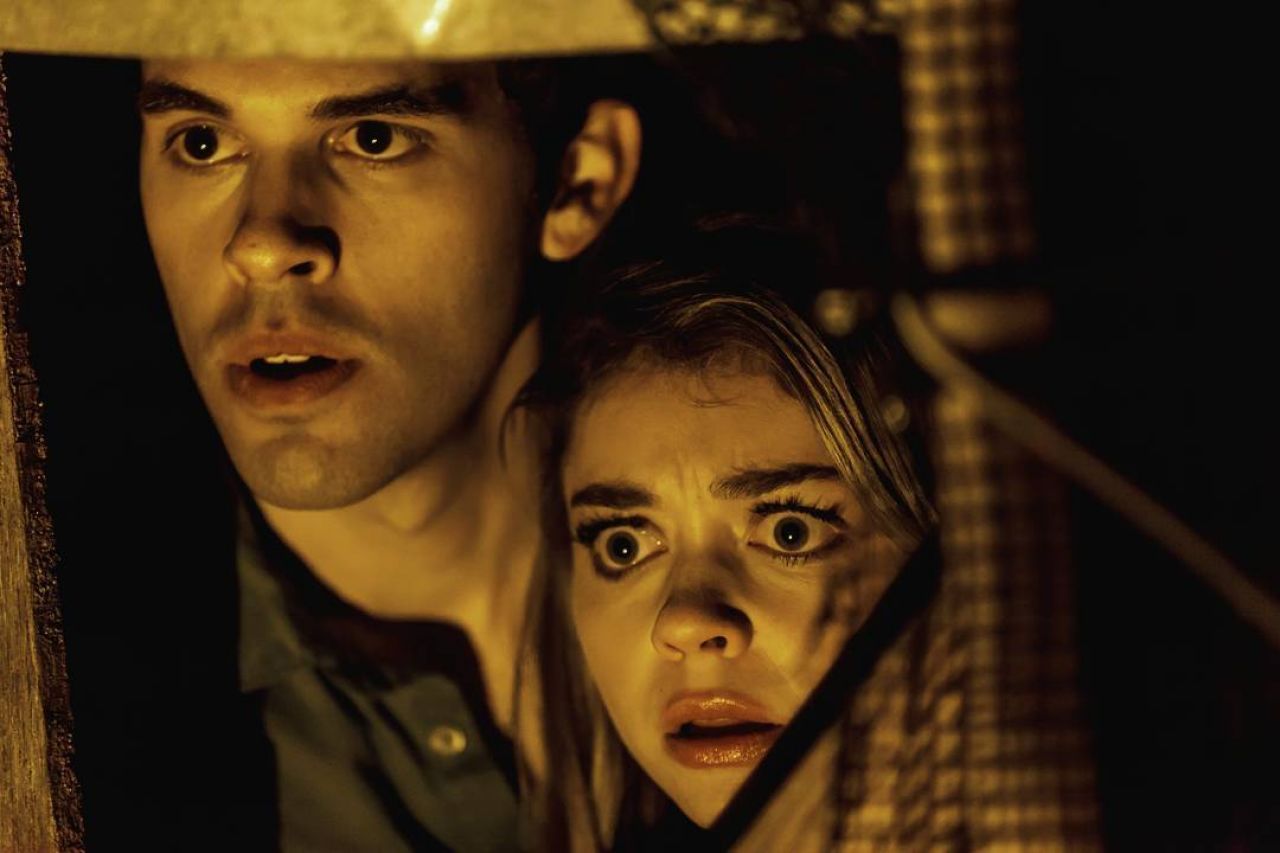 Jeffrey Hunt offers up a quartet of early twenties characters that you are at least not loathing within the first five minutes. He makes an effort to ground the Satanism being shown as credible with an opening clip showing famous real-life Satanist Anton LaVey, even purportedly visits to LaVey's church, and a Satanic bookshop where they are promptly driven out.
The film starts to become rather watchable with first their snooping on a Satanic ritual and then their inviting Sophie Dalah back to their hotel room and she getting drunk, kissing both a guy and girl then painting a pentacle on the wall and abruptly slitting her own throat. In the aftermath of this, things get even more sinister with they relocating to another house only to find dead birds in the swimming pool and all the cutlery impaled in the kitchen roof. (Whether this is by human or supernatural agency is never explained).
The effectiveness of the build-up dissipates during the climactic scenes running around an empty warehouse. It is a climax that arrives too abruptly as though the film had reached a predetermined length and needed to wrap the show up when you wished that Jeffrey Hunt had drawn the proceedings out more.
Although these do have some undeniably effective images such as seeing members of the party melted into the ceiling and the iron railings of the stairs. Or of Sarah Hyland looking out the window and finding by some weird timeloop that she is the person at the window of the warehouse calling for help that they saw when they arrived in town. The final image is that of Sarah Hyland trapped in some kind of Hell (presumably) – a room with all walls and no doors as a creature advances on her.
---