aka Haunted
---
Crew
Director – Victor Salva, Screenplay – Charles Agron & Victor Salva, Story – Charles Agron, Producers – Charles Agron, Don E. Fauntleroy & Victor Salva, Photography – Don E. Fauntleroy, Music – Bennett Salvay, Visual Effects – Trick Digital (Supervisor – Adam Clark), Special Effects Supervisor – Randy Moore, Makeup Effects Supervisor – Brian Penikas, Makeup Effects – Make-Up & Monster Studios, Production Design – Carmi Gallo. Production Company – Charles Agron Productions/Blue Horse Pictures.
Cast
Luke Kleintank (Nick DiSanto), Anthony Ray Perez (Ryan), Alex McKenna (Eve), Tobin Bell (Seth), Zack Ward (Chris McCulloch), Lacey Anzelc (Lilith), Ethan S. Smith (Sam), Lesley-Anne Down (Molly DiSanto), Charles Agron (Lucky), Max Gail (Maxfield Bing), Daniel Ross Owens (Brian Maker)
---
Plot
On his twenty-third birthday, Nick DiSanto goes to see his mother where she is incarcerated in an asylum, hoping to find details about who his father is. She proves to be crazy and later that day Nick learns that she has been killed in a fire. Nick has the uncanny ability to touch a person and receive a vision of their death. He meets and settles down with Eve. Several months later, they are expecting a baby. Nick is then called to a reading of his mother's will and learns that he has received the deed of a house. Upon seeing a photo of the house, he is unsettled to find that he has been drawing detailed pictures of it since he was a child. He, Eve and his best friend Ryan head to find the house in the town of River's End, which does not appear to be on any map. They learn that River's End was washed away in a flood but that the house survived and was swept downstream. Joined by three land surveyors, they search for the house and remarkably enough find it perfectly intact. It is now occupied by the menacing Seth who tells Nick that it is an evil place. Strange hulking figures pursue and attack them. As they flee, no matter where they go, it appears that Nick is being forced to return to their house. He finds he is being drawn to open the door to the cellar, which can offer secrets about who his father is but may also unleash a great evil.
---
Victor Salva is one of the great underappreciated genre talents in my book. Salva first appeared with the incredible haunting Clownhouse (1989), one of the best of the era's slasher films. He next went onto the fine road movie psycho-thriller The Nature of the Beast (1995), the interestingly odd mentally gifted teenager film Powder (1995) and the non-genre Rites of Passage (1999), before having a breakthrough hit with the horror film Jeepers Creepers (2001). Salva made an even better sequel Jeepers Creepers II (2003) and subsequently went onto the non-genre inspirational drama Peaceful Warrior (2006), the stalker film Rosewood Lane (2011) and Jeepers Creepers 3 (2017).
Dark House, also known as the far more generic and anonymous Haunted, is another strong genre entry from Salva. He has an ability to avoid genre cliches and come up with original monsters and way out set-ups. This is certainly something that is at play in Dark House. There is a captivating scene soon in where Luke Kleintank chats up Alex McKenna at a bar, where it is then explained to her that he has the power to see people's deaths – to demonstrate, he passes around the table touching everybody's hands, only to abruptly collapse across the table having precognitive flashes.
This segues off into the fascinating tale of the search for Luke Kleintank's inherited house and the trail of an entire town that was washed away in a flood – only for them to journey through the woods to find the house sitting perfectly intact. We are then introduced to Tobin Bell as the tenant, who seems to have stepped out of somewhere between the Old Testament and the Deep South, and threatens them away. Things become even stranger when he invites Luke Kleintank inside and talks about how the house wasn't washed away so much as it was a divine effort to destroy it, followed by fierce warnings for Kleintank to get as far away as possible. Things get into wildly out there territory as the group flee the house pursued by a dreadlocked man who walks in a side-shuffle and attacks their van with an axe. By this point, Salva has spun us around into a genuinely out there territory where we have no idea what is about to happen.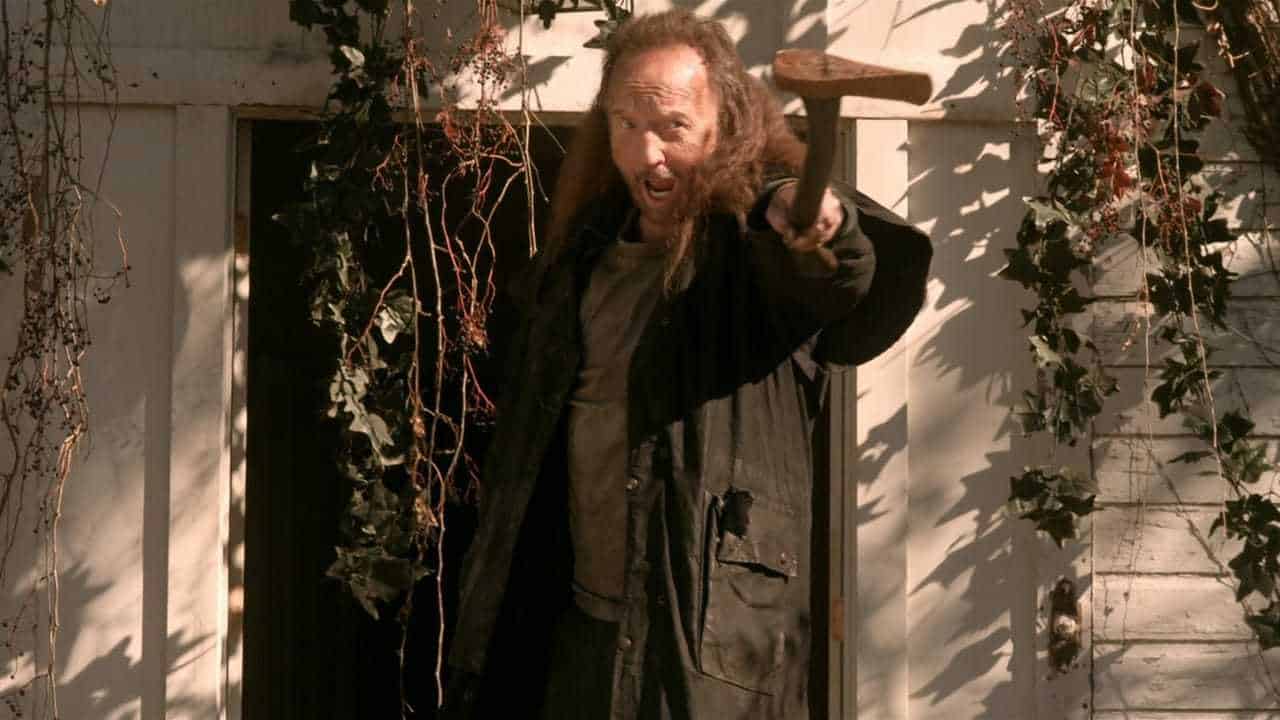 Things continue to get even weirder. The group drive back into town and find it deserted but as they bang on the window of the empty diner, Salva's camera cuts to the inside where we see the diner is full of customers who eat on ignoring the others outside. Or when the group find that no matter where they go, they keep returning to the house – one where Luke Kleintank is unnerved to see bodies hanging from the tree outside.
There is the return appearances of the army of what the credits call Axe Men who all walk in unison shuffling on one side and start and stop depending on the nearness to which Luke Kleintank gets to opening the cellar door. There is the strange images of people talking to floor vent grilles throughout and then the appearance of Luke Kleintank's mother (Lesley-Anne Down) imploring him to open the cellar door and then turning to reveal that half of her face is missing.
Eventually, Dark House is revealed to be another variant on the occult film. Certainly, Victor Salva's eerily out there scares and the script, which is determined to write it with an Old Testament fire, makes for a completely original entry in a modern genre dominated by tired and cliched copies of Rosemary's Baby (1968) or ridiculous efforts like Legion (2010). The only disappointment is the ending, which tapers off with lack of conclusion and leaves one unsure whether the cellar door has been opened or what has happened to Luke Kleintank.
---
---