aka Constantine: City of Demons – The Movie
---
Crew
Director – Doug Murphy, Screenplay – J.M. DeMatteis, [Uncreditedly Based on the Graphic Novel All His Engines by Mike Carey], Producer – Butch Lukic, Music – Kevin Riepl, Animation – Digital eMation, Inc., Animation Directors – Kyungsoo Lee, Seungkyung Lee, Sunki Kang & Yangho Ji, Art Direction – Phil Bourassa. Production Company – Berlanti Productions/Phantom 4 Films/Warner Bros. Animation.
Voices
Matt Ryan (John Constantine), Damian O'Hare (Chas Chandler), Laura Bailey (Asa/Trish Chandler), Robin Atkin Downes (Nergal), Rachel Kimsey (Angela), Jim Meskimen (Beroul/Chelub/Quedbas), Emily O'Brien (Renee Chandler), Rick Wasserman (Mictlantecuhtli)
---
Plot
In London, John Constantine is contacted by his childhood friend Chas Chandler. Chas was present at the incident in Newcastle several years earlier when Astra Logue was snatched down to Hell by the demon Nergal due to Constantine's inexperience in fighting the occult. Chas believes his eight-year-old daughter Trish has been placed in a coma by black magic. Constantine investigates, finding that Trish's soul has been stolen. Constantine summons Asa, the Nightmare Nurse, to guard Trish and follows a lead to Los Angeles. This takes him to the mansion of the demon Beroul who has set up business in the city corrupting souls. Beroul has Trish's soul prisoner and promises to release her if Constantine will eliminate the five other demons who are his competition in the city.
---
John Constantine first appeared in Swamp Thing #37 in 1985, written by no less than Alan Moore, and was a supporting character in Swamp Thing comics for several years. Due to reader popularity, Constantine was granted his own title with Hellblazer, which appeared in January of 1988. Constantine's background was expanded out and he has become a regular fixture of DC Comics since then, frequently seen as a member of the Justice League Dark team.
Constantine made the first of his screen appearances in the film Constantine (2005) where the character's Britishness, look and background was jettisoned and the role miscast with Keanu Reeves. Constantine was later revived in the tv series Constantine (2014-5) starring Matt Ryan in the title role, which did a far more faithful job of capturing the essence of the comic-book, although this was cancelled after only thirteen episodes. Ryan's Constantine later crossed over in an episode of the tv series Arrow (2012-20) and then became a recurring guest actor and later one of the regular cast in Legends of Tomorrow (2016-22). Matt Ryan also voiced the role of Constantine in the animated film Justice League Dark (2017) and Justice League Dark: Apokolips War (2020), as well as a further 27 minute short animated film Constantine: House of Mystery (2022).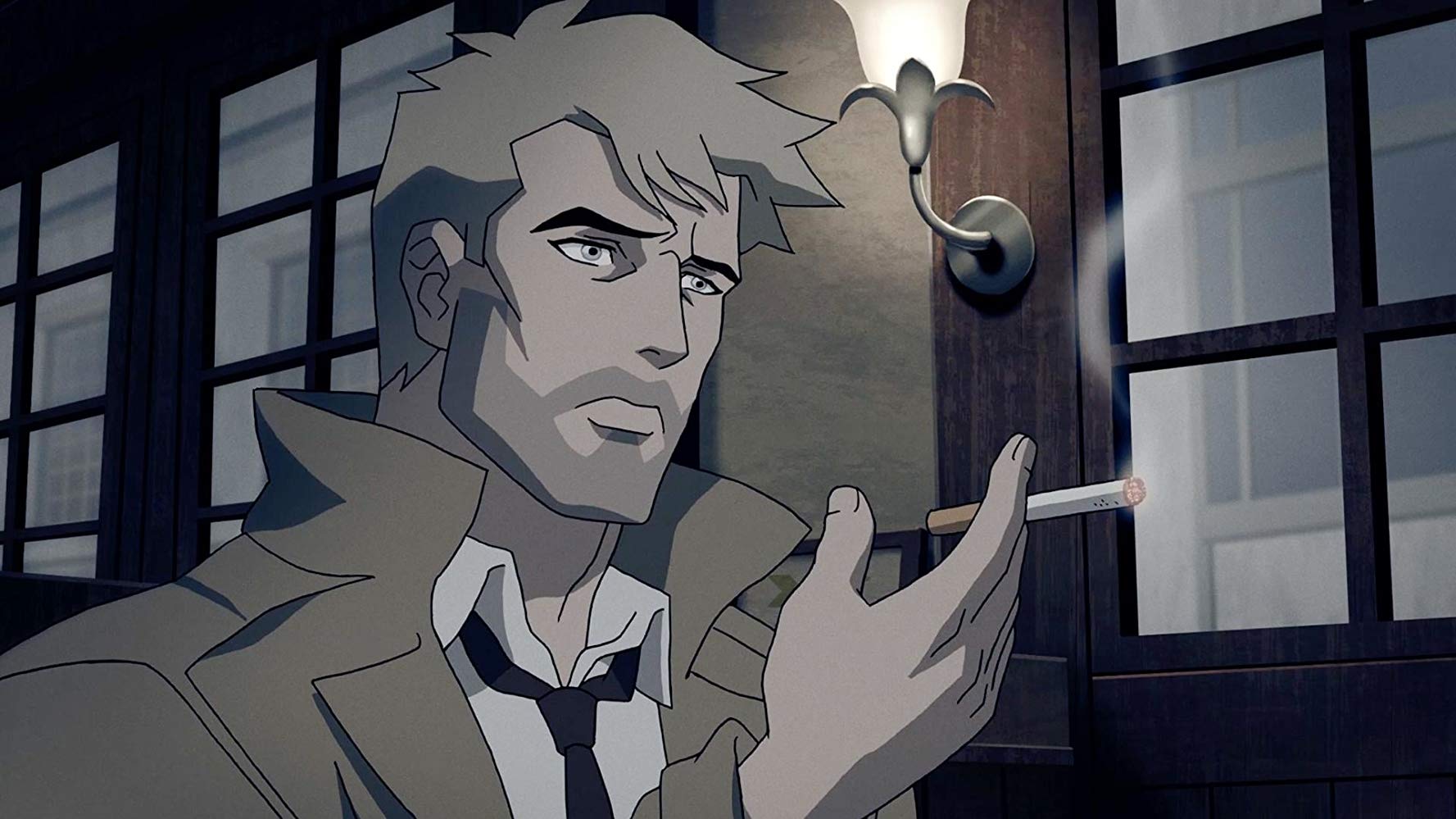 Constantine was then spun off into the animated series Constantine: City of Demons (2018), which was adapted from the graphic novel All His Engines (2005) by Mike Carey. This was released in five episodes of around 6-7 minutes apiece that appear on the online platform CW Seed. Matt Ryan returned to voice the role of Constantine. The web series was later expanded with the addition of more material and released as the film reviewed here – it is listed on its dvd cover and colloquially known as Constantine: City of Demons – The Movie (although not called that on the film's credits). The web series was produced by Greg Berlanti, the guiding force behind Arrow and the various other live-action DC tv series, and screenwriter David S. Goyer who authored Christopher Nolan's Dark Knight trilogy and Zack Snyder's DC outings, among others.
I was expecting Constantine: City of Demons to be like another to the DC Universe Original Animated Films, enjoyable adventures based around their regular DC superhero characters – the aforementioned Justice League Dark is a perfect example. However, what we get here is a much edgier Constantine than in any of the previous incarnations. The film aims for more adult content and doesn't pull punches – we see perverse orgies as Beroul's mansion that involve people being whipped and one characters seemingly farting bats out of his ass, while Beroul has a swimming pool filled with corpses, which he is waiting to sufficiently putrefy so that he can swim in them. Later there is a scene where Constantine has bathroom sex with the incarnated spirit of Los Angeles.
The animation is able to give the scenes something more way out and fantastical than any of the live-action incarnations of Constantine ever got. None of the other films had anything in the way of this film's array of demonic orgies, hell hounds, South American gods, shapechanging demons or scenes where Constantine ventures inside Beroul's stomach to talk to the missing girl, not to mention an opening where he is suffering a hangover and batting away mini versions of his own inner demons. It is also a much more faithful incarnation of the comic-book Constantine in many respects – this is the only film version that gives us his companion Chas Chandler and tells the Constantine origin story and what happened in Newcastle.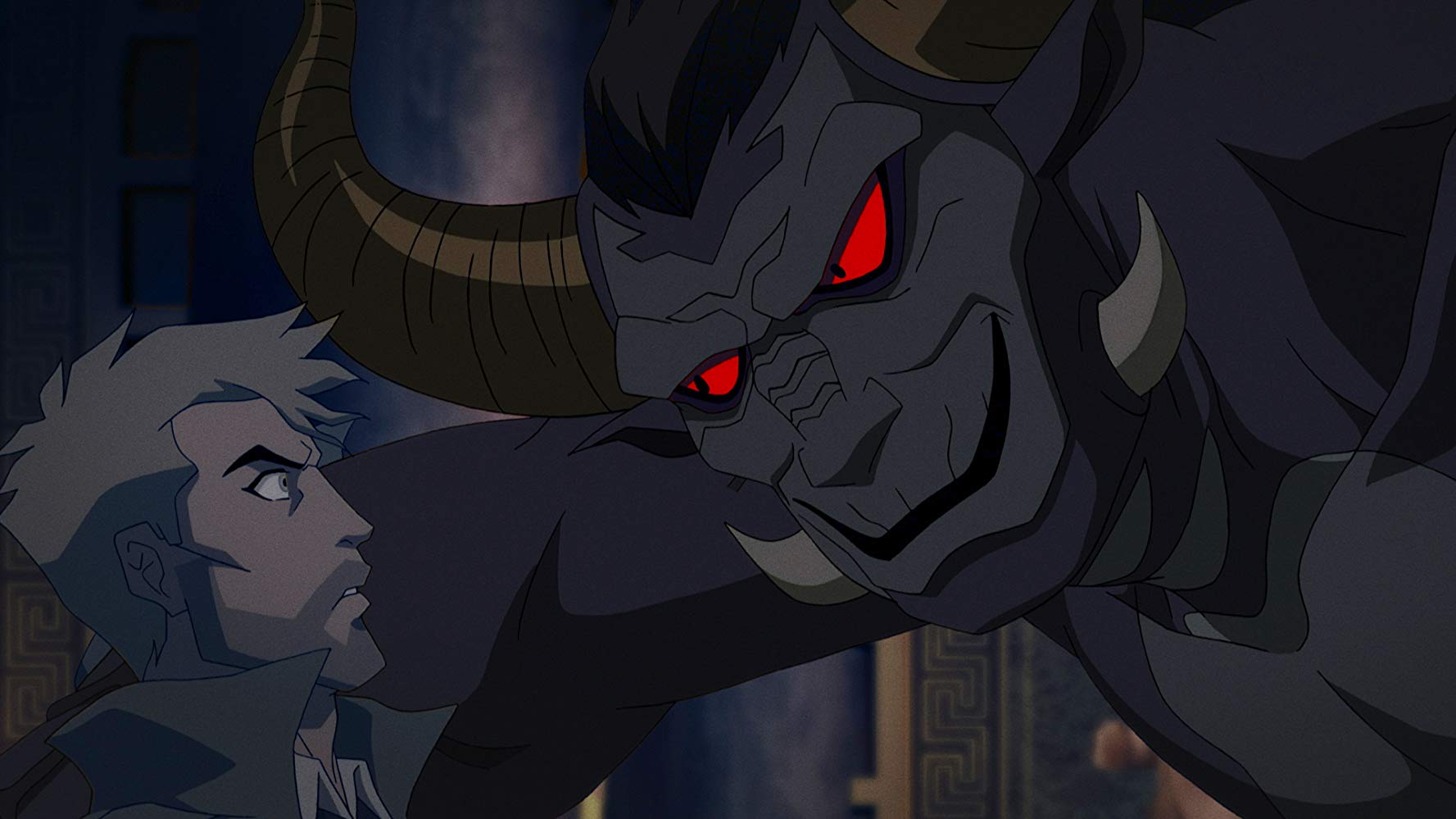 The script comes from J.M. DeMatteis, a comic-book writer on numerous DC and Marvel titles since the 1980s, and is well above average for an animated film. Just the dark humour of the scenes with Beroul explaining how he set up business in Hollywood because it is the place where people are most eager to sell their souls and departing with the announcement that he is off to watch All My Children (1970– ). Or the characterisation of the forgotten South American god that Constantine conjures who is hungry to feast on human flesh again.
The best writing of all though is the end scenes where [PLOT SPOILERS] Nergal tempts Constantine with the offer of the return of the soul of Astra Logue and the tragic final scenes where Constantine's deal to banish Nergal means sacrificing Chas's memories of their childhood and his wife and daughter's memories of him.
---
---