---
Norway/Sweden/Denmark/France. 2017.<p.
Crew
Director – Joachim Trier, Screenplay – Joachim Trier & Eskil Vogt, Producer – Thomas Robsahm, Photography – Jakob Ihre, Music – Ola Fløttum, Visual Effects Supervisor – Esben Syberg, Visual Effects – The Gentlemen Broncos VFX (Supervisor – Peter Martin Hartvig), Ghost VFX (Supervisor – Martin Gådeler), Hydralab (Supervisors – Sunit Parekh & Tonni Zinck) & Storyline (Supervisor – Ivar Rystad), Production Design – Roger Rosenberg. Production Company – Motlys/Film I Vast/Le Pacte/Filmpool Nord/Snowglobe/B-Reel Films/Don't Look Now/Copenhagen Film Fund/Norsk Filminstitut/Eurimages/Nordisk Film & TV Fond/Det Danske Fiminstituet/Creative Europe – Media.
Cast
Eili Harboe (Thelma), Kaya Wilkins (Anja), Henrik Rafaelsen (Trond), Ellen Dorrit Petersen (Unni), Grethe Eltervåg (Thelma Age 6), Marta Magnusdotter Solem (Neurologist), Anders Mossling (Dr Paulsson)
---
Plot
Thelma has left home to go to university in Oslo. Her parents, who are religious, keep a concerned and watchful eye on her. At first, Thelma feels lonely but then starts to make friends, especially with Anja, a girl in her biology class. Thelma realises a mutual attraction to Anja but is both afraid and excited about acting on her desires. She also has psychic abilities and can inadvertently cause lights to go out, birds to suicide dive into windows and objects to move when she is upset. As she discovers, her parents have been aware of her abilities since she was a child. These same abilities were also exhibited by her grandmother, although, as she finds out, her parents have lied about her grandmother being dead when she is in fact still alive and kept in a drugged state. In the midst of her turmoil about her attraction, Thelma wishes to have Anja out of her thoughts – only to cause all trace of her to vanish.
---
Thelma was the fourth film from Danish-born, Norwegian-based director Joachim Trier. Trier first appeared with Reprise (2006) and received considerable international acclaim with Oslo, 21 August (2011), which led to Trier to be brought on to direct the English-language Louder Than Bombs (2015). Subsequent to this, Trier went on to make The Worst Person in the World (2021).
Thelma is essentially a Norwegian version of Carrie (1976). It also manages to be an LGBT version of Carrie – the ingenious spin it places on the Carrie story is to have the title teenager be someone not bullied and tormented at school but rather a girl struggling against a same-sex attraction. The religious element of Carrie is also present but seems benevolent rather than fierce and fundamentalist – Thelma's parents seem more concerned about her well-being but, as she gradually uncovers, they have been controlling her life, shielding her from truths they don't want her to discover.
Joachim Trier's direction is slow and sombre. It is a film that often seems as icy and remote from emotional engagement as the Norwegian locations but Trier then surprises and draws you inside Eili Harboe's turmoil. There is an extraordinary scene at the Oslo Opera House where Eili Harboe and Kaya Wilkins have been taken to a performance by Kaya's mother and Kaya begins playing with Eili's legs and Eili's rising desire causes the vast mobile attached to the ceiling to start dangerously swaying.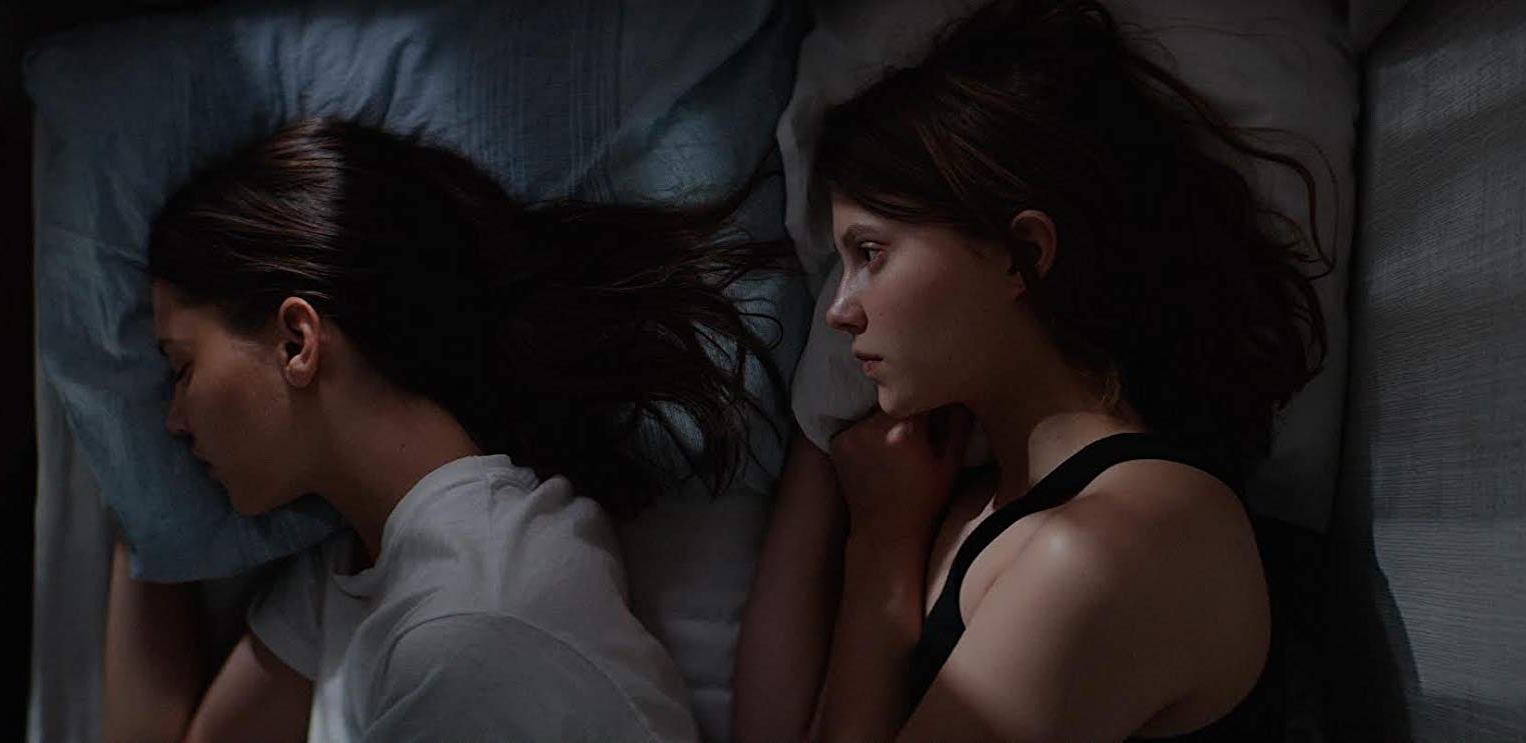 There is the equally chill scene where Eili Harboe seems to erase Kaya Wilkins from existence and we get a replay of all the scenes where Kaya appeared but without her in them. There are some amazing scenes during the flashbacks, especially where we see that the young Thelma has managed to teleport her crying baby brother underneath a heavy couch and then, in one horrific revelation, beneath the frozen ice of a lake.
Joachim Trier's direction is so cool and subdued that the film's effects don't fully settle in until later in the show. [PLOT SPOILERS] Particularly chill is the scene where Thelma confesses to her father (Henrik Rafaelsen) that she fell in love with a girl and he insists that she isn't, rather that she made Anja do so. This suddenly casts everything that has happened in a very different light, especially the scene where Anja suddenly came to Thelma's dorm room. This leads to a chill coda where Eili Harboe manages to restore Kaya Wilkins to existence and then we see her sitting in the university quadrangle, thinking of Kaya, only for Kaya to come up and touch her on the shoulder and the two to walk off together leaving the uneasy question of whether this is a natural attraction or Eili is controlling Kaya's mind.
This film's co-writer Eskil Vogt later went on to direct a standout film about children with psychic powers with The Innocents (2021).
---
---