(Riget: Exodus)
---
Denmark/Sweden/Norway. 2022.
Crew
Director – Lars von Trier, Additional Directors – Christoffer Boe & Christian E. Christiansen, Screenplay – Lars von Trier & Niels Vørsel, Producer – Louise Vesth, Photography – Manuel Alberto Claro, Music – Joachim Holbek, Visual Effects Supervisor – Peter Hjorth, Visual Effects – Benuts (Supervisor – Tristan Lillien), CPH Visual (Supervisor – Alexander Schepelern), DUPP & The Pack (Supervisor – Makis Stergiou), Special Effects – Nana Brovang, Dansk Special Effekt Service (Supervisor – Hummer Højmark) & William Veler, Makeup Effects – The Makeup Designers (Supervisors – Love Larson & Oskar Wallroth), Production Design – Simone Grau Roney. Production Company – Zentropa Entertainments/Film i Vast/Zentropa Sweden/Ginger Pictures/Nordisk Film & TV Fond.
Cast
Mikael Persbrandt (Stig Helmer Jr), Bodil Jørgensen (Karen Svensson), Lars Mikkelsen (Pontopidian), Nicolas Bro (Balder), Henning Jensen (Bob), Tuva Novotny (Anna), Nikolaj Lie Kaas (Filip Naver), Ghita Nørby (Rigmor Mortensen), Søren Pilmark (Jorgan 'Hook' Kroshoj), Ida Engvoll (Kalle), Brigitte Raaberg (Judith Petersen), Peter Mygind (Morten 'Mogge' Moesgaard), Jasper Sørensen (Lillernand), Jasmine Junker (Bob 2.0), Birthe Neumann (Fru Svendsen), Udo Kier (Little Brother), Alexander Skarsgård (Swedish Lawyer), Imad Abul-Foul (Andersen), David Dencik (Bosse), Willem Dafoe (Grand Duc)
---
Plot
The aging medium Karen Svensson is drawn to the Rigshospitalet in Copenhagen, the location for the tv series The Kingdom. Aided by the porter Balder, she believes that she has come to set to rest the soul of the half-demon child Little Brother. As the forces of darkness start to emerge through the cracks in the walls, she searches of the heart of the hospital and the ancient bleaching ponds where the giant head of Little Brother drowns in its own tears. At the same time, Helmer Jr arrives from Sweden to take over the position of chief of neurosurgery that his beloved late father once held. Helmer Jr is soon subject to the same furies and frustrations at the Danes that harried his father and drove him to his death, including multiple accidental charges of sexual harassment. However, he finds recourse in a support group of fellow Swedes and plots to lead a rebellion intended to disrupt the system.
---
Since the 1990s at least, Denmark's Lars von Trier has become one of the finest directors in the world with a series of works that are constantly pushing an envelope both in terms of artistic experimentation and outraging audiences. His films include the likes of Breaking the Waves (1996), Dancer in the Dark (2000), Dogville (2003), Antichrist (2009), Melancholia (2011) and Nymphomaniac (2013), among others. (See bottom of the page for a list of Lars von Trier's genre works).
The Kingdom (1994) was a tv mini-series that Lars von Trier created and co-directed, a series of supernatural and diabolic happenings set around the locale of the real-life Rigshospitalet in Copenhagen. The series was an international success, being released theatrically in various festival screenings. Lars von Trier followed this up with The Kingdom II (1997), which was similarly released to theatres internationally, although this did not quite meet the acclaim of its predecessor. The first series was even given a US remake as Kingdom Hospital (2004) as scripted by Stephen King but this was notably lacking the original's vein of black humour. von Trier had always had intentions of making a third part but seemed to fall silent on the issue and become involved in other projects after that point.
Like David Lynch and his return to Twin Peaks in 2017, von Trier revisits the Rigshospitalet after a 25 year absence. This length of time has unfortunately meant that many of the key cast from the original have passed away. These include Ernst-Hugo Järegård (the disgruntled Swedish neurosurgeon Stig Helmer), Kirsten Rolffes (the psychic Mrs Drusse), Jens Okking (her son Bulder the porter), Holger Juul Hansen (hospital administrator Dr Moesgaard), Baard Owe (as Bondo the doctor who transplants himself with a diseased haematoma) and Morten Rotne Leffers (the male dishwasher).
Certainly, a number of faces from the original are back, including Søren Pilmark as Hook, Ghita Nørby as Helmer's girlfriend Rigmor, Brigitte Raaberg as Judith, the mother of the Devil Child, Udo Kier as the Devil Child himself, Peter Mygind as Mogge Moesgaard and Birthe Neumann as Helmer's secretary, as well as Henning Jensen who played a government official in the other two series and now becomes a hospital administrator. There's also Lars von Trier making more of his sardonic end credits narrations, although this time he remains hidden behind a curtain with only his shoes showing. Of the returnees, most of these are now well into their fifties and sixties – in the case of Ghita Nørby was aged 87 as the show premiered.
Certainly, Exodus makes an effort to compensate for the absence of key characters. In the place of Mrs Drusse, we get Bodil Jørgensen as another aging medium who is drawn to check into the hospital, while we have Nicolas Bro as another portly porter named Balder who steps into become her escort and guide, while complaining that everybody keeps calling him Bulder. Ernst-Hugo Järegård is replaced by Mikael Persbrandt as Helmer's son who gets to go through the same humiliations and outcries of "Dansk Afskum (Danish Scum)" on the hospital roof while caryring his hubcaps about with him. We get another male dishwasher (Jasper Sørensen) who is now aged, although it is not clear if this is the same character that was played by Morten Rotne Leffers. While the actress who played the female dishwasher (Vita Jensen) is still alive, she has been replaced by a robot (that is constantly smashing the dishes) and voiced by a different actress. Stellan Skarsgård, who played the Swedish lawyer who conducted his office out of a toilet, is still alive but has not returned, however has his part is substituted by Stellan's son Alexander Skarsgard in a more expanded role. Willem Dafoe, a multiple von Trier player, also makes some surprise appearances as The Grand Duc.
Of the returnees, they are not always shown off at their best. Hook is sidelined for the early parts of the show before being revived by Helmer's voodoo potion to aid everybody in the latter episodes. Mogge floats around in the background on a kick scooter wearing a propeller beanie, before only getting any frontline time in the final episode where he undergoes a twist character reveal. The most comically bizarre is Rigmor who is confined to a wheelchair with one leg (and later the other) amputated, and has become 'the elevator elf' who hounds the life of administrator Lars Mikkelsen, before getting to spend the last three episodes trapped on her wheelchair at the end of a rope halfway up the side of the hospital building.
This mini-series comes with an amusing sense of Meta-Fiction where the Rigshospitalet is now treated as the location where the other two mini-series were shot in addition to being the place where we follow a continuation of the same events. There are constant asides about "that idiot Lars von Trier" and how the second season wasn't as good as the first, or having Bodil Jørgensen basing what she does on having watched the tv series and being surprised to meet the real characters. Later in the show, we encounter a tourist group being given a tour of the hospital locations.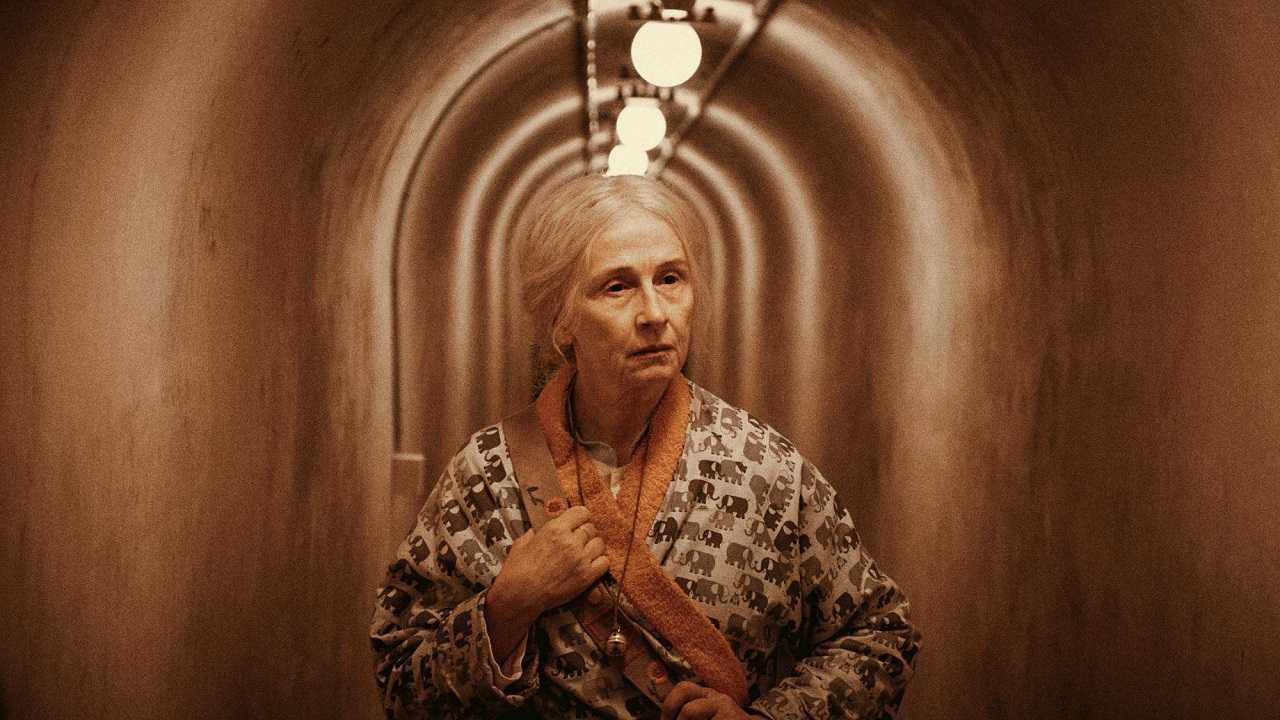 You suspect that the plots for the first two The Kingdom series were fairly ad hoc and Lars von Trier and associates were winging it as they went along. The ghost of Mary Kruger is mentioned but her relevance has been entirely dropped. The phantom ambulance from the first series was written out by the second series, although here we now get a phantom helicopter. The joyriding students from the second series have been dropped, along with characters like Sanne and Christian that were related to that plotline. The plot in the second series about Hook being affected by voodoo and gone over to the dark side is pushed to the side apart from a couple of references to nobody wanting to work with him because of the incident turning off the power at the end of the second series.
On the other hand, Lars von Trier slips back into the Black Humour of the original without a missed step. There are some rather hilarious scenes with the IT department messing with administrator Henning Jensen's levels of difficulty in his computer Solitaire game, or a scene where Jensen keeps getting handed cue cards for his responses at a press conference.
von Trier pushes the material to even more hilarious levels than before with scenes where Mikael Persbrandt is sentenced to be placed in stocks in the hallways, opium dens in the basement and even a scene where the doctors locate a giant heart in one of the rooms and set to operating on it in a mimicry of a standard operation using kitchen knives and vacuum cleaners. Not to mention, an apocalyptic ending with The Devil (played by von Trier no less) appearing in person, even Death leading a Totentatz on the roof of the hospital, before the entire building collapses into a hole in the ground, during which most of the characters are killed, claimed by Death or sucked into a fiery pit in the ground.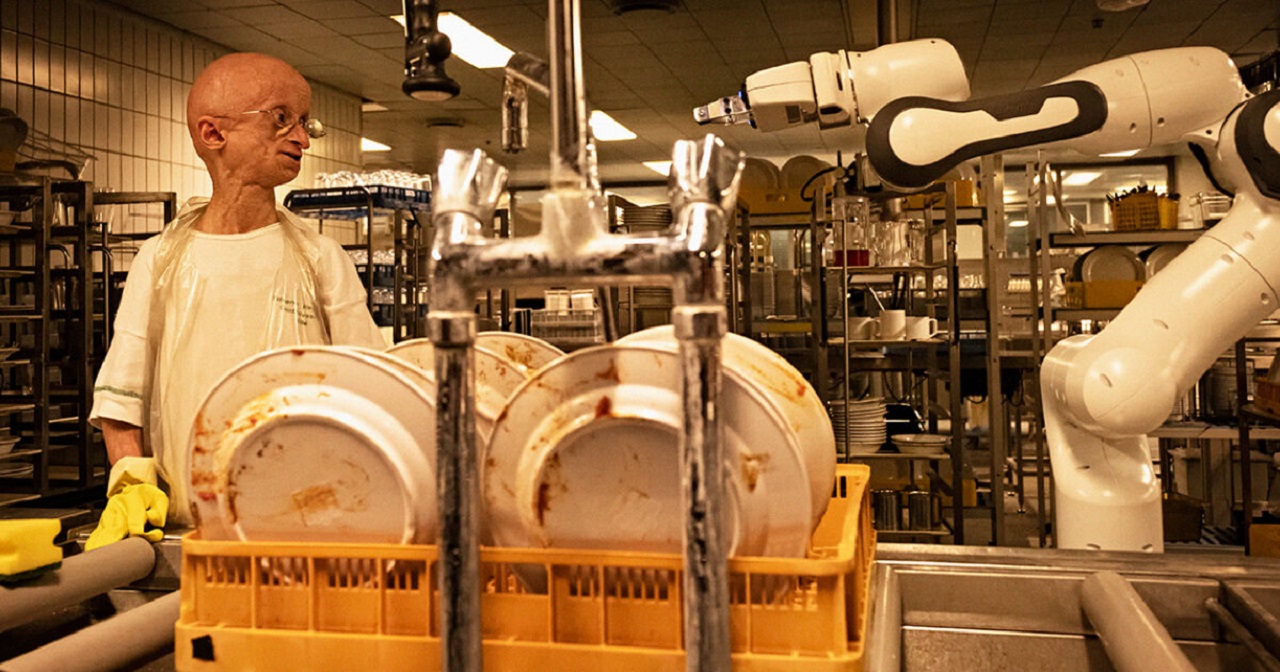 The vein of conte cruel that gets visited on Helmer Jr this time is wound up to even more hilarious levels. Mikael Persbrandt is not quite as outrageously entertaining in his awfulness as Ernst-Hugo Järegård was but the character is still a great deal of fun. This time von Trier winds up the Danish-Swedish rivalry – with jabs at IKEA furniture and lines like "Even a Swede is kind of a human being" and having Persbrandt attending an AA-style support group for Swedes living in Denmark. (Despite all of this, Exodus is co-funded by Sweden, as the original series also were).
This time, von Trier also uses Helmer Jr to dig into Woke politics. There is a vein Black Humour throughout that derives from Helmer's Jr's insistence on diversity among medical appointments, on non-gendered policies throughout the hospital, resulting in the wrong patients being operated on. von Trier pushes it to an uncomfortable level with the character of Anna (Tuva Novotny) and assorted scenes where she at one point comes onto Helmer Jr and then ends up slapping him with multiple sexual harassment lawsuits. This digs an uneasy place where you wonder if von Trier is maybe not exorcising some personal wound.
Lars von Trier's other films of genre interest as a director are:– the decayed future film noir The Element of Crime (1984); Epidemic (1987), a peculiar meta-fiction about filmmakers making a film about a plague and hypnotism; Breaking the Waves (1996), an emotionally devastating film about a woman's masochistic sacrifices for her husband, which eventually arrives at a fantastic climax; Antichrist (2009), a film about grief that spirals into madness and extreme torture scenes; the End of the World film Melancholia (2011); and the serial killer film The House That Jack Built (2018).
von Trier was also Executive Producer on Kingdom Hospital (2004), the Stephen King scripted, US tv series remake of The Kingdom. von Trier's production company Zentropa Entertainments have also produced and co-produced numerous other films. Of genre note are the Icelandic Magical Realist quest Cold Fever (1995); the Swedish fairytale The Glassblower's Children (1998); the surreal Old Dark House thriller Impotence/Powerlessness (1998); Possessed (1999), a plague film about The Devil returning at the Millennium; Kat (2001), a horror film about a possessed cat; the Dogme film Truly Human (2001) about an imaginary man becoming real; The Last Great Wilderness (2002), a Gothic thriller set in the Scottish Highlands; Thomas Vinterberg's near-future romance It's All About Love (2003); In Your Hands (2004), a Dogme film about miracle healing prison inmate; the remarkable puppet fantasy Strings (2004); the ghost story Behind External Calm (2005); the dark reality-twisting Norweigian film Next Door (2005); Princess (2006), an animated film about an anti-porn vigilante; the fantasy Island of Lost Souls (2006); the horror film Echo (2007); the satirical dystopia How to Get Rid of Others (2007); Through a Glass Darkly (2008) about a girl receiving a mysterious visitation; the Dystopian film Metropia (2009); and Perfect Sense (2011) set in a world where people are losing their sensory perception.
---
Trailer here
---