---
France/Ireland/Sweden. 2013.
Crew
Director/Screenplay – Marina de Van, Producers – Jean-Luc Ormieres & Patrick Sobelman, Photography – John Conroy, Music – Christophe Chassol, Visual Effects Supervisor – Guillaume Pondard, Visual Effects – Filmgate (Supervisor – Tor-Bjorn Olsson), Special Effects Supervisors – Anders Muammur, Prosthetics – Bowsie Workshop, Production Design – Tamara Comboy. Production Company – Ex Nihilo/Element Pictures/Filmgate Films/Film I Vast.
Cast
Missy Keating (Niamh), Marcella Plunkett (Nat Gallin), Padraic Delaney (Lucas Gallin), Charlotte Flyvholm (Tanya Collins), Stephen Wall (Matthew Collins), Robert Donnelly (Ryan Gallin), Susie Power (Lucy Gallin), Richard Dormer (Henry), Catherine Walker (Maud), Mark Huberman (Joseph)
---
Plot
Niamh's parents have moved to a new home in the Irish countryside but she flees the house, fearful that something is trying to attack her. Returned home, Niamh wakes in the middle of the night as a force shakes the house and levitates objects to kill her parents, before burning the house down. She is found by emergency services workers protected inside a cupboard and holding the corpse of her baby brother. She is temporarily placed with Lucas and Nat Gallin and their family. Soon after she moves in there however, Niamh begins to manifest the same ability to move objects and this comes to threaten the Gallin family too.
---
I was very much impressed with French director/writer/actress Marina de Van a few years ago after discovering her first film In My Skin (2002), which she directs, writes and plays a woman who becomes obsessed with mutilating her own body. She did script work for Francois Ozon's Criminal Lovers (1999) and 8 Women (2002), as well as Pascal Bonitzer's Made in Paris (2006), while making acting appearances in most of these too. She subsequently went onto direct/write the surreal identity exchange film Don't Look Back (2009) and the fairytale adaptation Hop O'My Thumb (2011). Dark Touch was her fourth film, her first made in English language, and was a pan-European production that was shot in Ireland.
Marina de Van's films often seem in the surrealist mode more so than the horror/fantasy subjects she touches upon. What happens in them, what motivates the characters and why often seems opaque. What you could say about Dark Touch is that it is her most accessible and clearcut film yet. This could well be due to the move to English-language. Even as such, Dark Touch is much slower and quieter than the standard horror film. De Van shoots the Irish countryside with a cinematographer's eye – there are shots of pastoral scenery, of horses grazing in a field that would be exquisite in any other photographer's eyes but are turned into something brooding here.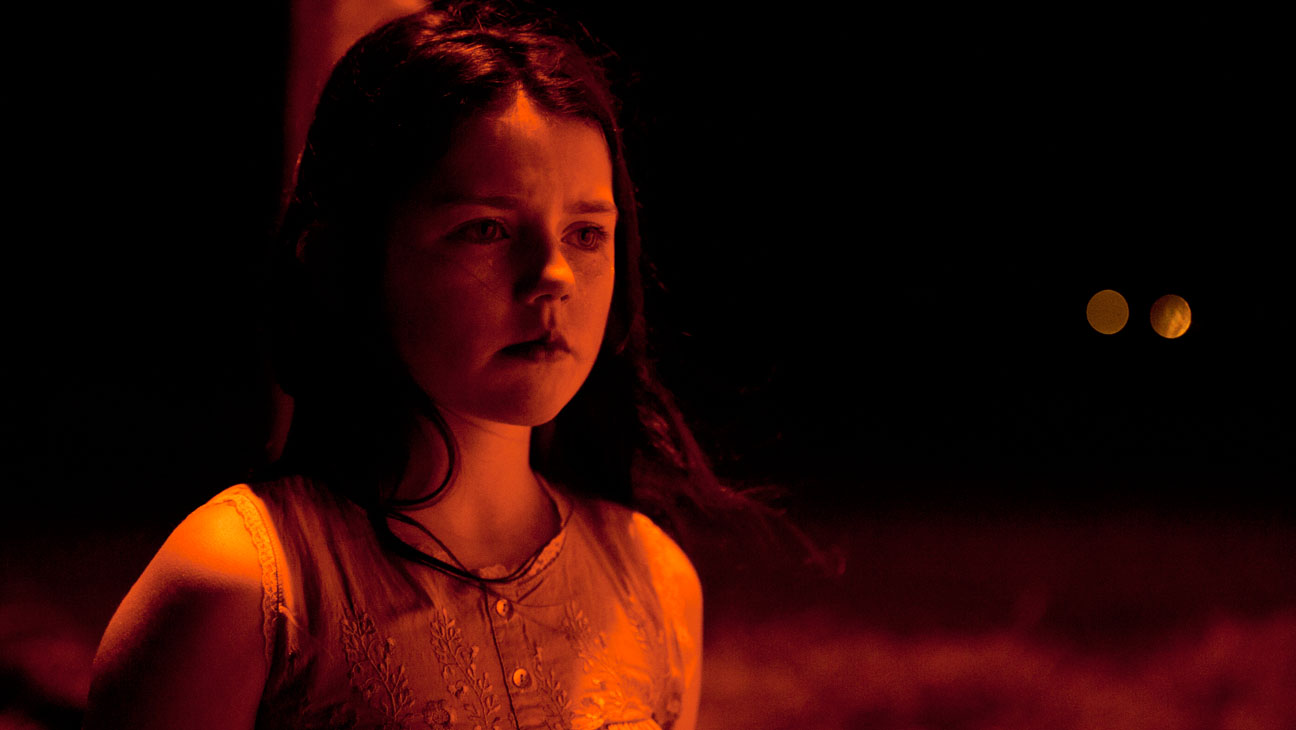 Dark Touch starts to come to life whenever Marina de Van stages her psychic outbreak attacks. The first of these when it comes leaves you wondering what on Earth is happening – with parents Richard Dormer and Catherine Walker being battered and having bones broken by furniture slamming into them, they being forced to crawl across broken glass and impaled by screws from the furniture and pieces of a metal lamp.
You are not immediately aware that this is a psychic powers film until some way in – your first impression is of a malevolent spirit haunting the house. It soon becomes apparent that what we have is a variant on Carrie (1976) albeit rewritten as a story about child abuse – or at least about the trauma of child abuse. Especially effective is the scene with the abusive neighbour being battered all around her house by furniture and then stabbed with kitchen knives.
As the young girl, Missy Keating gives a wonderfully frightened performance, one that comes almost entirely without any dialogue. The film reaches a wonderfully chill ending where she turns the tables and forcibly treats her foster parents the same way they treated the children and makes all of them sit down at the table to eat dinner as the house burns around them.
---
---