---
Crew
Director/Screenplay – Oliver Daly, Producers – David S. Goyer, Gary Lucchesi, Eric Reid, Tom Rosenberg, Kevin Turen & Richard Wright, Photography – Tim Orr, Music – Ian Hultquist, Visual Effects Supervisor – James McQuaide, Visual Effects – Beach VFX (Supervisor – Gary E. Beach), Cutting Edge (Supervisor – Rangi Sutton), Iloura (Supervisor – Josh Simmons), Supervixen Studios & Territory Studio (Supervisor – Andrew Popplestone), Special Effects Supervisor – Larz Anderson, Animatronics – Legacy Effects (Supervisor – John Rosengrant), Production Design – Suzuki Ingerslev. Production Company – Lakeshore Entertainment/Global Road Entertainment/Phantom Four Films.
Cast
Alex Neustaedter (Miles Hill), Becky G (Sara Reyes), Alex McNichol (Sam Fontaine), Thomas Jane (Chuck Hill), Dominic Rains (Andric), Lou Taylor Pucci (Randall), Patricia De Leon (Joanna Reyes), Ted McGinley (George Fontaine), Niko Guardado (Scroggins), Marie-Francoise Theodore (Captain Webber)
---
Plot
Teenager Miles Hill is struggling to make it as an off-road motocross rider. Even though Miles is skilled, he and his father lack funding. Miles is befriended by Sam Fontaine whose father comes with a great deal of money and connections. Sam takes Miles out for a ride only for one of his friends to sabotage Miles's bike and they leave him there after he crashes. Miles hears noise coming from abandoned cargo containers nearby and is attacked by A-X-L, a robotic dog escaped from a US military experimental program. A-X-L is damaged in the ensuing chase but Miles repairs it and it decides he is a friend. Miles is joined by Sara Reyes, whose mother works as a maid for Miles's father. After A-X-L attacks Miles, he and his friends return and set it on fire. Miles patiently repairs A-X-L but at the same time the military want it back.
---
The dog film has never gone down particularly well in terms of genre material. In live-action, there were lame efforts like Oh Heavenly Dog (1980), Paws (1997) and Super Buddies (2013), although one has some liking for Fluke (1995) in which Matthew Modine is reincarnated as a dog. The dog film seems to work far better in animation with Disney having cornered the market with the likes of Lady and the Tramp (1955), Oliver & Company (1988) and Bolt (2008). The robot dog had been done before in the painful and unfunny Hanna-Barbera live-action film C.H.O.M.P.S. (1979), the Dean R. Koontz dud Watchers (1988), the cutsie Robo-Dog (2015) and The Bionic Woman two-part episode The Bionic Dog (1977), although there was some appeal to the character of K9 who became companion to Tom Baker's Doctor in tv's Doctor Who (1963-89, 2005- ). There was also the great A Boy and His Dog (1975) but that seems a very different work to a cute dog film.
A-X-L was a directorial debut for Oliver Daly who first made a Kickstarter funded short Miles (2015) to demonstrate the idea to producers. The resulting film was given a $10 million budget and some surprisingly high-profile backing from Lakeshore Entertainment and with David S. Goyer, screenwriter for Dark City (1998), the Blade films and Christopher Nolan's Dark Night trilogy, signing on as producer – all for what is essentially a CGI version of C.H.O.M.P.S..
A-X-L sat in my inbox for a long time. I felt zero enthusiasm for a film about a robot dog and it was only during an effort to clear out the stragglers among the films I had left that I forced myself to sit down and watch. I began hating A-X-L within minutes of it starting. The pitch to the teen demographic ended up making me switch off in a big way. This teen focus gives the film an inanity – everyone has posed good looks; the party that Alex Neustaedter's father throws looks like an event with a five figure budget, while the soundtrack pulses with dance music.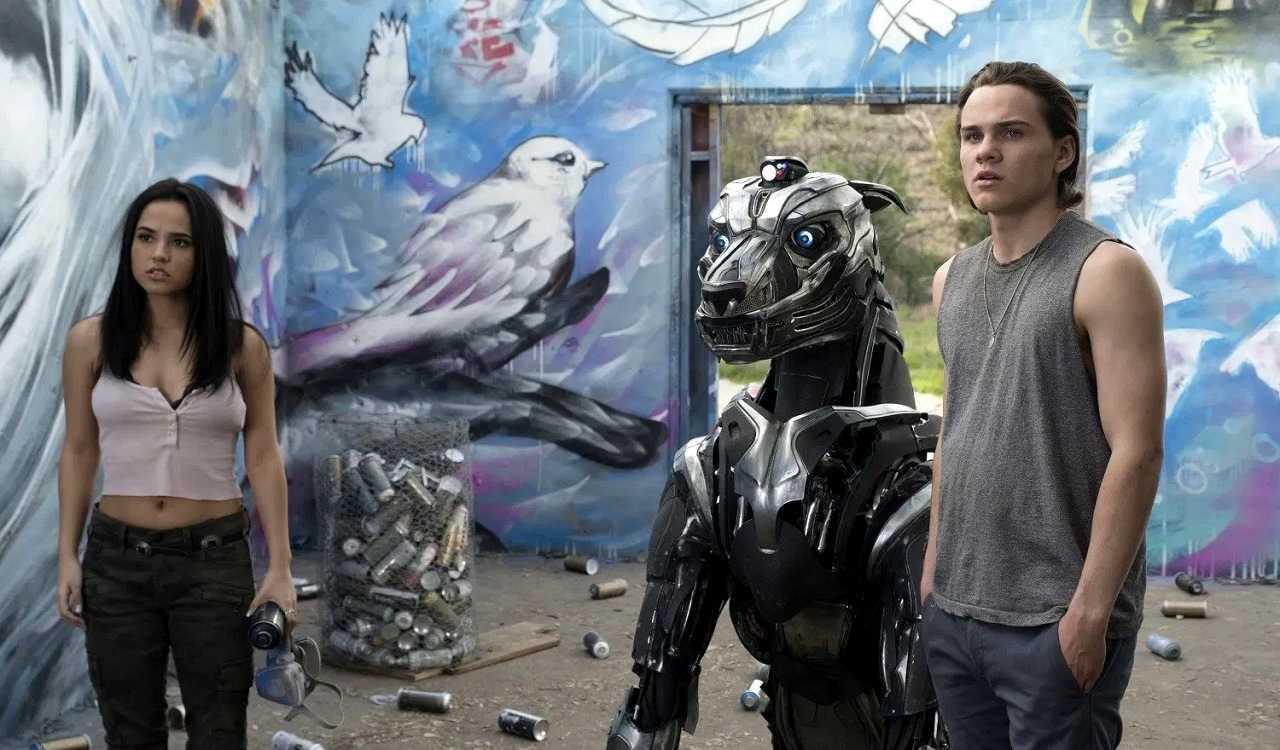 In doing so, A-X-L feels like a film that has its age demographic all wrong. The teen-twentysomethings the film makes its pitch for are not interested in cute films about people befriending robot dogs – it is the sort of thing you would expect to be pitched to an audience of twelve year-olds and younger. Not unexpectedly, the film failed to connect with any audience and did miserable box-office earning well under expectation and making back far less than it cost to produce.
Furthermore, a substantial amount of the film is set around dirt bike racing. Someone making the film clearly had a passion for this to centre so much of the film around it. It is a case of an enthusiasm for a pastime failing to communicate itself on screen as the dirt bike scenes look about as exciting as watching someone's GoPro videos. Moreover, these scenes indulge in all the cliches of the Sports Film – there's the hero who is a rank outsider who just has to stand up for himself to succeed; the cocksure rival who has all the money and privilege; the cute girl who is attracted to the hero but is also obliged to (usually the girlfriend of) the cocky rival. The surprise of a film like this is that the big climactic scenes don't centre around an All or Nothing competition.
The CGI effects are adequate, nothing particularly standout. The film though is intellectually vacant. It is a film made by people that seems to think that watching Alex Neustaedter and the dog do bike flips together is something exciting. This is surely no more evident than the scene with Becky G and Alex Neustaedter hanging out at her hideaway and the laughable scene where the dog puts on a mix-tape of Dancing in the Moonlight (1970) and a laser show so the couple can dance.
---