---
USA. 1999.
Crew
Director/Screenplay – Dan Clark, Producer – Don Asher, Photography – Michael Mayhew, Music – Howard Drossin, Special Effects – Jim Fredberg, Nick Plantico & Corey Roberts, Creature Effects – Soya F/X (Devan Meiers & Seamus Walsh), Bullet Makeup Effects – Michael Del Rossa, Blood Effects – Mark Villalobos, Production Design – Kristina Alg. Production Company – A Wandering Monkey Project/Silver Sage Productions.
Cast
Dan Clark (Alex), Judy Jean Kwon (Rita), Dan Lake (Fatty), Dave Pressler (Martin/Creature's Voice), Dawn Marie Velasquez (Lauren), Steven K. Mok (Drag Queen #1), Ron Fitzgerald (Dr Ody), Kyle B. Cunningham (Joseph)
---
Plot
Four hit people – Alex, Lauren, Martin and Fatty – are hired to take delivery of a 'monkey' – a slug-like creature kept in suspension in a special box. They go to wait with it at Alex's artist girlfriend Rita's house until it is picked up by a buyer in the morning. There however the creature comes to prey on each of their fears and sets each person against the rest of the group.
---
The Item is an indie film. Actually, it is more of a wannabe indie film. It seems like a film made by enthusiastic, overly trendy hangers-on at indie fests. It is a film that strains with the effort of trying to be cool, edgy and offbeat. Conceptually, it feels like the idea of Quentin Tarantino conducting a remake of Brain Damage (1987). Or even more closely a collision between Brain Damage and the black comedy, cartoon-noir of the little seen Sam Raimi/Coen Brothers collaboration Crimewave (1985).
The violence is played ludicrously exaggerated – shootouts have far more bullets and ricochets than is physically possible, while each wound sprays about a third of the liquid contents of a victim's body across a wall. In one silly, self-conscious effect, people don't run but glide as though floating through the air and are accompanied by whoosh sound effects when they slide into place.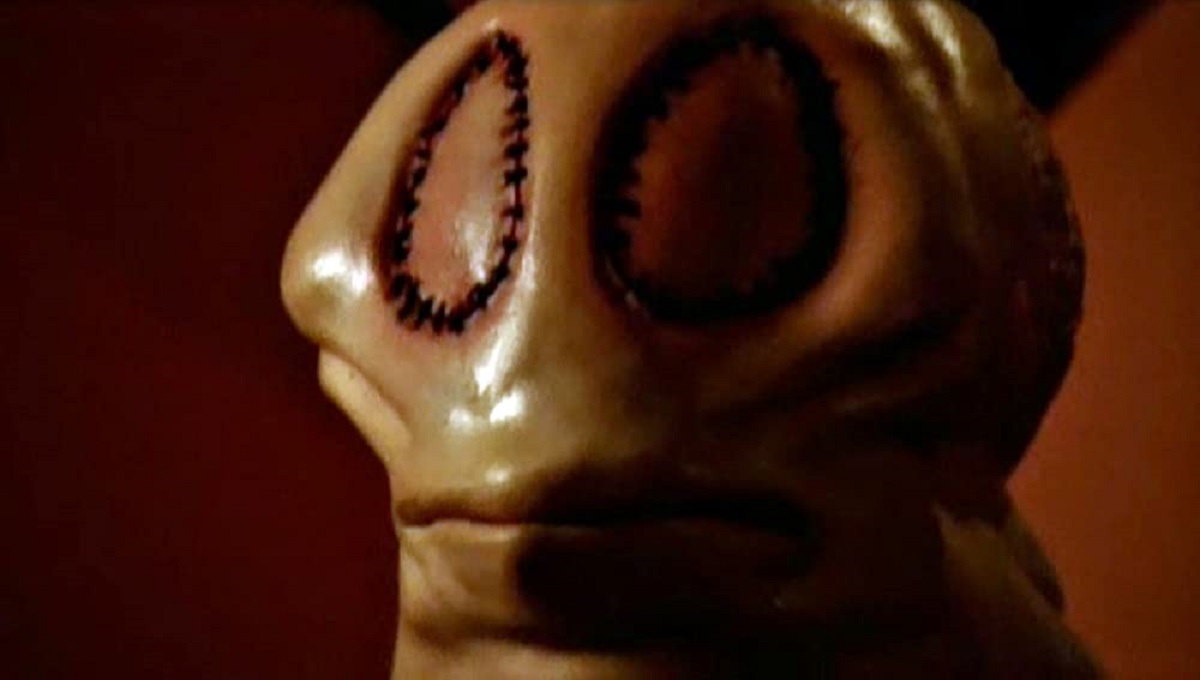 Director Dan Clark tries for intensity but the effects – like the slamming of multiple takes over the top of one another as Dan Lake wrestles with his inner demons – are often pretentiously cliched. There is a Chinese meal scene that seems to be trying to mimic the affectedly naturalistic dialogue of the opening restaurant scene of Reservoir Dogs (1992). Here Dan Clark almost gets it right but the scene's hopping from topic to topic is so exaggerated you are never sure if Clark is trying for ironic exaggeration as in the shootout scenes or it is just pretentious overkill.
There are surprisingly moments where the film does work and it is usually when Dan Clark forgets about effects and creates some strong moments of character – like the scene where Alex confronts his childhood friend Fatty who breaks down and talks about the way things really are – just before Alex shoots him; or where an innocent victim stumbles into the scene and demands to know why he is about to be killed. The film shouts out amateurish on all levels but there is one highly polished performance from Judy Jean Kwon as Rita, as the arts student girlfriend. It is she that leads the film up to an interestingly perverse climax.
---
Trailer here
---