---
USA. 1999.
Crew
Director/Screenplay – ∞3 [Jeff Abugov], Producer – Larry Estes, Photography – Michael K. Bucher, Music – Michael McCarty, Music Supervisor – Billy Gottlieb, Special Effects – Ultimate Effects, Production Design – Helen Harwell. Production Company – Welb Film Pursuits, Ltd/Earthbound Humans Productions.
Cast
Mackenzie Astin (The Male/Billy Waterson), Carmen Electra (The Female/Jenny Smith), David Hyde Pierce (Voice of The Narrator), Markus Redmond (The Male's Friend/Jimmy), Lisa Rotondi (The Female's Slutty Friend/Lana), Lucy Liu (The Female's Friend/Lydia), Leo Rossi (The Female's Father), Jack Kehler (The Male's Father/Tom Waterson), Sharon Wyatt (The Male's Mother/Margot Waterson), Antoinette Saftler (The Female's Mother), Linda Porter (The Wise Old Woman)
---
Plot
An alien anthropologist introduces a documentary about the typical mating habits of human beings. We observe as accountant Billy Waterson meets Jenny Smith in an L.A. nightclub. The two go out, begin mating rituals and soon cohabitate together. Troubles in the relationship begin when Jenny unexpectedly becomes pregnant.
---
There is an appealingly satiric concept to The Mating Habits of the Earthbound Human – the idea of a cod anthropological nature documentary looking at human mating rituals from an alien perspective, one where what is happening is constantly being misinterpreted in terms of an animal behaviour documentary.
The film makes some cute interpolations – in the queue outside a nightclub in the opening moments a bouncer is seen as a warrior, money as symbols painted on tree bark, while inside a woman dancing is seen as engaged in a ritual in order to loosen up her ovaries for mating. There are times when the joke is rather amusing. During a love scene, David Hyde Pierce's deadpan voice comes across the soundtrack: "This time she allows him to taste the infant's milk, checking for any impurities" (as Mackenizie Astin kisses Carmen Electra's breasts); or when he gives her some flowers: "Raw vegetation for the woman to eat so that she can keep up her strength for procreation."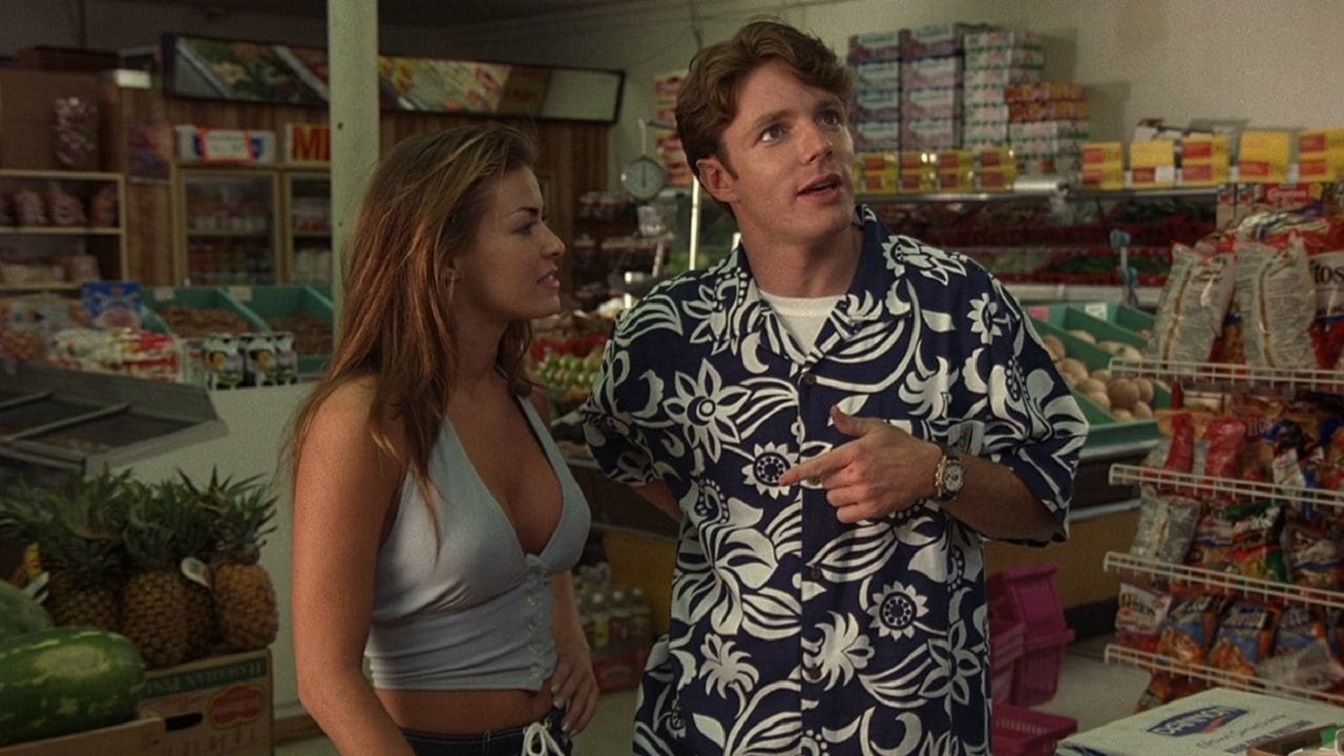 The most amusing scene is where Mackenzie Astin gets plastered with his friends after he and Carmen Electra split up. "They force him to consume large quantities of grain in an effort to kill him," the narrator continues. "Unable to mate, he is no longer of any use to his species." Next we see Astin bent over a toilet throwing up: "The male attempts to validate his existence and prove he does not need a female to mate. He attempts to evolve into a hermaphrodite and give birth on his own."
On the other hand, The Mating Habits of the Earthbound Human is a single gag film. Take away the tongue-in-cheek narration and the romance has an annoyingly anodyne blandness. The relationship depicted is quite vanilla – it is, for example, several months into the relationship before the woman performs orally on the guy and over an entire year before he responds in kind to her.
Moreover, director Jeff Abugov's live-action comedy (ie. that which comes aside from the voiceover narration) mostly falls flat. The gag with the jogging sperm has been borrowed direct from Woody Allen's Everything You Always Wanted to Know About Sex * But Were Afraid to Ask (1972). Other gags, like the one about Carmen Electra's father Leo Rossi and his guns, are overdone. Predictably the end credits note that the production was:– "Filmed entirely on location on Earth. No humans were harmed in the making of this production."
---