---
Crew
Director/Screenplay – Rand Ravich, Producer – Andrew Lazar, Photography – Allen Daviau, Music – George S. Clinton, Visual Effects – Blue Sky/VIFX (Supervisor – John 'DJ' Desjarden), Rhythm and Hues (Supervisor – Derek Spears) & Sony Pictures Imageworks (Supervisor – Sheen Duggal), Special Effects Supervisor – Michael Lantieri, Unborn Twins – Kevin Yagher, Production Design – Jan Roelfs. Production Company – New Line Cinema/Mad Chance Productions.
Cast
Charlize Theron (Jillian Armacost), Johnny Depp (Spencer Armacost), Joe Morton (Sherman Reese), Clea DuVall (Nan Armacost), Blair Brown (Shelley McLaren), Tom Noonan (Jackson McLaren), Donna Murphy (Natalie Streck), Nick Cassavetes (Captain Alex Streck)
---
Plot
Space shuttle astronauts Spencer Armacost and Alex Streck return to Earth after an unexplained accident aboard a mission, during which they were out of contact for two minutes. Streck then dies under mysterious circumstances and his wife commits suicide just after the funeral. Armacost takes up an aerospace job and moves to New York with his wife Jillian. As it is confirmed that she is pregnant with twins, Jillian begins to suspect something has changed about Spencer and that he may have been taken over by an alien force.
---
The Astronaut's Wife was a real dark horse in pre-release. It had no trailer. It had two name stars in Johnny Depp and Charlize Theron but director Rand Ravich was a complete unknown. Moreover, details about the film were frustratingly vague – the title suggested more of a tv movie soap opera about the space mission than an alien possession story. Even the poster, which only featured the two stars faces and the advertising tagline "Imagine the face of terror is the one you love," told or suggested little about the film. Therefore it is no particular surprise that audiences did not go and see The Astronaut's Wife for the simple reason that there was little to grab their attention.
In the 1990s, the term Chick Flick has come into usage, usually to cover romantic films like The Bridges of Madison County (1995), Circle of Friends (1995) and Bridget Jones's Diary (2001), fantasies woven around a stud star's sex appeal such as Meet Joe Black (1998) or almost any comedy starring Meg Ryan, Julia Roberts or Sandra Bullock. The Astronaut's Wife could then be called a Chick Horror Flick.
Nominally, The Astronaut's Wife falls into the same alien sex fiend mini-genre as films like Alien (1979) and Species (1995). Crucially, it tells the story from the woman's point-of-view – the film's emotional concerns are about marital alienation; about the woman being expected to sacrifice her job and move for the sake of her partner's job; of her feeling alienated in an upper-class social circle; and of course the horrors of impregnation. To such wit, the film eschews all of the masculine hardware and physical aspects of the standard science-fiction film – all we see of the space launch, for example, is something as subtle as the rattling of a window at takeoff and a brief flashback later in the film, while we see nothing of the alien itself right up until the very end.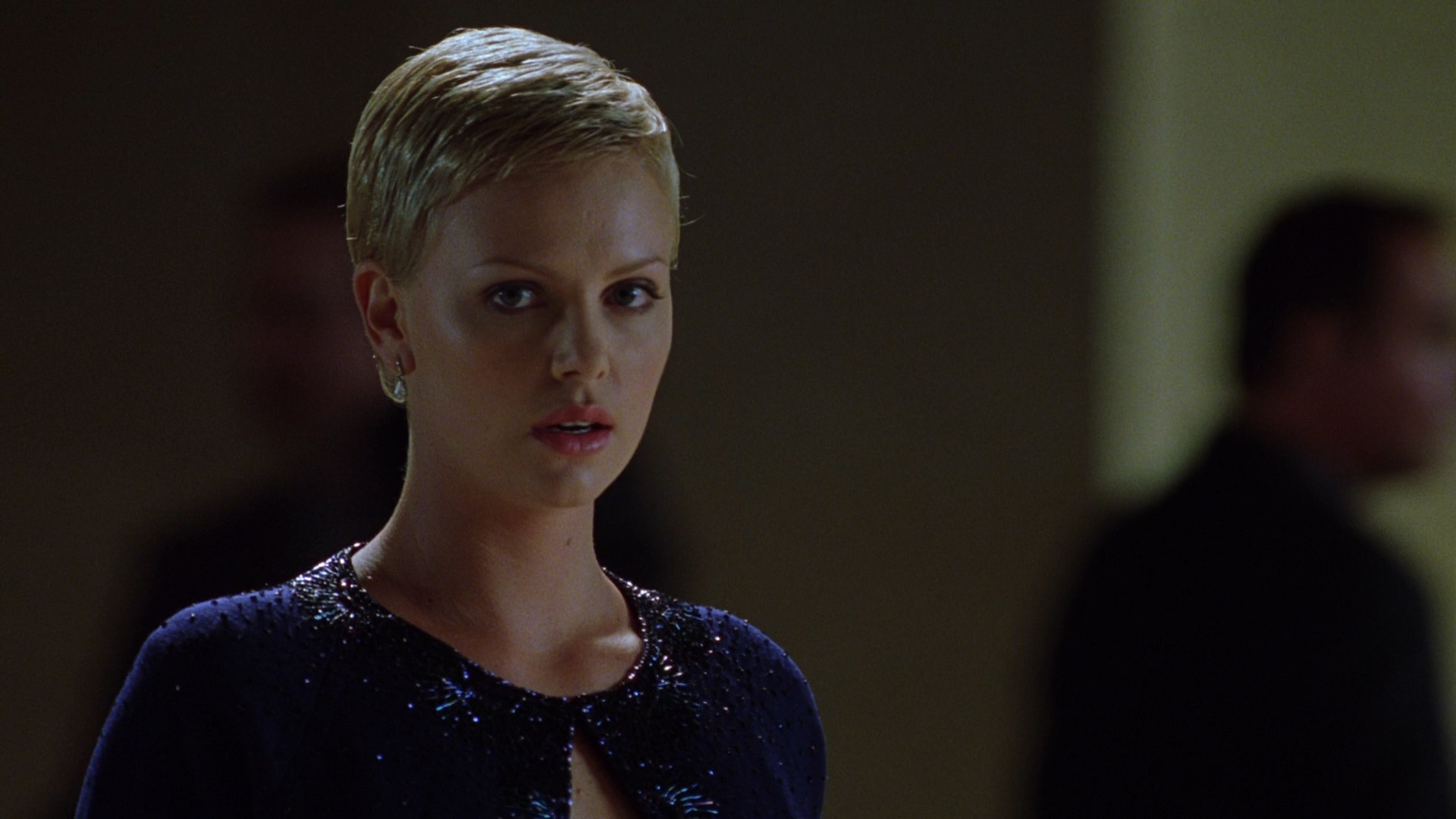 Director Rand Ravich has made a clear attempt to craft an Alien/Species film in psychological rather than overt horror terms – where the existence of the alien is the subject of doubt and may exist only in the heroine's psychologically unstable imagination. Many reviewers rushed to compare The Astronaut's Wife to I Married a Monster from Outer Space (1958) but the films it comes closest to are actually The Quatermass Xperiment/The Creeping Unknown (1955) and especially Rosemary's Baby (1968). It closely copies the plotline laid down by Rosemary's Baby of a young, highly strung wife believing she has been impregnated by something Other (here an alien, in Rosemary's Baby The Devil) and leaves its audience in considerable doubt up until the end about whether such is the case or not. Charlize Theron even has the same short-cropped blonde haircut that Mia Farrow sported in the pregnant housewife role in Rosemary's Baby.
That said, The Astronaut's Wife only plays into the cliches established by Rosemary's Baby and its imitators. There are no surprises to the film – you can predict where it is going at all times. There is an element introduced later in the film that plays on doubts about the heroine's sanity – but these are only cliche elements to further render her powerless, this aspect of the film is never wielded in a way to make us as an audience doubt that her story might be genuine.
The story is structured wrong too – we never see any of the Armacost family life prior to the takeover with which to compare Charlize Theron's doubts about what her husband has become. Furthermore, the evidence she seems to be basing his alien possession on is extraordinarily flimsy – he listens to a radio turned off station and is rough in bed, while someone who is clearly mentally unstable shows Charlize noises on a voice recorder that he claims are a third voice but which others have dismissed as random noise.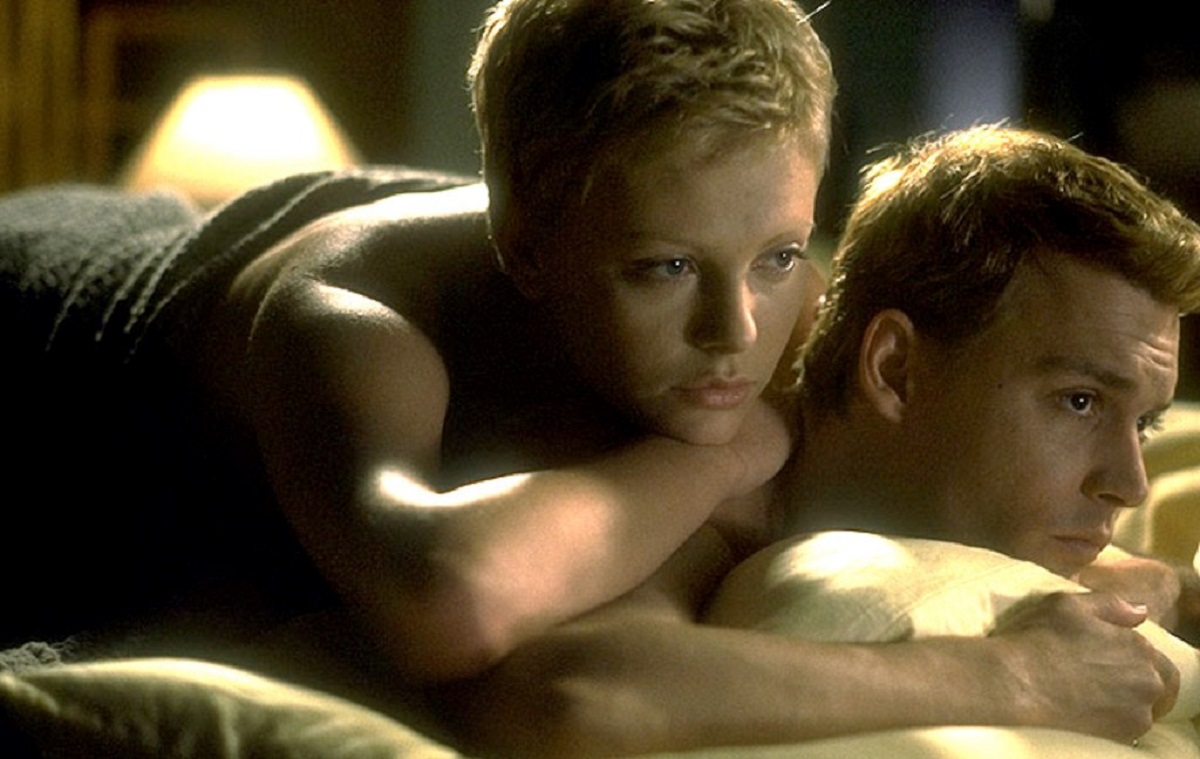 There are also a large number of muddled and unfathomable plot strands. The alien has no motivation other than as deus ex machina to fuel a plot that centres around the heroine's paranoias – we never learn what it is trying to do and why it is set on impregnating human women. The plot strands that seem to suggest that Johnny Depp's real personality has been transferred into one of the unborn twins or the line of reasoning that connects the plans by the aerospace firm that Johnny Depp works for to build a bomber that transmits EMP signals and its twin transmitters and the heroine's unborn twin is downright baffling.
On the plus side, Rand Ravich does a beautiful job directing the film. He is aided immensely by Allen Daviau, the cinematographer of E.T.– The Extra-Terrestrial (1982), who suffuses the whole film with a cool lighting scheme – beautifully dressed apartments shot in subdued lighting and shadowless white-on-whites, or striking shots like Charlize Theron silhouetted against a giant video screen as the shuttle lands. While his scripting leaves much to be desired, it is more than clear that Ravich would make a great commercials director.
Charlize Theron is a performer who had appeared around the time in roles in films such as The Devil's Advocate (1997), Mighty Joe Young (1998), The Cider House Rules (1999) where she had always seemed beautiful but bland. She rises competently enough to the part here but it was not until Monster (2003) that she began to show what she was capable of. Exactly the opposite could be said of Johnny Depp, an actor who has talent to spare. Depp does well in a rare villainous part – one that, amusingly enough, gives the appearance of having been closely modelled on Gary Busey – but the role is also an exceedingly lightweight part that feels beneath the talents of an actor of Depp's calibre.
This would be the only film directed by Rand Ravich to date. He has worked as a producer/writer on a handful of tv series. his only other genre work was the script for Candyman: Farewell to the Flesh (1995).
---
---