---
Crew
Director – Tim Hill, Screenplay – Jerry Juhl, Ken Kaufman & Joseph Mazzarino, Producers – Stephanie Alain & Brian Henson, Photography – Alan Caso, Music – Jamshied Sharifi, Music Supervisors – Cathleen & Ken Kuschnick, Visual Effects Producer – Thomas G. Smith, Visual Effects – CFI/MVFX, David B. Sharp Productions, Dreamscape, Illusion Arts (Supervisors – Syd Dutton & Bill Taylor) & Perpetual Motion Pictures, Special Effects Supervisor – Tom Kittle, Production Design – Stephen Marsh. Production Company – Jim Henson Productions.
Cast
Jeffrey Tambor (K. Edgar Singer), Rob Schneider (TV Producer), Ray Liotta (Gate Guard), Josh Charles (Agent Barker), David Arquette (Dr Tucker), Pat Hingle (General Luft), Andie McDowell (Shelly Snipes), Kathy Griffin (Female Security Guard), Hollywood Hogan (Himself), F. Murray Abraham (Noah)
Muppet Performers
Dave Goelz (Gonzo/Dr Bunsen Honeydew/Waldorf/The Birdman), Frank Oz (Miss Piggy/Fozzie Bear/Animal/Sam Eagle), Steve Whitmire (Kermit the Frog/Rizzo the Rat/Beaker/Cosmic Fish #1), Brian Henson (Dr Phil Van Neuter/Sal Minella), Bill Barretta (Pepe/Bubba the Rat/Bobo/Cosmic Fish #2/Johnny Fiama), Jerry Nelson (Robin/Ubergonzo/Statler)
---
Plot
Gonzo feels alone because he is the only one of his kind. The letters in Gonzo's cereal then suddenly form into words and he is hit by a lightning bolt and realises that he is an alien and that others of his kind are coming. The other Muppets take him for crazy but when Gonzo develops a following after goes on television. However, this also attracts the attention of K. Edgar Singer, the head of the covert agency C.O.V.N.E.T., who is obsessed with the idea of proving the existence of extra-terrestrial life and orders Gonzo abducted.
---
The Muppets were one of the great pop culture landmarks of the 1970s. The Muppet Show (1977-81) was a tv series that was could be perceived on two levels – as a children's puppet show on one hand but with another level of sly in-jokes that parodied and mocked its guests and the variety show format on the other. I will always have the delightfully surreal memory of Elton John performing the Crocodile Rock amid puppet crocodiles. Muppet creator Jim Henson oversaw two charming – The Muppet Movie (1979) and The Great Muppet Caper (1981) – and one so-so – The Muppets Take Manhattan (1984) – Muppet cinematic outings.
However, with Jim Henson's death in 1990 and his son Brian's inheritance of the media empire, the Henson name started to descend toward creative desiccation. Despite the fact that the Muppet phenomenon had peaked and faded fifteen years before, Brian Henson revived the Muppets for two thoroughly insipid cinematic outings – The Muppet Christmas Carol (1992) and Muppet Treasure Island (1996) – which merely transplanted the Muppets into warmed-over literary classics – a mercifully short-lived revival of the tv series – Muppets Tonight (1996) – and then a host of increasingly insipid video and tv movie continuations – Kermit's Swamp Years (2002), It's a Very Merry Muppet Christmas Movie (2002) and The Muppet's Wizard of Oz (2005). Brian Henson's efforts lacked any of the double level of humour that Henson pere's Muppet outings did and were simply child appeal films.
The one light of glory in the modern Henson empire was the tv series Dinosaurs (1991-3), a witty collision between The Simpsons (1989– ) and The Flintstones (1960-6), but that was promptly cannibalised and copied by them with the dire Aliens in the Family (1996). The rest of their tv series have barely even made it beyond a handful of episodes. The Muppets were later far more successfully revived by Disney with The Muppets (2011) followed by Muppets Most Wanted (2014) and the tv series revival The Muppets (2015-6).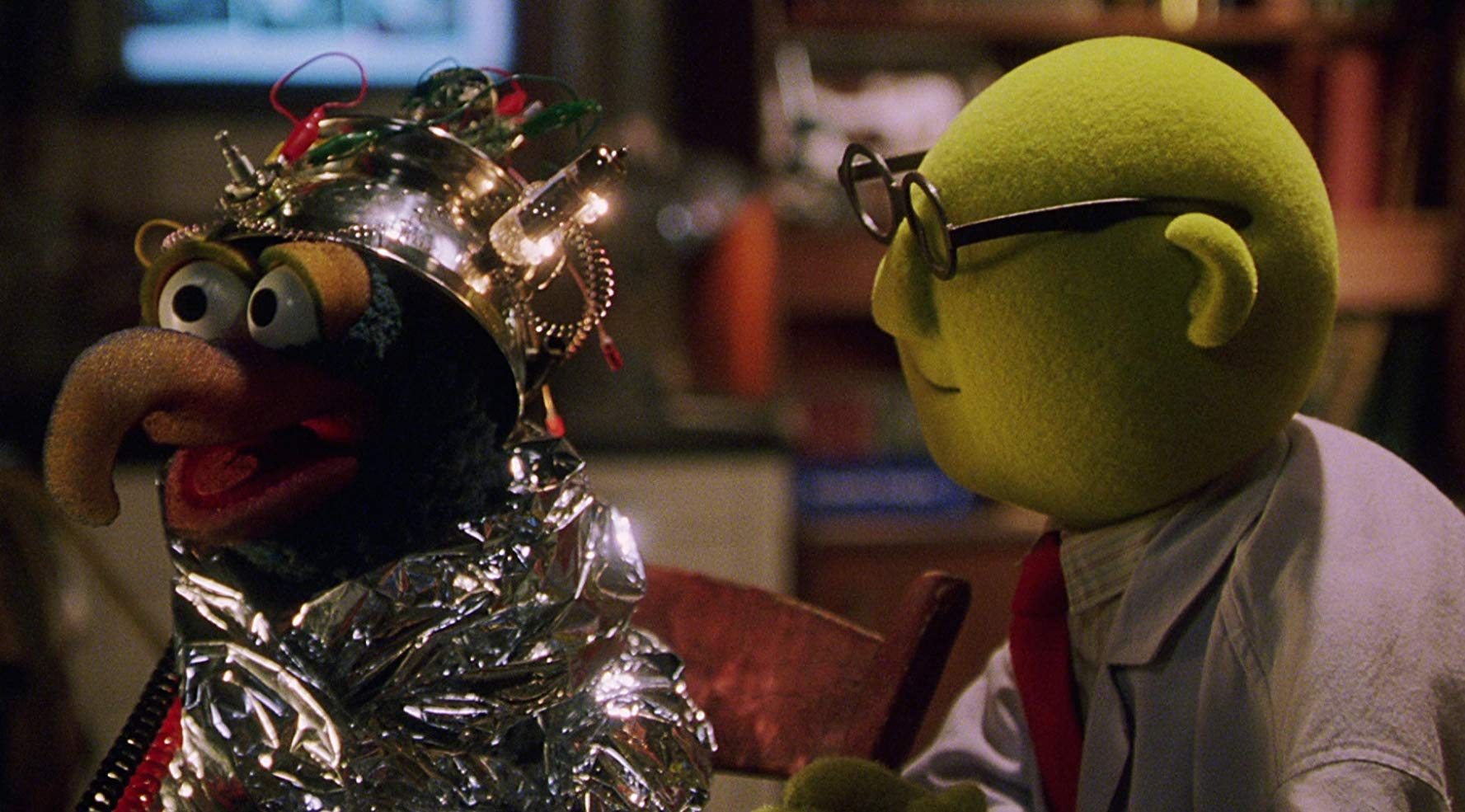 The great news about Muppets from Space is that Brian Henson steps back from the director's chair and allows Tim Hill, a director with more natural energy to take over. The result is easily the best Muppet film of the post Jim Henson-era, even if it is hardly a great or even more than a strictly average film. There is a marvellously energetic opening sequence with a houseful of Muppets all showering, bathing and breakfasting that briefly conjures some of the zaniness of the old Jim Henson heyday. The rest of Muppets from Space never has anything as lively as that, but is still better than any of Brian Henson's directorial efforts.
There are numerous references and in-jokes to other films and tv series – Birdman of Alcatraz (1962), Close Encounters of the Third Kind (1977), Field of Dreams (1989), The Shawshank Redemption (1994), Phenomenon (1996), Men in Black (1997) and Star Trek (1966-9). Jim Henson's Muppet films conducted numerous pastiches of styles of other films but that was when the filmic in-quoting thing had not become the cliche it has in the last ten years. Similarly, Jim Henson played with meta-fictional gags – jokes that draw obvious attention to the fact that one is watching a film – when such was fresh and original. However, the similar gags here – "What do you think this is? This is a Muppet movie," says one Muppet at one point; and Hulk Hogan breaking out of character into his Superstars of Wrestling spiel – are more cute than they are clever.
The promotion for Muppets from Space seemed to sell it as more of a Muppet version of Star Wars (1977). One had hopes that Muppets from Space might have amounted to a big screen version of the ongoing Pigs in Space skit on The Muppet Show. However, Muppets from Space, despite the title, remains disappointingly earthbound bar one brief scene. It is more of a parody on The X Files (1993-2002, 2016-8) and Men in Black UFO and covert cover-up nuttiness. It is interesting to see how much both Muppet ventures into science-fiction look to their contemporaries – Pigs in Space drew itself from contemporaries like Star Wars and Star Trek, whereas Muppets from Space draws on the darkly paranoiac conspiracy imagery that has filled the science-fiction horizon since The X Files. In terms of science-fiction, Muppets from Space disappoints – the ending where the Muppet aliens arrive to do a Village People number is a weak payoff. On the plus side, director Tim Hill sees the benefit of keeping the effects low key so as not to burden the relatively technically unsophisticated glove puppets with dazzle, unlike Muppet Christmas Carol.
Director Tim Hill went onto become somewhat of a specialist in live-action talking animals films, subsequently making Garfield: A Tale of Two Kitties (2006), Alvin and the Chipmunks (2007), Hop (2011), Grumpy Cat's Worst Christmas Ever (2014) and The SpongeBob Movie: Sponge on the Run (2020).
---
---