---
Netherlands/Belgium. 2021.
Crew
Director/Screenplay/Music – Alex van Warmerdam, Producer – Marc Van Warmerdam, Photography – Tom Erisman, Visual Effects Supervisors – Dennis Klein & Albert Van Vuure, Visual Effects – Planet X, Production Design – Geert Paredis. Production Company – Graniet Film/Czar Film/Bnnvara.
Cast
Tom Dewispelaere (Günter Achterberg), Hans Kesting (Karl), Pierre Bokma (Marius Wieland), Anniek Pheifer (Isabel), Dirk Böhling (Monsignor Wassinski), Mandela Weewee (Innocence), Frieda Barnhard (Lizzy), Gene Bervoets (Reichenbach), Richard Gonlag (Poelzig), Stijn Van Opstal (Breslauer), Harriet Stroet (Renate Wieland), Liz Snoijink (Elsa), Alexander Elmecky (Paul), Kim Karssen (Marie-Louise)
---
Plot
Marius Wieland is an actor in rehearsals for a play. However, he is having difficulty remembering his lines due to the fact he cannot get sleep because of his wife's illness. Marius tells the play's director Karl that he believes that the lead actor Günter is having an affair with Karl's wife Isabel. Karl follows Isabel and confirms this to be true. Karl then begins to punish Günter by taking his lines and giving them to Marius. At the same time, the situation is being monitored by the bishop Monsignor Wassinski. Wassinski sends someone to eliminate Marius's wife so he can concentrate on his lines. Günter finds he is locked out of his house and his funds are frozen. Günter responds by sneaking into the prompt's box during the play's premiere and stabbing Marius in the foot. He is then approached by Wassinski's people who offer to show him the truth about his existence and take him to meet his mother.
---
Nr. 10 is one of the films from Dutch director-writer Alex van Warmerdam. van Warmerdam's directorial outings are known for their deadpan black comedy and surreal humour. These include Abel (1986); The Northerners (1992) set in a surreal town with only one street; The Dress (1996) about the bizarre fates that occur to the wearers of a dress; the domestic drama Little Tony (1996); Grimm (2003) based on a Grimm Brothers fairytale; Waiter (2006) about a waiter who comes to the realisation that he is a fictional character, Borgman (2013) where a mysterious figure invades a family's life; and the hitman black comedy Schneider vs. Bax (2015). The title by the way is simply the Dutch abbreviation for Number Ten (or Nummer Tien) – in English, we'd express it as 'No. 10'. The Nr./No. 10 simply refers to the fact that this is van Warmerdam's tenth film as a director.
Nr. 10 is a black comedy – at least I think it is. Everything comes with such a poker-faced obliqueness that I am left guessing. The film's tone is often so deadpan that it is impossible to tell if you are meant to be laughing or it is just weirdness for its own sake. As the film opens, we follow Pierre Bokma as he leaves for rehearsals for the play but is struggling to remember his lines due to his ill wife. There is assorted complications about Tom Dewispelaere having an affair with lead actress Anniek Pheifer, the wife of the play's director Hans Kesting, and how various parties including the director, agents of the Monsignor and Tom's daughter Frieda Barnhard are following and secretly observing what is going on.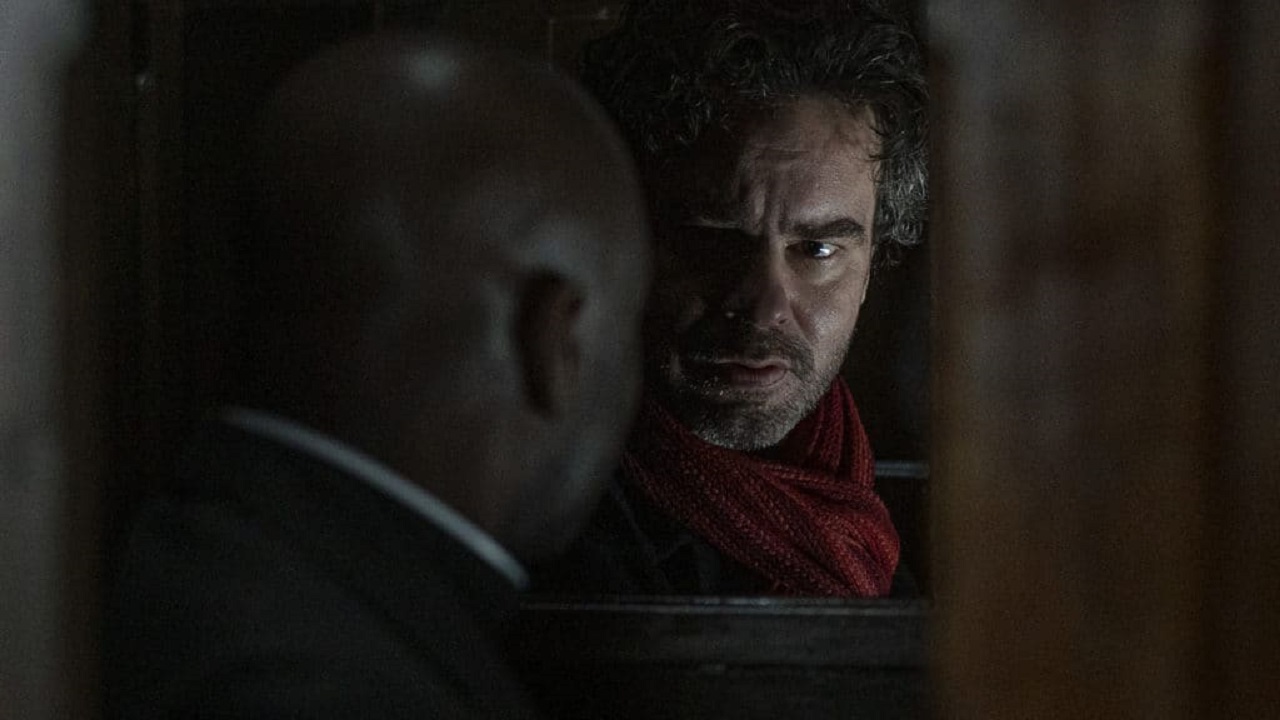 Things start to develop a puzzling weirdness with the introduction of the monsignor (Dirk Böhling) who is observing events. He has an assistant whisper a word in Tom's ear on a bridge. He then appears to organise the death of Pierre's bedridden wife, all apparently so the director can punish Tom by giving his lines to Pierre and effectively reduce Tom to an extra in the play. This is something Tom responds to by taking the place of Pierre's prompt during the premiere and stabbing him in the foot. About the same time, Tom finds he has been locked out of his house and his credit cancelled, leaving him having to sleep in his car.
Tom is then informed by the monsignor that he is an alien who originates from the planet Lunador. He is offered the chance to return and meet his mother. His daughter decides that she wants to come too. The aliens lift off – in an image reminiscent of the equally bizarre end of Apichatpong Weerasethakul's Memoria (2021), we see a ship tear up out of the ground beneath the church and take off to the stars. Before departure, Tom discovers that the monsignor and several priests are joining the journey so as to preach Catholicism to the people of Lunador. Tom engages in a brief anti-religion debate in protest at their doing so. After the ship lifts off, one of the aliens opens the cargo bay doors and ejects the Catholics out. The last image of the film is of them and a bunch of relics and artwork drifting through space.
---
Trailer here
---