---
Crew
Director – Chloe Zhao, Screenplay – Patrick Burleigh, Kaz Firpo, Ryan Firpo & Chloe Zhao, Story – Kay Firpo & Ryan Firpo, Based on the Marvel Comic Created by Jack Kirby, Producers – Kevin Feige & Nate Moore, Photography – Ben Davis, Music – Ramen Djawadi, Visual Effects Supervisor – Stephane Ceretti, Visual Effects/Animation – Industrial Light and Magic (Supervior – Daniele Bigi, Animation Supervisor – Mathieu Vig), Luma (Supervisor – Olivier Dumont), Scanline VFX (Supervisor – Jelmer Boskma) & Weta Digital Ltd (Supervisor – Matt Aitken), Visual Effects – Rise Visual Effects Studios (Supervisor – Michael Worthmann), Special Effects Supervisor – Neil Corbould, Prosthetics Designer – Francis Hannon, Production Design – Eve Stewart. Production Company – Marvel Studios.
Cast
Gemma Chan (Sersi), Richard Madden (Ikaris), Angelina Jolie (Thena), Kumail Nanjiani (Kingo), Lia McHugh (Sprite), Barry Keoghan (Druig), Don Lee (Gilgamesh), Brian Tyree McHenry (Phastos), Salma Hayek (Ajak), Lauren Ridloff (Makkari), Hanish Patel (Karun), Kit Harington (Dane Whitman), David Kaye (Voice of Arishem), Bill Skasgård (Voice of Kro), Harry Styles (Eros), Alan Scott (Patrick), Haaz Steinman (Ben)
---
Plot
5000 years ago in Mesopotamia, a group of super-powered beings known as The Eternals arrived on Earth. These were created by Arishem, one of the Celestials who have existed since the beginning of time, and were stationed on Earth to stop another immortal species The Deviants who cause rampant murder and mayhem on worlds. In present-day London, Sersi, one of The Eternals, works as a lecturer at the Natural History Museum while her human boyfriend Dane Whitman presses her to move in with him. They then come under attack by Deviants in a furious fight in the streets. To deal with the renewed Deviant threat, Sersi sets out on a quest around the world to gather the other Eternals, many of whom have not seen each other for centuries. During the course of this, they find the group's leader Ajak murdered. Sersi inherits the new role of leader, only to find that Arishem's purpose in having them protect the Earth was so that they could herald the birth of a new Celestial, something that requires the sacrifice of billions of lives.
---
Films adapted from Marvel Comics have had an extraordinary success since 2008 where Marvel Studios built out using some of the lesser-known superheroes to create an audience desire to see them teamed up together. This resulted in a massive popularity that came to completely obliterate everything else at the box-office as Marvel rolled out one production after another. These included Iron Man (2008), Captain America: The First Avenger (2011), Thor (2011), Guardians of the Galaxy (2014), Ant-Man (2015), Doctor Strange (2016), Black Panther (2018), Captain Marvel (2019), Black Widow (2021), Shang-Chi and the Legend of the Ten Rings (2021), along with various sequels to these.
The Eternals are a Marvel Comics team created by Jack Kirby, the greatest comic-book artist of all time. They first appeared in their own self-titled comic-book in 1976. This was cancelled in 1978 with many plotlines left unresolved but this was subsequently taken up by other writers, including Neil Gaiman who wrote a major retcon in 2006.
The comic-book storyline differs in some essential ways from the one in the film. Whereas here we learn that they are created beings, the original Eternals and Deviants were uplifted humans created by The Celestials. The characters have a substantially more complicated ongoing mythology in the comic-book than the one that appears in the film, as well as a much larger line-up of characters. Jack Kirby seemed to take inspiration from Erich Von Daniken and Chariots of the Gods (1968) – see Ancient Astronauts – and created the idea of aliens interfering throughout human history, although this aspect has been changed in the film.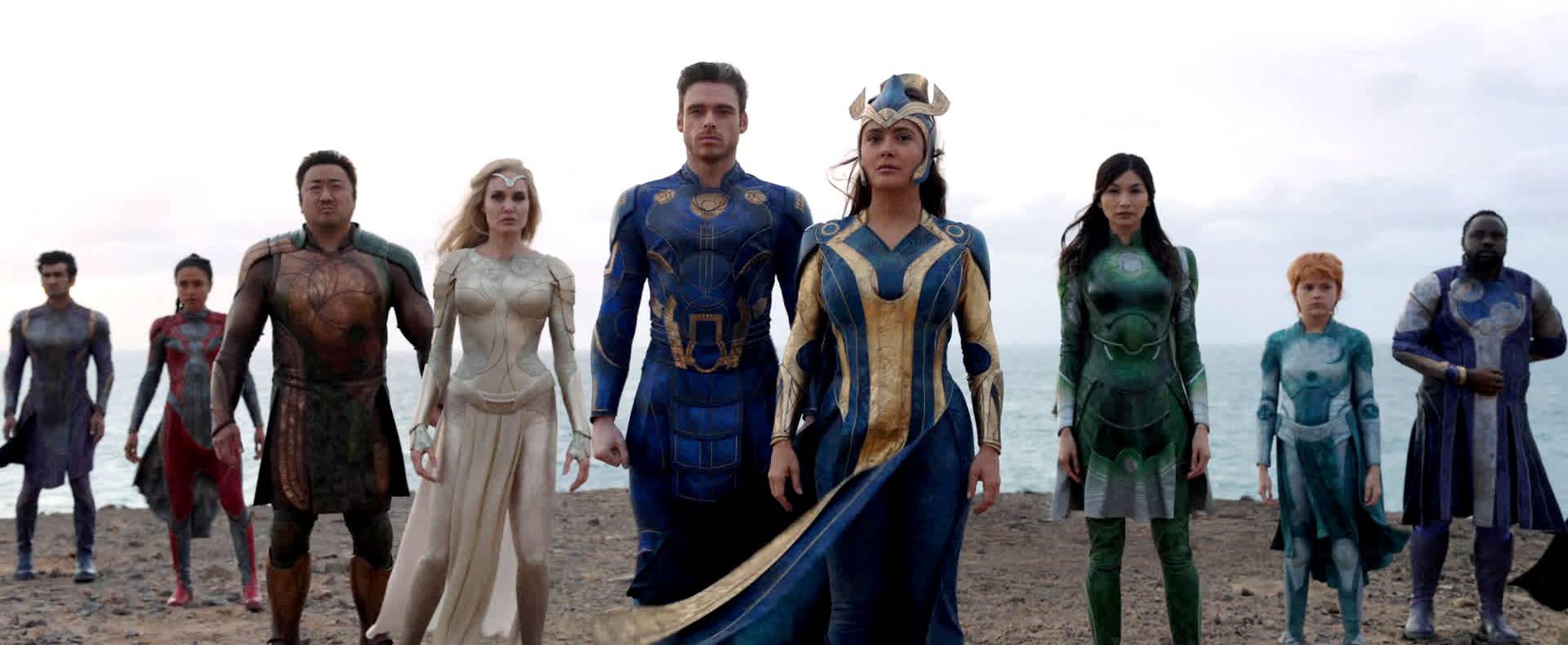 Eternals has been placed in the hands of Chloe Zhao, a Chinese-born director who relocated to the US in her teens. She has gained considerable acclaim for independent films such as Songs My Brother Taught Me (2015), The Rider (2017) and Nomadland (2020). Her hiring is part of Marvel's new policy of snatching directors from the indie sideline presumably on the theory that they are so hard-up for any breaks they will do what they are told and putting them at the centre of the machinery of big-budget film-making indifferent to whether they get chewed up and spat out or not.
Eternals opened to a surprisingly middling critical and fan response. It had the distinction of being the only Marvel film to receive a rotten score at Rotten Tomatoes (if one puts any stand by their black-or-white divisions). Box-office was well below other Marvel films – a not entirely immodest $162 million earnings, which would be a hit for any other film but puts Eternals in 42nd place in the list of Marvel movies at the box-office. Part of this can be placed down to theatrical closures and restrictions due to Covid during this time – although it should be noted that the Marvel-based Spider-Man: No Way Home (2021) had no problem becoming a runaway hit only a month later, indicating there was something more the problem with Eternals.
The film has much going for it, in particular a top-level cast. Names like Angelina Jolie and Salma Hayek who would be headline acts in any other production appear in supporting roles, along with a number of rising other names from Barry Keoghan, Richard Madden and Kit Harrington, even Bill Skasgård as a voice of one of the Kro and Patton Oswald who voices the leprechaun creature that turns up in the mid-credits sequence.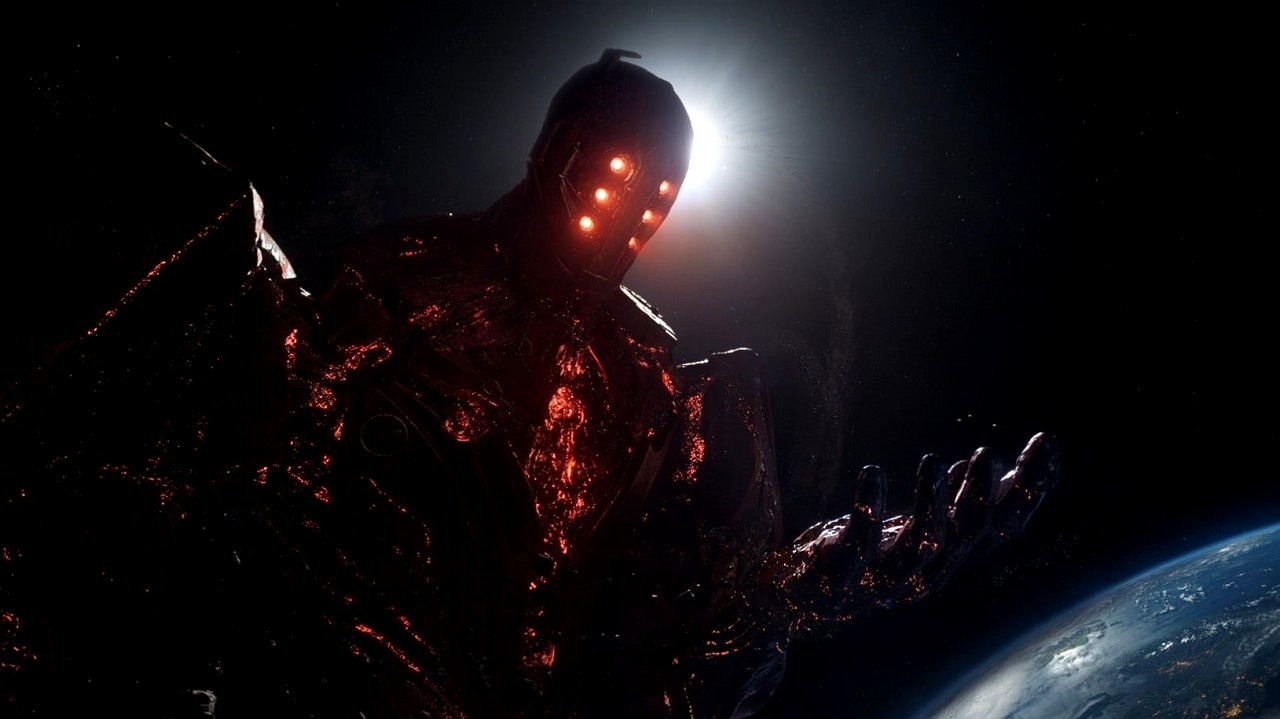 The film also has an ambitious Cross-Historical plot that is constantly moving back and forward between the present and various historical eras. It has an epic scope that no other Marvel films does – a backhistory that stretches from the beginnings of creation and a giant god-like figure in the Arishem, which feels like what Galactus should have come out looking like in Fantastic Four: Rise of the Silver Surfer (2007). Locations move (we are told at least) between present-day London, Mumbai, Australia and the Amazon Rainforest, Ancient Babylon, Tenochtitlan during the Aztec empire and a visit to the aftermath of Hiroshima (although the actual shooting locations were far fewer in actuality).
Despite the scope, most of the plot comes down to the usual stuff of arraigning the Big Bad of the show and the team to fight against it. Once it gets the introductory stuff out of the way, the actual plot is no more than the one you get from most ensemble action films where the principals have to go on a globe-trotting tour to gather/reunite the team. The one part I did like was the fantastic moment of Conceptual Breakthrough in the middle of the film where Gemma Chan suddenly realises that the Eternals' mission on Earth is one where they are not secretly protecting the world from incursions but have been actually facilitating the end of the world.
In between the time that Eternals wrapped shooting and its release, Chloe Zhao won an Academy Award as Best Director for Nomadland. On the other hand, you end up searching Eternals in vain for any unique touch that indicated such. It feels like it should have everything going for it but it remains flatly earthbound. There are epic-sized effects sequences but these feel like little more than pretty lightshows that are the same sort that you saw around about the last Avengers film. The historical sequences are colourful but feel like no more than the cardboard sets filled with extras that were arrayed as backgrounds in 1950s historical spectacles. Marvel movies have rarely cracked the business of creating decent super-villains or nemeses – Thanos and the cult appeal of Loki excepted – and the Kro here are just generic movie monsters with no other distinction.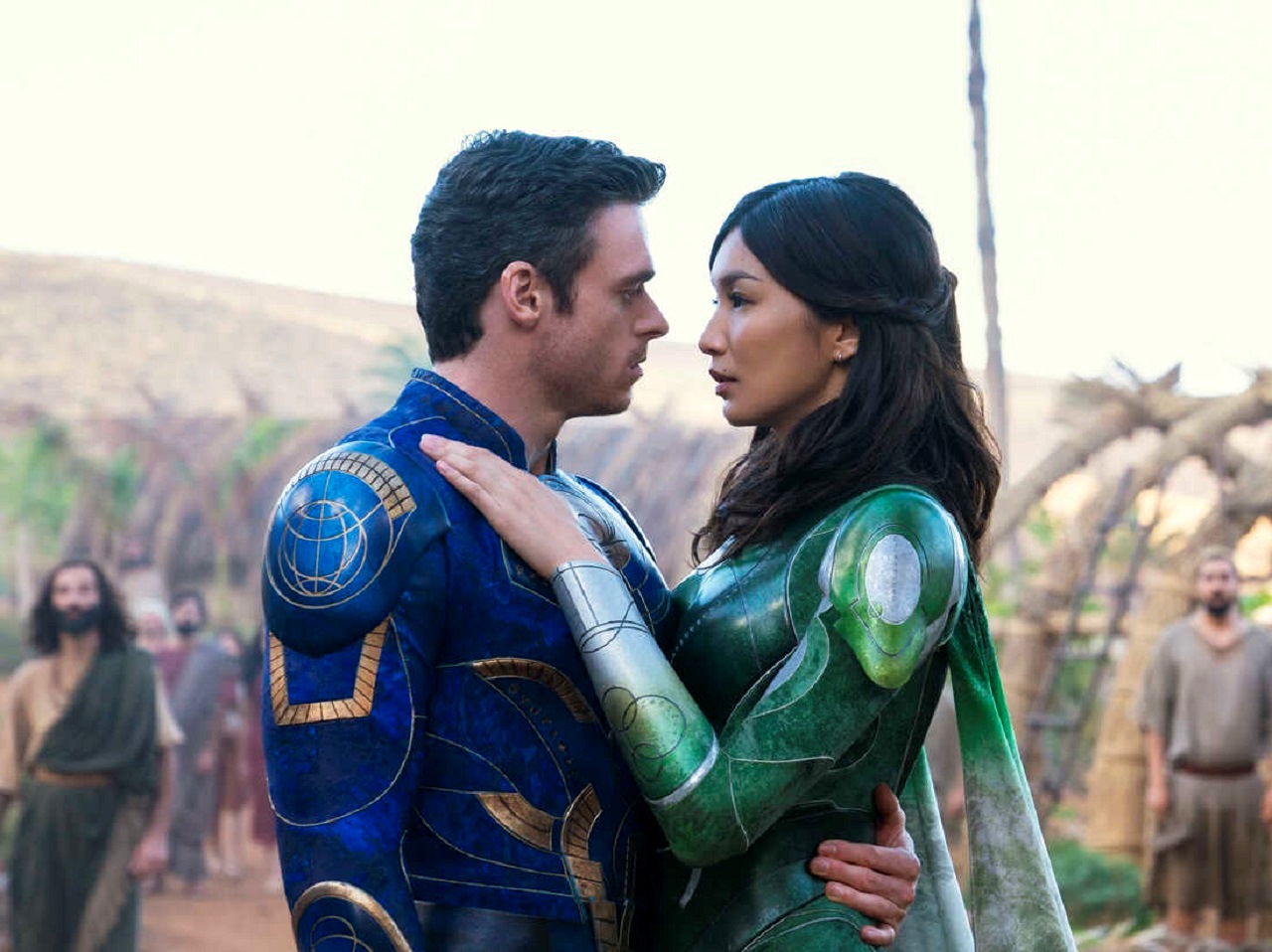 There is precious little of Eternals that feels like a lived-in universe. We are given a diverse group of ten characters, none of whom we had met before. It is not particularly confusing trying to tell them apart or follow who they are as many have accused. However, many of these characters come with badly underdeveloped storylines – much of the drama is based around their loves for one another, feelings of hurt but little else. When it came to Angelina Jolie and her protector Roy Lee, it felt like it needed another whole film to explain their backstory. Bryan Tyree Henry seems to go abruptly from anguish that humanity unleashed Hiroshima to a settled-down dad without any appreciable transition – what it feels like this needed was a point where he went from despair at humanity to realising the transforming power of love and/or having a child. The characters played by Salma Hayek and Lauren Ridloff get no development beyond simply being names. (Indeed, what you have here feels more like something that should have been perfect as one of Marvel's tv series with the action, backstory, character introductions and developments spread out over multiple episodes or even seasons). Of the characters, maybe Barry Keoghan as the Eternal who is constantly wanting to change things works the best, while Kumail Nanjiani has undeniable fun as the Eternal turned Bollywood star.
You feel like the romance between Gemma Chan and Richard Madden should have set something alight but it feels no more than two people in costumes stiffly stating lines – both go through the film with a detached woodenness as though they were Gerry Anderson puppets. When it comes to Kit Harrington as Gemma's human boyfriend, all the film leaves you with is the feeling that the only reason he is present is to be set up as character introduction for another Marvel film (where he becomes the Black Knight who goes into battle with a magic sword and a horse with genetically added wings – I really want to see how Marvel pull that off without being laughed off the screen). Even the dialogue and the attempts at comic relief – Kit Harrington's lines about whether Gemma Chan is a magician, Kumail Nanjiani reactions to spit in the fermented corn mead and the running gag about Hanish Patel trying to make a film as his video cameras keep getting destroyed – fall flat and yet the script keeps repeating them over and over.
---
Trailer here
---