---
Crew
Director/Screenplay – Alex van Warmerdam, Producers – Marc van Warmerdam, Photography – Tom Erisman, Music – Vincent van Warmerdam, Visual Effects Supervisor – Dennis Kleyn, Production Design – Geert Paradis. Production Company – DDF Angel Films/Epidemic/Mollywood/Graniet Film BV.
Cast
Jan Bijvoet (Camiel Borgman), Hadewych Minis (Marina van Schendel), Jeroen Percival (Richard van Schendel), Sara Hjort Ditlevesen (Stine), Tom Dewispelaere (Pascal), Alex van Warmerdam (Ludwig), Elve Lijbaart (Isolde van Schendel), Annet Malherbe (Brenda), Eva van de Wijdeven (Ilonka), Dirke can der Pijl (Rebecca van Schendel), Pieter-Bas de Waard (Leo van Schendel), Mike Weerts (Arthur Stornebrink), Gene Bervoets (Gardener), Ariane Schluter (Gardener's Wife)
---
Plot
A group of locals hunt the homeless man Camiel Borgman out from one of the underground traps in the woods where he and several others hide. Camiel then goes from house to house asking to come in and bathe but is turned away. When he comes to the van Schendel house and claims to know the wife Marina, saying that she was his nurse, the husband Richard beats him with a stick. Marina later finds Camiel hiding in the shed. Having sympathy for him because of the way her husband treated him, she lets him stay, bringing food and sneaking him into the house for a bath. She soon becomes attached to Camiel. He says he wishes he could come and sit at the table with them. He and his friends hatch a plan where they kill the gardener and his wife. A cleaned up and unrecognisable Camiel then applies for the job and gets it. He states that he could conduct a better landscaping operation if he moved in and so Richard offers him the guest bedroom, while his two friends move into the shed. Camiel and his friends then start taking over and eliminating members of the household.
---
Borgman was the eighth feature film from Dutch director-writer Alex van Warmerdam. van Warmerdam also acts in his and other films – he plays the part of the elder mystery visitor here. Most of Alex van Warmerdam's other directorial outings are known for their deadpan black comedy and surreal humour. These include Abel (1986), The Northerners (1992) set in a surreal town with only one street, The Dress (1996) about the bizarre fates that occur to the wearers of a dress, the domestic drama Little Tony (1996), Grimm (2003) based on a Grimm Brothers fairytale, Waiter (2006) about a waiter who comes to the realisation that he is a fictional character, and the subsequent hitman black comedy Schneider vs. Bax (2015) and the surreal Nr. 10 (2021), which comes with an SF ending.
It soon becomes apparent that Borgman is heading is the same directions as Pier Paolo Pasolini's Teorema (1968). Teorema featured Terence Stamp as a mysterious stranger who inserted himself into an upper-class Italian household, seduced everybody, male and female alike, and where, after leaving, his absence proved so traumatic that all of them were driven to extreme lengths. There have been a number of other miraculous visitor films since with the likes of The Shout (1978), Brimstone and Treacle (1982), Man Facing Southeast (1986), That Eye, The Sky (1994), Shadow Hours (2000), The End of the Animal (2010), Blood River (2009), The Final Storm (2010), Outside Satan (2011) and Let Us Prey (2014), which frequently vie with ambiguity between whether the stranger is angel or devil. The theme has become so numerous I have a listing of such films here at Mysterious Strangers.
What Borgman reminds of the most amongst these is Takashi Miike's Visitor Q (2001), which turned Teorema on its head and had a mysterious visitor that drove all the members of the household to perverse extremes. Commentators have also been quick to compare Borgman to Michael Haneke's Funny Games (1997), where the arrival of two preppie boys served to brutalise a middle-class household.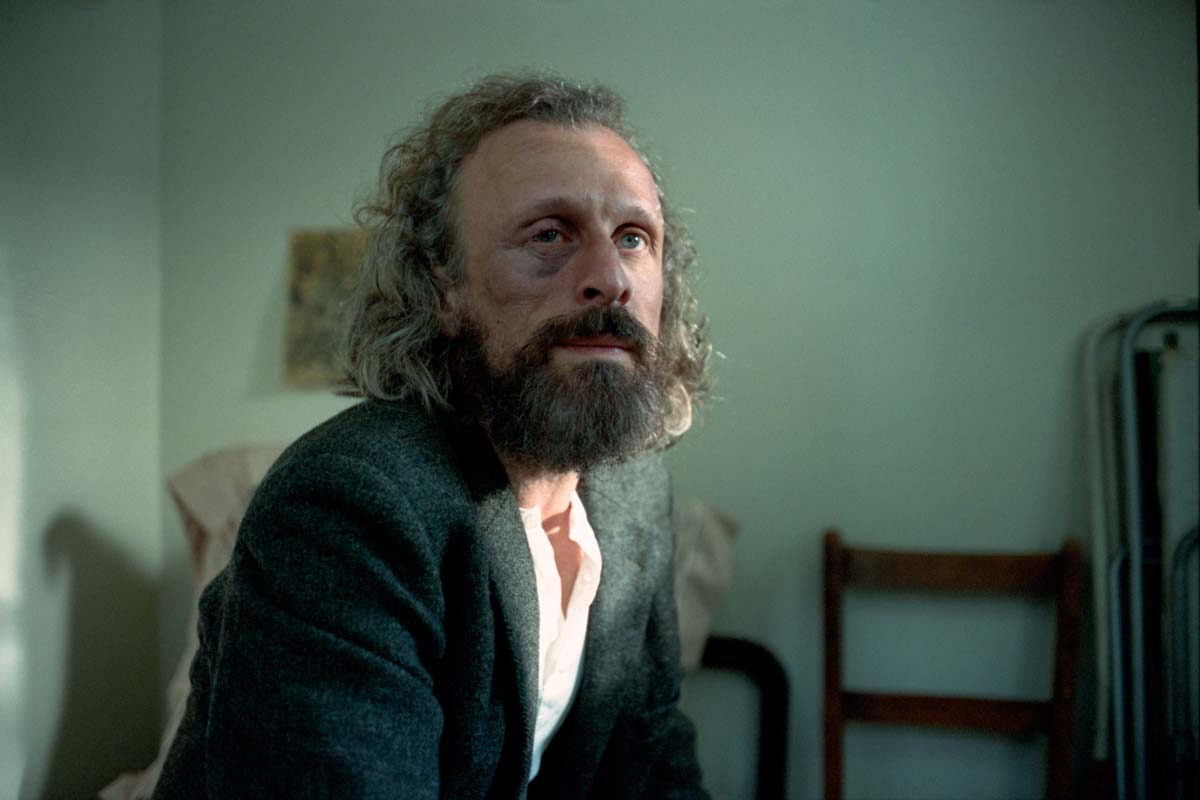 Borgman has a bizarre WTF quality from its opening scene where we see several men arming themselves, including a priest picking up a shotgun, then going hunting with dogs in the woods and finding the elaborate underground trap of Jan Bijvoet. The scene gets increasingly bizarre as we see him trying to call an alert on a cellphone then fleeing through a bolthole into the woods and opening the camouflaged trapdoors to warn several others as they hide in similar dugouts.
While we are wondering what on Earth is going on, the bedraggled and filthy Bijvoet next goes from house to house, knocking on doors and asking to come in for a bath. Finally he comes to the van Schendel house, is turned away by the husband (Jeroen Percival), begs that he knows the wife (Hadewych Minis), claiming that she was his nurse for months and would even come and lie beside him, which enrages the husband who believes that she has been lying about who she is and starts beating Bijvoet with a stick.
From there Borgman only becomes more surreal. For a long time, it seems like it is going to be a black comedy about how homeless man Jan Bijvoet cons and charms his way into the fold of a wealthy household. However, these scenes are also punctuated by moments of surrealism. Like when Bijvoet says he wants to sit at the table then calls up his friends and comes up with a scheme that involves him poisoning the aging gardener with a blow dart, then calls two female colleagues who come in with one pretending to be a doctor and strangle the gardener's wife. Then comes the completely surreal scene where they hang the bodies of the gardener and wife off the end of the bed, fill two buckets with cement and place the heads of the bodies into them, followed by the hilarious subsequent image of them dumping the bodies in the lake, head down in their buckets. They then get a series of others whom they have paid to apply for the gardening job and fail, even eliminate another genuine applicant (and dump his body in the river too), before a cleaned up and shaven Bijvoet applies and gets the job, unrecognised by the husband.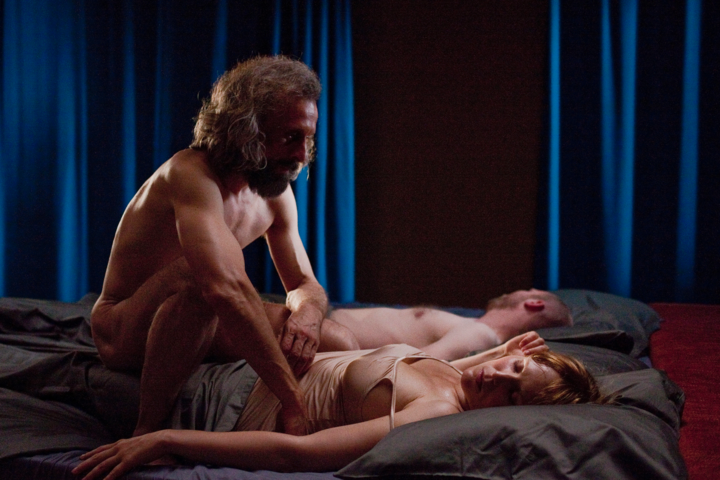 We watch with increasing bizarreness as the gardener and friends slowly take over the household, casually seducing the nanny (Sara Hjort Ditlevesen), poisoning the kids, provoking the wife to hate her husband and then begging Bijvoet to kill him. The film reaches a wonderfully cold and oblique ending. [PLOT SPOILERS]. There is the hysterical scene where Tom Dewispelaere turns away the nanny he had seduced and decides to go to sleep. Or just the way Jan Bijvoet lies down with Hadewych Minis who has been waiting for him to come to her but rejects her kiss in favour of giving her a glass of the poisoned wine. In the final images, they are seen burying the bodies in the garden lake, covering it over uing the earth-moving equipment and then heading into the woods with the children and nanny in tow.
The film constantly hovers on the edge of the fantastic. van Warmerdam deliberately gives us no answers as to who or what the gardeners are and why they have come. A host of other questions remain. Why do all of them have scars on their backs? What is the meaning of the X on the husband's back? Why are they seen operating on the children? What is the significance of the hounds that are seen loping through the house and hanging around with them? How does Jan Bijvoet manage to insert dreams into Hadewych Minis's head, always doing so while crouched naked on the end of her bed, which inspire her to violent feelings against her husband? The film is wilfully cryptic and opaque on the subject. All of which only adds to its hilariously black deadpan effect.
---
---