(Dung Sing Sai Tsau 2011)
---
Crew
Director/Screenplay – Jeffrey Lau, Producer – Julia Chu, Photography – Wah-Chuen Lam & Bo Man Wong, Music – Anthony Wong Yiu-Ming, Visual Effects – Centro Digital Pictures Ltd. Production Company – Distribution Workshop.
Cast
Karen Mok (Sammi), Kenny Bee (Himself), Eason Chan (Charles), William So (Wen), Crystal Huang-Yi (Scarlet), Tan Weiwei (Jade), Jaycee Chan (Bing), Ekin Cheng (Da Xiong)
---
Plot
In Hong Kong, Kenny Bee and his daughter Sammi are being pursued for a debt by the businessman Charles and his thugs. Charles wants them to get Kenny's former band The Wynners together for a reunion concert. Kenny and Sammi set out to mainland China to find Kenny's estranged wife Scarlet. Along the way, they encounter various individuals – a taxi driver who wants to be an actor; a rich girl who joins them because she wants to be a pop singer and her butler; and a dumpling chef. A series of accidents causes them to discover they have superpowers. They realise that they are all members of the Eight Heavenly Dragons, deities that have been incarnated in human bodies but with memory of their true identities erased. They set about using their superpowers to fight for good. However, a prophecy also says that they must face the eighth of their number who has turned to evil and now resides in the body of Charles.
---
Jeffrey Lau is a Hong Kong director who has been prolific in a local brand of high-energy comedy (mo lei tau) – one that has frequently blended elements of fantasy. (See below for Jeffrey Lau's other genre films). In particular, what East Meets West reminded many of was Jeffrey Lau's earlier film The Eagle Shooting Heroes (1993), which similarly featured a group of diverse heroes brought together in a wacky ensemble plot (although that was a gonzo take on the Wu Xia film, while this is more of a superhero parody).
East Meets West is best compared to a Western film like The Expandables (2010) and its idea of bringing together a group of familiar action stars and pitting them together in an ensemble caper plot. I draw this allusion in order to place East Meets West in some kind of context culturally. You can see it has been intended as a silly knockabout adventure that brings together a number of popular Hong Kong action stars – the plot even winds in Kenny Bee, a 70s/80s singer, playing himself as he attempts to reunite his real-life band The Wynners. There are numerous cameos and in-jokes based on local stars and pop culture throughout the film, many of which play more to Hong Kong audiences than they are likely to be picked up by someone outside the culture like me.
In the vein of the comedies that Jeffrey Lau is known for, East Meets West is a giddy hysteric mess of a film. It starts out as one type of film – Karen Mok making a good showing as a cynical Gothed-out punkette, she and her father (Kenny Bee) being forced to go on a quest to reunite his band where the film seems to be taking a leaf from The Blues Brothers (1980). The humour rapidly becomes wackier – at its most amusing being William So as a taxi driver who demonstrates his martial arts skills and acting impressions at the same time as driving a taxi. Things get extremely weird and wacky about the halfway point when the various characters assembled are revealed to all be avatars of Buddhist gods without knowing it and then set off to use their powers to fight for good. It is the case of a film that starts out one way taking a dogleg turn and morphing into something else altogether.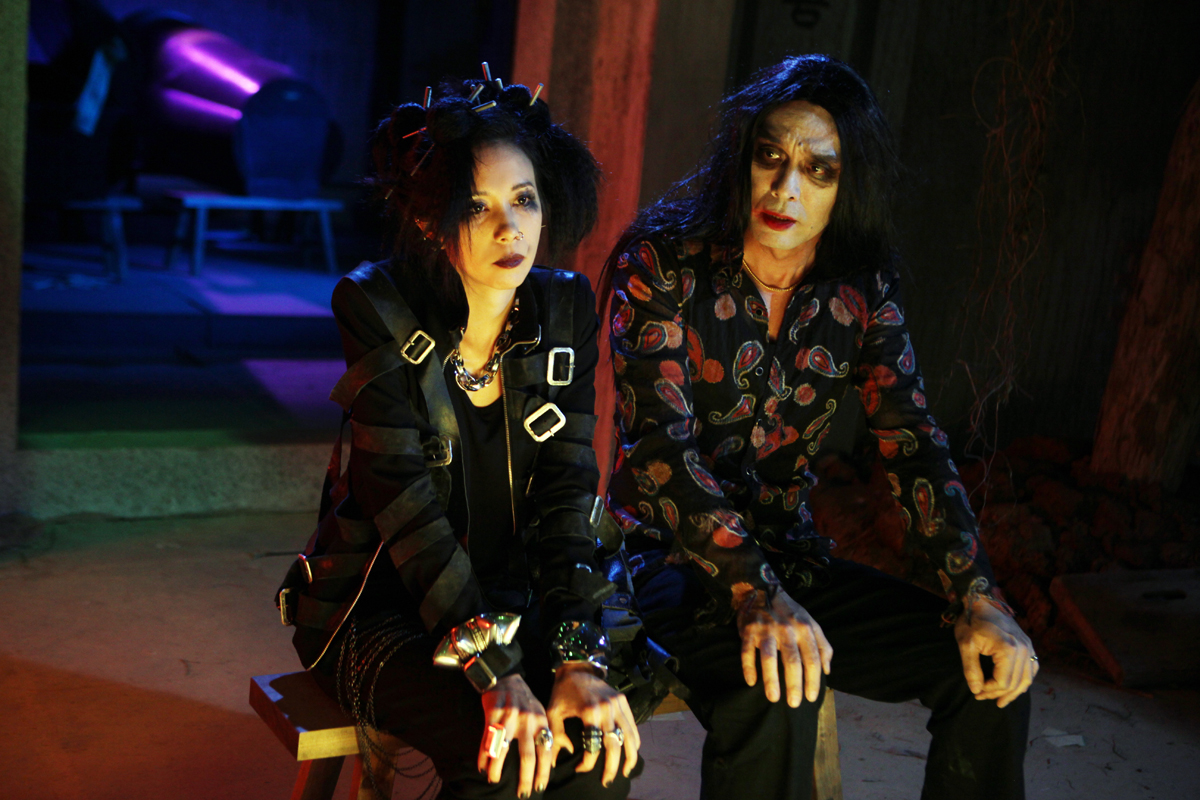 I don't know if it was just me feeling festival fatigue after watching too many sessions or if I was just tired in general by the time I came to watch East Meets West at a late showing at the 2012 Vancouver International Film Festival, but the typical giddy silliness of the Hong Kong humour felt wearying about five minutes into the film. I wanted to like East Meets West, hoped that it had something of the manic delirium of the films of Stephen Chow (who had worked with Jeffrey Lau before becoming his own director) or maybe the similar Hong Kong superhero ensemble drama, the demented Future Cops (1993).
Unfortunately, all that we have is a very silly film where all of the actors play over-the-top caricatures in absurd wigs. The superheroics are extremely silly – the chef has a move that wraps evildoers up in dumplings at one point – and are filled out with cheap CGI effects and characters in deliberately cheesy costumes. Everything moves at a frenetically fast pace, which seems only there to disguise the haphazard nature of the plot. For all the supposed bringing together of an ensemble of Hong Kong actors, most of the cast are sidelined in the latter half and the romantic scenes between Karen Mok and Eason Chen allowed to dominate.
Jeffrey Lau's other genre films include:- the true-life serial killer film The Hong Kong Butcher (1985); the horror comedy Thunder Cops (1987); The Haunted Cop Shop (1987) and The Haunted Cop Shop II (1988) and the unrelated Mortuary Blues (1990), all featuring cops versus various monsters; All For the Winner (1990) and All For the Winner 2/The Top Bet (1991), gambling comedies about people with clairvoyant abilities; the Wu Xia film The Eagle Shooting Heroes (1993); the two-part adaptation of Journey to the West, A Chinese Odyssey Part 1: Pandora's Box (1994) and A Chinese Odyssey Part 2: Cinderella (1995); the Chow Yun Fat fantasy comedy Treasure Hunt (1994); the ghost comedy Out of the Dark (1995); the historical fantasy Chinese Odyssey 2002 (2002); Second Time Around (2002), another gambling fantasy; the martial arts fantasy A Chinese Tall Story (2005); the comedy Metallic Attraction: Kung Fu Cyborg (2009); the romantic comedy The Fantastic Water Babes (2010); the time travel/Wu Xia film Just Another Pandora's Box (2010); A Chinese Odyssey Part 3 (2016); and Kung Fu League (2018) in which legendary martial arts heroes are summoned to aid a nerd.
---
---