(Yan Pei Dang Lung)
---
Crew
Director – Wai-Keung Lau [Andrew Lau], Screenplay – Wong Jing, Producers – Wong Jing & Hsiang Chuan Pei, Photography – Man Po Cheung, Music – Bon Wong, Production Design – Chi-Keung Law. Production Company – Mei Ah Entertainment/Scholar Films Co., Ltd./Wong Jong's Workshop Ltd.
Cast
Tony Leung Ka-fai (Fai Tong), Chingmy Yau (Yung Siu Fu), Kwong Leung Wong (Officer Kwong), Roy Cheung (So Hung), Ronald Wong (Jerk), Teresa Hsia Ping (Granny Four), Dion Lam (Holland), Wai Lok (Sister Wai), King-Tan Yuen (Lucy)
---
Plot
Fai Tong is the leader of a gang of petty criminals and an informant to police officer Kwong. Fai Tong is also cursed with bad luck and misfortune in everything he does. His gang come up against the criminal kingpin and black sorcerer So Hung. Fai is led to the fortune teller Granny Four who divines that thirty years ago in his past life Fai was a lawyer and associate of So Hung. He fell for Yung Siu Fu, the understudy of the opera singer Sister Wai. However, So Hung also desired Siu Fu and took revenge, killing both of them, turning Siu Fu's skin into a lantern that imprisoned her soul and burying Fai's bones in a way that has cursed him to bad luck for the next ten reincarnations. The ghost of Siu Fu now appears to Fai to help him remember his past life and find a way to recover their mutual remains.
---
The Hong Kong fantasy genre was at a peak during the 1980s and 90s, up until around the handover back to China in 1997. This era produced an unparalleled output of fantastique films. The genre was popularised by successes such as Mr Vampire (1985) and A Chinese Ghost Story (1987) that conducted an adept blend of supernatural, traditional Eastern beliefs, comedy, romance and martial arts. These led to a great many imitators. (For a more detailed listing see Hong Kong Cinema).
Ghost Lantern – not to be confused with the earlier Hong Kong horror film Human Lanterns (1982) about lanterns made out of human flesh – is one of these imitators. It places less of an emphasis on martial arts and battling the supernatural than it does on romance and comedy. In particular, director Wai-Keung Lau jumps right into the frenetic mo lei tau slapstick familiar to Hong Kong cinema – the Mr Vampire sequels being particularly notable offenders in this regard. The opening of the film is a series of scenes with Tony Ka Fai Leung having a string of disastrous luck while working as a street cart vendor, having a fat debtor collapse dead on him, and then an energetic slapstick gang fight.
The slapstick does drop off when it comes to the flashback scenes, although these opt for another cliche of Hong Kong fantasy of this era – they are all romantic scenes shot in pink and purple pastel lighting schemes and a gauzed-out camera lens. At least the film works better in these scenes by dint of the fact that we don't get as much of the tiresomely frenetic slapstick of the opening scennes.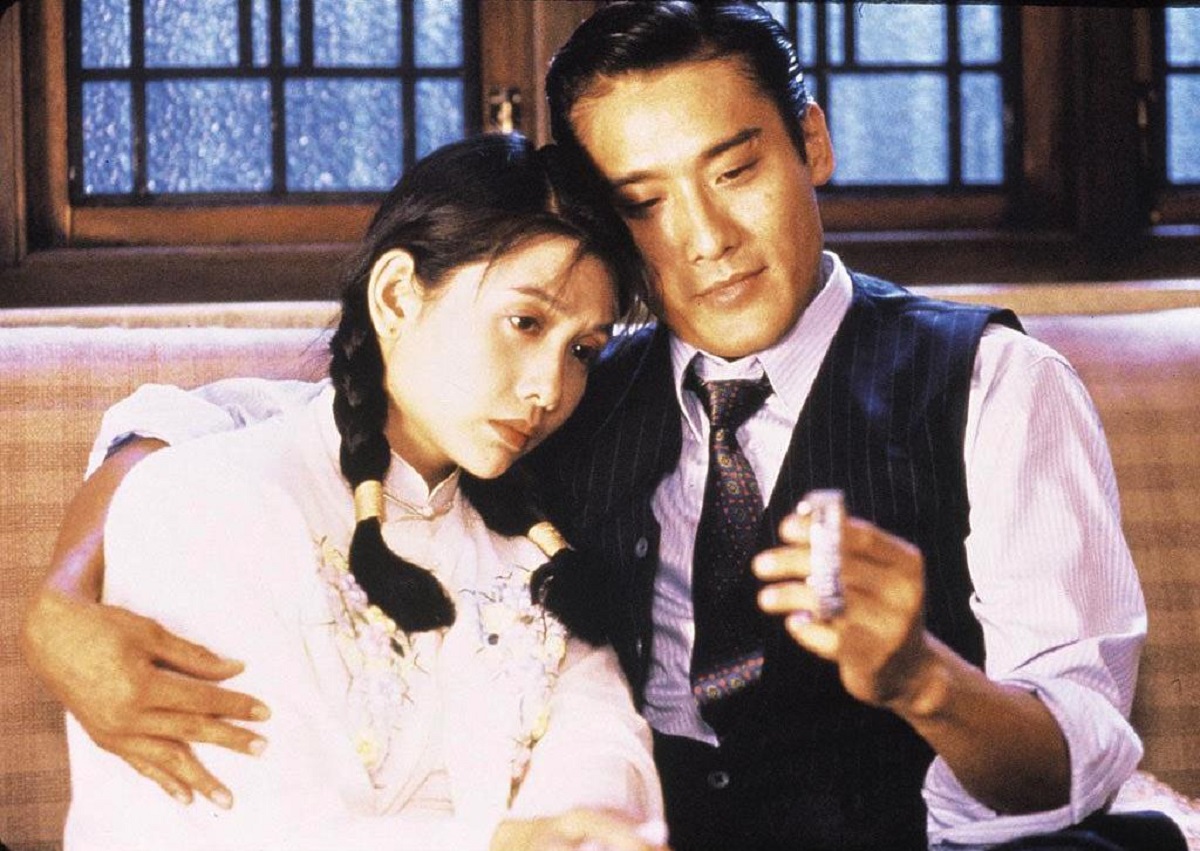 The dvd version of the film I was watching is unfortunately crippled by some terrible subtitling. At one point, Sister Wai is referred to as a 'cheap slot' where clearly the subtitling was intending to refer to her as a 'cheap slut'.
It would be hard to guess from the broad comedy and caricatured characters we see here that Wai-Keung Lau would go on to become one of the top Hong Kong directors in the decade ahead. A few years later, Lau started billing himself as Andrew Lau and had the international success of Infernal Affairs (2002) and sequels, which was later remade as The Departed (2007).
Director Wai-Keung Lau/Andrew Lau's other genre films include Ultimate Vampire (1991), the Wu Xia The Storm Riders (1998), the Wu Xia A Man Called Hero (1999), the Wu Xia The Duel (2000), the superhero film The Avenging Fist/Legend of Tekken (2001), the alien invasion film Wesley's Mysterious File (2002), the supernatural comedy Women from Mars (2002), the horror film The Park (2003), the martial arts superhero film Legend of the Fist (2010) and the Wu Xia The Guillotines (2012) and Kung Fu Monster (2018).
---
Trailer here (no English subs)
---