Mr Vampire Saga 4
(Geung See Suk Su)
---
Crew
Director – Ricky Lau, Screenplay – Lo Wing Keung, Producers – Sammo Hung & Jessica Chan Pooi-Wa, Photography – Chin Yung Shing, Music – Stephen Shing Gam-Wing & James Wong Jim, Art Direction – Raymond Lee King-Man. Production Company – Bo Ho Films Co., Ltd./Paragon Pictures Ltd.
Cast
Anthony Chan (Four-Eyed Taoist), Wu Ma (Master Yi-yau), Kai Lok Chin (Chia-le), Loletta Lee (Ching-Ching), Yuen Wah (Wu Yuan), Chung Fat (Taoist Crane), Pauline Yu-Huan Wang (Fox Demon), Ho Kin Wai (71st Prince)
---
Plot
The Buddhist priest Yi-yau lives with his disciple Ching-Ching. They are interrupted by the arrival of the priest Four-Eyed Taoist and his disciple Chia-le who move in to the adjoining house, along with a horde of vampires that Four-Eyed Taoist has under his control. Chia-le is attracted to Ching-Ching but the two masters have an ongoing rivalry. Four-Eyes Taoist's brother Taoist Crane passes by as part of a royal entourage that is carrying a coffin containing a vampire. However, as the party make camp in the woods, the rain washes away the paint protecting the coffin and the vampire emerges to kill everybody. Four-Eyed Taoist and Yi-yau are now forced to combine forces as their house comes under assault by the vampires.
---
This was the fourth of the Mr Vampire films. The series started with Mr Vampire (1985), which proved a hit that blended traditional Chinese hopping vampires and religious elements with an adept mix of comedy and fantasy. In rapid course, director Ricky Lau made Mr Vampire II (1986), Mr Vampire III (1987) and Mr Vampire 4 here. This was followed by Mr Vampire V (1990) from another director but Lau returned for the subsequent Mr Vampire 1992 (1992). The series was so popular that it is also inspired an unauthorised rival series with New Mr Vampire (1987) and New Mr Vampire 2 (1989).
The first Mr Vampire had an enormous degree of charm. It got its balance of fantastique moves, Chinese supernatural and comedy just right. But the sequels – oh boy. Ricky Lau seemed to only replicate the same basic elements, shuffle the actors around in different roles and amp the slapstick content up to fifteen on the dial with frequently excruciating results.
The same mix is more than evident again here. One of the first scenes involves disciple Kai Lok Chin accidentally grabbing Loletta Lee's boobs whereupon master Wu Ma decides to administer mock punishment by pretending to viciously beat Kai who has books hidden under his clothes only for the books to fall out and the punishment to end up being for real. (A great deal of the film involves people being beaten, knocked around or taking falls).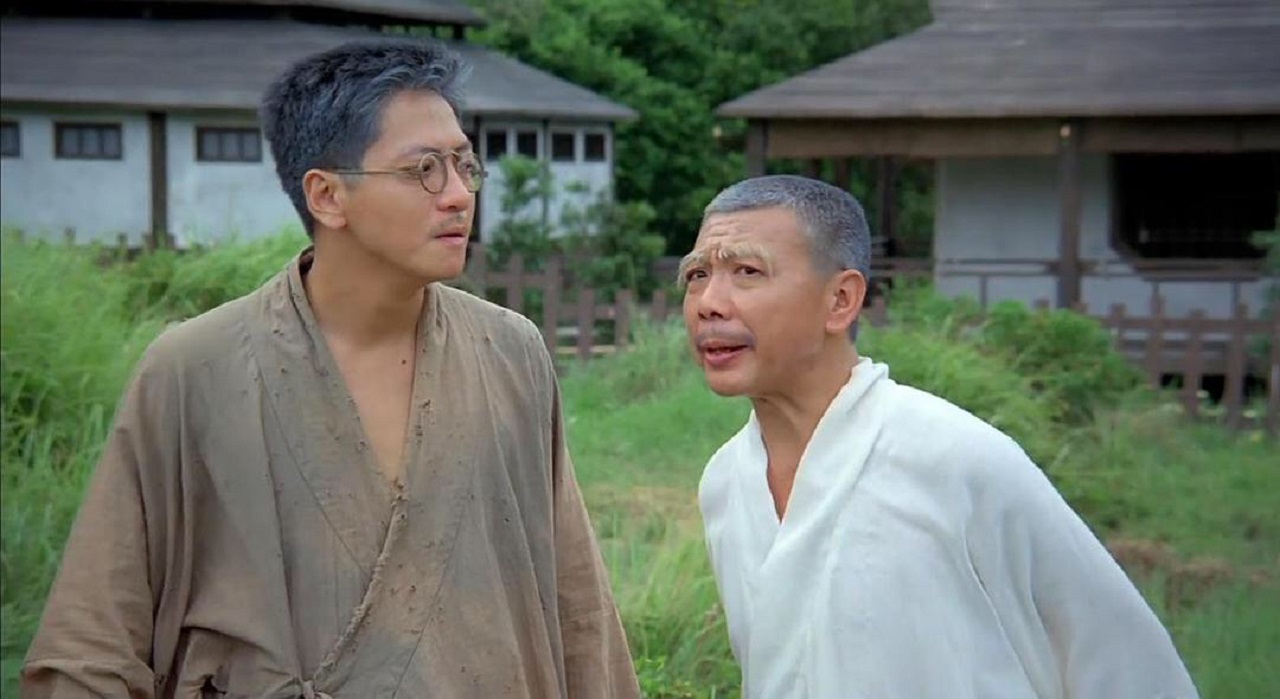 We get other slapstick sequences with the vampires hitting people with sticks every time they yell "aye ya." In another scene, Kai Lok Chin pretends to fall ill so that he can get Loletta Lee to kiss him but instead ends up with the caricaturedly gay Yuen Wah trying to do so. At its silliest, Ricky Lau has the two rival religious masters engaged in food fights with one another or a sequence where they make voodoo dolls and end up throwing each other around their respective houses.
On the other hand, there are occasions where Ricky Lau finds something of the imagination that made the first Mr Vampire work. It is the scenes where he does so that make Mr Vampire 4 the best of the sequels viewed to date. There's an appealingly silly sequence early on where Anthony Chan is leading a line of hopping vampires through the woods with the use of a prayer that makes them mimic his movements, only for the whole line to be knocked out of whack when he bumps into a branch. Everything is then interrupted as he comes under attack by a fox-headed girl who floats through the trees and sends animated hearts to tempt him and he to have to fight her off with laser beams fired from his eyes. And then of the efforts of disciple Kai Lok Chin to wheel the vampires into line-up in Anthony Chan's new home. Similarly, the vigorously directed sequence where the vampire breaks out of the coffin and defeats the imperial guards is something that approaches the imagination of the first film. The film reaches an energetic climax with the various parties fighting off the vampires as they invade the house.
---
---