(Chut Sui Fu Yung)
---
Crew
Director/Screenplay – Jeff Lau, Producers – Albert Lee, Jiang Tao & Han Xiaoli, Photography – Peter Ngor, Production Design – Bruce Yu. Production Company – Emperor Classic Films Company Limited/China Film Group Corporation/Asia Animation Limited.
Cast
Gillian Chung (Gillian), Lik-Sun Fong (Kwok Chi Yuen), Shengyi Huang (Jade), Hyper BB (Florence), Fun Chu (Flora), Stephen Fung (Hanna), Janet Ma (May Cheng), Simon Lui (Cheng Cheong), Liang Tian (Water Deity), Natalie Tong (Helen)
---
Plot
Gillian, a teenager from the island of Cheung Chan off the coast of Hong Kong, is upset when she finds her boyfriend Ramsy is involved with another girl May. She goes to jump in the ocean and commit suicide but is saved. Afterwards, she believes that she has become blessed by the water deity Guan Yin and can make anything happen. However, all of this is only the relatives who raised her on the island fooling her into believing she has magic powers. Gillian goes to get her comeuppance by humiliating May as she is selected for the Water Babes swimming competition. Just then, the relatives break the news to Gillian that she has no powers and she loses her balance and falls into the pool. The competition's sponsor Kwok Chi Yuen jumps in to save Gillian and promises before the cameras that he will give her an opportunity to enter the competition by training her himself. However, when Gillian goes to talk to Chi afterwards, she realises he was insincere and only said what he did for the cameras. And so she abducts him and takes him to Cheung Chan inside a suitcase. There her friends and relatives all come together to force Chi to keep his promise. During the course of the training, attraction grows between the two but fate steps in the way.
---
Hong Kong specialises in a type of comedy referred to as mo lei tau – one that involves lots of frenetic high-speed slapstick, frenzied caricatures and fast-paced action scenes. Some people do this very well – Stephen Chow, the early films of Jackie Chan. On the other hand, there are also times that this fails to work and comes across as incredibly silly. If one has seen any of the excruciating dubbed martial arts comedies of the 1970s and early 1980s, you have some idea of what it turns out like. It is often something that looks utterly bizarre to Westerners who have no idea what hit them.
Jeffrey (or as he is billed here Jeff) Lau is one of the dabblers in this field. I cannot say I have much of a liking for his films, which are filled with frenetic slapstick and/or often feel like they have enough plot happening in them for at least two more films. The Fantastic Water Babes doesn't have a terribly inspiring premise – a romance set around a high-school swimming competition. The leads – shy bespectacled Gillian Chung, handsomely assured but insincere Lik-Sun Fong – work well enough.
But the plot, oh boy. First there are the wacky complications. Before the film has even gotten to its main plot, there is another whole plot about Gillian Chung's extended family on Cheung Chan Island conspiring to make her think she has been blessed by the water god Guan Yin and that anything she says will come true. (There is never any clear explanation as to why they would see doing this as a helpful thing). By another set of complications, Gillian is accidentally placed into the swimming competition against her rival despite having no skills. Things then get weirder as she decides to abduct the show's sponsor (Lik-Sun Fong) and bring him back to Cheung Chan – imprisoned inside a suitcase!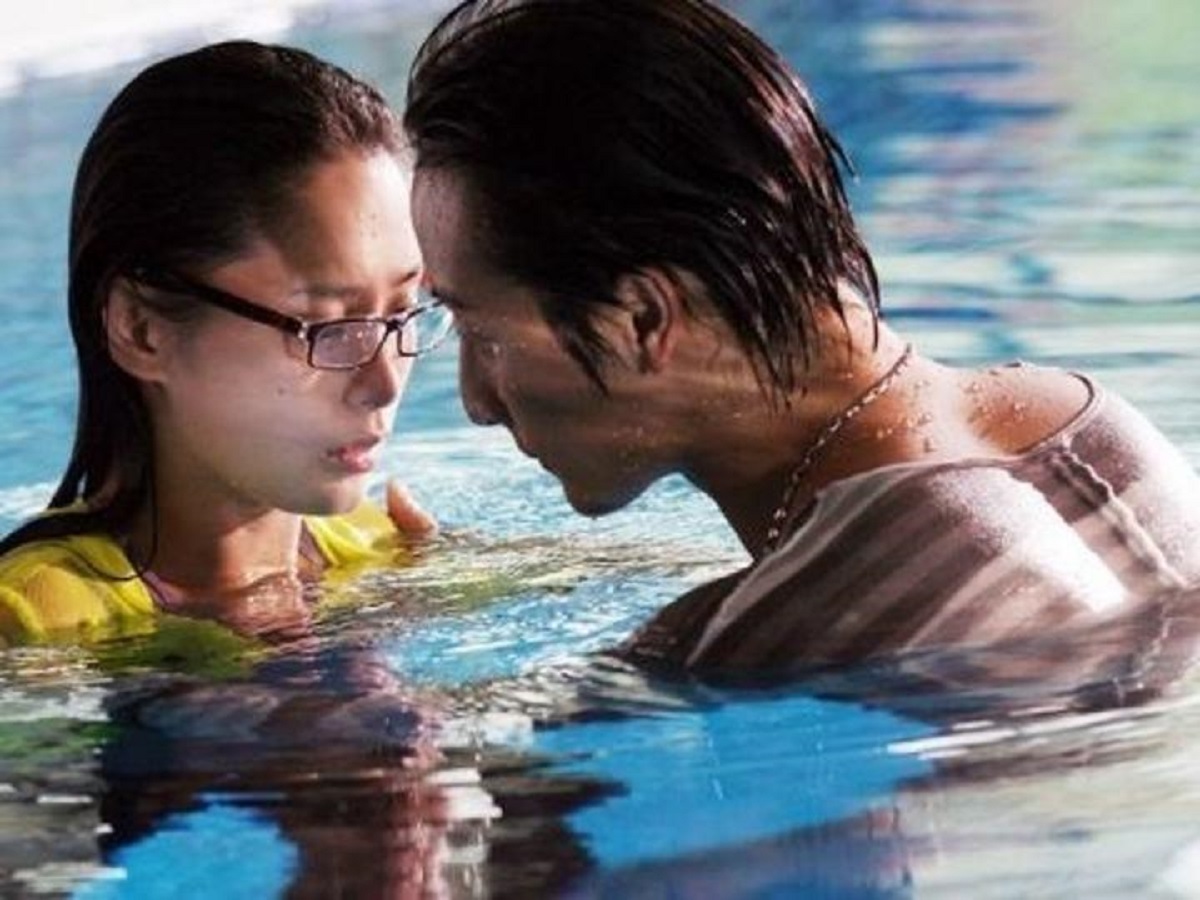 All of this is just before we arrive at the main thrust of the plot – a familiar one where Gillian Chung and Lik-Sun Fong start falling for one another despite being captor and prisoner. This comes with lots of twists and abrupt reversals of direction, which is par for the course when it comes to Hong Kong comedy. Most of it seems annoyingly lightweight and frivolous. Everyone apart from the two leads gives frenetic and silly performances, before we arrive at a predictable romantic happy ending.
Thought it promises otherwise, the film's fantasy content is slight. The way the premise is written when I first read about the film – young girl receives godlike powers from a water deity after falling into the ocean – seems way more fantastical than anything that actually happens in the film. We have about five minutes of her demonstrating her powers near the start before this is revealed as fakery created by the people around her. We later get a seeming appearance from the water god only for this person to then be revealed as an escapee from a lunatic asylum. In the concluding scenes however, we do get a scene where Gillian Chung does finally take to the water and causes the pool to explode in a tidal wave of unleashed power.
Jeffrey Lau's other genre films include:- The Haunted Cop Shop (1987) and The Haunted Cop Shop II (1988) and the unrelated Mortuary Blues (1990), all featuring cops versus various monsters; the horror comedy Thunder Cops (1987); All For the Winner (1990) and All For the Winner 2/The Top Bet (1991), gambling comedies about people with clairvoyant abilities; the Wu Xia film The Eagle Shooting Heroes (1993); the two-part adaptation of Journey to the West, A Chinese Odyssey Part 1: Pandora's Box (1994) and A Chinese Odyssey Part 2: Cinderella (1995); the Chow Yun Fat fantasy comedy Treasure Hunt (1994); the ghost comedy Out of the Dark (1995); the historical fantasy Chinese Odyssey 2002 (2002); Second Time Around (2002), another gambling fantasy; the martial arts fantasy A Chinese Tall Story (2005); the comedy Metallic Attraction: Kung Fu Cyborg (2009); the time travel/Wu Xia film Just Another Pandora's Box (2010); East Meets West (2011), a comedy wherein Eastern deities become superheroes; A Chinese Odyssey Part 3 (2016); and Kung Fu League (2018) in which legendary martial arts heroes are summoned to aid a nerd.
---
---