(La Fee)
---
Crew
Directors/Screenplay – Dominique Abel, Fiona Gordon & Bruno Romy, Producers – Dominique Abel, Charles Gillibert, Fiona Gordon & Marin Karmitz, Photography – Clair Childeric & Jean-Christophe Leforestier, Production Design – Nicolas Girault. Production Company – MK2/Courage Mon Amour/France 3 Cinema/Canal +/Cine Cinema/BETV/BNP Paribas Fortis Film Fund/Cinemage 5/Cinemage 4 Development/Centre National de la Cinematographie.
Cast
Dominique Abel (Dom), Fiona Gordon (Fiona), Philippe Martz (John the Englishman), Bruno Romy (Owner of L'Amour Flou), Willson Gomba, Destine M'Bikula Mayemba & Vladimir Zongo (The Illegals), Christophe 'Rene' Philippe (Bart), Sandrine Morin (The Nurse), Didier Armbruster (The Flying Man), Emilie Horcholle (Shoe Shop Owner), Alexandre Xenakis (Dave), Ophelie Anfry & Olivier Parenty (The Police)
---
Plot
Dom is a night watchman at a hotel in Hanover. One night, Fiona signs in, then announces that she is a fairy and is granting him three wishes. He wishes for a scooter and a lifetime supply of fuel but cannot think of a third wish yet. In the morning, he finds the scooter waiting and meets her for a date where she presents him with the key to an entire storage tank of gas. He then finds her missing, she having been locked up in the local psychiatric ward. She manages to signal to him and so he conducts a rescue attempt, getting her out in disguise. She has become pregnant overnight and gives birth to a boy that they name Jimmy. However, their exploits and mishaps have them both pursued by police.
---
The Fairy was a complete unknown to me when it came to watching it at the Vancouver International Film Festival. I knew nothing of any of the directors and principal stars (who would appear to be one and the same), had read no advance word on it with the exception of the festival's program notes that said it was about a woman who claims to be a fairy, which made it seem full of possibilities that I had to write about. Knowing nothing about a film is often one of the best ways to watch it – it protects the essential element of surprise and allows you to discover something for yourself. The result proved one of the most charming and whimsically appealing cinematic experiences I have had in some time.
The Fairy is a capricious delight. The entire film is in essence a series of sight gags that are so silly that they reach a point of nonsensical delirium that you wish would never end. The film hits in fairly much from the opening scenes with hotel porter Dominique Abel dealing with an English tourist (Philippe Martz) amid absurd English-French translations. The Englishman is refused entry because he has a dog whereupon he returns and signs in with the dog hidden in a bag, although this has a habit of walking off on its own and has to be kept on a leash – "Have you seen my bag?" becomes a frequently asked line throughout. Some scenes become positively hysterical – Fiona Gordon borrowing a dress from a mannequin in a storefront window then going into a shoe store asking "Have you got any running shoes?" whereupon she puts them on and runs out the door.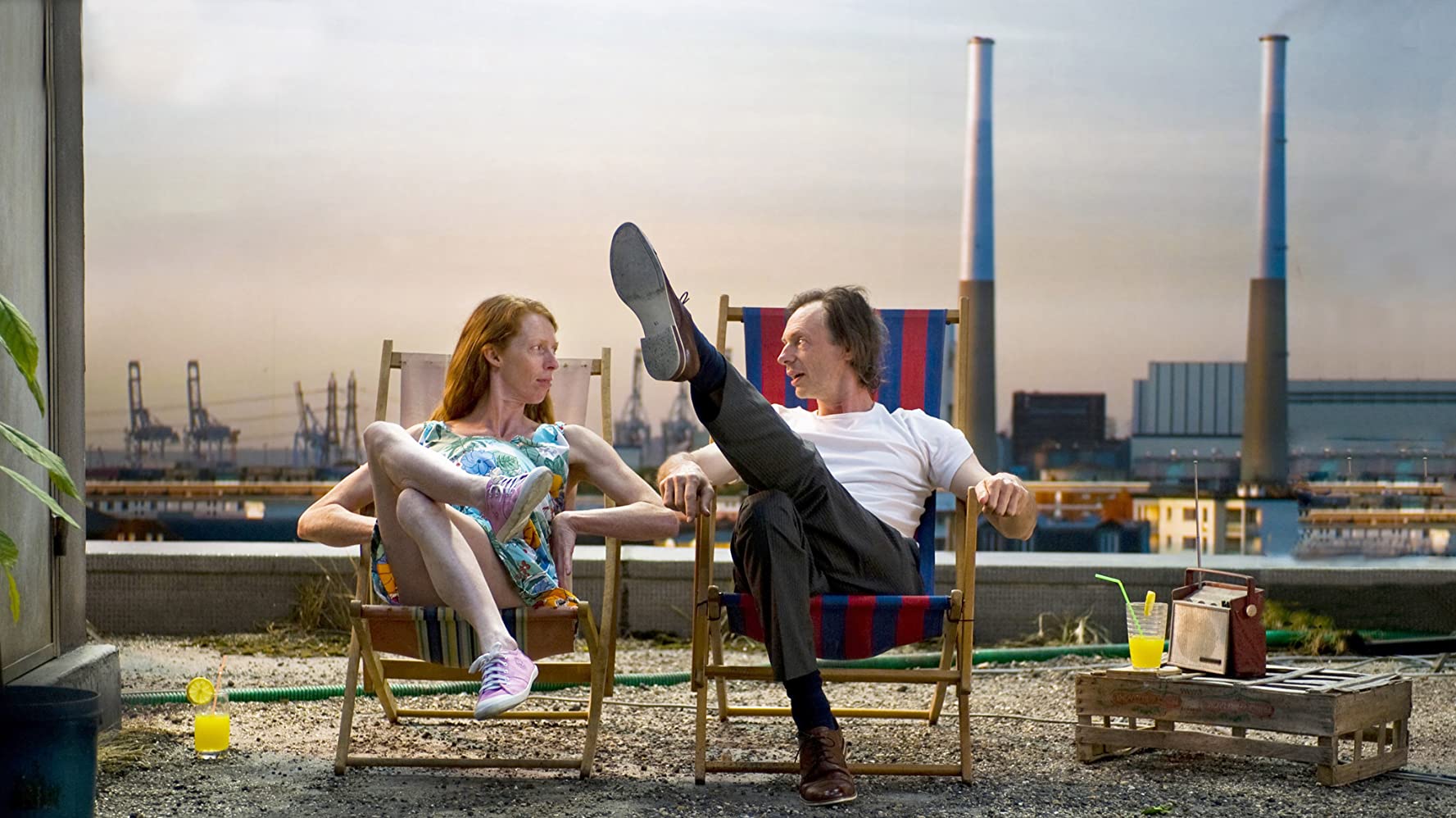 The sight gags come in the best tradition of Jacques Tati – a round robin that involves a wad of money being borrowed off Dominique Abel and paid to various people standing in a line and then back to him; Fiona Gordon giving Dominique Abel a back massage; the scenes trying to rescue the baby off the back of the car with the two of them balanced on a scooter; the severely myopic owner of the cafe (Bruno Romy) who bumps into everything; a poker game in the asylum with the patients using pills as chips and then Fiona Gordon picking through her winnings as though they were finger food and instantly conking out; or the attempts to smuggle Fiona Gordon out of the asylum in a disguise wrapped around Dominique Abel. The two central performances – gangly, scruffy Dominique Abel and the entirely carefree and infectiously enchanting Fiona Gordon – are perfectly matched.
The Fairy seems wholly unconcerned as to whether Fiona Gordon actually is a fairy or not. The script throws the idea in and the film then forgets about it for the most part. There are oddly fantastical scenes – she does appear to manifest Dominique Abel's wishes (the scooter, the lifelong supply of fuel), causes an out of order elevator to start working when she gets into it, is able to fulfil another man's wish to fly and becomes instantly pregnant when her stomach inflates like a balloon (with an accompanying hiss of compressed air), while at other times her actions seem much more earthbound with it being seen that she may well be no more than a psychiatric patient.
(Winner in this site's Top 10 Films of 2011 list. Nominee for Best Actress (Fiona Gordon) at this site's Best of 2011 Awards).
---
---