(Les Visiteurs)
---
France. 1993.
Crew
Director/Story – Jean-Marie Poire, Screenplay – Jean-Marie Poire & Christian Clavier, Producer – Alain Terzian, Photography – Jean Yves Le Menier, Music – Eric Levi, Mechanical Effects – Jean-Marc Mouligne, Makeup Effects – Jacques Gastineau, Art Direction – Hugues Tissandier. Production Company – Gaumont/France 3 Cinema/Alpilles Productions/Amigo Productions/Canal +.
Cast
Jean Reno (Godefroy de Papincourt, Comte de Montmarail), Christian Clavier (Jacquasse the Crass/Jacques-Henri Jacquart), Valerie Le Mercier (Beatrice Goulard/Lady Frenegonde), Christian Bujeau (Jean-Pierre Goulard), Marie-Anne Chazel (Ginnette), Isabelle Nanty (Secretary), Gerard Sety (Edgar Bernay)
---
Plot
France, 1123. The knight Godefroy de Papincourt saves the king in battle and is rewarded with the hand in marriage of Lady Frenegonde, the fairest maiden in France. However, after being drugged by a witch, Godefroy and accidentally shoots Lady Frenegonde's father with an arrow. As a result, she refuses to marry him. Godefroy seeks the aid of a sorcerer to send him back in time to stop the arrow. However, the sorcerer forgets a vital ingredient in the potion and Godefroy and his vassal Jacquasse are instead sent forward in time to the present day. There their filth and feudal demeanour proves of considerable upset to the uptight inheritors of Godefroy's lands.
---
The Visitors was a huge hit in France, even outgrossing Jurassic Park (1993) in the year it was released. It is a comedy that relentlessly celebrates its own vulgarity (although is not itself a vulgar film). Much of the humour centres around the filthiness of the Middle Ages – people only bathing once a month, their rotting teeth and bad hygiene. Most of the characters in the present day are characterised as stuffy and uptight in their middle-class mores with the two characters from the Middle Ages being unleashed as a comic anarchic force to twist them on their head.
In many ways, The Visitors almost reads like a satire on Vincent Ward's The Navigator: A Mediaeval Odyssey (1988). Where Ward had a group of Mediaeval characters entering the present-day and being left bewildered and frightened by the modern world, The Visitors has a group of grubby Mediaeval characters entering the present day and leaving the modern world frightened and bewildered by them.
The film bounces off all of this with considerable comic energy and a great deal of inspired silliness. Director Jean-Marie Poire has the ability to take a situation and keep milking it for all he can. There are some very funny scenes – the two and their encounter with a car for the first time; the scenes at the dinner-table with Jean Reno throwing Christian Clavier scraps like a dog while debating why feudal aristocracy was a good thing; and much of the anarchy in the house and hotel – the attempts to cook a roast on an umbrella and Christian Clavier's puzzlement over what happens when he tries to pull electric lamps out from their wall sockets.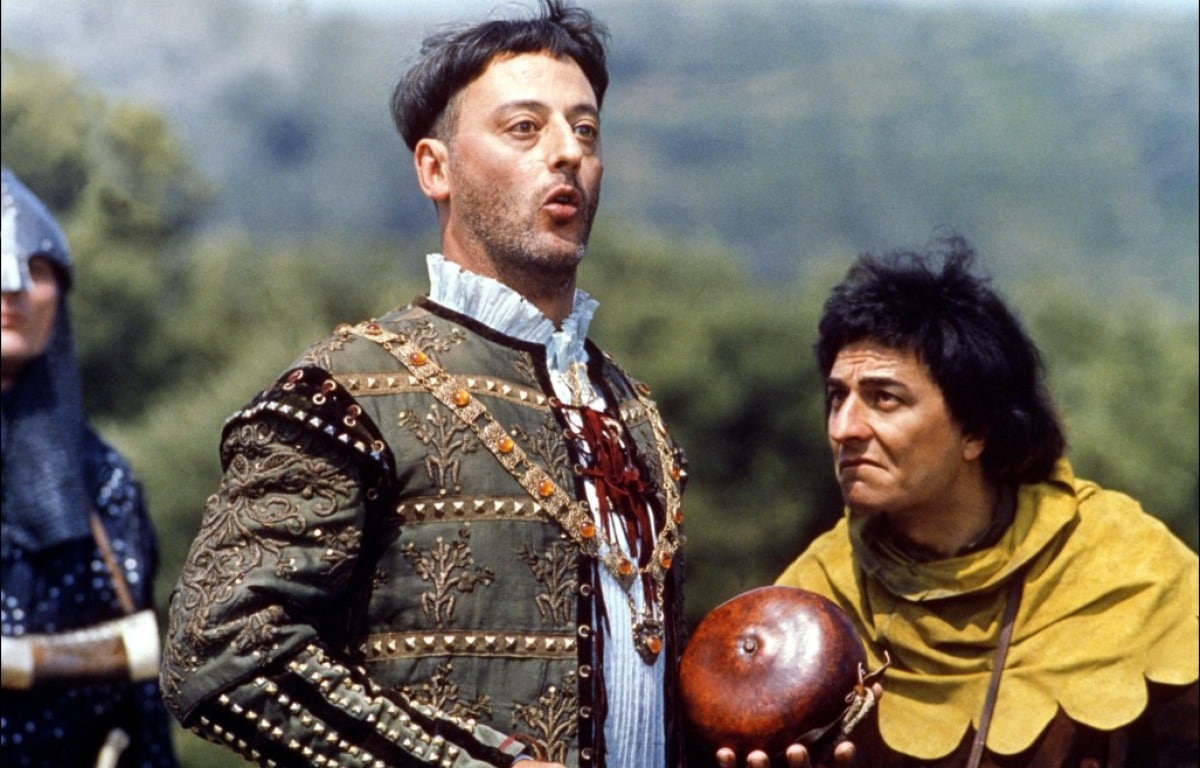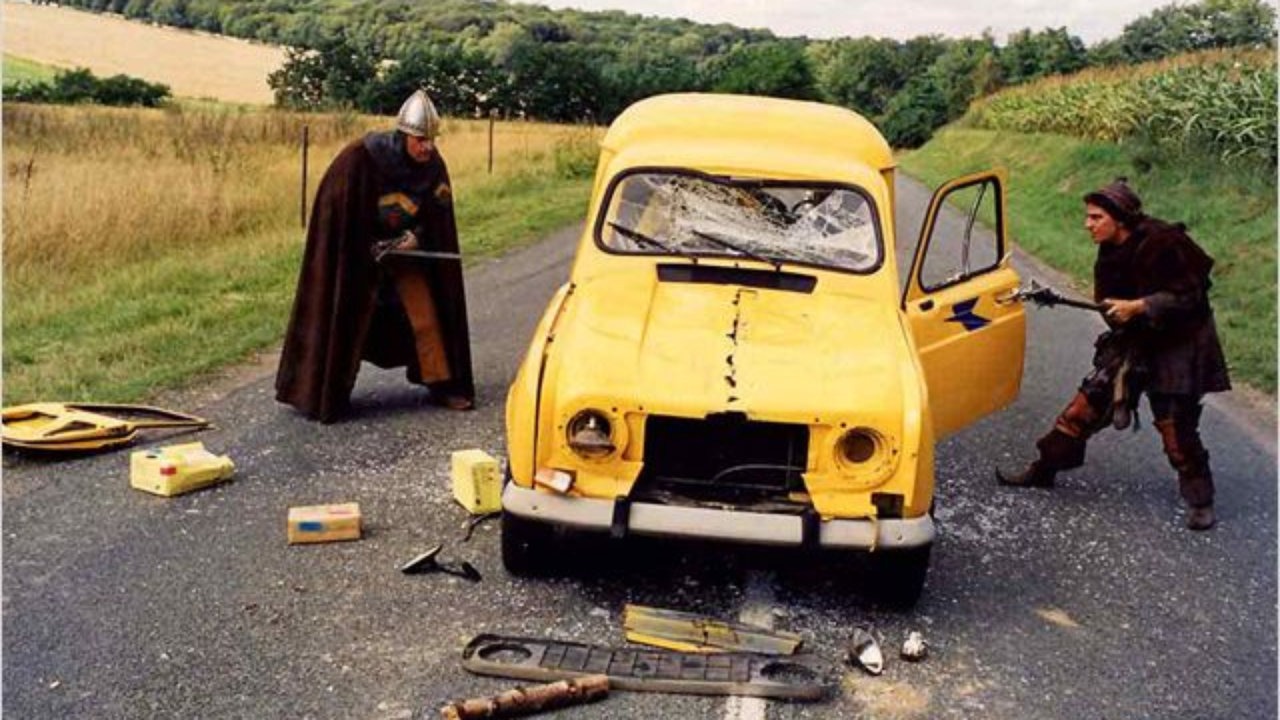 In the midst of all this Jean Reno, known mostly to the English-speaking West as the brooding, silent characters in The Big Blue (1988), Leon/The Professional (1993), Mission: Impossible (1996) and The Da Vinci Code (2006), demonstrates great comic ability, doing a remarkable job of playing in straight-face while exuding a dignity and unflappable certainty. Christian Clavier is fun as the obscene gnome – one does not see just what a chameleon change Clavier is conducting until one sees him playing his haughty, uptight 20th Century ancestor. Valerie Le Mercier is far from the fairest woman in the land that she is described as but does an amusing job of catching just the right balance between a fussy busyness and a calm, almost unnoticing acceptance of the madness going on around her.
Jean Reno, Christian Clavier, Jean-Marie Poire and Clavier's wife Marie-Anne Chazel re-teamed for a poorly-regarded sequel The Visitors 2/Les Couloirs du Temps: Les Visiteurs 2 (1998). Just Visiting (2001) was a terrible American remake, also featuring Jean Reno and Christian Clavier and directed by Jean-Marie Poire (albeit under a pseudonym). Twenty-three years later, Jean Reno, Christian Clavier, Jean-Marie Poire and Marie-Anne Chazel reteamed for a further sequel The Visitors: Bastille Day (2016).
Jean-Marie Poire's only other venture into genre material has been the madcap angel comedy Guardian Angels (1995).
---
Trailer here
---