---
Belgium/USA. 2017.
Crew
Director – Anders Walter, Screenplay – Joe Kelly, Based on the Graphic Novel by Joe Kelly and Ken Niimura, Producers – Michael Barnathan, Chris Columbus, Kyle Franke, Joe Kelly, Kim Magnusson, Martin Metz, Adrian Politowski & Nick Spicer, Photography – Rasmus Heise, Music – Laurent Perez Del Mar, Visual Effects Supervisors – Christophe Ferrier & Virginie Winterbert, Visual Effects – Umedia Visual Effects, Animated Sequence – Phillip Berg, Special Effects Supervisor – Eric De Wulf, Production Design – Susie Cullen. Production Company – 1492 Pictures/Ocean Blue Entertainment/XYZ Films/Umedia/Adonais Productions/Ufund/Man of Action/Parallel Films/Screen Flanders/Brussels-Capitol Region.
Cast
Madison Wolfe (Barbara Thorson), Zoe Saldana (Mrs Mollé), Sydney Wade (Sophia), Imogen Poots (Karen Thorson), Rory Jackson (Taylor), Art Parkinson (Dave Thorson), Jennifer Ehle (Barbara's Mother)
---
Plot
Teenager Barbara Thorson and her brother Dave are being raised by their older sister Karen in a seaside town. Barbara is regarded as a weird kid at school because of her belief in giants. She has detailed a complex taxonomy of the different types of giants and leaves a series of wards around the town to warn and protect when the giants come. She befriends Sophia, an English girl just moved to town, who becomes drawn into Barbara's world. At the same time, the school psychologist Miss Mollé attempt to get through to Barbara. In lowering her barriers with the two of them, as well as dealing with the school bully who is determined to humiliate her, Barbara is pushed into changing her ways. At the same time, she is certain that the giants are coming and everybody in the town will be slaughtered.
---
I Kill Giants (2006) was a comic-book by Joe Kelly and artist Ken Nimura, published by Image Comics in seven issues. Kelly is a regular comic-book writer having worked on numerous X-Men, Deadpool and Spider-Man titles for Marvel and assorted Superman and Justice League issues for DC. He also acts as part of the Man of Action collective who created the animated tv series Ben 10 (2005-8). Elsewhere, his classic Superman story What's So Funny About Truth, Justice and the American Way? (2001) was adapted into the animated film Superman vs. The Elite (2012). Kelly also writes the screenplay here. The film is produced by Chris Columbus and his 1492 Pictures production company. Despite its supposed American location, it was actually shot in Belgium and Ireland by newcomer Belgian director Anders Walter.
You go into I Kill Giants expecting something akin to Jack the Giant Slayer (2013) but the surprise is that you get something else altogether. Rather than any youth battling the giants as the poster suggests, what you get is a story about a kid with a troubled childhood. Oh we do see giants – it's just that the film gives strong indications that these might all be in the young girl's overactive imagination. What we have is less Jack the Giant Slayer and more akin to Bridge to Terabithia (2007).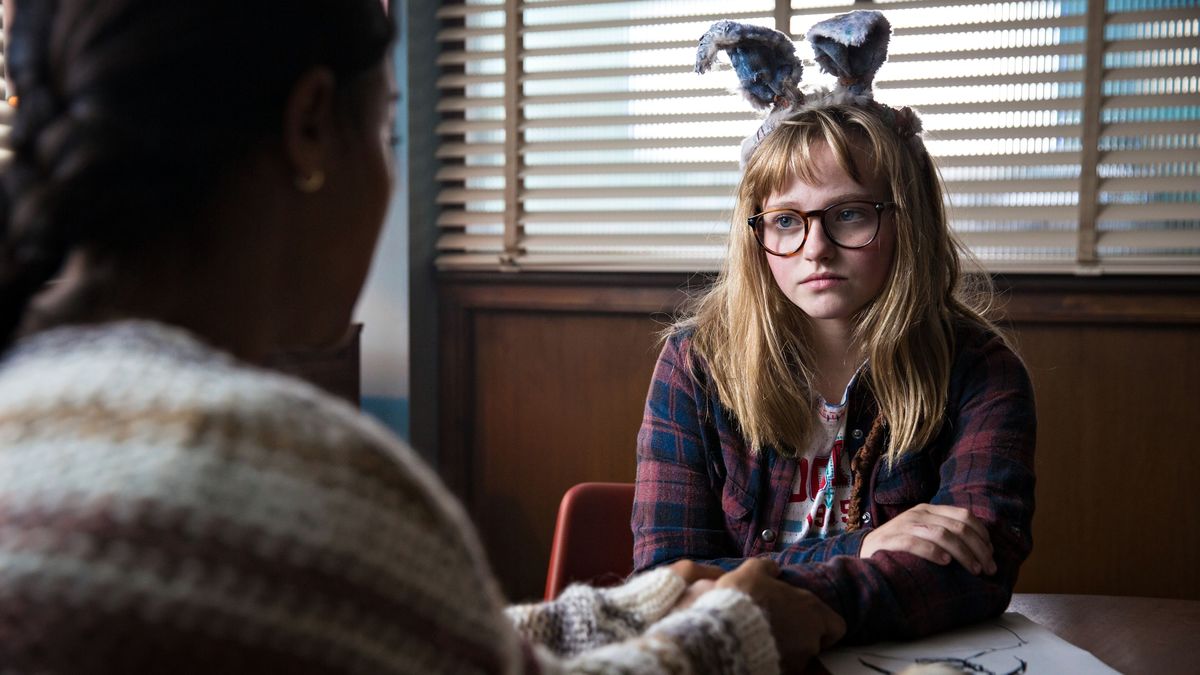 Although probably the work that I Kill Giants comes closest to, particularly in the near-identical theme of the child befriending the monster as an allegory for avoiding harsher adult truths such as the impending death of their mother, is A Monster Calls (2016). The film remains carefully ambiguous about the existence of the monsters and arrives at an ending that suggests there is a possibility that they could be true, although never fully comes down on one side or the other.
One's disappointment that the I Kill Giants part of the title doesn't come true is soon eclipsed by what is a really good story about troubled childhood and overactive imagination. Anders Walter and Joe Kelly do a fine job in depicting the world and the characters around Barbara. In the central role is fifteen year-old Madison Wolfe who quite blows you away with her performance. This is a child performance that seems determined to break all the cliches. Kelly writes her dialogue with a coolly detached adult logic that is constantly seeing through the BS of everybody around her. You are kind of taken back to the way she stands up to bully Rory Jackson or adroitly dodges psychologist Zoe Saldana's questions with her out of the box reasoning. It becomes a very well told and ultimately highly emotionally rewarding story.
(Nominee for Best Actress (Madison Wolfe) at this site's Best of 2017 Awards).
---
Trailer here
---