---
Crew
Director/Screenplay – James Gunn, Producer – Kevin Feige, Photography – Henry Braham, Music – John Murphy, Visual Effects Supervisor – Stephane Ceretti, Visual Effects/Animation – Framestore (Supervisors – Ross Duncan McCabe, Stephane Naze & Alexis Wajsbrot), Industrial Light & Magic (Supervisor – Vincent Papaix, Animation Supervisor – Alexander K. Lee), Perception, Rise Visual Effects Studios (Supervisor – Stuart Bullen), Sony Pictures Imageworks (Supervisor – Theo Bialek, Animation Supervisor – Richard B. Smith) & Weta FX Ltd (Supervisor – Guy Williams), Visual Effects – Buf (Supervisor – Guillaume Dureux), Crafty Apes (Supervisor – Dan Corbett), Lola VFX (Supervisor – Edson Williams) & Rodeo FX (Supervisor – Julien Hery), Special Effects Supervisor – Dan Sudick, Makeup Effects/Live Action Specialty Suits – Legacy Effects (Supervisor – Lindsay MacGowan), Production Design – Beth Mickle. Production Company – Marvel Studios.
Cast
Chris Pratt (Peter Quill/Star-Lord), Zoe Saldana (Gamora), Dave Bautista (Drax), Karen Gillan (Nebula), Bradley Cooper (Voice of Rocket Racoon), Pom Klementieff (Mantis), Vin Diesel (Voice of Groot), Chukwudi Iwuji (The High Evolutionary), Will Poulter (Adam Warlock), Nathan Fillion (Master Karja), Maria Bakalova (Voice of Cosmo), Sean Gunn (Kraglin Obfonteri), Linda Cardellini (Voice of Lylla), Elizabeth Debicki (Ayesha), Asim Chaudhry (Voice of Teefs), Mikaela Hoover (Voice of Floor), Sylvester Stallone (Stakar Ogord), Nico Santos (Recorder Vim), Daniela Melchior (Ura), Kai Zen (Phyla)
---
Plot
The Guardians of the Galaxy are attacked by the super-powered Adam Warlock during which Rocket Racoon is fatally wounded. Nebula prevents them from applying a medpack to heal Rocket, informing them that he has been embedded with proprietary technology that will kill him if he is operated on in any way. The only solution is for the Guardians to mount a raid on the headquarters of Orgocorp, Rocket's designers, to get the override code. This requires teaming with the Ravagers and Peter having to deal with an amnesiac Gamora who remembers nothing of their time together. Adam Warlock is an agent of The High Evolutionary who designed Rocket as part of a series of evolutionarily uplifted species intended to inhabit the utopia he built. The High Evolutionary considers Rocket his most successful creation and wants him back.
---
Guardians of the Galaxy (2014) was one of the most popular among the massive output of films adapted from Marvel Comics since the early 2000s, part of what has come to be known as the MCU (Marvel Cinematic Universe). It was followed by Guardians of the Galaxy: Vol. 2 (2017), which proved even more successful at the box-office. The Guardians subsequently merged with the wider MCU universe in Avengers: Infinity War (2018), Avengers: Endgame (2019) and Thor: Love and Thunder (2022).
The Guardians of the Galaxy film series is the creation of director/writer James Gunn. Gunn started out working at Troma Films, co-writing Tromeo & Juliet (1996) and Troma founder Lloyd Kaufman's biography All I Need to Know About Filmmaking I Learned from the Toxic Avenger (1998), which later became the basis of the film Terror Firmer (1999). Gunn graduated to an A-list screenwriter with films such as Scooby-Doo (2002), Dawn of the Dead (2004) and Scooby Doo 2: Monsters Unleashed (2004). He made his directorial debut with the alien monster movie Slither (2006), an affectionate homage to his genre favourites, the witty superhero spoof Super (2010), the Beezel segment of Movie 43 (2013) and then found wide acclaim with Guardians of the Galaxy. He has also written The Belko Experiment (2016) and produced the anti-superhero film Brightburn (2019) and Avengers: Endgame.
There was some controversy surrounding Gunn and Guardians of the Galaxy: Vol. 3. In 2018, several bad taste tweets that Gunn had made were unearthed. Gunn was promptly fired by Disney but the decision was rescinded some months later and Gunn reinstated after a public outcry by the Guardians cast. In the interim, Gunn went away to direct DC's The Suicide Squad (2021) and has now been signed as the overseer of the DC Extended Cinematic Universe and director of its first film, the upcoming Superman: Legacy (2025).
The Guardians of the Galaxy series has an enormous goodwill among Marvel fans. The first film was one that burst with a humour, laconic cool and a goofy ensemble of characters that proved a winning mix. I had divided feelings about Vol. 2 where it felt like the balance of elements had been swamped by big-budget bloat and the humour was getting a little too silly. There was the question of which way Vol. 3 would go. Certainly, the Marvel films that have been released since 2019 have met with a ho-hum ennui and there is the overall feeling what we had passed peak MCU.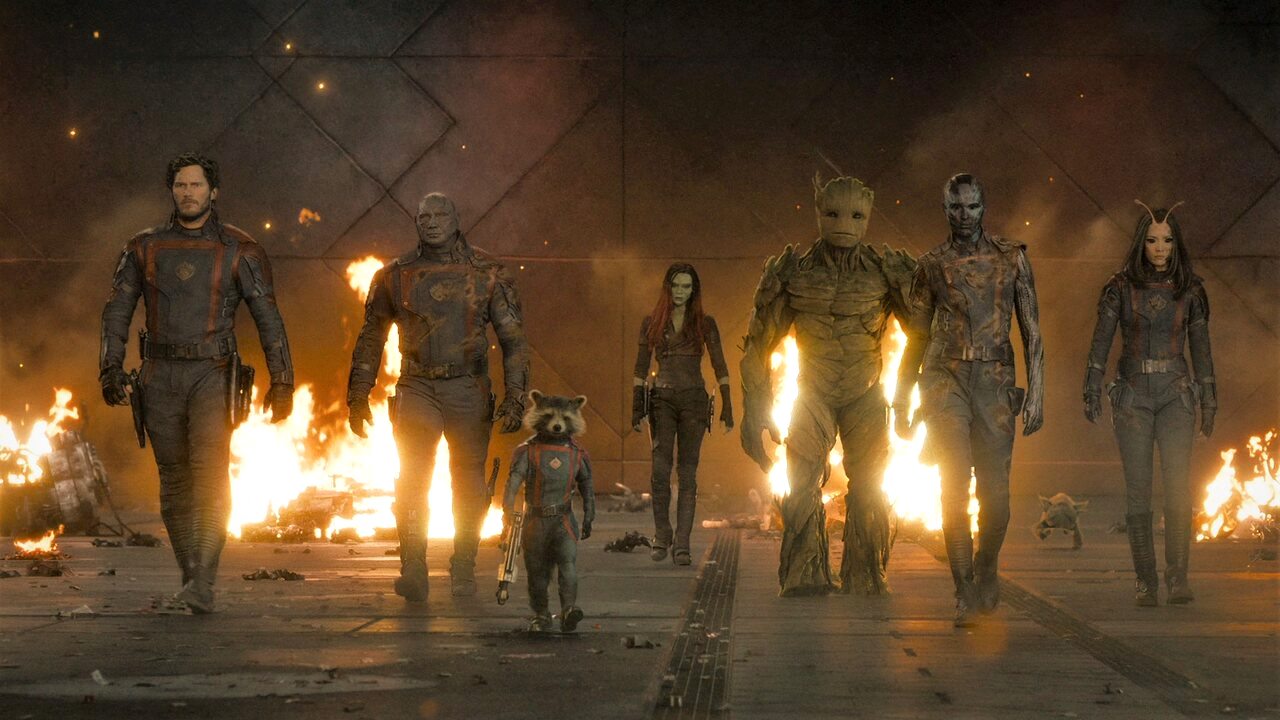 Guardians of the Galaxy: Vol. 3 settles in with an amiability. The ensemble cast are all perfectly at ease in their roles by now and James Gunn gives each of the characters more than adequate time on screen. There are all the familiar aspects we expect – Drax's literalistic sense of humour, Chris Pratt's cocky over-confidence, the mixtapes. And this in large part drives the film. This time, Gunn gives us a Rocket Racoon origin story and throughout we get assorted flashbacks to Rocket's embryonic years just after being uplifted and his friendship with an endearing assortment of other half-mechanised animals, which Gunn takes the opportunity to play for all the heartstrings that he can.
James Gunn has toned down some of the excesses of the second film and this is more modestly centred around its sense of humour than wielding big-budget muscle. Gunn construes the film around many comic action set-pieces. The most entertaining of these is the one that involves breaking into the Orgocorp headquarters, which proceeds to go wrong in an assortment of comically entertaining ways.
The film never quite hits the heights of the first Guardians of the Galaxy where all of it seemed effortless and came with an appealingly laconic energy. There is still some of the bloat of Vol. 2, although this heads back more successfully in the right direction. The main issue might be that at 150 minutes (2½ hours), Vol. 3 feels overlong – by contrast, the first Guardians came in at 122 minutes, slightly over two hours, while Vol. 2 had expanded by fifteen minutes to 137 minutes.
The other minus point is the introduction of the High Evolutionary. On the comic-book page, The High Evolutionary has a much more interesting history. The character first appeared in The Mighty Thor in 1966 where he was British scientist Herbert Edgar Wyndham who had developed an interest in evolving the intelligence of animal species. Over the course of his history, we learn how he has acted to evolve his own brain and body into a superior form, while building Counter-Earth as a home for his uplifted New Men. Here much of this is minimised and he is written as little more than a generic intergalactic villain with an interest in uplifting animal species. Nigerian actor Chukwudi Iwuji gives an okay performance in the role but the character disappears into being another largely colourless MCU super-villain.
---
Trailer here
---