---
Crew
Director – Jaume Collet-Serra, Screenplay – Rory Haines, Sohrab Noshirvant & Adam Sztykiel, Based on the DC Comics Character Created by C.C. Beck & Bill Parker, Producers – Beau Flynn, Dany Garcia, Hiram Garcia & Dwayne Johnson, Photography – Lawrence Sher, Music – Lorne Balfe, Visual Effects Supervisor – Bill Westenhofer, Visual Effects – Cantina Creative Canada (Supervisor – Aaron Eaton), Digital Domain 3.0 (Supervisor – Nikos Kalaitzidis), DNeg (Supervisor – Fabricio Baessa), Edi Effetti Digitali Italiani, Lola Visual Effects, Rodeo FX, Scanline (Supervisor – Derek T. Spears), Tippett Studio, UPP (Supervisor – Viktor Muller) & Weta (Supervisor – Sheldon Shopsack), Special Effects Supervisor – J.D. Schwalm, Animatronic Live-Action Effects and Suits Created by Legacy Effects (Supervisors – Lindsay MacGowan & John Rosengrant), Production Design – Tom Meyer. Production Company – New Line Cinema/Seven Bucks/Flynn Picture Co.
Cast
Dwayne Johnson (Black Adam/Teth Adam), Aldis Hodge (Hawkman/Carter Hall), Sarah Shahi (Adrianna Tomaz), Bodhi Sabongui (Amon Tomaz), Pierce Brosnan (Dr Fate/Kent Nelson), Noah Centineo (Atom Smasher/Al Rothstein), Quintessa Swindell (Cyclone/Maxine Hunkel), Marwan Kanzari (Ishmael/Sabbac/King Akh-Ton), Mohammed Amer (Karim), [Henry Cavill] (Superman), Henry Winkler (Uncle Al)
---
Plot
In present-day Middle Eastern country of Kahndaq, archaeologist Adrianna Tomaz uncovers the crypt of Teth Adam, a warrior from five thousand years earlier, and with it the Crown of Sabbac. They are pursued by soldiers from Intergang who occupy present-day Kahndaq and a shootout ensues. In the midst of this, Adrianna invokes the incantation that brings Teth Adam back to life and he moves through the area, slaughtering the soldiers with his incredible powers, before being knocked out with a bullet made of Eternium. Adrianna takes the wounded Adam back to her apartment in the city. Her young son Amon befriends Adam and both look upon him as the champion that can deliver the country. At the same time, Adam's revival has attracted the attention of the Justice Society headed by Hawkman, who arrives accompanied by Dr Fate, Atom Smasher and Cyclone, determined to stop Adam, who they perceive as a dangerous threat. They try to put a halt to Adam's rampage through the city, where he readily kills Intergang soldiers while cheered on by the people of Kahndaq. However, Adam proves more powerful than the combined might of the Justice Society. At the same time, Adrianna's colleague Ishmael, a descendent of Kahndaq's tyrant King Akh-Ton, whom Teth Adam stood up against, has taken the crown and seeks to resurrect as an even more powerful demonic entity.
---
Black Adam is a super-powered character appearing in DC Comics. Black Adam originally appeared in the first issue of The Marvel Family (1942) from Fawcett Comics where he was a Super-Villain nemesis of Captain Marvel. That was it until for the next thirty years when Black Adam was revived in 1977 after DC Comics bought up the Captain Marvel character, relaunching it as Shazam. In these incarnations, Black Adam was a pure villain and has am origin story as a prince in Ancient Egypt who was the original recipient of the Shazam powers but went over to the dark side. In 2002, Black Adam underwent a series of changes where he was rewritten as having come from the fictional kingdom of Kahndaq. Subsequent rewrites turned Adam into an ambiguous superhero who is regarded as pariah by others because of his more ruthless ways. The film draws much of its mythos from the Black Reign (2003) storyline by Geoff Johns where Adam becomes the ruler of present-day Kahndaq after a battle against the Justice Society
The Black Adam film emerges as part of the series of DC adapted film of the 2010s (the DCEU), following Man of Steel (2013), Batman V Superman: Dawn of Justice (2016), Suicide Squad (2016), Justice League (2017), Wonder Woman (2017), Aquaman (2018) and Shazam! (2019), along with assorted sequels to most of these. Adam had made assorted appearances on screen in various animated tv series and most notedly in the short animated film Superman/Shazam: The Return of Black Adam (2010) and a cameo in DC League of Super Pets (2022). The project was personally pushed by Dwayne Johnson who gained an interest after being approached to play Captain Marvel in the mid-2000s. The project moved between various stages of development since then with talk about whether Johnson would appear in a standalone film or as a nemesis to Shazam.
The film emerges under Jaume Collet-Serra, a Spanish director who first appeared with the Dark Castle horror film House of Wax (2005) and went on to make Orphan (2009) and the thriller Unknown (2011) for Dark Castle. He followed these with the action films Non-Stop (2014), Run All Night (2015) and The Commuter (2018), the killer shark film The Shallows (2016) and most recently the Dwayne Johnson-starring Disney theme park adaptation Jungle Cruise (2021). Collet-Serra has also produced Hooked Up (2013), Mindscape (2013), Eden (2014), Curve (2015) and Extinction (2015).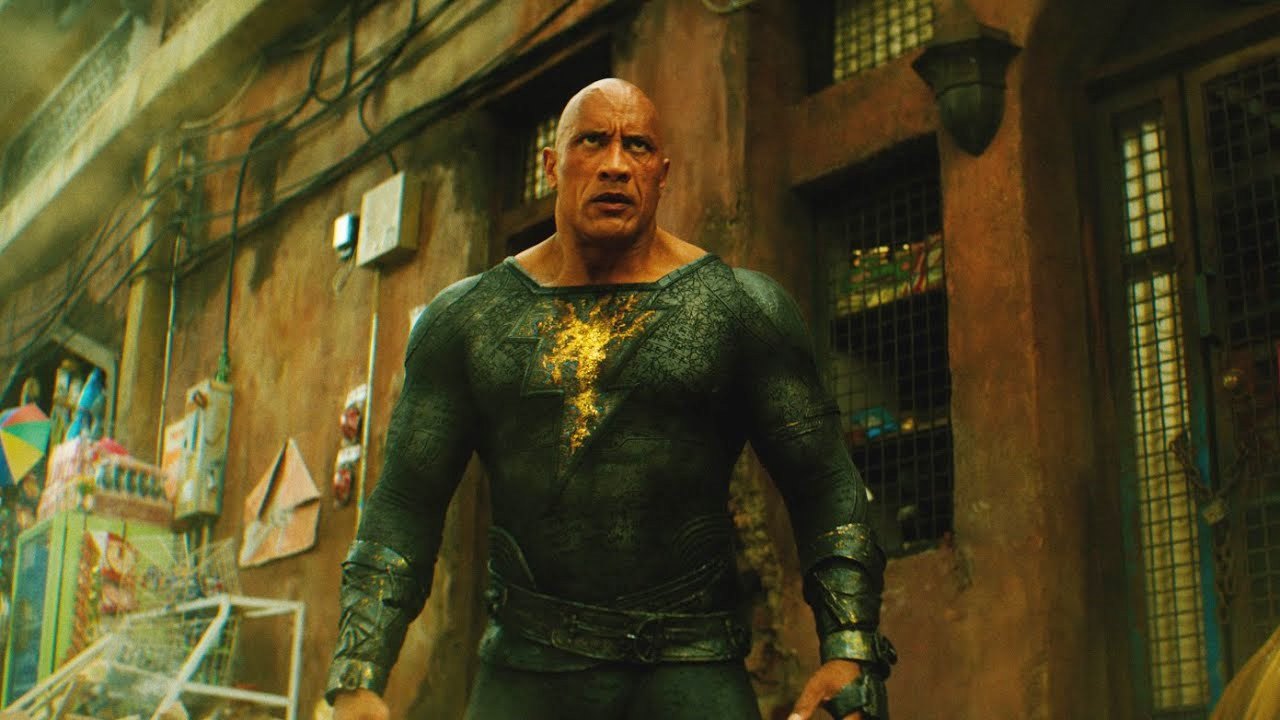 Black Adam opened to mixed reviews. Part of this, I suspect, can be put it down to superhero fatigue among mainstream reviewers, which seems justifiable considering how middle-of-the-road the last handful of Marvel films – Black Widow (2021), Eternals (2021), Shang-Chi and the Legend of the Ten Rings (2021), Spider-Man: Now Way Home (2021), Doctor Strange in the Multiverse of Madness (2022) and especially the Disney+ Marvel tv series – have been. On the other hand, I enjoyed Black Adam far more than I was expecting to.
In most of his other roles, Dwayne Johnson inhabits the part of a cartoon character – muscles pumped up to a superhuman level; a perfectly coiled quip and curl of an eyebrow – and not too much more beyond that. This is the first occasion where you see Johnson suppress his natural persona into something far more tight-lipped and morally ambiguous than usual (I will get to that in a moment). It may be that because this was much more of a personal project for him, he was making more of an effort than usual. There is the odd amused line that comes in – in particular, the ongoing joke about 'sarcasm' – but this is not a cartoon performance.
Johnson gets a great entrance. We are first introduced to Black Adam, blasting his way out of the tomb in a furious array of lightning bolts that rapidly decimate the attacking soldiers, before emerging outside, tossing and blasting soldiers around, throwing helicopters at one another and catching missiles in his hand and redirecting them. It is a great dynamic action set-piece throughout which Johnson's face remains hidden or shadowed behind his hood.
Throughout, Jaume Collet-Serra gets off some fantastic set-pieces with variously Black Adam and the Justice Society fighting around the streets of Kahndaq and the climactic scenes at the temple. These are invigorating sequences, dynamically directed and with flawless effects. The last few MCU films – the two most recent Avengers films, Captain Marvel (2019), Eternals, Multiverse of Madness have left me feeling unenthused, while Black Widow and Shang-Chi only got there in sporadic moments. This is one of the first Superhero Films in several years where you felt exhilarated about the superheroic action.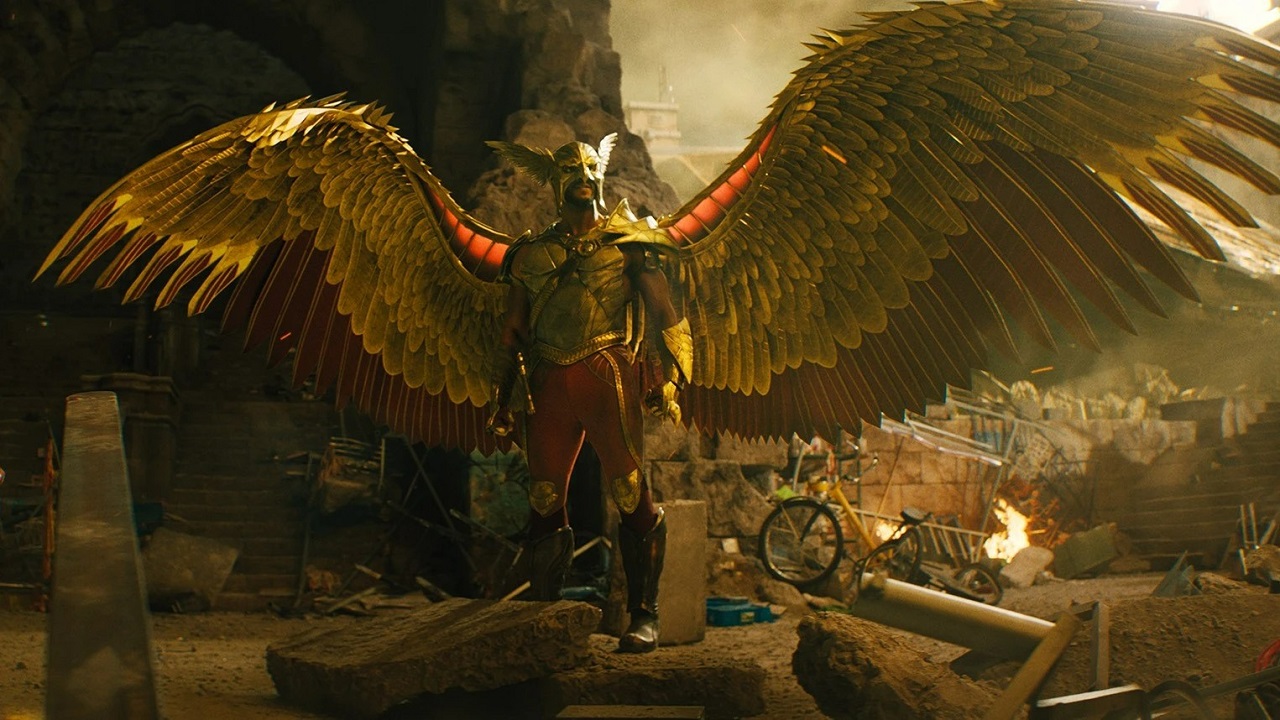 The modern-day depiction of Kahndaq seems to be trying to create a depiction of an occupied and ruthlessly repressed territory like Palestine without coming out and directly saying it. You also get the sense that in locating the film in a mythical Middle-Eastern country and featuring its hereditary hero rising up as protector that the filmmakers were perhaps aiming for the same kind of vibe as Black Panther (2018), although the film failed to be acclaimed to same extent that that was.
One of the most interesting aspects of Black Adam is the play of morality in the film. The Justice Society are seen as upholders of international justice and law, more or less accordant with being UN peacekeepers but are also seen as ultimately distant and not doing much to relieve the day-to-day miseries in the lives of its repressed peoples. There is an interesting ongoing contrast made throughout between the Justice Society's benevolent but distant application of democratic international justice and Black Adam's murderous protection of his own land and his being cheered on because he is doing something to deliver his people from the yolk of oppressors. This is all contrasted with the arc throughout where we see Black Adam make the journey from quasi-villainous anti-hero to reluctant hero.
Another surprise is how the film readily ties itself to the rest of DCEU with appearances from Viola Davis's Amanda Waller from the Suicide Squad films and the uncredited mid-end credits cameo from Henry Cavill as Superman (which directly led to a decision by Warners for Cavill to make a return in a new Superman film). Even aside from that, the film wheels out a supporting line-up of C-list superheroes from DC pantheon. These are called the Justice Society. Now in DC Comics continuity, the Justice Society were a group that originally appeared back in 1940 (the first comic-book superhero team-up where Dr Fate and Hawkman were original members) and featured earlier versions of characters like The Flash and Green Lantern. However, in the 1960s continuity reboot and the advent of the Justice League of America, the Justice Society were retconned as existing on Earth-2, which always exists around a 1940s period. The Justice Society was erased from DC continuity in the Crisis on Infinite Earths (1986) reboot but brought back several years later. More recently, they appeared in the animated film Justice Society: World War II (2021). This film, for reasons unclear, has the Justice Society existing on Earth-1, where the Justice League also exists. One suspects that the filmmakers were wanting to use the actual Justice League but didn't want to tread too much on the toes of what had been established by Zack Snyder.
---
Trailer here
---