---
Ireland/Denmark/Belgium. 2019.
Crew
Director – Lorcan Finnegan, Screenplay – Garrett Shanley, Story – Lorcan Finnegan & Garrett Shanley, Producers – Brendan McCarthy & John McDonnell, Photography – MacGregor, Music – Kristian Eidnes Andersen, Visual Effects Supervisor – Peter Hjorth, Visual Effects – Benuls (Supervisor – Ronald Grauer), Dupp Film, Frame, Space Office, Take5, TGBVFX (Supervisor – Alexander Schepelern) & Windmill Lane VFX, Special Effects Supervisor – Gerry Johnston, Makeup Design – Niamh O'Loan, Prosthetics – Puffjockey Studios. Production Design – Philip Murphy. Production Company – Fantastic Films/Frakas Produtions/PingPong Films/Lovely Productions/Fis Eirann (Screen Ireland)/XYZ Films/Madrona Drive/Eurimages/The Danish Film Institute/Copenhagen Film Fund/Wallimage (Wallonia)/Casa Kafka Pictures Movie Tax Shelter/VOO/Be TV.
Cast
Imogen Poots (Gemma), Jesse Eisenberg (Tom), Senan Jennings (Young Boy), Eanna Hardwicke (Older Boy), Jonathan Aris (Martin)
---
Plot
Gemma and Ian are a couple who work together at the same school, she as a teacher and he as the gardener. Looking for a new home, they visit a real estate office. The strange clerk Martin offers to take them on a tour of a new housing development. They arrive at a suburb filled with identical houses. After being shown through a house, they find that Martin has vanished. However, when they try to drive back home, they find that no matter what direction they turn, it brings them back to the same house. Settling in, they find that boxes of food are mysteriously left for them on the curb outside. They next receive a box containing a baby with instructions telling them to raise it if they want to leave. They grudgingly settle in to do so. The baby grows into a child that proves to be alien and inhuman in its ways. Tom wants to kill it but Gemma tries to protect it and this becomes the cause of a rift between them.
---
Vivarium was the second film from Irish director Lorcan Finnegan. Finnegan had made the previous Without Name (2016), an arthouse release about a man at a cottage in a mysterious forest that may contain supernatural things or where everything is just in his mind. Subsequent to this, Finnegan went on to make the supernatural retribution film Nocebo (2022). Vivarium premiered at Cannes and toured an impressive line-up of international film festivals.
I was not sure what to expect of Vivarium before sitting down to watch – I did so with nothing more than a two sentence description of the plot (I like to know as little as possible about a film beyond maybe its trailer and/or enough to know whether it is one I am going to write up). And actually that is the best way to view Vivarium – it preserves the essential mindfuckery with which the film has been made.
We are introduced to Imogen Poots and Jesse Eisenberg (both of whom are also listed as the film's producers) as a young couple searching for a house. After meeting the strangely alien realty clerk Jonatan Aris, they are taken to a suburban tract that consists of street after street of identical houses all painted a pale lime green and stretching off into infinity. They then find the estate agent has vanished and left them there and then that no matter which way they drive it continues to bring them back to the same house at No 9.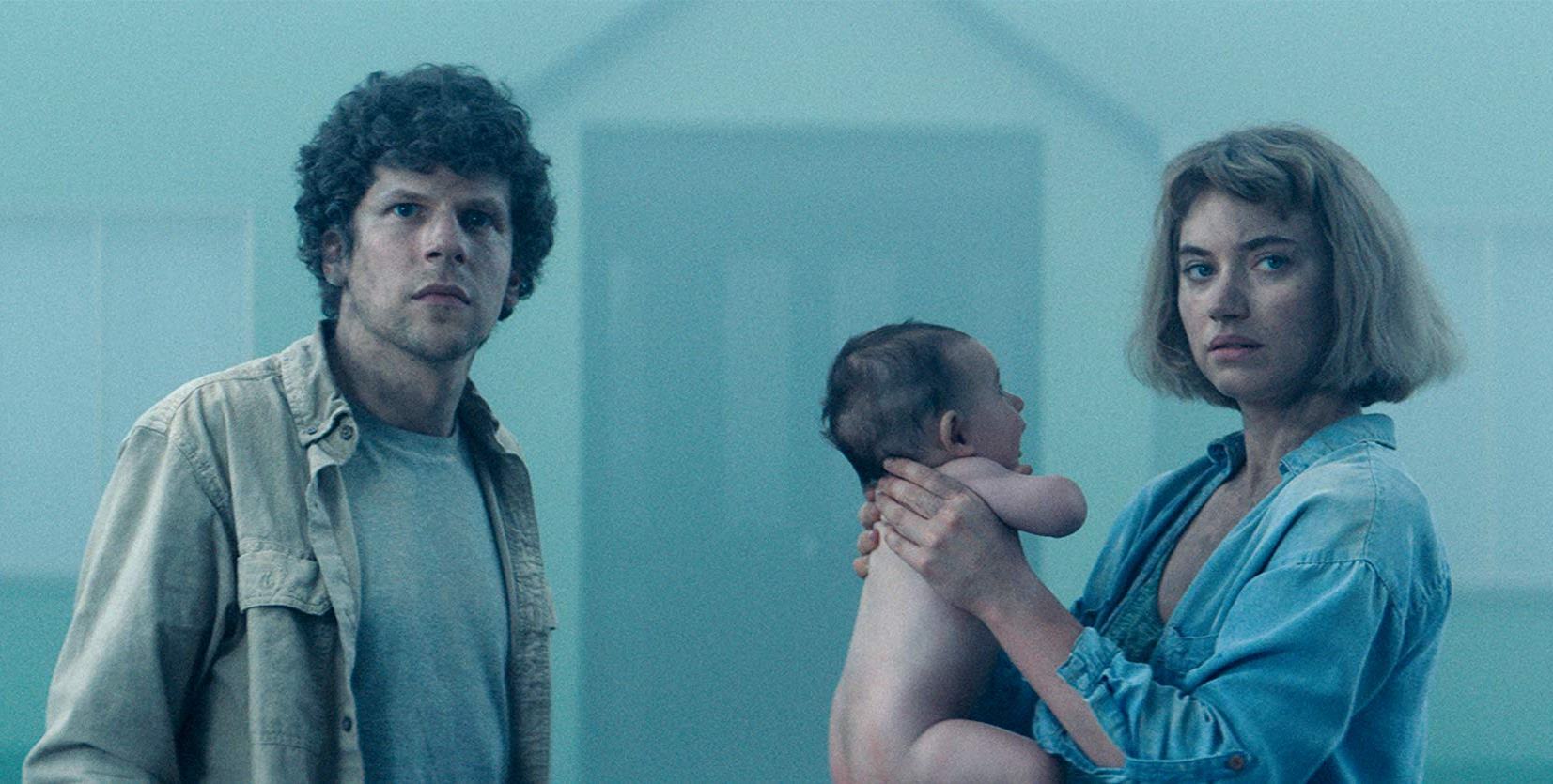 There is something unnerving to the situation. The suburb and especially the clouds and sun above in the sky have a deliberately unreal quality that looks more like an obviously painted backdrop than a real street. The interior of the house looks normal, although the walls disconcertingly have paintings that are of the exact same room they are in on them.
The suburban neighbourhood where everything looks identical and/or has a painted unreal quality (usually in pastel tones) has been used in other works like Edward Scissorhands (1990), The Cat in the Hat (2003) and A Wrinkle in Time (2018). Although here it is put to something more akin to The Exterminating Angel (1962), the surrealist Luis Buñuel film in which a group of people attend a dinner party and then find something is mysteriously preventing them from leaving the room.
Things then get even more strange. Amid all of this, food starts arriving in boxes that are mysteriously left on the curb – their logical solution with the dirty plates is to place them back on the curb where they just as mysteriously vanish. And then there is the delivery of another cardboard box that contains a baby. From there, the film flashes forward to where the child has grown into a boy. The child has a weird habit of talking in an adult voice and perfectly mimicking their voices. And then there are the alarming scenes where the boy sits at the dinner table, opens his mouth and emits a piercing scream until they fill his bowl with cereal and then just as quickly stops screaming and begins eating.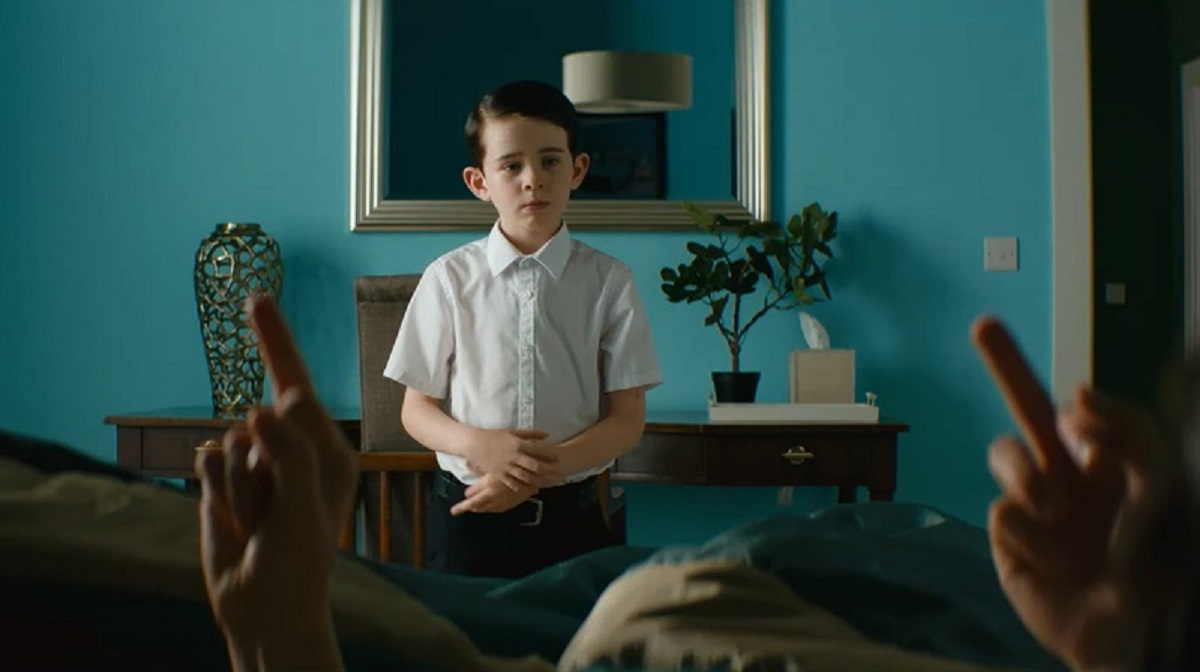 The weirdness of the show continues – Imogen Poots asks Senan Jennings to imitate the noise of the others that are there with them and as he attempts to respond, his throat suddenly starts to puff up. Or where she attacks Eanna Hardwicke and he suddenly flees by lifting up the pavement and diving into an Escher-esque maze of other houses beneath.
I kept waiting until the very end, thinking that the film would pull back and reveal an underlying rationale – maybe, as it seems on the verge of hinting at various points, that this was some experiment set up by a aliens a la Dark City (1998). The title 'vivarium', which in real-life refers to a glass-fronted cage for animals, would seem to indicate we are in some kind of zoo.
Instead, the film goes out on an ending that travels in a nice full circle and has much an WTF quality as the rest of the show. It is nice in this era of having everything dumbed down for multiplex consumption – and Vivarium is by no means an obscure indie film, bringing in two reasonable name actors and coming with the backing of at least a dozen pan-European companies and funding bodies – of having a work that goes out leaving its audience baffled and wondering what the heck they just saw.
(Nominee for Best Production Design at this site's Best of 2019 Awards).
---
---