(Kriemhild's Rache)
Germany. 1924.
Crew
Director – Fritz Lang, Screenplay – Thea Von Harbou, Producer – Erich Pommer, Photography (b&w) – Carl Hoffmann & Gunther Rittau, Production Design – Otto Hunte, Erich Kettlehut & Karl Vollbrecht. Production Company – Ufa.
Cast
Margarete Schön (Kriemhild), Rudolf Klein-Rogge (King Attila), Hans Adalbert Schlettow (Lord Hagen Tronje), Rudolf Rittner (Rudiger von Bechelarn), Georg John (Blaodel), Theodor Loos (King Gunther), Hans Christian Muller (Gerenot)
---
Plot
After the murder of her husband Siegfried, his widow Kriemhild swears vengeance on his murderer Lord Hagen Tronje of the Niebelungs. Kriemhild receives a marriage offer from Attila, king of the Huns, and agrees, seeing an opportunity to gain advantage in her single-minded obsession with revenge against Hagen.
---
German director Fritz Lang was one of the great names of silent cinema. Lang first emerged with works like The Spiders (1919) and Destiny (1921), before gaining great acclaim with his underworld thriller Dr Mabuse, The Gambler (1922). Of all the great German directors that came out of the period between the World Wars, Lang's films had the greatest budgets lavished on them and he would go onto make epics such as Metropolis (1927), perhaps the most famous of all silent films, Spies (1928), Woman in the Moon (1929) and M (1931). Into the sound era, Lang fled Nazi-ruled Germany for France and later America, where he became a regular director of crime thrillers. Das Niebelungen was Lang's first epic. Earlier Lang had begun the habit of making films in two parts so that they would take up both parts of a double-bill. Das Niebelungen began with Siegfried (1924) and Kriemhild's Revenge was the second instalment.
Siegfried and Kriemhild's Revenge are almost two entirely different films. It must have been disorienting for audiences of the day seeing them both on the same double-bill. Both films tell the legendary tale that was made famous through Richard Wagner's Ring cycle. Siegfried is a film steeped in primal myth where Lang revels in fantastic images – Siegfried's confronting the dragon and bathing in its blood, his cloak of invisibility. However, by the time of Kriemhild's Revenge, Lang abandons the mythic past and the film could almost be taking place as an historical epic, while there is little to it that could be construed as fantastic. The plot follows much in the way of court intrigue, although under the subtitling (which gives different names to characters in different release versions) it becomes difficult to follow the various tensions and oaths made between characters.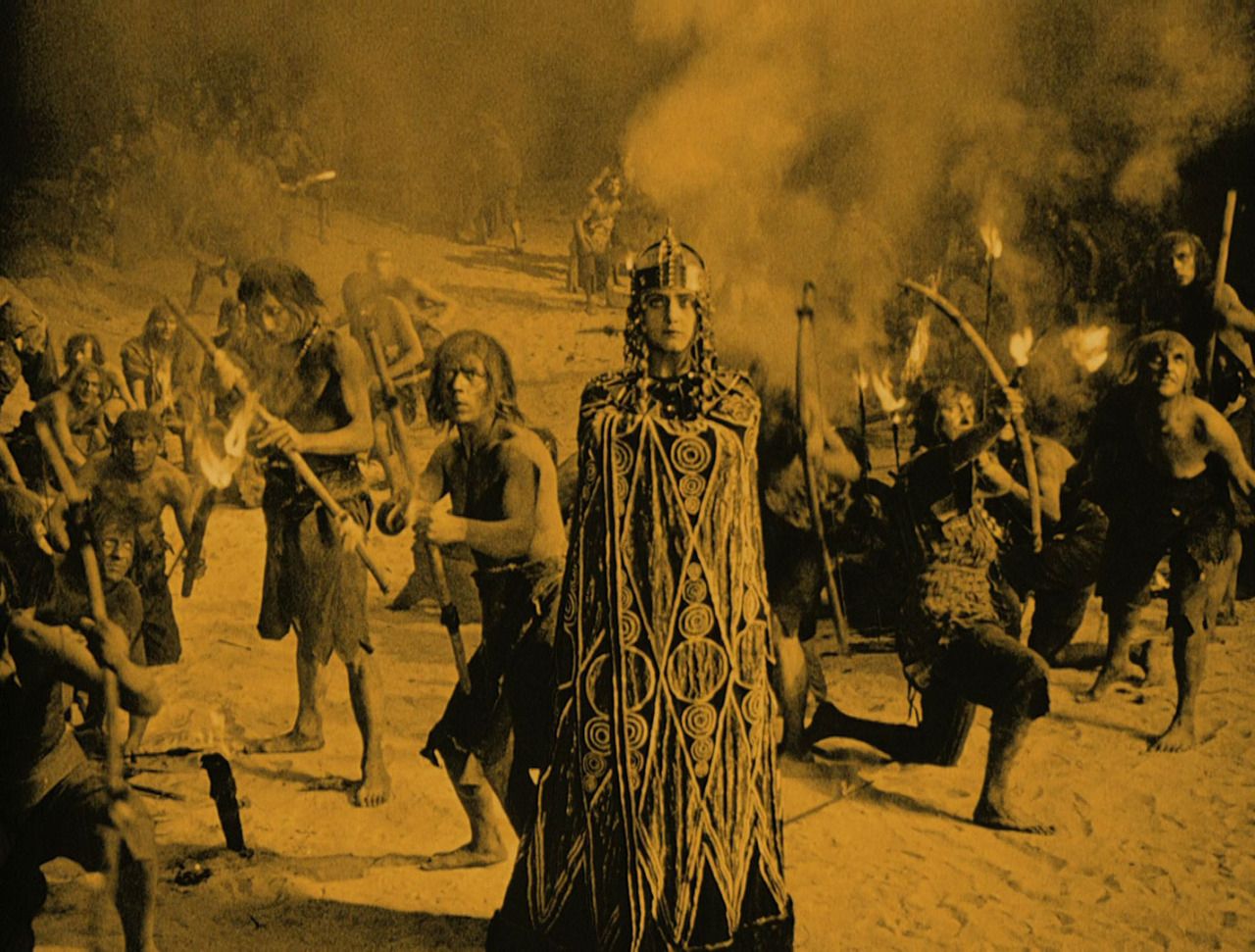 All the melodrama is ponderous and slightly slow, which Lang certainly draws out. What strikes are Lang's bold, visually arresting designs – characters in winged helmets, the costumes and walls with stark triangle and diamond patterns. Lang's films are almost architectural fantasies – indeed, his father was an architect. The land of Kriemhild is frozen and represented by an icy formalism; by contrast, the land of the Huns is one of torrid heat – the Huns are sweaty and dirty, while Attila wears a hat that looks like the miniature representation of a Bangkok temple. Lurking in the background are the dwarfish Niebelungs in their amazing cavern networks with stairs that seem to climb at 45-degree angles.
There is something fabulous to the visual majesty of it. Kriemhild's departure is a magnificent set-piece – her confrontation with Hagen Tronje in a bare, snowy courtyard; her gathering a handful of soil from Siegfried's place of burial to carry with her to her new land. Lang builds with an epic flourish to the climactic battle scenes where the Niebelungs allow themselves to be burned in the hall alongside Hagen Tronje as the harpist plays the death song, while outside Kriemhild ignores all entreaties and revels in their suffering with an intense glee.
Fritz Lang's other films of genre interest are:– Destiny (1921) wherein Death incarnates two lovers throughout various historical periods; Dr Mabuse, The Gambler (1922) concerning a ruthless criminal mastermind; Metropolis (1927); Woman in the Moon (1929), a realist attempt to portray a Moon landing; M (1931), a thriller concerning the hunt for a child killer; The Testament of Dr Mabuse (1933); the afterlife fantasy Liliom (1933); the film noir psycho-thriller Secret Beyond the Door (1948); and a further Dr Mabuse sequel The 1000 Eyes of Dr. Mabuse (1960). Lang also wrote the script for Plague of Florence (1919), an adaptation of Edgar Allan Poe's The Masque of the Red Death (1842)
---
---