(Das Testament das Dr Mabuse)
---
Germany. 1933.
Crew
Director – Fritz Lang, Screenplay – Fritz Lang & Thea Von Harbou, Producer – Seymour Sebenzal, Photography (b&w) – Karl Vass & Fritz Arno Wagner, Music – Hans Erdman, Art Direction – Emile Hasler & Karl Vollbrecht. Production Company – Nero Filmgeselleschaft/Constantin/Deutshe Universal.
Cast
Otto Wernicke (Inspector Karl Lohmann), Oscar Beregi (Professor Baum), Gustav Diessl (Tom Kent), Vera Liessem (Anna), Karl Meixner (Hofmeister), Theodor Loos (Dr Kramm), Rudolf Klein-Rogge (Dr Mabuse)
---
Plot
Inspector Lohmann receives a phone call from an old colleague who has evidence of a counterfeiting ring. The colleague is killed before he can tell Lohmann anything more. Lohmann's investigation reveals the activities of the organization of his old rival, the criminal mastermind Dr Mabuse. However, Mabuse is now locked in the insane asylum of Professor Baum where he sits in a cell obsessively writing screeds of plans for criminal operations. Lohmann realizes that Mabuse is mentally controlling Baum and using him to plan a scheme to plunge Germany into chaos via orchestrated acts of sabotage.
---
Dr Mabuse, The Gambler (1922) was one of the biggest hits of silent German cinema and for director Fritz Lang. Lang's image of a criminal mastermind, lording over a decadent post-War Germany and imposing his evil by sheer willpower was a memorable one. Indeed, the figure of Dr Mabuse's super-criminal was fairly much the role model for the supervillains of the James Bond films and others. Lang went onto considerable success with his Niebelungen saga (1924) and in particular Metropolis (1927) and M (1931) and then in the 1930s returned to make this sound sequel to Dr Mabuse. (See below for Fritz Lang's other genre films).
The Testament of Dr Mabuse was a project that was encouraged personally by Joseph Goebbels who, prior to the film's release, offered Lang the head of the Nazi propaganda ministry. Horrified at the thought, Lang fled to France (and later relocated in the US). After The Testament of Dr Mabuse came out, Goebbels saw the film as having subversive anti-Nazi elements – you can draw perhaps allegories between Mabuse writing his schemes in the asylum and Adolf Hitler composing Mein Kampf (1925) in a jail cell, and between the acts of sabotage to bring the nation down and the Nazi Krystalnacht – and demanded its withdrawal.
Lang employs remarkable directorial style to create his shadowy crime world. There is one memorable sequence where assassins shoot a victim waiting in his car at a set of lights, blowing horns to distract the noise of a gunshot and then the car stays behind as the lights change and the others pull away – it is a shot you could easily have imagined taking place in a Hitchcock film.
There are other fine scenes – the tensely edited scenes with the hero and the heroine locked in a cell with a bomb about to go off; the climactic car chase to the chemical plant, shot in low angles contrasting tires flashing past and the underlit trees overhead.
Perhaps in moving to the sound era, Fritz Lang has become bogged down by the faults of many early sound films – an over-reliance and fascination with dialogue. Certainly, The Testament of Dr Mabuse is driven by a more complex and multi-stranded plot than the first film and is not as visually stark and striking. This is a Dr Mabuse film that belongs more to the film noir and the spy melodramas that Lang spent his time making in the US than the world of Expressionist exaggeration that the original Dr Mabuse drew from. Nevertheless, Lang makes effective use of bare walls, stark surroundings, shadow contrast and off-screen light sources to create an eerily subterranean criminal underworld.
The scenes between the hero and heroine have dated. Otto Wernicke as the diligent nemesis Inspector Lohmann, a character that originally appeared in M (1931), gives a boisterous magnanimous performance and Oscar Beregi is marvellously sly and crafty as the possessed asylum head. Both give fine performances, even when filtered through subtitles. Alas, Rudolf Klein-Rogge's piercingly intense presence as Mabuse has been cut back, much to the film's detriment.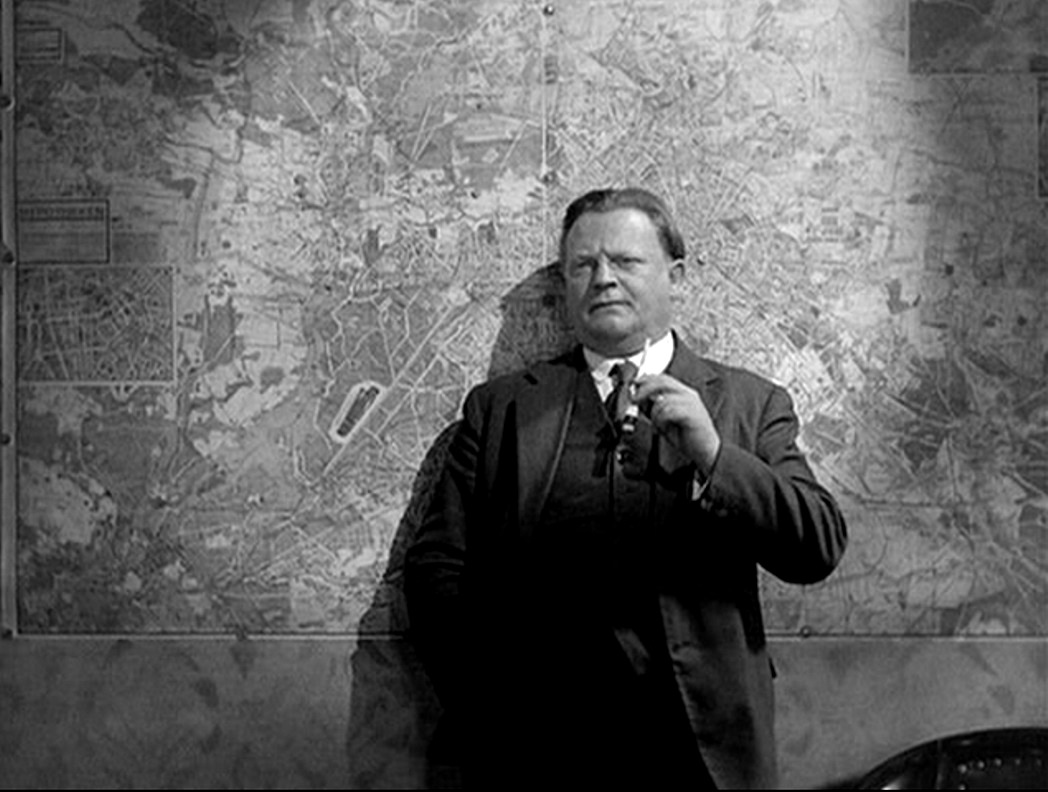 The other Dr Mabuse film are:– The 1000 Eyes of Dr. Mabuse (1960) – also directed by Fritz Lang, The Return of Dr Mabuse/The FBI Versus Dr Mabuse (1961), The Testament of Dr Mabuse (1962) – a remake of this, The Invisible Dr Mabuse/The Invisible Horror (1962), Dr Mabuse vs Scotland Yard (1964), The Death Ray of Dr Mabuse/The Secret of Dr Mabuse (1964). Dr Mabuse was modernized by Claude Chabrol in Dr M/Club Extinction (1990).
Fritz Lang's other films of genre interest are:– Destiny (1921) wherein Death incarnates two lovers throughout various historical periods; the two-part Niebelungen saga, Siegfried (1924) and Kriemhild's Revenge (1924) based on the Teutonic myths; Metropolis (1927); Woman in the Moon (1929), a realist attempt to portray a Moon landing; M (1931), a thriller concerning the hunt for a child killer; the afterlife fantasy Liliom (1933); the film noir psycho-thriller Secret Beyond the Door (1948); and a further Dr Mabuse sequel The 1000 Eyes of Dr. Mabuse (1960). Lang also wrote the script for Plague of Florence (1919), an adaptation of Edgar Allan Poe's The Masque of the Red Death (1842)
---
---