---
Germany. 1924.
Crew
Director – Fritz Lang, Screenplay – Fritz Lang & Thea von Harbou, Based on the Poem, Producer – Erich Pommer, Photography (b&w) – Carl Hoffman, Gunther Rittau & Walter Ruttman, Optical Effects – Eugen Shuftan, Production Design – Otto Hunte, Erich Kettlehut & Karl Vollbrecht. Production Company – Ufa.
Cast
Paul Richter (Siegfried), Theodor Loos (King Gunther), Hanna Ralph (Brunhild), Margerete Schön (Kriemhild), Bernard Goetzke (Volker von Alzey), Hans Adalbert von Schlettow (Hagen), Georg John (Mime), Gertrude Arnold (Queen Ute), Rudolf Klein-Rogge (King Etzel)
---
Plot
Siegfried, son of Sigmund the king of Xanten, forges a magnificent sword. After hearing of the unsurpassed beauty of Kriemhild, sister of Gunther, the king of Burgundy, Siegfried sets out to Worms on the Rhine to win her hand. Jealous of Siegfried having created a sword that surpasses his own skill, the sword master Mime directs Siegfried to take a shortcut, knowing that it will take him into the lair of the dragon Fafnir. Instead Siegfried succeeds in killing the dragon. Drinking a drop of its blood, he is able to understand the song of the birds. One bird tells Siegfried that by bathing in the dragon's blood he will become invulnerable. As Siegfried does so, a linden leaf falls on the back of his neck, leaving one vulnerable spot that is not covered in the dragon's blood. While passing through the Land of Fogs, Siegfried is attacked by the Nibelung dwarf Alberich. He defeats and takes from him a web that offers invisibility and the ability to alter his appearance. In Worms, King Gunther agrees to allow Siegfried to marry Kriemhild on the condition that he helps him win the hand of Brunhild, the queen of Isengard. Brunhild agrees to marry Gunther if he can best her in three competitions. Gunther persuades Siegfried to aid him with his web of invisibility and is thus able to beat Brunhild. After the parties marry, the devious minister Hagen tricks Siegfried into going to Brunhild disguised as Gunther to break her down and make her properly submissive. When Brunhild learns the truth of this, she demands the death of Siegfried from Gunther.
---
German cinema of the 1920s was an unparalleled era of fantastic film. In the period between the Wars (roughly 1919-33), German filmmakers made a number of big-budget science-fiction, horror and fantasy works. One of the predominating features of these films was their stylised lighting schemes and extravagant architecture.
One of the foremost directors during this period was Fritz Lang. Lang initially trained as an artist but started to write film scripts while convalescing from wounds received during World War I. Lang made his directorial debut with The Half-Caste (1919) but the work that gained him a name was his third film, the adventure serial The Spiders (1919), which also began Lang's fascination with vast criminal underworlds.
Over the next few years, Lang went onto make a number of highly regarded films including Destiny (1921), Dr Mabuse, The Gambler (1922), the highly influential science-fiction classic Metropolis (1927), Spies (1928), Woman in the Moon (1929) and sound films like M (1931), The Testament of Dr Mabuse (1933) and Liliom (1933). With the rise of the Nazis, Lang fled to the US where he abandoned fantasy filmmaking and over the next three decades concentrated mostly on crime and spy films, making classics like Ministry of Fear (1944), The Woman in the Window (1944), Scarlet Street (1945), Cloak and Dagger (1946), Secret Beyond the Door (1948), Rancho Notorious (1952), The Big Heat (1953) and While the City Sleeps (1956).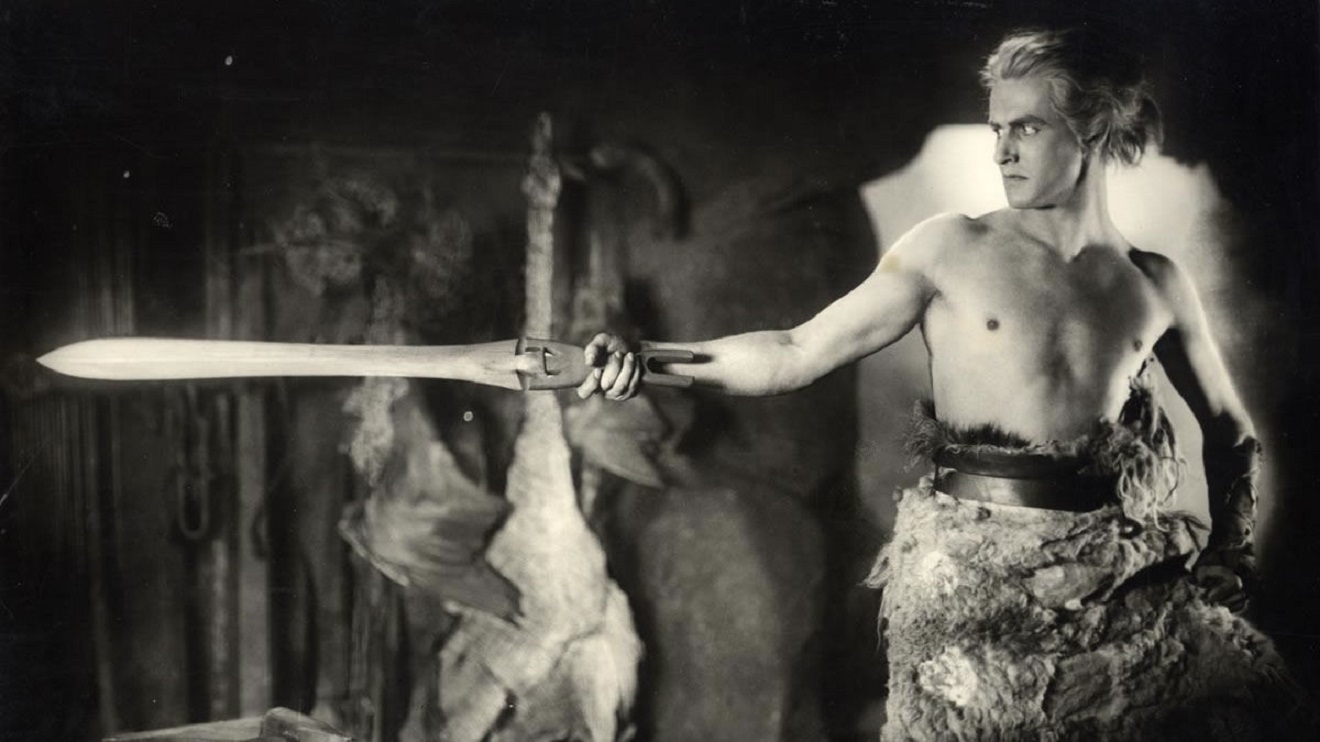 Fritz Lang made Siegfried and its sequel Kriemhild's Revenge (1924) as one film in two parts, known collectively as Das Niebelungen. (The similarities between Das Niebelungen and Peter Jackson's multi-part single film The Lord of the Rings nearly 80 years later are considerable). For Das Niebelungen, Lang drew from Das Nibelungenlied, a German epic poem written sometime in the 12th-13th Centuries by an unknown author. The poem is in two parts, the first dealing with Siegfried, how he becomes immortal by bathing in a dragon's blood and uses trickery to help King Gunther defeat Queen Brunhild, but how this becomes wound into court intrigue and jealousies, resulting in Siegfried's death. The second part of the poem, which Lang made into Kriemhild's Revenge, concerns Siegfried's widow Kriemhild's marriage to Attila the Hun as part of an elaborate revenge scheme against Siegfried's murderer Hagen Tronje. Most people know the story of Siegfried and the Nibelungs through Richard Wagner's four-part operatic adaptation The Ring Cycle (1848-74), which runs to a massive fifteen hours.
Even despite the technical crudities of the day, Siegfried still holds considerable cinematic power today. What one notices is that despite being seen in a muchly curtailed running length – the original version runs nearly 2½ hours, while most versions available today run at around 100 minutes – the film is ponderous and slow. That said, Lang crafts it with a sense of epic grandeur. The full size mechanical dragon scenes are reasonably convincing, although primitive by today's standards. One of the most impressive scenes is where the naked Siegfried bathes in the dragon's blood and the linden leaf sticks to his neck, which Lang stages with visual majesty.
The sets are all the stylised marvels that were popular in era – great lakes of fire, set-bound forests and palaces dominated by geometric patterns, while the costumes come with a florid ornamentation that teeters on absurdity for many audiences not used to silent German cinema. Perhaps where the film finds its greatest effectiveness is oddly not during any of these fantastic scenes but when it comes to the palace in-politicking, particularly where an emotionally wounded Brunhild demands Siegfried's death upon threat of her not eating or drinking and Gunther is forced to tragically betray his good friend.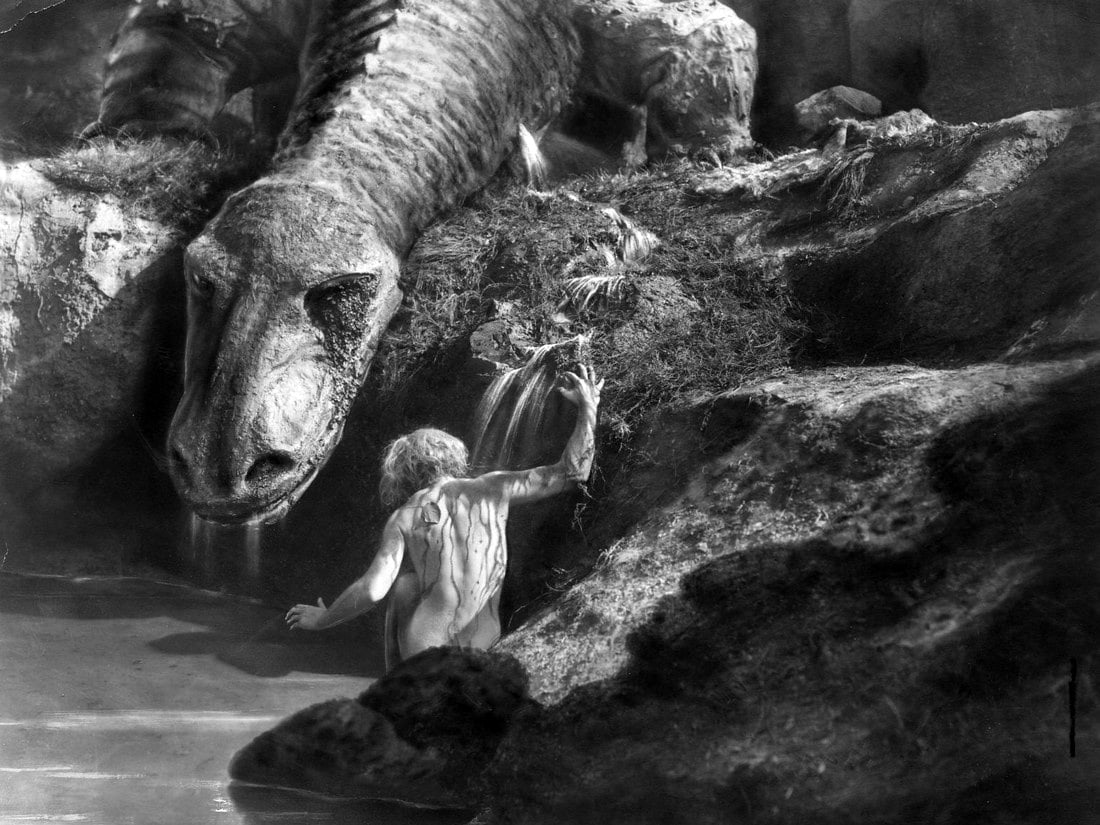 Siegfried is also very different in contrast to almost any of the fantasy films or tv series made today – place it up against the spoofy silliness of tv's Hercules: The Legendary Journeys (1994-9), for instance. It is rich in the sense of mythic story (what Joseph Campbell calls The Heroic Cycle), rather than simply reducing the original legend to a series of monster and maiden encounters like some cut-price sword and sorcery adventure. Nor is Siegfried a hero in a sense that would be recognised today. He is full of stolid Teutonic virtues but in terms of character comes across as rather of a dork, constantly being taken naive advantage of or fooled into doing other people's bidding, and the height of his story arc is not his triumph so much as it is a tragedy.
The story of Siegfried and the Niebelungs has been filmed several other times:- as the Italian-made Siegfried (1957), the German-made Siegfried (1966), the German-made softcore film The Long Swift Sword of Siegfried (1971) with Sybil Danning as Kriemhild, the German-made English-language tv mini-series Ring of the Nibelungs (2004) with Benno Fürmann as Siegfried and Kristanna Loken as Brunhild, and the German comedy Siegfried (2005). There have been a considerable number of adaptations of the Richard Wagner opera. There was even a Bugs Bunny cartoon What's Opera, Doc? (1957), which recasts the Wagner opera with Elmer Fudd as Siegfried and Bugs Bunny as Brunhild.
---
---